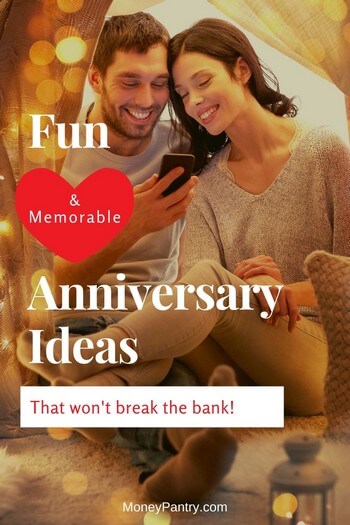 Looking for cheap anniversary ideas that are actually fun, romantic, or interesting?
Well, we've got you covered. In today's post, I'm going to give you a ton of inexpensive anniversary ideas that'll ensure you have a wonderful anniversary even if you are on a budget.
Do keep in mind though that "cheap" is a pretty subjective word. What's cheap to one person may be expensive to another. It really depends on your budget, and situation.
That being said, all of the ideas below are easy on the budget.
So whether it's a wedding anniversary, your our first date anniversary or any other special date, you don't have to go broke to celebrate it!
Free or Cheap Things to Do on Your Anniversary
If you like to save money while making your anniversary a memorable occasion, check out these cheap and fun anniversary dates ideas that won't break the bank.
Need Easy Extra $300+/Month for Free?
KashKick
: Get paid directly into your PayPal for watching videos, surfing, shopping and more.
Join KashKick Now!
Panel Payday
: Earn up to $75 per survey. They also pay up to $50/hr for mystery shopping.
Join Now!
InboxDollars
: Paid over $57 Million to members to watch videos, take surveys, shop and more.
Get $5 instantly!
Branded Surveys
: Get $1 instantly just for joining for free. Plus get paid within 48 hours by PayPal!
Join Branded Surveys
iPsos iSay:
: If you have to only sign up for one paid survey site, go with Ipsos (high paying survyes)!
Join iPsos Now!
Swagbucks
: Get paid to watch videos, shop online, take surveys and more.
Join now & get $5 instantly!
1. Try Camping or "Glamping" in your Backyard
Camping can be a fun way to spend your anniversary, and you don't even need to leave your home to do so. Well, you do need to leave your actual house, but only to the backyard!
Set up a tent in your garden and enjoy a night together outdoors. Chat, make s'mores, or even watch a movie if your phone or laptop are charged.
Check out our guide on how to find free camping near you.
2. Go back to the place where you first met
Searching for the perfect anniversary idea for her?
She'll love this simple yet highly romantic gesture!
Where's the spot where you and your spouse first met? If it's nearby or at least only a drive away, consider heading there together for your anniversary. This is a romantic idea that doesn't need to cost a lot. You could surprise your spouse by taking them to the spot where you first met and reminiscing.
3. Visit a nearby lake
This is great if you're looking for free things to do on the weekend of your anniversary.
Lakes are calming, romantic, and a nice way to spend time together. Visit a nearby lake, take food with you too and just enjoy a nice, relaxing date together.
4. Go to a stand-up comedy show
Sure, you're not going to find cheap tickets for big name comedians. But you can still see some funny standup acts from amateur comedians. Lots of bars and clubs host amateur comedy nights where the admission is cheap or free.
5. Watch a Movie Outside
Watching a movie outdoors is super fun and a little more interesting than watching from the sofa. So recreate the good-old-fashioned drive through experience for your anniversary.
6. Attend an art festival
If you and your spouse like art, then an art festival might be the perfect activity for you both. You can see some new artwork, have lots to talk about, and can enjoy a fun date together.
7. Take a Ferry Ride
Take a ferry ride together on your anniversary. It's not super expensive, but it's a little more adventurous than some anniversary date ideas. When the weather's good, it makes for an awesome date!
8. Paint or draw each other
You're sure to laugh if you try to draw your spouse. My husband is a good artist, I on the other hand am not. Since my drawing skills are abysmal, I drew my husband in hilarious fashion. It was pretty funny. Hey, you may not be an artist, but you'll get lots of laughs out of drawing each other.
9. Take a self-guided restaurant tour of your city
This isn't the most inexpensive thing on the list, but it can be pretty cheap compared to some anniversary activities. Search online for lists of popular restaurants in your city. Visit multiple restaurants for an appetizer or a small place. It's a good way to try out new foods in new restaurants, giving you plenty of things to chat about and enjoy together on your anniversary.
10. Make a playlist of throw-back songs
This is one of the best cheap anniversary ideas at home. Make a playlist of songs you both used to listen to when you were first dating, or that remind you of a special time together. Listen to it on your anniversary during a romantic meal at home and chat about the memories that the songs bring up.
11. Visit a street fair or food festival together
Street fairs celebrate different foods and cultures from the area. There will likely be plenty of activities you can do together, and there's usually food and booze to sample too. Food festivals and wine festivals are a lot of fun for couples on their anniversary.
12. Take a trip to the zoo
Going to the zoo can make for a surprisingly fun date. You get to chat while looking at the animals and just enjoy each other's company. If you're looking for something a little different a trip to the zoo can be the perfect choice.
13. Make a pizza at home
Making pizza by hand is a little more challenging than just ordering out. But it always tastes way better. Go shopping together and make a fancy pizza at home. You can try out different toppings and flavors and best of all you can enjoy it over a candlelight dinner for two when it's done baking.
14. Binge-watch your favorite TV show or movie series (or a new one)
Binge-watching a new show together is a great way to bond. You can guess what's going to happen and talk about your favorite (and least favorite) characters.
Or you could re-watch one of your favorite TV shows or movies series. Spend the whole day or night watching TV together.
15. Make a time capsule
Making a time capsule can be a really romantic way to spend your anniversary. You could create one and open it up on an anniversary that's years from now. It's a great way to cherish your memories together.
16. Enjoy a drink around a bonfire in the backyard
One of my favorite ways to spend time with my husband is sitting in the backyard and talking over a few drinks. This can make a really cozy and cute date idea for your anniversary. And if you have a safe area away from trees (and you know what you're doing) you could even make your own bonfire and sit around it.
17. Make Dinner Together
This is one of those tried and true fun date night ideas that can also be a great anniversary idea.
If you don't often cook together, consider doing that on your anniversary. You can have a few drinks together, laugh if you're not good cooks, and enjoy a nice meal together afterwards.
18. Have an indoor picnic
Weather bad on your anniversary? Well, just because it's too cold outside for a picnic it doesn't mean you have to miss out. Put a blanket on the floor and have one inside instead.
19. Visit places that are significant in your relationship
Whether it's the place where you had your first date, your wedding venue, or the place where you had your first kiss, visit places that are significant in your relationship and that hold special memories for you. This is such a romantic way to spend your anniversary and it's free.
20. Learn to dance
Take a dance class together on your anniversary. Many dance studios offer lessons for beginners and for couples. The best thing to do is book a private couple's lesson. Dancing together can be romantic, and often funny, depending on how bad your dance skills are!
21. Do a photo-booth crawl
Lots of places like bars, restaurants and malls have photo booths, so take a tour of them on your anniversary. You can look back at the photos for years to come! You can see how many you can visit in one afternoon or evening. And you can put them into a scrapbook afterwards.
22. Visit the arcade
Don't think that the arcade is just for kids. No, they can be super fun for us adults as well. Playing games is sure to generate lots of laughs and it's a good way to bond too. Just spend the day or the evening playing games together and enjoy yourself.
23. Go on a Groupon Date
To find discounted activities, restaurants, events and more near you, check out Groupon. There are some awesome deals on there. So you're sure to find something cheap to do on your anniversary.
24. Gaze at the stars
An evening spent sitting beneath the stars can make for a romantic anniversary date.
It's relaxing and it makes you ponder the universe together. Grab a comfy blanket and a glass of wine and sit under the stars. If you'd like to identify the stars in the sky, you should definitely check out SkyView.
You can use the app to stargaze. Just install it, point your phone at the sky and the app will identify stars, constellations, satellites and more! Enjoying the magic of the night sky together is a nice way to spend your anniversary.
Here's where you can get the SkyView app:
25. Take a ride on a Ferris wheel together
Another romantic way to spend time together on your anniversary is by taking a ride on a Ferris wheel. You can take in the scenery and enjoy quality time together.
26. Have a night of playing video games
Looking for cheap anniversary ideas for him (or her! These days ladies are into video games more than ever.)? Try this one!
From Borderlands to Gears of War, there are plenty of games you can play in co-op mode. Navigating the campaign mode of any game together is a surprisingly good bonding experience. You work together, go on missions, and defeat bad guys side by side, without having to leave your sofa.
27. Visit a drive-in movie theater
Drive-in movie theaters have a certain romantic charm about them. If you're a couple you might want to head on over to your nearest drive-in theater and snuggle up while watching a movie.
You can even take snacks and drinks with you to enjoy while you watch the movie. If you're looking for something inexpensive to do on your anniversary that's a little different to the usual dinner and a movie date, give the drive-in movie theater a try.
28. Play Board Games
Board games can be pretty fun, as they bring out your competitive side. If you have a family and are looking to involve them in your anniversary celebrations, then playing board games is a good option. Have some snacks and drinks on the go too and you're sure to have a fun night.
29. Tour a winery or brewery
Some breweries and wineries provide free tours. This can make for a great anniversary date. Some of them even give you free booze to sample. See if there are any breweries or wineries near you that offer free tours.
30. Go on a Sunset Hike
Hiking together is a good way to enjoy each other's company and get out in nature on your special day. Sunset hikes are perfect for anniversaries as they are super romantic.
So, go for a walk near sunset and enjoy the romantic and beautiful sunset view together.
31. Create your own wine tasting
You don't have to leave the house to do a wine-tasting. Set one up right in your own home instead! Search online for some well-reviewed wines or visit a local wine store to ask for some recommendations.
Once your wines are in, you can set up your own wine tasting for your anniversary. You can enjoy an evening of drinking nice wines with your spouse and bonding.
32. Visit the beach together
Visit the beach together and enjoy the waves and sounds of the ocean. This is such a good way to enjoy each other's company. You can really chat to each other and relax. It's a perfect anniversary date idea if you want to spend some real quality time together.
33. Explore a Nearby City
Choose a city near you that you've never visited before or haven't visited much and just explore it! You can peruse local galleries, look around the shops, and have a meal and some drinks together.
34. Have a "Dream" date
Spend the night talking about your dreams for life. Talk about your goals, your hopes and your dreams. Whether that's to travel, become an author, move to a new city, or start a new career, you should both make a list of goals and talk about them.
This can be such a good bonding experience, and it can also help you to plan your future together.
35. Go to a jazz club
Going to a jazz club and listening to music can be fun if you both like jazz. It offers an evening of entertainment, drinks, and fun!
36. Reminisce over old photos
I always find looking at old photos a lot of fun. It's funny marveling at how different you look years ago (if you've been married a while!), and it's nice to reminisce about your relationship and life together. So pull out the old photo albums or scroll through old photos on your phone or computer and just enjoy reminiscing together over them.
37. Go out for a meal at a local restaurant (get money back with Seated!)
Having dinner at a restaurant is a classic anniversary choice. If you're on a budget though, eating at a restaurant isn't always the cheapest option.
That's why Seated is such a good app.
It gives you cashback when you dine out.
Just download Seated, book a reservation with the app, dine out as you normally would, and you'll get your cashback!
You can get up to 30% back on every restaurant reservation.
So you can still go out to eat, even if you're on a budget.
Awesome, right?
You can redeem your rewards for in-person experiences, like wine tastings and cooking classes, or for gift cards to places like:
Amazon
Target
Sephora
Airbnb
Nordstrom
Here's where you can get the Seated app:
38. Go to a free outdoor concert
You'll find venues for free outdoor concerts in many cities. Going to an outdoor concert can be a fun way to spend your anniversary. To get results for concerts where you live and in surrounding cities and towns, search for "free outdoor concerts near me" on Google.
You could also check out your state's tourism website for information on outdoor concerts in your area that are free. You'll find everything from blues to classical music on offer at outdoor concerts. It can definitely make for a fun anniversary date.
39. Plant flowers together and watch them bloom
Planting some flowers in the garden together and watching them bloom over the year is a romantic way to spend an anniversary and it's something a little different to dinner and a movie.
40. Go to gig of a band you both love
Go to see a band that both of you love, if they are touring in your area of course. If they are, then get some tickets, and enjoy a night of your favorite music together.
41. Attend a sports game together
Attending a sports game together can be a lot of fun. The atmosphere is lively, so you're sure to have a good time.
If the major leagues are out of your budget or too far away, local minor league games can be just as fun. So check out the sports games that are scheduled during your anniversary and go to a game together.
42. Visit a Farmer's Market
You could visit a farmer's market and pick up some fresh fruits, vegetables, and other foods you could cook together later. There's even entertainment on offer at some markets. If you're looking for something chilled to do on your anniversary, try visiting your local farmer's market.
43. Go ice skating
Ice skating is a super fun and inexpensive anniversary date idea. You can laugh as you both try to stay on your own two feet, and if you fall over! And of course you can hold hands as you skate around, making this a pretty romantic date too.
44. Attend a trivia night at a local bar
Try going to a trivia night at a local bar. If you're a competitive couple, you'll really enjoy it. You can work as a team and celebrate your victory later.
45. Visit the driving range
The fun part of golf is driving, right? So a visit to the driving range can make for a fun date. Even if you're not a skilled golfer, you can just have a good time trying to hit the golf ball!
46. Try Go-Cart Racing
Give go-cart racing a try if you're looking for something really fun to do. This makes for a more interesting date than your regular dinner and drinks. It's funny and competitive!
47. Cuddle by the fire
Cuddling by the fire is a romantic way to spend an evening. You can enjoy a drink together, chat, and just have a relaxing anniversary. Grab a blanket and sit in front of the fire. And if you don't have a fire, you can often find channels with a fireplace display – I think there used to be one on Netflix!
48. Go out for breakfast
Dinner can be expensive, so a breakfast date makes for a good alternative. Then, you have the rest of the day to spend together and could even cook dinner together the same day and make a full day affair of your anniversary celebrations.
49. Go Bowling
Bowling is another good choice if you're looking for something fun to do on your anniversary that won't cost you a lot of money. It's fun, you can chat to each other, and the added competitive edge to the game makes the date even better.
50. Just show your spouse how much you appreciate them
Whether it's with a handwritten note, or a video message telling your spouse what you love about them, sometimes just showing your spouse how much you appreciate them makes for the perfect anniversary.
Happy Anniversary (on a Budget!)
There are plenty of things you can do on your anniversary that don't cost much. Whether you're looking for something fun or romantic, you're sure to find an idea above that suits you.
What's your favorite cheap anniversary idea? Let us know in the comments section below.