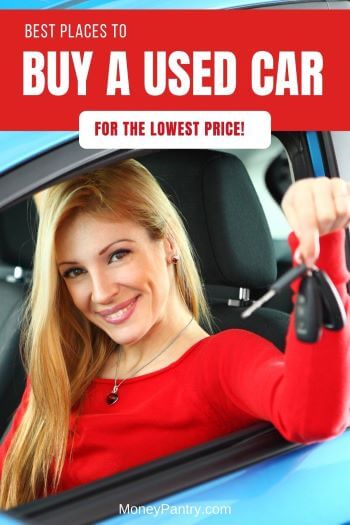 If you are in the market for a used car, you probably have wondered what is the best place to buy a used car or truck.
And, you're not alone!
Each year, 41 million used vehicles are sold in the United States.
With lower prices on offer, it's no surprise that more and more of us are choosing to purchase secondhand cars, rather than new cars.
In today's post, I'll cover some of the best websites for purchasing secondhand vehicles as well as a guide to buying a used car.
Best Places to Buy Used Cars
Here are the best online car selling sites where you can purchase your next used vehicle for the lowest price.
Need Easy Extra $300+/Month for Free?
KashKick
: Get paid directly into your PayPal for watching videos, surfing, shopping and more.
Join KashKick Now!
InboxDollars
: Paid over $57 Million to members to watch videos, take surveys, shop and more.
Get $5 instantly!
Branded Surveys
: Get $1 instantly just for joining for free. Plus get paid within 48 hours by PayPal!
Join Branded Surveys
First Opinion
: Get paid up to $10 per survey and $300 per virtual focus groups!
Join Now!
Swagbucks
: Get paid to watch videos, shop online, take surveys and more.
Join now & get $10 instantly!
Autotrader is one of the most well-known sites for buying used cars. It's been around since 1997, so it's well-established in the market. The website aggregates, new, used, and certified secondhand cars from dealers and private sellers.
You can use the search bar to find the car you want. It even offers something called Home Services where you can choose a car and the dealer will bring it to you for a no-obligation test drive. You can start the purchase online, and the dealer will deliver the car and the paperwork to you.
CarGurus is a car research and shopping site that allows you to compare local listings for used cars, new cars, and certified pre-owned cars (CPO cars). With the site, you can use the search bar to find the car that you are looking for.
You can enter the make and model of the car you want and enter your zip code. And you can search by price too. Plus, you can view details like accident history, price drops, and days on the lot.
If you're looking for the best site to buy used cars, then you might want to try eBay Motors. You can find new and used vehicles as well as parts. Sellers sell used car batteries, tires, doors, mirrors and even engines. Those are great for updating or maintaining your existing car. On the site, you can use the "Find a Vehicle" search bar to find cars, trucks, motorcycles, and other vehicles.
Cars.com is an automotive classified website that's been around since 1998. So, it has a lot of experience in the field. And now, it's the second largest automotive classified site. Like with most of these sites, you can just enter some details of the type of car that you are looking for into the search bar.
Then you will see plenty of results for used vehicles. You can enter your zip code and then choose how many miles from your location you'd be willing to purchase a vehicle. You can also buy a car online at Cars.com and have it delivered right to you. It features almost 2 million cars available for home delivery.
Next on the list we have CarsDirect. With this site, you can easily find the type of car you want, and you can even get buying advice. The website allows you to search for both new cars and used cars too.
Kelley Blue Book is just a great resource overall for anyone who's looking to purchase a used car. Firstly, you can search for vehicles for sale near you. You can filter the results by things like the condition of the vehicle, and the year. That's not all though. Kelley Blue Book also has lots of great features on offer like information on car values, car reviews, and research tools.
AutoTempest.com brings together used car listings from around the internet totaling more than 5 million listings. You can find cars from sites like eBay, Cars.com, and CarsDirect on there.
So, if you are looking to save some time, I would recommend giving AutoTempest a try. You can use the search bar on the site to find the car you want, and you can even search for car reviews on there.
Carvana is an online used car retailer. You can use the site to browse used cars online and to get approved for financing. It's another site with a search bar that you can use to find used cars. There are lots of filters available like payment & price, make & model, body type, and years & mileage.
There are more than 25,000 cars on there.
Every car comes standard with a limited 100 day/4,189 mile "Worry Free Guarantee," and a free Carfax report. It also offers financing.
Next on the list we have Edmunds.  On the site, you can find used cars for sale near you. You can use the search bar on the site to find the type of vehicle that you are looking for. You can search for vehicles by make/model, type, or price. And, you can search for certified pre-owned cars there too.
CarMax offers a huge used car inventory that you can search for vehicles. Then, you can buy online or at a CarMax near you. You can shop by car types, such as SUVs, crossovers, coupes, sedans, and trucks.
Or you can shop by brands such as Toyota, Ford, or Honda. Or you can shop by price such as under $10,000, $20,000 to $25,000 or $30,000 and above. You can even get pre-approved on the site if you're not sure what you can afford.
The site offers 24-hour test drives, and 30-day returns up to 1500 miles.
Autolist is another good site for buying secondhand vehicles. With the site's free search engine, you can browse millions of used car deals. You can use the search bar on the site to search for the car you want by make, model, or body type.
You can also browse used cars by price, year, or even city. Through the site, you can search all major used car apps and websites. This means that you can see tons of listings in one place so if you're short on time and don't want to have to search a bunch of different websites, then Autolist is the site for you.
With Autolist, you can learn how long a car's been up for sale, how its price compares to similar vehicles, if its price drops or rises, and about its Carfax Report. It also has an app that you can use to search for cars on the go. You can find links to the app on the site linked above in the section heading.
Next on the list we have Hemmings. Heming Motor News is a magazine that's catered to traders and collectors of antique, classic, and exotic sports cars. It's the largest and oldest publication of its type in the United States. It has a huge classified ad section where you can search for used cars. If you're looking for classic cars, then this could be the website for you. Hemmings has more than 65 years' worth of experience with connecting buyers and sellers from all over the world.
On the site, you can view thousands of classic cars for sale. You can use the search bar on the site to find the type of car that you want. And you can search by things like make, model and year range.
Next on the list we have Vroom. If you're looking to
purchase a used car online, then you may want to give the website a try. With it, you can buy a car entirely online and have it delivered to your home. It's really simple. The website has a search bar that you can use to find the car that you want. With the site, you can browse thousands of low-mileage cars and trucks.
Aside from using the search bar, you can also shop by vehicle type with sections available like Shop Trucks, Shop SUVs, and Shop Sedans. Also, you can get access to a free Carfax history.
TrueCar is a website where you can find new and used cars for sale. You can also read owner reviews, and there are trucks available on there too. What's good about the site is that you can find more than 820,000 used vehicles for sale at Certified Dealers nationwide.
You can use the search bar on the site to search for the vehicle you want by make or model, and you can enter your zip code as well. You can also find a used car by type, year, or price.
Cars & Bids is a car auction site where you can bid on used cars and trucks. You can find daily auctions of cars from the 1980s to the 2020s with a variety of brands available like Porsche, BMW, and Mercedes-Benz. You can view cars up for auction on the homepage. Or you can use the search bar to search for the type of car that you are looking for. Cars & Bids provides free vehicle history reports for every vehicle listed on the site.
Do keep in mind that bids on the site are binding and there are no refunds. So if you end up as the highest bidder, you will need to pay for the vehicle. This means that you should only bid on a vehicle if you actually intend to purchase it.
Tips for Buying a Used Car
Above, I've given you some of the best sites to buy used cars. In this section, I just want to cover some simple steps you can follow when purchasing a secondhand car.
Step 1: Determine how much you can afford
Okay, so you don't want to spend more than you can afford to. That's why setting a budget is so important.
Now, when you purchase a car, you can either pay cash or take out a loan. Paying in cash can avoid the interest that comes with many loans. But, firstly, not many people have that much cash in savings to spend on a car, and secondly, it's not a good idea to spend all of your savings, right?
If you can afford to pay in cash, then go for it. Otherwise, you may want to consider a loan instead. Loans can help you to spread out the cost of a vehicle. Choose the option that best suits you.
Now that you have decided whether to go with financing or to pay in cash, you will need to determine how much money you are willing to spend on the car.
If you are going with the financing option, it's important to, firstly, choose a monthly payment that is manageable for you.
And, secondly, to factor in other costs such as:
The cost of interest on your car loan
How much you'll have to pay for insurance
Parking costs
Maintenance costs
Step 2: Choose the right used car
The next step is to choose the right car for you. So, take some time to consider what you need from a vehicle. For example, if you have a large family, you will not only need enough room for everyone, but you'll need cargo space too.
If you commute to the city for work, then you're not going to want a full size-pickup for example. A smaller vehicle that can better navigate crowded roads may be what you are looking for.
Here are some things to consider:
The number of passengers the car will carry
Where you'll drive the vehicle. So will you mostly drive, on surface streets, off-road, or the highway?
Fuel economy. This may be important to you if you have a long commute.
Whether or not you need an all-wheel drive.
What features like leather seats or a backup camera that you want the car to have.
Safety features you want. So, you may want a vehicle that has things like blind-spot monitoring, lane departure warning, and emergency braking. Think about what safety features are important to you.
Whether you'll need to do any towing.
How much parking space or garage space you have
Whether or not you'll be using any children's car seats
How much cargo capacity you need.
Okay, so that's a lot of stuff to consider – I know!
Now, the best thing to do once you've made a list of what it is you want from a car, so how much cargo space it has, etc. is to check out reviews.
Many of the sites that I listed above actually have car reviews. These are so useful because you can view popular vehicles, get information on what different cars have to offer, and much more. This makes it so much easier for you to find a vehicle that meets your criteria.
I would check out these resources for car reviews and ratings:
You can make a list of must-have features and then search for models with those features on the sites above. Those reviews can really help you to choose a car that's both well-rated and fits your criteria.
Step 3: Check prices
Once you know what type of car it is that you are looking for, you can then check the prices. If you see a listing for a vehicle, make sure that you take the time to research that car's price. You don't want to get overcharged.
You should look up that car model on a pricing guide. Kelley Blue Book and Edmunds both have resources you can use to find out the value of used vehicles.
Also, the mileage and condition of the car will affect the price. Cars with a lower mileage tend to be more expensive than those with high mileage. Similarly, the condition of the vehicle will also determine how much the car is worth.
CPO cars generally cost the most but that's because they come along with benefits (which I'll discuss in more detail below in step eight). And cars listed by private-party sellers tend to have the lowest selling price. That's not to say that you won't find good deals for CPO cars or with used car retailers like CarMax.
That's why you should compare prices from multiple places.
Have a look on a few different sites to see if you could get a better deal on the same make, model, and type of car.
It's always useful to take the time to compare prices.
Step 4: Check the vehicle history report
Buying a used car has its pros and cons. Compared to buying a new vehicle it's a whole lot cheaper.
But, it does come along with its challenges. Buying a new car is pretty easy. You decide what type of vehicle you want, read reviews, and buy the vehicle outright or get a loan.
With purchasing a used vehicle not only do you have to consider those factors that I mentioned above, like how much cargo space you need or what safety features are important to you, but you also need to thing about things like:
How many miles the car has done.
The condition it's in.
Whether or not the vehicle has been involved in any accidents.
How many previous owners it's had.
Whether it's been serviced properly.
One of the most important things you can do that can help you to determine all of those things is to get a vehicle history report or VIN check as it's also called.
You can get these from places like Carfax and AutoCheck.
Now, many of the sites above offer free Carfax reports including:
Cars & Bids also offers vehicle history reports and CarGurus allows you to view a vehicle's accident history.
Having a vehicle history report can help you to determine whether or not a used car is worth purchasing.
A vehicle history report or VIN check can give you an insight into a used car's history, offering details on things like:
Flood damage
Vehicle maintenance
Past ownership
Selling history
Faulty odometer settings/odometer rollbacks
Title history
What each check will tell you will vary depending on where you get the car report.
CarFax offers a really comprehensive vehicle history. Its report tells you pretty much everything you need to know about a vehicle.
The CarFax report checks for things like:
Major accidents
Multiple owners
Vehicle service
Mileage rollback
Flood damage
Airbag deployment
Mileage rollover
Not actual mileage state owned
Total loss
Rebuilt
Structural damage
Open recalls
Registration history
Warranty information
Salvage titles
Estimated miles driven per year
Last reported mileage
Length of ownership
Commercial or personal use
Service history
Hail damage
Branded a lemon
But Carfax reports are not always free but there are ways to get them for free. Check out how to get free Carfax report.
i also wrote a post on how to get a free VIN check report before buying a used car. That can also save you some cash.
The report will help you to avoid things like odometer tampering – so the mileage getting rolled back and buying a vehicle has been issued with a salvage title.
Insurance companies will sometimes issue a "salvage title" if a car has been in a serious accident or it has been damaged in a fire or flood and was declared a total loss. This salvage title is issued to alert future buyers.
It's a good idea to avoid cars with a salvage title because not only could the car still have hidden problems and be more difficult to ensure, but the resale value can be negatively impacted.
According to Kelley Blue Book, vehicles with a salvage title can be worth 20% to 40% less than other vehicles.
Vehicle history reports can be so useful because they can help you to determine which cars that you should avoid.
Step 5: Get in touch with the seller
Okay, so if you find a car for sale that you like and it doesn't have anything concerning in the vehicle history report, then it's time to get in touch with the seller.
You can contact them to ask questions like:
Do they have any more information that wasn't in the ad?
Do they have any service records available?
Can you have the car inspected by a mechanic?
You may learn something from the seller that wasn't in the ad that puts you off buying the vehicle. That's why it's important to ask some preliminary questions before you buy the car.
Now, this won't necessarily apply when getting a car from a place like CarMax because it offers 24-hour test drives, and 30-day returns up to 1500 miles. So, you can test out the car thoroughly.
If you are purchasing from a private seller or a dealer that doesn't offer this sort of returns period though you will definitely want to call first before going to view the vehicle or before it's dropped off so that you can ask some preliminary questions.
Also, calling first ensures that the car is still up for sale and hasn't already been sold to someone else.
Step 6: Test drive the car
Okay, so if everything seems to be above board, it's time to test drive the car. Driving a used car is the best way to know if the car is right for you.
You get to see how it handles, the condition it's in, how it suits you, etc.
If possible, schedule the test-drive during daylight hours. It makes it so much easier to see the car's condition.
When test-driving the car, make sure to consider things like:
How easy it is to get in and out of the car. Do you have to stoop a lot? Can you get in without knocking your head?
So, are there any blind spots? Check the rearview mirror and side mirrors.
Check for smells like gas, burning oil, or anything untoward.
Whether the driving position is comfortable. Do you feel as though you're sitting too low, too high, or just right in the car?
The space in the car. Is there enough legroom, hip room, and headroom?
How well the car accelerates and handles corners. How does the steering feel? Does the car have enough power?
How responsive the brakes are. Or whether you notice any issues like squeaking or inconsistencies in stopping the car.
Whether you can easily reach all of the controls and gauges.
Are the seats comfortable? Are they easy to adjust?
Check the space in the back too, and how comfortable the seats are as well.
Check the mechanical condition of the car. You can do this during the test drive by listening for any unusual noises or looking out for vibrations which could be an indication of worn suspension parts or tires.
Check the tires. See if they have enough tread left. If you have to buy new ones, be sure to research and find the best place to buy tires so you don't overpay.
Make sure things like headlights, brake lights, and turn indicators all work properly.
Take a look under the hood. Even if you don't know much about cars, you can still check if anything is leaking, covered in oil, or steaming.
Also check things like the air-conditioning, and the radio. It's a good idea to test things like the radio or Bluetooth connectivity once you have stopped because they can distract you from how the car sounds when you are test-driving it.
Once the test drive is over, make sure that you test the cargo space as well.
Step 7: Inspect the car
A test drive can tell you a lot about a vehicle. It's still worth taking it to a mechanic to get it checked. Doing this can alert you to any problems with the vehicle that you may not have noticed yourself.
Private party sellers are usually okay with the car being inspected by an independent mechanic. Car dealerships may be less inclined to allow you to have it inspected. But, if you want the car checked by another mechanic, then make sure you insist.
If you're looking at a certified preowned car, then you can skip this step. There's no need to take a CPO car to an independent mechanic. This brings me to my next point…
Step 8: Or consider a certified pre-owned car
Certified Pre-Owned cars are quite a popular option nowadays.
Here's why:
Most of the time, these are low mileage cars that are just a few years old.
They have service records and no history of accidents.
Often, they are cars that have been returned at the end of a lease period, or dealership service loaner vehicles.
They undergo a comprehensive inspection and refurbishment process. This process meets the strict guidelines of the original manufacturer.
CPO cars come with manufacturer's warranties that often exceed the length of the car's original coverage.
You don't have to worry about getting the vehicle inspected by an independent mechanic.
Some CPO programs offer buyers additional benefits like roadside assistance.
Some CPO programs offer exclusive used car financing deals.
Of course, each CPO program has its own benefits. So do check with the particular dealer to see what benefits are available. CPO cars are more expensive. They are not for everyone given the increased cost. However, they do help you to avoid things like having to pay for repairs or unexpected issues with the car.
Step 9: Negotiate on the car
Okay, so everything seems above board and you decide you want to buy that car. Now, here comes the part that everyone hates (well I do anyway!):
Haggling!
Yes, none of us likes to have to negotiate and talk numbers but that's just part of buying a used car.
Don't worry either. Lots of sellers will set the price slightly higher than the amount they want for the vehicle to give buyers, like you, room to negotiate.
Just be reasonable. Don't expect to cut 50% off the asking price, for example.
Decide beforehand the maximum amount you'd be willing to pay for the car. Just don't share that with the buyer yet!
Simply make an offer that is lower than the max price you set, but somewhere near to the average price that you found for that car as outlined in step three. You can state these prices you found on sites like Edmunds to help you to negotiate and to support your offer.
The seller may not accept this offer, so you may need to go higher. Just don't exceed that max price that you set earlier. If you and the seller arrive at a price that you both agree on and it is near to that average price then close the deal.
But, if, for example, you find that the buyer is selling the car for $12,000 but you read online that the average price is only $10,000, then that's not the best deal for you. So, make sure that you don't pay more than what the car is worth. Remember, if you don't like the deal you're being offered, you don't have to take it.
One more tip to keep in mind if you're going with the financing option is to not focus too much on monthly payments. Some salespeople will try to convince the buyer to focus on the monthly payment, rather than the overall cost of the car which isn't the best idea!
Negotiate the price of the car rather than the size of the monthly payment. Just negotiate slowly, and remember that you can walk away at any time.
Step 10: Complete the paperwork and close the deal
Now you have your car and you can close the deal and organize all of the paperwork.
If you purchase from a dealership, you will sign the contract in the finance and insurance office. You may also be offered extras, such as prepaid service plans or a warranty. An extended warranty is something that you might consider too if it's not under the manufacturer's warranty or a CPO vehicle.
Make sure you review the contract thoroughly. It should list any fees, like license fees, documentation fees and sales tax in most states.
When buying from an individual owner, make sure that the seller properly transfers the title and registration to you. And before money changes hands, ask for the title, or pink slip as it's often known, and make sure the seller signs it over to you.
You can also check with your local DMV to ensure that there are no past-due registration fees that you would be responsible for if you were to purchase the car.
And, of course, you want to make sure you have insurance on the vehicle!
Now, that's all done, you can enjoy your car!
Closing Thoughts
With the sites above, buying a used car doesn't have to be stressful. You can choose the right vehicle for you and get access to bonus features like warranties and test-drives too!
The best part is that you can either get cars from nearby sellers or you can even have your car delivered right to your home.
Enjoy your new vehicle!