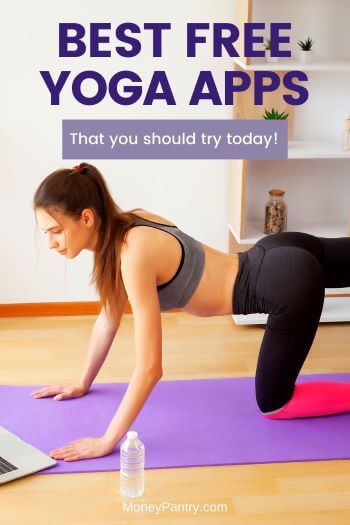 Wanna start practicing yoga but don't know where to start?
With these awesome free yoga apps you can go from a beginner to an advanced yogi in no time.
Sure there are many free yoga classes near you, but some prefer an app where they can sit at home, relax and just follow the direction of the yoga instructor in the video.
Yoga is something that I always struggle to fit into my routine. I used to do it a lot when I was younger. I had a yoga DVD (showing my age now!) on ashtanga yoga and used to practice it in my apartment. Lately, I've been thinking about how stiff my back and shoulders have become, and how, when I made yoga a part of my daily routine, I didn't have those aches and pains.
I decided to start up doing yoga again. Since I prefer working out at home, I knew that a class somewhere wasn't for me and that I wanted something I could do from home.
So, I started looking into yoga classes online and yoga guides. I found that you had to pay for many of them. Often, the cost of these classes is not a lot, but still, I am trying to save up more money and don't want to have to spend cash to get back into yoga.
Need Easy Extra $300+/Month for Free?
KashKick
: Get paid directly into your PayPal for watching videos, surfing, shopping and more.
Join KashKick Now!
Panel Payday
: Earn up to $75 per survey. They also pay up to $50/hr for mystery shopping.
Join Now!
InboxDollars
: Paid over $57 Million to members to watch videos, take surveys, shop and more.
Get $5 instantly!
Branded Surveys
: Get $1 instantly just for joining for free. Plus get paid within 48 hours by PayPal!
Join Branded Surveys
iPsos iSay:
: If you have to only sign up for one paid survey site, go with Ipsos (high paying survyes)!
Join iPsos Now!
Swagbucks
: Get paid to watch videos, shop online, take surveys and more.
Join now & get $5 instantly!
I thought to myself, there has to be an app out there that gives you yoga poses or even full-on classes for free. I've written articles about the best free workout apps, and the best free weight loss apps, so I knew that there had to be apps out there for yoga.
Luckily, I found not just one great app, but 17! And, in today's post, I'll share them with you.
Before we get started on that though…
Why Do Yoga?
Yoga is a practice with an ancient history. It originated in northern India more than 5,000 years ago!
There are so many different types of yoga, like:
Bikram yoga
Ashtanga yoga
Hatha yoga
Vinyasa yoga
Yin yoga
There are so many more than that. Both traditional and modern forms of yoga are practiced worldwide.
And, its popularity is no surprise. Yoga has so many benefits.
Here's what yoga has to offer:
It increases your flexibility and mobility
Being flexible and keeping our joints mobile is so important, especially as we get older. That's why yoga is so great for people of all ages. It keeps our bodies flexible, and our joints healthy. This can help to prevent things associated with old age, like stiff joints, and aches and pains that come along with an inflexible body.
In one study on elderly people, the practice of hatha yoga was found to be more effective than calisthenics in improving flexibility.
Reduces stress
A lot of us are stressed, right? Work can be tough and sometimes it can just seem like there's a lot going on. Well, if you have been feeling a little stressed out lately, then you should definitely give yoga a try. Studies show that people can reduce their levels of cortisol, a hormone associated with stress, by doing yoga.
In one study, women who completed a three-month yoga program significantly reduced their cortisol levels. Participants also had significant improvements in stress, anxiety, well-being, fatigue, and depression.
Improve breathing
Since most types of yoga incorporate some sort of breathing exercises and techniques, yoga can have a really positive effect on breathing.
In one study, college students who took a 15-week class where they learned yoga poses and breathing exercises, showed a significant increase in vital capacity by the end of the study.
The vital capacity of the lungs is an incredibly important component of good health, and it's an important concern for people with asthma, heart conditions, and lung ailments, and for those who smoke, as well as for those who have no known lung problems.
By improving breathing, you can perform better at any other types of workouts or physical activities you may be trying, like weights or hiking.
Improve heart health
Yoga is also incredibly beneficial for heart health with many studies showing just how effective it can be. In a study on coronary artery disease patients (71 patients in a study group and 42 patients in a control group) participants who participated in a yoga program saw a significant reduction in cholesterol and regression of disease.
Yoga is great for your heart and cardiovascular system in general.
Improve sleep quality
Lots of people struggle to get a good night's sleep. Well, yoga may be able to help. Many studies have shown that yoga can improve sleep quality.
Melatonin is an important hormone that regulates our sleep and wake cycle. One study showed that yoga practice could be used to increase the secretion of melatonin, which, in turn, could be responsible for an improved sense of well-being.
Since melatonin is an important hormone for sleep, this means that yoga could help you to get a better night's sleep.
Another study on older people showed that the subjects who participated in yoga showed a significant decrease in the time taken to fall asleep, and an increase in the number of hours slept and in the feeling of being rested in the morning.
This means that yoga could help you to fall asleep faster and get more sleep. And you'll feel more well-rested too!
Treat depression
Many people suffer from depression, and yoga can really help to relieve it.
Studies have shown that yoga can be effective in treating depression.
One study on participants, in which the severity of their depression ranged from mild to severe, showed that yoga had a positive effect on depressive disorders.
Since yoga is said to boost people's sense of well-being, it could be incredibly helpful for those with depression.
Relieve migraines
Yoga is also said to relieve migraines. In one study, migraine patients were randomly given either conventional care or yoga with conventional care, and while both groups showed significant improvement, it was better with yoga therapy.
That's not the only study to show that yoga can be useful for people who get migraines.
Another study on patients with migraine without aura demonstrated a significant reduction in migraine headache frequency and associated clinical features in patients treated with yoga over a period of 3 months.
This means that those who get migraines could get some relief by adding yoga alongside their regular treatment.
Reduce chronic pain
Chronic pain is an issue for many people, and yoga could provide some relief. Many studies have demonstrated yoga's effectiveness in reducing chronic pain.
One study on patients with osteoarthritis (OA) of the knee showed that patients who followed a course of yoga instruction saw reductions in pain and disability caused by knee OA.
That's not the only study to show yoga's effectiveness in relieving chronic pain either.
Another study on people with carpal tunnel syndrome showed that subjects who performed yoga twice a week for eight weeks had a significant improvement in grip strength and pain reduction. In fact, the yoga group showed more improvement than the control group, who were given only a wrist-splint to supplement their current treatment, as changes in grip strength and pain were not significant for control subjects.
So, yoga could help you to reduce chronic pain.
Best Free Yoga Apps for Android & iOS
Okay, so now you know how beneficial yoga can be, you're going to want to get started with it!
Fortunately, there are some really awesome apps where you can find yoga poses, postures, flows, and much more.
These apps are free to use. Some have a paid subscription plan too where you can pay a fee to get access to more content, but you can simply stick with the free version if, like me, you are looking to save yourself some money.
1. Yoga for Weight Loss Free
Yoga for Weight Loss Free, as its name sort of tells you, is a yoga app that's free to use.
The app gives you beginner-friendly yoga poses – great if you are just getting started – which help you to tone your body and lose weight.
There are three different levels featured on the app, which range from beginner to advanced. So you can choose the one that best suits your skillset.
What I like about the app is that it offers 30-day yoga workout plans that can help you with weight loss. And, the app is suited to everyone whether you're male or female, young or old, or beginner or experienced.
You can even customize your own workout routines, sync workout and calorie data to Google Fit, track burned calories and weight loss progress, and get a daily reminder that will keep you motivated.
Get the app:
2. Simply Yoga
Okay, so next on the list we have another app that you may want to test out if you are looking for some free yoga classes, and it's called Simply Yoga.
There's quite a lot to unpack with this app and it's definitely one of the best free apps for yoga out there. With the app, you can stream yoga classes, get video and audio instructions throughout entire routines, and get access to more than 35 poses. The app is great for all levels, whether you are a beginner who's just looking to get started practicing yoga, or you're advanced and are looking for even more poses.
The app operates like your own personal yoga instructor. It contains six level one yoga routines that take you through each pose, as well as those streaming yoga classes that I mentioned before. On the app, each pose is demonstrated by a certified instructor, and you can simply choose your workout length and follow along.
There's a paid version of the app you can purchase if you want to unlock more yoga workouts, but the free version of the app works just great.
Get the app:
3. Yoga for Weight Loss
Yoga for Weight Loss is a yoga app that offers you lots of different yoga asanas for weight loss. It offers full-body yoga exercises, which is great, and there are exercises to suit everyone from beginners to advanced yoga practitioners.
The app helps you to lose weight, so if you are looking for yoga exercises that can help you to tone up and improve your flexibility, then give this app a try.
Get the app:
4. Yoga for Beginners Mind + Body
Yoga for Beginners Mind + Body is a popular yoga app that you can use to get free yoga workouts.
With the app, you can get beginner-friendly yoga workouts. The app also offers voice guidance and music to help you clear your mind.
You can even build and customize your own yoga workouts. Plus, it offers Apple Health integration so you can track workouts, calories, and weight.
The app has a free version, but there are paid subscriptions available.
Get the app:
5. 5 Minute Yoga
5 Minute Yoga offers free yoga sessions created using a selection of simple yoga poses. The app is ideal for beginners. What's handy about the app is that every pose features clear images and detailed instructions.
If you are short on time, then this is the app for you because every one of the app's sessions takes less than 5 minutes to do.
The app is free to use, but there is also a premium level you can access if you choose a paid subscription.
Get the app:
6. Yoga for beginners – Easy yoga poses
Yoga for beginners – Easy yoga poses is an app you can use to get free yoga workouts. The app is ideal for beginners but is also good for advanced yoga practitioners. On there, you'll find yoga asanas for weight loss, relaxation, and meditation.
It features three yoga workout levels suited to all levels. And, there are more than 30 yoga poses that are categorized by the difficulty of workout levels like beginners, intermediate, and advanced.
It's ideal for both men and women and you can even create your own personalized daily yoga fitness routines, and you can use the free app offline.
And, if you need some extra motivation, you can also take the 30-day yoga challenge and check your exercise achievements day by day.
Get the app:
7. Yoga 360
Want free yoga classes that you can do at home with no equipment required? Then check out Yoga 360. It's a yoga app for beginners that has a lot to offer. The app is basically a virtual personal yoga teacher who shows you, step-by-step, yoga poses and asanas in 3D videos. This means that even if you are a beginner, you can still use the app. The app supports 18 languages as well, which is just great.
You can even use the app to track your weight loss plan progress and burned calories. There are 3 difficulty levels to suit everyone, which are beginner, intermediate, and pro.
The app also offers breathing tips and advice, as well as customized workout reminders. There's no equipment required to do the app's poses and asanas.
Get the app:
8. Track Yoga
Okay, so next on the list we have Track Yoga, and this is another one of those apps offering yoga for all skill levels. What's great about Track Yoga is that it offers classes!
Yes, you can get online yoga classes for free using this app.
The app is ideal for many types of yoga routines, like hatha yoga, vinyasa yoga, pranayama, yin yoga, and ashtanga yoga, but it mostly follows the hatha yoga style.
What's great about the app's yoga classes is that they guide you step-by-step, so that you can progress at your own pace.
There's a class and program for all skillsets from those who are brand new to yoga to those who have been practicing for some time.
Track Yoga also has plenty of tools to help you to stay motivated too. With it, you can set weekly goals and track your progress. You can even collect badges by completing yoga milestones, which can also boost your motivation.
That's not all either. You can also have reminders sent to your phone to stay on track with your weekly goals. Interestingly, Track Yoga also allows you to earn points for each class that you practice, and you can then use these points to unlock premium content.
The app has tons of poses, programs, and classes making it a great free yoga app overall.
Get the app:
9. Yoga for Beginners – Workouts for the mind & body!
Looking for a free yoga workout app? Then try Yoga for Beginners – Workouts for the mind & body!
On the app, you can find beginner-friendly yoga workouts that are easy to learn and perform. The app offers voice guidance too. You can work out anytime, and anywhere. Overall, it's another one to consider for anyone who's looking to get into yoga.
Get the app:
10. Daily Yoga
Next on the list we have Daily Yoga. This is an app that offers a wide range of yoga classes. You can find classes for all skill levels.
If you are a beginner, you can find guided classes that can help you to learn the basics, and if you are advanced, there are lots of world-class teachers that you can follow.
Basically, the app has something for yoga practitioners of all levels.
Daily Yoga has so much to offer, including more than 500 asanas, 70 plus yoga programs, and more than 500 guided yoga, Pilates, and meditation sessions, and a huge yoga pose library.
Get the app:
11. Yoga Workout
Yoga Workout is a great app that you can use to practice yoga asanas and learn yoga at home in 30 days.
With the app, you can practice yoga asanas and poses with detailed step-by-step instructions. And, you can do yoga daily at home without equipment. You can track your weight loss and burned calories.
Handily enough, the app works offline too.
The app allows you to set reminders for your yoga sessions too so that you don't miss your daily workouts. Overall, it's another good one to consider.
Get the app:
12. Yoga for Beginners – Daily Yoga Workout at Home
Looking for an app that's great for beginners? Then give Yoga for Beginners – Daily Yoga Workouts at Home.
This app gives you a guide to yoga poses, which include things like basic asanas, yoga poses, sequences, and terminology.  For beginners, it's definitely worth a look.
Get the app:
13. Adidas Training by Runtastic
Next on the list we have Adidas Training by Runtastic. Now, this app differs from the others on the list, in that it's not just solely a yoga app. Instead, it's a workout app that offers lots of different workouts from boxing to HITT.
It does, of course, include free yoga workouts too. So, you can enjoy yoga without having to pay for it. It's just a great app overall for anyone looking for free workouts.
Get the app:
14. Nike Training Club
Next on the list we have the Nike Training Club app. Now, like Adidas Training by Runtastic, this app isn't solely a yoga app. Instead, it's a workout app that offers more than 185 free workouts, and this includes yoga classes.
The app also has lots of other types of workouts you can do such as HIIT, cardio, and bodyweight-only workouts that you can do with minimal to no equipment. It has a lot of workouts available, so give it try.
Get the app:
15. Universal Breathing – Pranayama Lite
While poses are an important part of yoga, one of the most important aspects is breathing. Yoga can help you to improve your breathing, and an app that focuses on this aspect of yoga is called Universal Breathing – Pranayama Lite.
The app offers extensive breathing courses from beginner to advanced level. For anyone who's looking to improve their breathing, and wants to focus on that part of yoga, this is the ideal app.
Get the app here:
16. Hatha yoga for beginners
If you're looking for a free hatha yoga app, then try Hatha yoga for beginners. The app offers asanas and poses for daily practice at home. You can follow the virtual personal trainer instructions. All the yoga poses have detailed audio, text descriptions, and instructions with video.
The app features three training programs, 80 free asanas, and more than 60 different lessons. Overall, the app has a lot to offer for anyone looking to do yoga from home for free!
Each daily workout has an increasing level of difficulty, so you can start with easier lessons, and then move on to more advanced ones.
Get the app here:
17. YogaDownload App
Finally, we have YogaDownload App. This app offers an ever-growing library of more than 1,700 yoga, meditation, fitness, Pilates, and barre classes from internationally acclaimed yoga teachers.
Now, the app does have a paid membership plan. New users get a 5-day free trial, and then they have to register. After registering, you can get an additional 15-day free trial. Once your trial ends, you get access to select free classes only. Or you can purchase a membership to continue with full access. Not all classes are available with the free version, but there are still some free ones on offer. So it's worth a look.
Get the app here:
Closing Thoughts
Yoga is good for you both physically and mentally. It's good to know that you don't have to pay for classes to do it either. There are lots of free apps you can use instead. So do give them a try.
What do you think is the best free yoga app? Let us know in the comments section below.