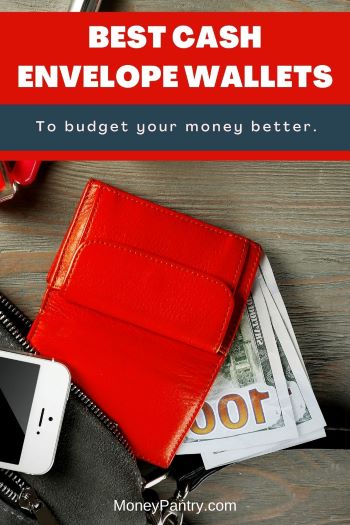 Finding the best cash envelope wallet is the first and most important step in using the cash envelope system to budget your money.
Creating a budget (and sticking to it) is one of those things that's so important, yet it's something that no one teaches us. We have classes on everything from English Lit to driving, but something as important as managing our finances is, sadly, skipped over.
Thankfully, there's so much great information out there on budgeting (including many articles here on Money Pantry!).
If you've started to read up on budgeting, or perhaps have recently just started looking into different ways to budget, then you've probably come across the cash envelope system.
It's such an interesting way to budget and what I love about it is that it's totally accessible.
You don't need to go through and make some crazy formula or set out a ton of difficult to follow rules for yourself.
Need Easy Extra $300+/Month for Free?
KashKick
: Get paid directly into your PayPal for watching videos, surfing, shopping and more.
Join KashKick Now!
InboxDollars
: Paid over $57 Million to members to watch videos, take surveys, shop and more.
Get $5 instantly!
Branded Surveys
: Get $1 instantly just for joining for free. Plus get paid within 48 hours by PayPal!
Join Branded Surveys
First Opinion
: Get paid up to $10 per survey and $300 per virtual focus groups!
Join Now!
Swagbucks
: Get paid to watch videos, shop online, take surveys and more.
Join now & get $10 instantly!
That's why the cash envelope system works for so many people.
What is the Cash Envelope System?
Put simply, the cash envelope system involves breaking expenses down into categories, like groceries, eating out, and gas, and then putting a set amount of cash into an envelope for each category.
That way, all you need to do is look into, let's say, the grocery envelope, to see how much money you have left over.
The cash envelope system simplifies budgeting. Now, I find that if I say to myself, "hey, you earn this much, so save this much," it's far too generic.
When I budget for things, I like to break my spending, bills, and any other expenses down into categories. Doing this allows me to see exactly how much money I'm spending and exactly where it is going. It also stops me from overspending.
That's why the cash envelope system works. It's awesome for tracking your spending, which is where many of us struggle financially. We know how much our utility bill or mortgage payment will be. Knowing what we're going to spend on groceries that week or clothing is another story, right?
I know that I overspend on groceries. I like food! But, setting myself a weekly budget has been really helpful. If I find myself going over that budget even a small number of times, I start to notice a negative impact on my overall finances.
With sites like Amazon making spending money even easier, it's no wonder many of us are spending more than we think!
Why the Cash Envelope System Works
Okay, so what makes the cash envelope system so effective?
Well, there are actually quite a few reasons why this method of budgeting works well for many people.
People tend to spend less when using cash rather than a card
It's pretty well-documented that we consumers spend less money when we use cash to pay for our purchases rather than a credit or debit card. There's something about physically parting with cash that makes us more aware of what we are actually spending.
It's easier to keep track of your spending
Because you can see what's left in your envelope, it's easier to keep track of how much money you are actually spending.
It makes you more disciplined
When you have a credit card or debit card, it's so tempting and easy to overspend. You might have set out a budget for yourself for eating out for example, and then after a few swipes of your debit card, realize that you have gone over budget. The money is in your account, so it doesn't seem like a big deal. Over time though, if you are consistently overspending in lots of different categories, it can start to have a large impact on your finances.
With the cash envelope system, overspending is not as easy. If you only have $125 for groceries that week, you only have $125 to spend. You have to plan out and consider your spending much more carefully. This encourages you to be much more disciplined than if you were using cards to pay for things.
How Do You Use the Cash Envelope System?
Before we get onto the list of the best cash envelope systems, I just wanted to cover how the system works. If you're new to it, then it's good to know how it works.
Here's a step-by-step guide on how to use the cash envelope system.
Step One: Categorize your spending
The first step is to choose your categories. So, think about the areas where you spend cash and then write them down.
Some examples of categories you might use include:
Groceries
Restaurants
Gas
Beauty (hair care, makeup, nails, etc.)
Car maintenance
Entertainment (movies, concerts, bowling, arcades, etc.)
Health (medicine/pharmacy)
Clothing and apparel
Gifts
Of course, you want to tailor the categories to suit you.
If you enjoy playing video games, for example, and you spend a lot on things like new games, consoles, and accessories, like headsets, then that might warrant its own "Gaming" category, rather than being stuffed in with a more generic category like "Entertainment."
Step Two: Allocate a budget for each category
Now, for the important part. And that's to set a budget for each category.
A common budget to set is a monthly one. This means that you set out how much money you want to spend a month on groceries, gas, and all of your other categories. If monthly doesn't work for you, then you can always try setting a weekly, or bi-monthly budget. I know that some people get their paycheck weekly or every two weeks so just budget in a way that suits you.
You want to set a budget that is going to be realistic. We'd all love to spend less on groceries, right?
I mean, this is the area where I spend the most money. That being said, you don't want to cut your budget too much. You've got to buy food. What you want to do is make note of how much you are currently spending. Then, try to shave some cash off of that.
Let's say that you are spending $125 a week on groceries right now. And you want to get that number down. Don't cut it right back to $50. Go with something more manageable to start with – like $90 a week. A saving of $35 a week doesn't seem like a lot, but over the course of the year, you will have saved $1,820!
You can always cut the budget more as you go. Start out with that $90 a week budget for groceries and see how it goes. Then, you can always cut it to $80. Getting into the habit of sticking to a budget can be tough – so start out small and you can make more cuts as you go.
If you are married, make sure that your spouse knows about the budget so that they don't go over it when they come to spend money.
Step Three: Put cash in envelopes
Now, this is where the envelope part comes in. Basically, you want to take the amount of cash you allocated to each category and put it into a corresponding envelope.
Let's say that for groceries, you budgeted $500 a month. When you get your paycheck, withdraw $500 from your bank account, and put it in the grocery envelope for that month.
Now, of course, if you get your paycheck twice per month, then withdraw $250 at a time from your bank.
Or, if you budgeted weekly because you get paid weekly, then you may want to withdraw $125 from your account.
Write "Groceries" on the envelope and then put the cash you allocated for that category into the envelope.
Do this with every category.
That's then your grocery budget for the month, two weeks, or week depending on how you budgeted.
Thankfully, you can purchase cash envelope wallets to make this easier. So check out the list of the best cash envelopes below to learn more.
Step Four: Make sure that you only spend what you have put in the envelope
Now, for the most important, but difficult step – make sure that you stick with your budget.
Let's say that you go to the grocery store with the $125 that you allocated.
Make sure that you add up your cart total as you shop. If you realize that you have gone over that $125, put stuff back. It's difficult, but the whole point of the cash envelope system is to encourage you to curb your spending. You don't want to go over your grocery budget for the week or month.
If your groceries envelope is empty, raid the pantry, the freezer, or the fridge and see what you can make without having to head on out to the grocery store.
The same goes for any category.
Stay on budget, keep track of what's left in each envelope, and try to get creative when you run out of cash. If you have a clothing envelope that's empty – think to yourself, do I really need any more clothes this month? The answer is probably no! Ask yourself, could I wait until next month? The answer is probably yes! You never know, there might be a sale on!
Also, remember to put any change that you get back into the cash envelope – you want to make every penny count. Don't sell yourself short. Just put the change back into the envelope and then use it on your next purchase!
Oh, and if you leave the envelope at home by mistake, turn on around and get it back – you don't want to have to withdraw any more cash from your bank account.
Step Five: Revise your budget
The thing with budgets is that they should be flexible and they shouldn't make you miserable.
If you find that you are always finding that the envelope for a particular category is empty and it's becoming an issue. So you find that you never have enough money left in the envelope for the amount of cash you need, then you may have set a budget that is just too tight for that particular category.
If that's the case, then I would recommend that you reevaluate the budget that you set for that category. Make it something that isn't going to stress you out or make you miserable. A budget should be something that helps you and, sure, we sometimes run out of cash because we've spent too much and we need to develop better spending habits. This is particularly true when it comes to things like eating out at restaurants, because, in reality, we can save money by cooking more meals at home, and clothing, because you can only wear one outfit at a time, right?
In some areas though, particularly things like gas, medicine, and groceries, we may just not be able to cut back as much as we would want to.
So, periodically, you're going to want to review how your budget is going in each category and then make changes accordingly.
Best Cash Envelope Wallets
Okay, so now you know how the cash envelope system works and how you can use it to save money, let's take a look at some awesome wallets.
These cash envelope wallets make the budgeting system a whole lot easier.
I have included a lot of different types of wallets and binders here that suit all styles. They are all available on Amazon. They vary in price, so do choose the one that best suits your budget too.
Now, before we get onto the list, please note that any prices mentioned below were accurate at the time of writing, but they may have changed when you come to read the post. So do check the price on Amazon before you make your purchase to see if it fits with your budget.
Okay, now that's out of the way, here are the top 20 best cash envelope wallets.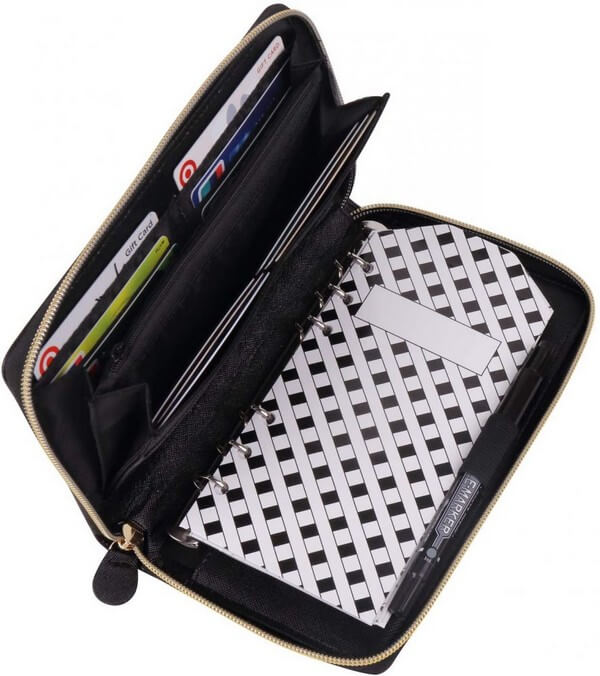 The Solight Budget All-in-One Cash Envelopes Wallet is so well designed that it suits everyone! It's a sleek looking black wallet with 12 envelopes making it perfect for monthly budgeting.
What I like about this Wallet is that it comes with so many helpful items, like 12 budget sheets, and 1 binder note for organizing. The budget envelopes include blank pages you can use to mark each category, and they are hole punched to fit the binder and be carried with the wallet.
It also offers plenty of space to store your cards, coins, envelopes, coupons and much more. Priced at just $19.65 at the time of writing, this wallet is on the more affordable side too considering all the extras that come along with it. Plus, it's really durable! The wallet is also available in red, and this option costs just $13.99!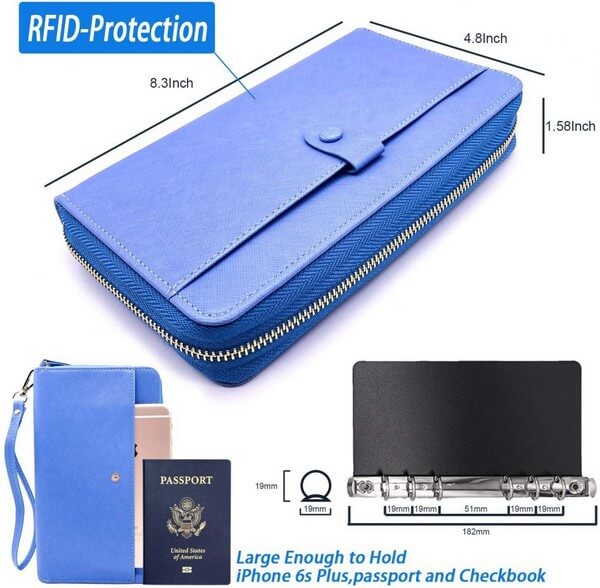 This cash envelope wallet from Rnairni is a cute blue color. What's good about this wallet is that it comes with so many pieces that make it really convenient and just useful all around.
The wallet comes with:
1 moveable wrist strap
1 marker
1 binder clip
12 budget envelopes
12 budget sheets
1 summary of the year and quick start guide
5 dividers
14 sticker labels
1 ruler
1 calendar
14 monthly budget pages
54 weekly planning pages to set up your daily to-do list
And much more!
This wallet really does offer so much and is awesome for the cash envelope system.
Because of how much it offers, this wallet is on the more expensive side at $35.99. When you consider everything that you get with it though, it's really a great price.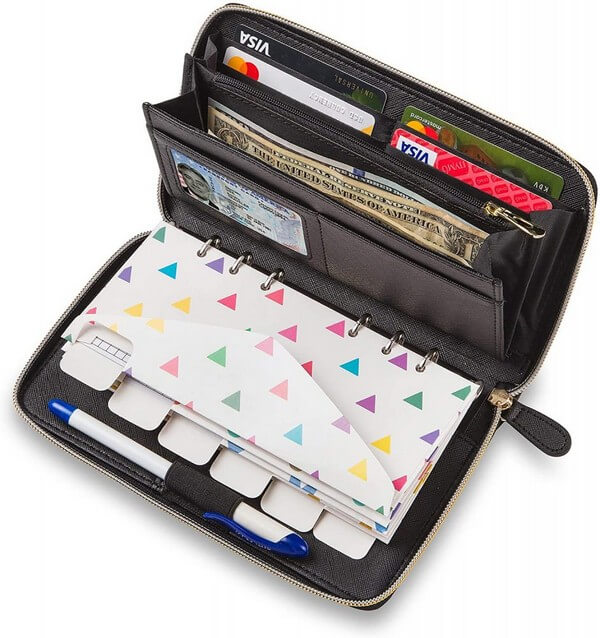 Next on the list we have this really cute and practical Cash Envelope Wallet All in One Budget System. It's another item that comes with a ton of different pieces that are just so useful.
With this budget system, you get:
A budget system wallet
A removeable wristlet
A binder note
A yearly budget sheet
12 budget envelopes
12 monthly budget sheets
Stickers for classifying the envelopes
Priced at $19.99, this is a pretty good option considering all of the items that come along with the wallet.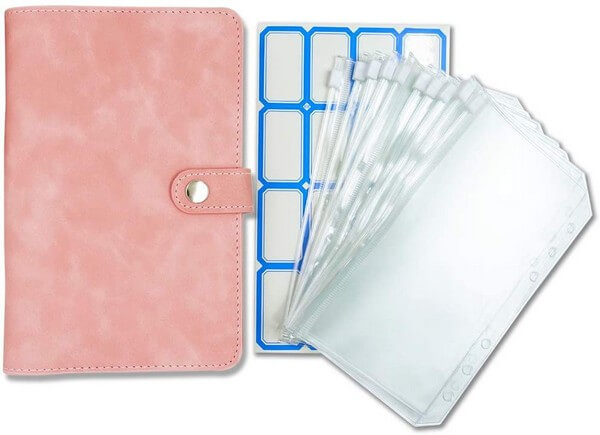 This pale pink budget binder features a very nice, classic design. It comes with lots of items like:
1 leather notebook binder
12 binder envelopes
16 self-adhesive labels
Inside the binder, you'll find a handy card holder, pen holder, and bill pocket. The pocket is ideal for storing bills, invoices, cash, coupons, cards, stamps, your passport tickets and more.
Priced at just $11.99, this budget binder is one of the most affordable options on the list. It's also available in other colors, like khaki, denim blue, and brown.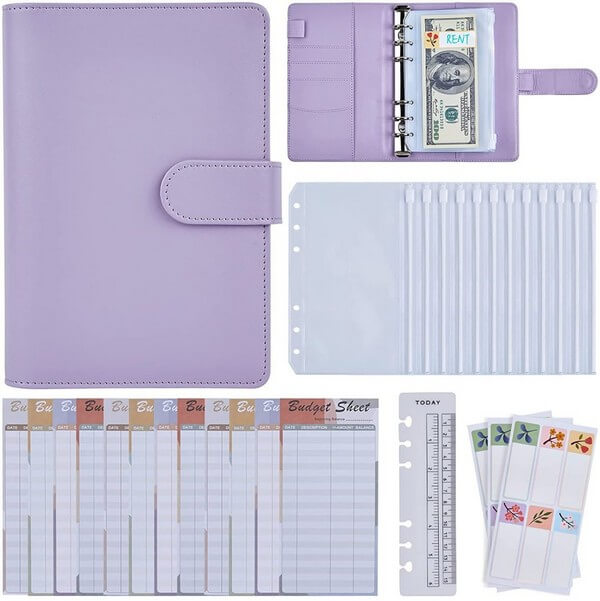 This A6 Cash Envelopes Binder Wallet is a beautiful lilac color. It doesn't just look great, it's really handy as well.
It comes with:
12 clear water-resistant zipper pockets
12 budget sheets
18 pastel category labels
A ruler bookmark
Priced at just $15.97, this is definitely one of the more affordable options on the list. The wallet is also available in black or pink.
You'll find lots of other handy features on offer inside this binder wallet, like card pockets, a coupon holder, and a pen holder. It also features a magnetic snap closure, which is useful!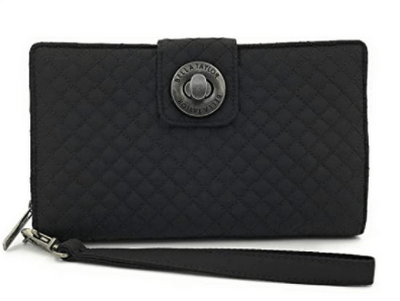 If you're looking for something a little chicer, then try this wristlet cash system wallet from Bella Taylor. It features a beautiful, quilted design, and since it's black, it will go with everything! It also includes antique pewter hardware that makes it look even better.
Inside, the wallet offers 8 compartments with customizable label inserts for your budget categories. And, it also includes:
6 card slots
2 window ID slots
A checkbook pocket
Pen loop
One extra pocket
A detachable wristlet strap
The wallet also provides RFID blocking protection. If you don't know what that is, basically, RFID-blocking wallets are designed to protect you from RFID skimming, which is like electronic pickpocketing.
Since some credit cards, passports, and driver's licenses now come with embedded radio frequency identification chips, there's a concern that criminals can take information from your wallet.
Basically, there's the technology that allows criminals to skim information from cards using RFID, or radio-frequency identification. However, most experts in fraud prevention say that RFID-related crime is essentially non-existent. Still though, safety features are always a plus and nice to have!
This wallet is on the more expensive side though costing $39.95 for the black version. The wallet is available in navy blue too, for the same price. There's also a leather version of the wallet available in black or brown but these leather versions of the wallet are VERY expensive costing $54.95.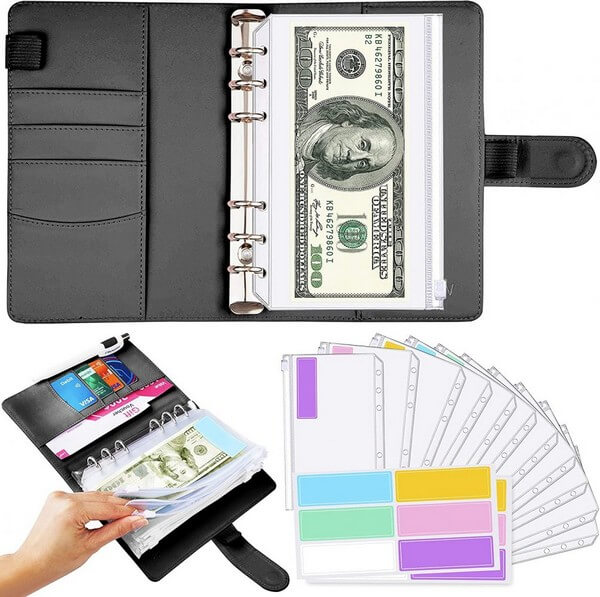 The Saveyon Black A6 Binder is another great option featuring a great binder design that makes it easy to navigate your budgeting envelopes. The binder comes with 12 clear A6 binder pockets and 12 pastel colored labels.
Inside the binder, you'll also find 4 card slots, 2 large pockets, and 2 pen loops. The binder also includes a magnetic closure.
What's great about this binder is that it comes with free planner printables including budget sheets, monthly calendars, to-do lists, note sheets, expense trackers and more. The physical sheets aren't included with the products, instead, you just follow the package insert for printable instructions, and then you can print out these free printables.
This product is pretty reasonably priced too at just $16.97.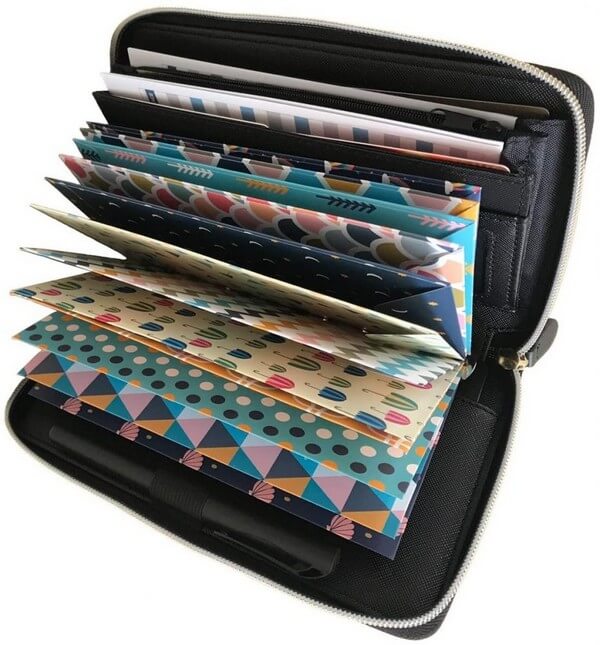 This All-in-One Cash Envelope System Wallet offers cash envelopes that feature such cute designs. It includes 12 envelopes, 12 budget sheets, and a binder that offers plenty of room to store your bank cards, coupons, pen, notes, photos, coins, and more.
Costing $21.98 it's not the cheapest on the list, but it's not the priciest either.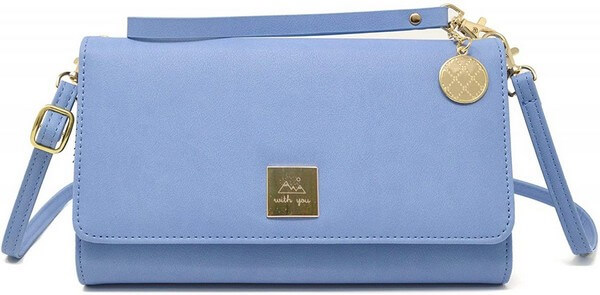 Next, we have one of the most beautiful looking cash envelope wallets on the list. The With You All-In-One Cash Budget Envelope System Wallet is a stunning pale blue color, and it includes a beautiful pendant charm.
The bag is also convenient to carry with you. You can carry the bag hands-free by using the cross-body strap, or you can use the wristlet and use the wallet as a clutch.
Aside from its beautiful design, this wallet is also very practical.
It includes 12 laminated budget envelopes, 12 budget sheets, and 12 label stickers. There's also a binder organizer in the wallet.
Costing just $19.99 this wallet is reasonably priced considering its beautiful design and how useful it is for anyone who's looking to budget. You can also get this wallet in black, but it's more expensive costing $23.99.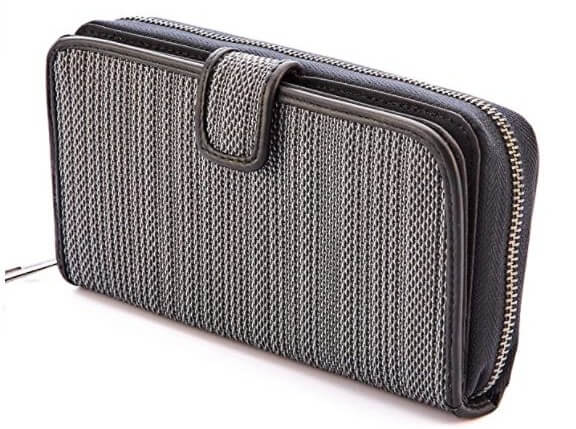 This wallet has a unisex design making it ideal for everyone. The wallet keeps things simple featuring ten compartments that are perfect for the cash envelope system. You can simply place in the cash you need for each budgeting category.
This wallet also comes with 20 labels, a refillable pen, a checkbook holder, two ID slots, four card slots, and RFID Blocking Technology. It costs $34.99, so it is on the more expensive side, but it's still a good option.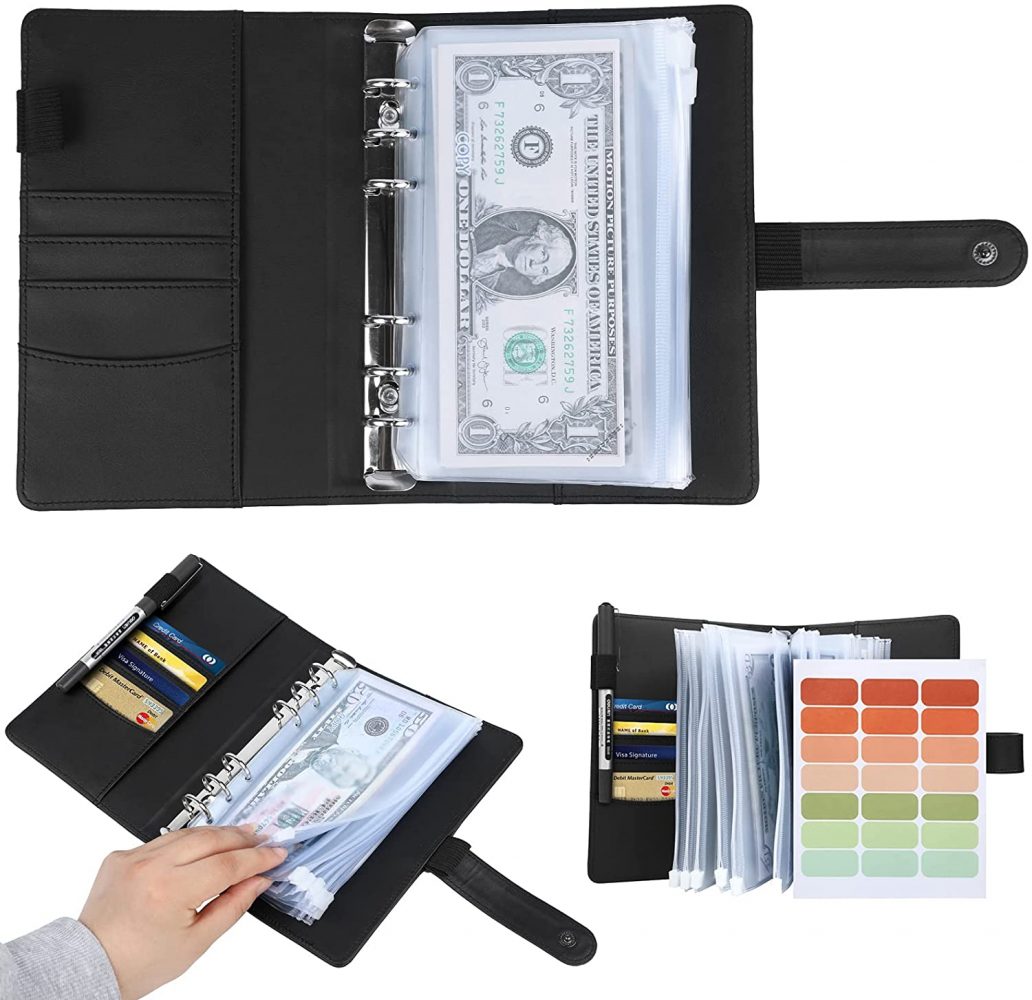 The Newtion Black A6 Binder comes with 12 transparent PVC envelopes and 21 sticker labels. It has a lot of features that make it convenient like 2 elastic pen loops, 4 card pockets, and two large pockets where you can store stuff like your passport.
With a sleek, black modern design, this cash envelope binder is suited to everyone. It costs just $16.95, so it's pretty reasonably priced.
This All-in-One Leather Cash Envelopes Wallet is another one to consider. It features such a nice brown leather design and is also available in other colors like blue, purple, and red.
With the wallet, you get 12 budget envelopes, a binder note, a budget sheet, labels, and much more. Priced at $20.99, this wallet is pretty affordable.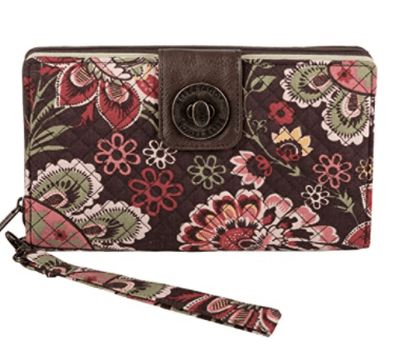 The Bella Taylor Microfiber Wristlet Cash System Wallet features a really nice floral design. So if you want something that's not only practical but looks good too, then this could be the wallet for you.
It features 8 envelope slots with customizable label inserts for your budget categories.
It also includes 6 card slots, 2 window ID slots, a checkbook pocket, a pen loop, and one extra pocket.
It is on the pricier side, costing $34.95, but it does feature a beautiful design. It's also available in lots of different colors and patterns.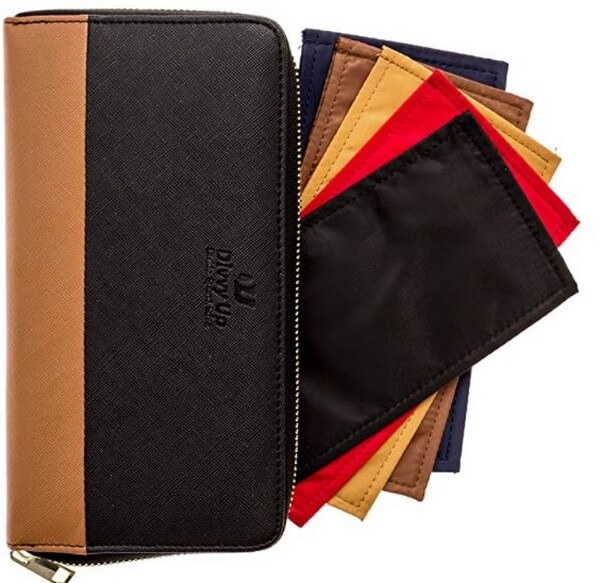 This wallet features such a timeless design. It's black and tan, making it a great option for everyone.
It comes with 5 cash envelopes, 12 stickers you can use to label each category, 1 zipper pouch, 2 extra storage pockets, and room for 12 debit or credit cards.
What makes this wallet stand out from the others on the list is that it actually offers fabric envelopes that are designed to last, and they can even withstand the washing machine.
This wallet is one of the most expensive on the list costing $39.95, but it does come with durable envelopes and lots of other features, and it looks great too.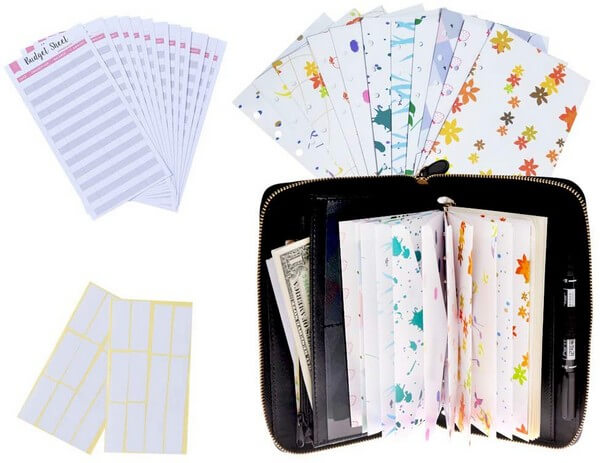 Next on the list we have the Longan Craft Cash Envelope Wallet and this wallet comes with lots of great features.
It comes with a binder, 12 budget envelopes, 12 budget sheets, 24 sticker labels, 12 to-do lists, and 1 pen. And it has a wristlet too!
The envelopes feature nice patterns, which is great.
Priced at just $19.99, this product is affordable, especially when you consider all of the extras that come along with it.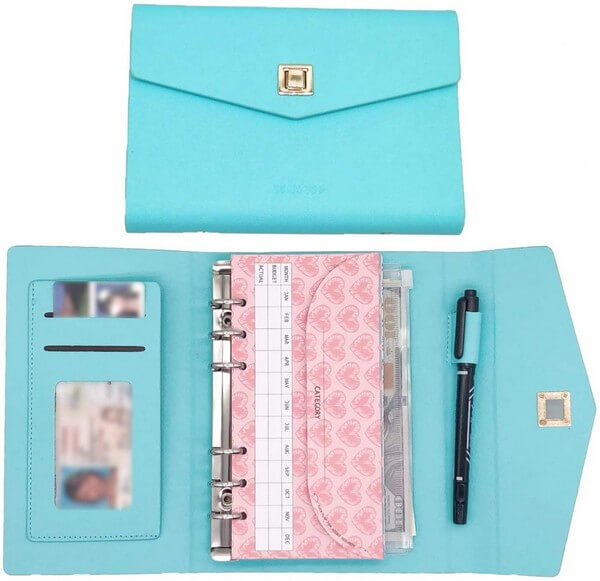 If you are looking for something that is not only useful but also looks great, then you will definitely want to check out the Rnairni All-in-One Cash Envelopes Handbag Wallet. It's a beautiful Tiffany blue color.
It comes with 12 envelopes, 12 budget sheets, 1 marker pen, 14 labels, and plenty of other features that make it an awesome product overall. It also includes other useful features like a pen holder and a place to store your card or ID.
This wallet is also available in a variety of other colors, such as red, orange, pink, blue, and black. Priced at just $14.99, this wallet is very affordable.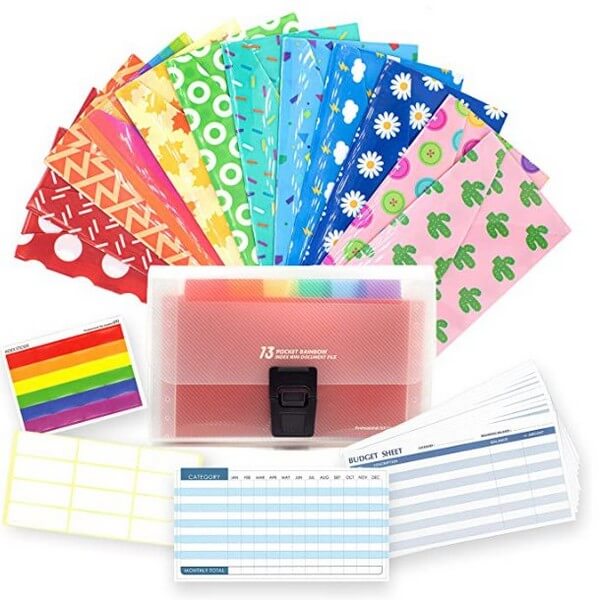 If you want something simple, then why not try out this 12 Piece Cash Envelope System for Budgeting. This one doesn't look like your traditional wallet or binder wallet.
Instead, it's a plastic wallet case that comes with envelopes. You can either keep the envelopes in the plastic case and just drop the whole thing into your purse. Or you could put the envelopes into another wallet. It really just depends on your needs!
With this cash envelope system you get:
A 13 pockets rainbow wallet
12 plastic budget envelopes
1 summary of the year
12 budget sheets
24 rainbow sticker labels
24 blank sticker labels
Costing just $15.99, this is definitely one of the most affordable options on the list.
Closing Thoughts
The cash envelope system is so useful. First of all, it's accessible so really anyone can get started with this. Secondly, it's effective. Actually being able to see how much money is left in each envelope can really help you to curb spending and just be more mindful of your spending habits.
Give these cash envelope wallets a try. There's something to suit everyone!
What do you think is the best cash envelope wallet? Share your thoughts with us in the comments section below.