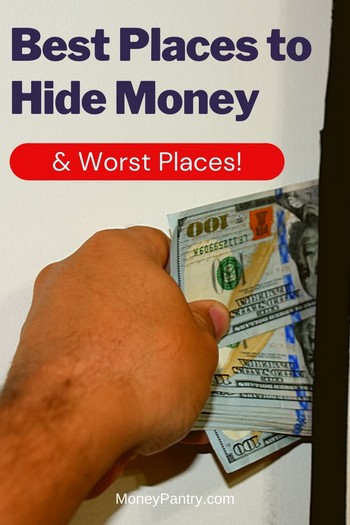 Have some money around the home that you'd like to hide? In today's post, I'll cover some of the best places to hide money.
For times when you need money right this second, it's good to have cash around the house so you can access it quickly and easily. But you don't want anyone to be able to find it.
That's why hiding it away is such a good idea.
But where should you stash money?
You work hard to make money so it's only fitting to make sure you don't lose it to a thief. Whether you just don't know where makes a good hiding spot or would just like a few more ideas of where to hide cash, we've got you covered.
Where to Hide Money
Check out our list of the best places to hide money…
Need Easy Extra $300+/Month for Free?
KashKick
: Get paid directly into your PayPal for watching videos, surfing, shopping and more.
Join KashKick Now!
Panel Payday
: Earn up to $75 per survey. They also pay up to $50/hr for mystery shopping.
Join Now!
InboxDollars
: Paid over $57 Million to members to watch videos, take surveys, shop and more.
Get $5 instantly!
Branded Surveys
: Get $1 instantly just for joining for free. Plus get paid within 48 hours by PayPal!
Join Branded Surveys
iPsos iSay:
: If you have to only sign up for one paid survey site, go with Ipsos (high paying survyes)!
Join iPsos Now!
Swagbucks
: Get paid to watch videos, shop online, take surveys and more.
Join now & get $5 instantly!
1. Inside a Pringles can
Not many people will think to look for cash in a can of Pringles!
2. In a makeup palette
An empty makeup palette, like an Eyeshadow Palette is a great option. You can always put the money in a plastic bag to protect it further.
3. Under the drawers
People are more likely to look in the drawers than under them.
4. In a pencil case
Pencil cases are so everyday that most people won't expect to find cash in there.
5. In the laundry basket
Money isn't particularly hygienic anyway, so stash it in the laundry hamper. It's unlikely someone will go rooting through a laundry basket hoping to find cash.
6. Inside a flashlight
Wrap a bill around the battery of your flashlight, put the flashlight back together, and no one will find your cash except you.
7. Inside a book on the bookshelf
Place the bill inside a book on your bookshelf. If you have a large collection of books, people are unlikely to find the bill. Just make sure you remember which book you put it in!
8. Under the ironing board cover
Just place the bill under the ironing board cover and it will be hidden away!
9. Inside of an opaque pill bottle
If you have an opaque bill bottle that's empty, consider rolling up some bills and hiding them in there. Place the bottle back in your cabinet.
10. Conceal cash in a vase
This works with plastic flowers. Just put the cash at the bottom, and put the plastic flowers on top, and your money will be concealed!
11. Inside of an old home phone handset
Like most people, you probably don't use the landline phone anymore. If you have an old home phone that you don't use, just open the cover of the battery casing on the handset. Then place a dollar bill onto the battery and just put the cover back on. Then, your cash will be securely hidden away.
12. Inside the base of an old home phone
The base of a house phone is also a good place to store cash.
It's a little more complicated than storing it in the handset. Take apart the phone carefully. Unscrew any screws that are holding it together. Put them aside and make sure you don't lose any. Open up the base and find a space inside where you can place your money. Once the money is in there, screw the base back together and you're set.
13. In a cereal box
Hide cash between the bag and cardboard box.
14. Behind the photo in a picture frame
Unscrew a photo frame, place the cash flat in there, put a photo on top and you have a sneaky hiding place for your cash.
15. Under the TV
Place bills under the base of your TV and they'll be securely hidden away in plain sight.
16. Inside a cassette player
Have an old cassette player you don't use? Hide cash in the cassette tape compartment.
17. Behind the wall clock
An easy place to hide cash.
18. Within a DVD Case
You could hide the money behind the disk or in the case between the cover image and the plastic coating.
19. In the attic hatch
Hide the money in the hatch to the attic.
20. At the bottom of a plant pot
If you have a larger sum of money to hide, bury it in a plant pot. Make sure it's in a Ziploc bag though. Or you could put it in a little jar inside the soil.
21. In the freezer
Put the cash in a Ziploc bag and hide it under food in the freezer.
22. Inside a coffee jar
If you have an opaque coffee jar, hide your cash in there.
23. Inside wall compartment
If you have cable TV outlets that you don't use anymore, you can use them as a secret compartment for money.  Just unscrew one of these outlets from the wall, and then place a piece of tightly fitting cardboard inside so it doesn't fall down into the wall. Screw the cover back on and you have a secret compartment.
24. Inside a box of Christmas decorations
Not many people are going to think to look for cash among Christmas lights and holiday decorations.
25. Inside a CD case
Hide cash in the little booklet that comes inside most CD cases. Or you could stash the money where the disk goes.
26. Inside a box of cat food
You can conceal money in a box of cat food. You can store bills below and between the pouches of cat food.
27. Within a tennis ball
Most people wouldn't think to look for cash inside a tennis ball canister, let alone inside an actual tennis ball. That's why it makes such a great place to conceal money. Slice an opening that's just large enough to be able to get the bills in and out. Then, place the ball back in the canister with the other tennis balls. Store it among other sporting equipment and no one will know that there's cash in there!
28. Inside a pen
You can roll up a bill in the inside of a pen, put the pen back together and you have a great spot for concealing your money. Just make sure you don't let anyone borrow the pen!
29. Inside your shoes
If you have shoes you don't wear that often, consider storing cash in them. To make this a better hiding place, remove the soles and store cash underneath them!
30. Inside a curtain rod
Since many curtain rods have ends that detach, this can be a good place to store cash. Just take the ends off, roll the money up, and secure it with a rubber band. Then place it into the end and put the cap back on. Simple, right?
31. Within couch cushions
Most sofa cushions have a zipper that allows you to open the cushion. You could open up the cushion, put some cash inside, and zip it back up. It's not a place that many people would think to look.
32. Inside dining room chairs
Dining room chairs that are upholstered sometimes have a zip so that you can take off the cover and wash it. You could store some cash in there.
33. Rolled up in socks
Sure, the sock drawer itself is more of a cliché place to hide money, but what about within the sock itself? Most people wouldn't even consider looking inside a sock for cash.
34. Bottom of a kitchen shelf
Place money in an envelope and tape it to the bottom of a kitchen shelf.
35. On the back of your toilet
Place money in a watertight plastic bottle or jar in the tank on the back of your toilet.
36. At the bottom of your child's toybox
Since most people won't think to look for money in a child's toybox, this can be a good place to store cash. Just put it in an envelope and place it at the bottom of the toybox.
37. In a pocket of a shirt or jacket
I once pulled out a jacket only to find money in there. Turns out, it was a safe place to keep it! So put cash in the pocket of a certain shirt or jacket in your closet.
38. In a folder in your filing cabinet
Place cash in a random folder in your filing cabinet and it's sure to be safe.
39. Behind a hanging mirror
Put the money in an envelope and tape it to the back of a mirror. Then just hang the mirror on the wall as you normally would.
40. Buried in the back yard
Burying money in the back yard is a good way to hide it. Just place the money in a jar or plastic container and bury it in your yard. You'll want to ensure that whatever container you use is airtight and waterproof, so the money doesn't get damaged or rot. Just make sure you remember where you buried it!
41. Bottom of a dresser drawer
You can put money in an envelope and tape it to the bottom of a dresser drawer, so you can reach it from the inside from the dresser below it.
42. Inside a jar of flour
Put the cash in a plastic baggie inside of a flour container.
43. Inside unused children's toys
Toys can be used to store money. And it's an effective way to hide it because no one is going to take the time to look for money in kid's toys! Choose a toy your child no longer plays with and store the money in there.
44. Empty wine bottle
If you have a wine rack or cupboard where you store your wine, consider hiding some cash in an empty bottle. Then you can simply put the bottle back. Of course, you may need to break the bottle to get the cash out, so do be very careful.
45. Soda bottle
Any opaque or colored plastic soda bottle is a good storage solution for cash. Roll up some bills, place them in the bottle, put the lid on, and store it alongside your other soda bottles.
46. In the insultation
Most people would never consider digging through the insulation in a home to find cash.
That's why it's one of the safest places to keep your money at home.
47. Within the curtain hem
There's usually a hem at the top or bottom of a pair of curtains. The top hem of the curtain can make for a great place to store cash.
Fold your cash and then insert it into the folds at the top of the curtain. The top of the curtain is a better place to store cash because the bottom can easily get soaked by water by mistake.
48. Old VHS player
If you still have a VHS player in the house, then use it to hide your cash. You can keep it in the tray or open the entire thing and store it inside. You can always unscrew the video cassette and create a space for the cash, place it in there, and screw it back together.
49. In an empty shampoo bottle
You can store money in an empty shampoo bottle. Just roll it up, place it in, and then put the lid back on the bottle. This also works with empty bottles from other cosmetics, like sunscreen, conditioner, and moisturizer. Ensure you wash the bottle thoroughly before use and consider putting the money in a plastic baggie before you place it into the bottle.
50. In a pair of gloves
Roll up the bills and place one in each finger of a pair of gloves. No one will think to look there. Place the gloves back where you keep them.
51. At the bottom of a tissue box
No one is likely to look there!
52. Underneath the sofa
Place the cash in an envelope and tape it underneath the couch.
53. Under the tray in a box of chocolates
Under the plastic tray where the chocolates are stored can be a good place to store money. Just place it in a plastic baggie first.
54. Cosmetics bag
If you have a bag where you keep your makeup, consider placing money in there. No one is going to think to look through a makeup bag for money. Just place the cash into a plastic bag first.
55. Under the floorboards
If you have a loose floorboard, consider hiding money in a box under there. Preferably the loose floorboard needs to be in a spot where it's covered over with something like a rug or coffee table.
56. Under the dining room table
Place the money in an envelope and then tape it to the bottom of the dining room table. A dining table seems so obvious that it's unlikely a burglar would look there.
57. In a toolbox
If you have a toolbox, consider putting some cash in a plastic baggie and storing it beneath your tools.
58. Photo album
Place the money behind photos in a photo album. It's a safe place to hide stuff and most people won't want to steal photos!
59. Inside a pack of toilet paper
Let's face it, the last place a person would think to look for cash would be inside a pack of toilet paper!
60. Under a lamp
Whether it's a floor lamp or a table lamp, you can hide money under the lamps in your home.
Secret Cash Hiding Products
Sure, the places above are great ways to hide money away. You can also use fireproof safes, but depending on the size and rand, they can be quite expensive.
If you can't justify spending $100s or $1000s on a safe (fireproof, waterproof or any other form) you may want to consider buying relatively inexpensive products that are specifically designed for concealing money.
These look like ordinary household products, but they are designed to hide money.
They're not essential. I think that the places above work just as well but are free!
Still though it's something to consider.
Here are a few examples of products you can buy to hide money…
61. Secret Stash Electrical Plug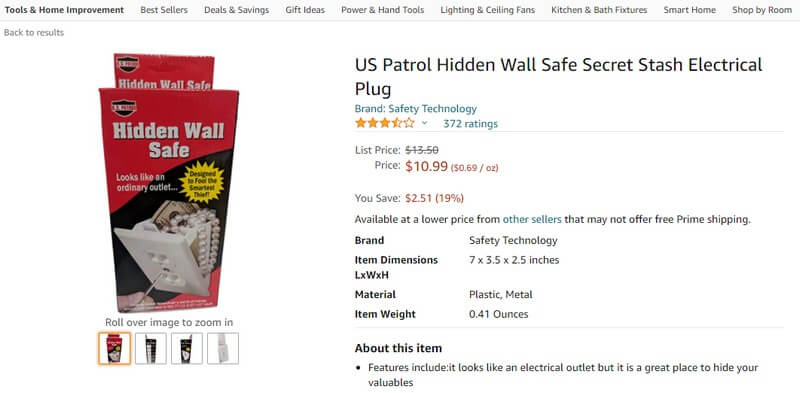 Basically, this product looks like an outlet, but it's really a wall safe.
62. Coca Cola Coke Soda Can Diversion Safe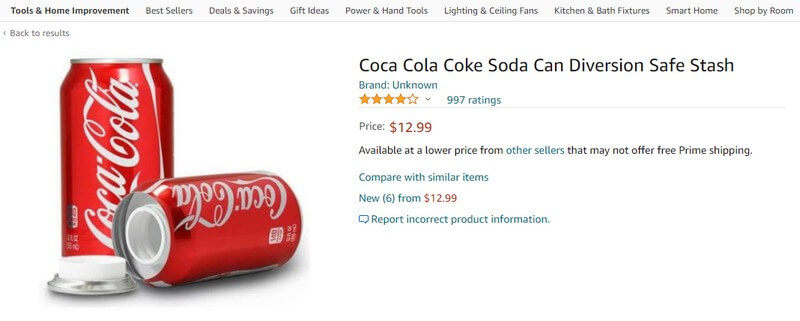 This product looks like a regular old can of Coca Cola. Really though, it's a safe.
63. AmazonBasics Book Safe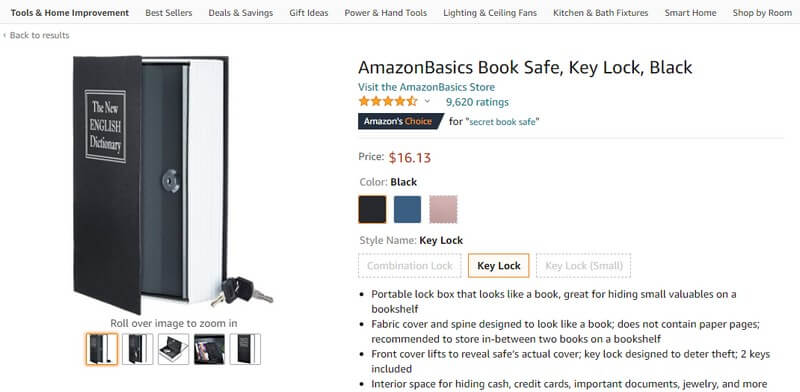 Designed to look like a book, this product offers a small safe where you can hide money away.
64. Southern Homewares Hair Brush Secret Hidden Diversion Safe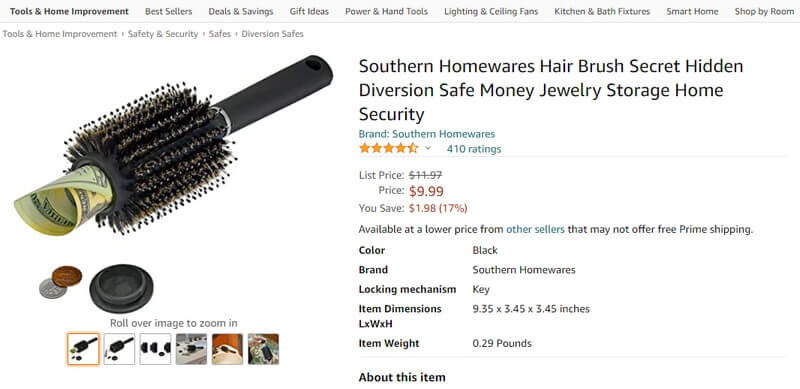 No one is going to think to look for money in a hairbrush. That's why this safe that looks like a regular hairbrush is such a great product.
65. Stalwart 82-5894 Hidden Compartment Wall Working Analog Clock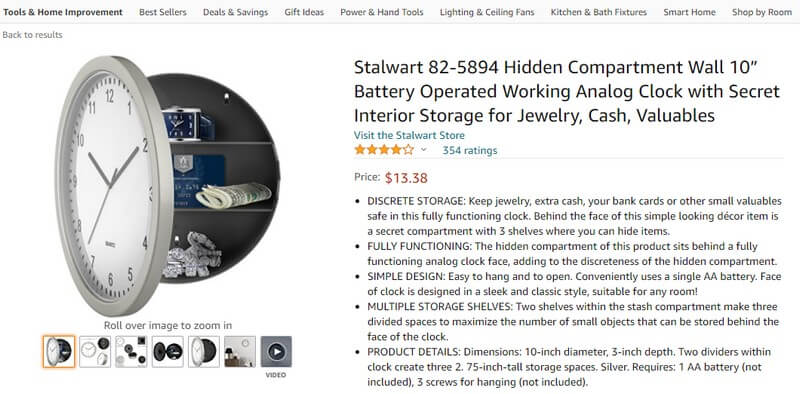 This clock functions like a normal clock except that it has a hidden compartment where you can store your cash.
Worst Places to Hide Money
The purpose of this post is just to give some ideas and get you to think outside the box. Like any other "secret", once enough people know about it, it's not a secret anymore. If you and I can read this list, so can any would-be thief.
Over time, some of these places actually become the worst places for hiding cash because everybody and their moms know about them.
Need examples of spots that used to be known as safe places for stashing emergency cash and valuables away but are now useless?
Here are the worst places to hide money:
Toilet Tank
Inside Drawers
In a purse/handbag
Under the mattress
These are a few examples of places where burglars do look for money first. So avoid them at all cost!
So where should you not hide money in your house?
To decrease the odds of burglars finding your valuables, you want to avoid cliché hiding places as much as possible. Again, think outside the box. Look in and around your house for foolproof hiding places that not only could keep your money safe from the elements (fire, water damage, etc.) but could also provide a secure place where the odds of your stuff being discovered by a burglar are nonexistent or very low.
Closing Thoughts
If you've been looking for the best places to hide money, then give our tips a try! You're sure to keep your cash safe.