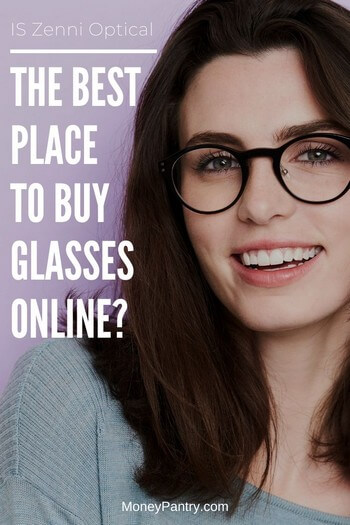 This is an overall review of Zenni Optical, a site where you can buy affordable prescription and sunglasses online, for men, women and kids.
Glasses are expensive if you buy them from your traditional brick and mortar optometrist!
A pair of glasses can easily set you back $400, especially designer frames, with standard frames still costing around $80.
Generally, you pay much more for a pair of glasses than what they're actually worth.
In fact, they can have markups of up to 1,000%!
That's why more and more people are turning to the internet to purchase their glasses.
Eight million pairs of prescription eyeglasses were sold online in 2017!
Need Easy Extra $300+/Month for Free?
KashKick
: Get paid directly into your PayPal for watching videos, surfing, shopping and more.
Join KashKick Now!
InboxDollars
: Paid over $57 Million to members to watch videos, take surveys, shop and more.
Get $5 instantly!
Branded Surveys
: Get $1 instantly just for joining for free. Plus get paid within 48 hours by PayPal!
Join Branded Surveys
First Opinion
: Get paid up to $10 per survey and $300 per virtual focus groups!
Join Now!
Swagbucks
: Get paid to watch videos, shop online, take surveys and more.
Join now & get $10 instantly!
One of the most popular online glasses retailers is Zenni Optical.
In 2018, the company marked its 15th anniversary by selling it's 20 millionth pair of glasses!
That's pretty impressive.
In today's post, we're going to tell you everything you need to know about Zenni Optical, from how it works, to whether it's a good place to buy glasses.
What is Zenni Optical?
Zenni Optical is an online store where you can find a huge selection of glasses, including prescription glasses, and sunglasses, at affordable prices.
Since brick and mortar stores have overheads, they often mark up the cost of their glasses.
Since ZO is an online-only glasses store, it doesn't have the overheads of a traditional store, meaning it doesn't mark up its glasses quite so much and you get glasses at a great price.
You can take a look at the official Zenni Optical website here.
How it Works
Here's how getting your glasses from ZO works.
Just visit the official website to get started, which we linked to above.
Then, follow these steps:
Step 1: Measure your PD
You'll need to know your pupillary distance (PD), which you can get from your optometrist. If you don't have it already, you can also measure your PD yourself. ZO has a guide on how to do this, which you can read here.
Step 2: Virtual Try-On
You can see how any frame on the site will look and fit on your face, using the site's 180-degree Virtual Try-On tool.
This tool will take a short video of your face, using your desktop or mobile camera. Then while browsing frames, you'll be able to see how they'll actually look on your face. This is really useful when you're buying glasses online.
Step 3: Browse frames
Next, you'll need to browse frames on the site. You can get prescription eyeglasses and sunglasses.
There are more than 6,000 frames available on the website, so there's plenty to choose from.
There are glasses for men, women, and kids too!
What's handy about the site is that it has filters you can use to narrow down your search results.
All of the site's glasses include a free anti-scratch coating, single vision lens, UV protection, a hard case, and a cleaning cloth.
Step 4: Enter your prescription details
Once you find a pair of glasses that you like, you'll need to enter your prescription details to complete your order. ZO offers a handy guide on how to read your prescription, which you can read here.
That's it!
It's super simple to order glasses from the site.
Zenni Optical FAQ
In this section, we're going to cover things you need to know about Zenni Optical.
How long does it take to get glasses from Zenni Optical?
This depends on where your glasses are shipping to and the type of delivery you select
Here's when you can expect your glasses to arrive from the company and how much it costs:
You can also check your order status here.
U.S. (All 50 States)
Standard Shipping (USPS) Estimated Delivery: 14 to 21 days. Cost: $4.95
Priority Shipping (USPS) Estimated Delivery: 10 to 14 days. Cost: $8.45
Express Shipping (USPS/UPS/FedEx) Estimated Delivery: 7 to 10 days. Cost: $18.95
U.S. Territories (Puerto Rico, U.S. Virgin Islands, etc.)
Standard Shipping (USPS) Estimated Delivery: 14 to 21 days. Cost: $4.95
Priority Shipping (USPS) Estimated Delivery: 10 to 14 days. Cost: $8.45
Canada
Standard Shipping Estimated Delivery: 14 to 21 days. Cost: $9.95
Express Shipping Estimated Delivery: 7 to 14 days. Cost: $15.95
Australia & New Zealand
Standard Shipping Estimated Delivery: 14 to 21 days. Cost: $9.95
Express Shipping Estimated Delivery: 7 to 10 days. Cost: $28.95
International
Standard Shipping Estimated Delivery: 21-28 days. Cost: $9.95
APO and FPO address
The time-frames for Standard shipping (14-21 days) and Priority shipping (10-14 days) do not apply to APO and FPO addresses. Shipping time for APO and FPO will be much longer.
Who owns Zenni Optical?
Zenni Optical was founded in 2003 in the San Francisco Bay Area by Tibor Laczay and Julia Zhen.
How much do lenses cost at Zenni Optical?
Eyeglasses start at $6.95, which is super cheap.
But, you can also get frames that are more expensive, costing $12.95, $15.95, or $32.95 for example.
Each pair of glasses has a starting price.
Let's take this pair of eyeglasses as an example.
I entered the prescription details, and the price of the glasses came to $26.90.
I thought that since the original price of the glasses was just $6.95 that this was a pretty big price jump.
However, when I scrolled down the page to the details, I could see that in the "Lens Index" section, ZO had selected an option for me that cost an additional $19.95.
This made the total of the order $26.90.
When I looked at the other options on the list though, I could see that there were several free options, and when I selected a free option, the cost of the glasses was just that initial $6.95.
So, when you enter your prescription and get a quote, make sure to check the details at the bottom to see if you're being charged for any additional features.
Now, the cost of frames depends on the type of glasses you choose, your particular prescription, and which additional things, such as the Lens Index and the Lens Tint, if any, that you choose.
Does Zenni Optical take insurance?
Zenni doesn't work with insurance companies directly. However, it does say that you can submit a claim to your insurance provider yourself, depending on your plan's coverage.
Also, you can use funds from your FSA to purchase glasses.
Does Zenni Optical have progressive lenses?
Yes, it does. Most of its frames are available as Progressive lenses. You can also take a look at Progressive lenses here.
How much do Progressive Lenses cost at Zenni?
You can get Progressive Lenses from $27.95.
Where does Zenni Optical make their glasses?
Zenni Optical makes its glasses at its own factory. It says it has no middleman, and no retail-space overhead, meaning that it's able to provide high-quality glasses at affordable prices.
ZO owns a 248,000 square-foot manufacturing facility, which houses Rx and Edging Labs.
So, customer orders are produced in their own factory.
Can you return glasses to Zenni Optical?
ZO gives you 30 days from the date you get your glasses to call the company for a return authorization number.
If you made a mistake during the order, or you just don't like the glasses, then you can return them for a 50% refund (this excludes the cost of shipping) to your credit card, debit card, or PayPal account.
Or, you can get a one-time-use 100% store credit (excluding shipping).
Any unused accessories can be returned for a 100% store credit, or for a 100% refund, again excluding shipping.
During this 30-day warranty period, ZO will replace broken frames at no charge.
Replacement nose pads and nose pad screws for rimless frames are offered for the lifetime of the glasses. However, it does not offer replacement screws for frames other than rimless frames.
If you feel like your glasses have a manufacturing error, then you can return them for inspection during the 30-day return window as well.
If this inspection shows that your glasses were made incorrectly, then ZO will remake them for you for free.
Finally, there's a one year warranty, from the date of receipt, for defects in the anti-reflective (AR) coating and photochromic films. But, this warranty doesn't cover normal wear and tear to the frames, lenses, or coatings.
How to return glasses to Zenni Optical
If you want to return your glasses to ZO, get in touch with the company by phone, chat or email, within 30 days of receiving your item to get your return authorization (RA) number.
Then make sure that your return package includes the following:
Eyeglasses and any accessories, in the hard plastic case that contained your glasses.
A note that includes the RA number along with a brief description of the issue that caused you to return the glasses.
A copy of your prescription that your doctor gave you. This is so that ZO can inspect your glasses, and determine whether or not they were made according to your prescription.
Your returns need to be sent to the address provided with your RA number. If you want a replacement order, then you need to return your glasses in their entirety – with their frames, lenses, eyeglasses case, etc.
You must also pay the shipping fee to send your glasses to ZO.
If the glasses do have a manufacturing defect, ZO will refund $2.50 of your shipping fee.
Once you've sent your glasses back, you'll get an email from ZO when it has processed your refund or credit. Now, if you sent your glasses back for inspection, ZO will inspect them, and send you the inspection results by email.
Is Zenni Optical Legit?
So, is Zenni Optical good?
Is it a site that you should use to buy glasses online?
In this section, we're going to take a look at how well-rated the company is, what its customers have to say about it, and the pros and cons I discovered during my research into the company.
Better Business Bureau Rating
Zenni Optical is accredited by the Better Business Bureau (BBB). It has been accredited since 2010.
It has an A+ rating from the BBB, which is pretty impressive.
Customer Reviews
While it's rated well by the BBB, what do customers have to say about ZO?
Here are some customer reviews from sites like Reddit and Trustpilot.
Reddit
In this Reddit thread, people speak highly of Zenni, saying they have had a great experience purchasing their glasses from the company:
"Zenni is great. 17+ years. Dozens of glasses."
"Love Zenni. Have happily bought 4-5 frames over the past few years. They are my go to for oversized ray-ban shaped frames. I buy the same pair in a different color every couple of years."
"Zenni Optical is really good, we've been using them for a while."
"Zenni is fantastic. Wide variety of frames and lens options. You can even opt in to transitions lenses without breaking the bank."
On other Reddit threads that I browsed through, most people praised ZO as well. So, it seems like a winner with Reddit users!
Above, we mentioned that ZO has an A+ rating from the BBB.
However, customers on the BBB don't rate the company so highly.
There are more than 172 customer reviews of ZO on the BBB, and it only has just over 2 stars.
That's not a great rating.
In the customer reviews, I noticed that the most common complaint was that ZO got people's prescriptions wrong.
Some of these customers also said that when ZO did get their prescription wrong, they would not refund the whole price and that they were without their much-needed glasses for 7 to 10 business days or more, in some cases.
Here's what customers had to say about ZO on the BBB:
"Purchased three pairs of rx glasses from Zenni only one pair is usable of the two that cannot be used one is too small for the face and the left lens is the wrong rx. I contacted Zenni and they informed me that I can send them back for a credit or half my cost. They made the mistake not me so why do I have to pay??"
"Gets 1 star only because you can't get zero. Glasses arrived with incorrect prescription. Zenni refuse to make the correct prescription or to refund my payment."
On Trustpilot, ZO has more than 65,000 reviews. It has 4.5 stars, which is an "Excellent" rating.
Customers praise the company highly, as you can see from these reviews:
"Legit just have to make sure to input your glasses information. Love my glasses I get a lot of compliments on them."
"Perfect pair of glasses I have no complaints."
"As promised. Very nice and accurate glasses. Delivered on time."
"Good glasses for the right price. Frames were a little lighter weight than I expected but they will work."
"Would give 6 stars if I could! Easy shopping experience, excellent communication, and fantastic glasses. I'll definitely be back!
"Exceptional product and pricing! I'm now a regular."
Closing Thoughts
For the most part, Zenni Optical is well-reviewed online.
Here are its main pros and cons:
Pros
Great prices.
Large selection of frames.
Lots of options available, including progressive frames.
International delivery available.
Cons
Poor returns policy: Only refunding 50% of the price is pretty poor.
If you're looking to buy cheap glasses online, ZO is a great choice. It offers such a wide selection and its glasses are incredibly cheap!
The only bad thing we have to say about ZO is that its return policy is pretty bad.
The only way to get a full refund from the company is to take store credit.
Otherwise, you only get a 50% refund.
If you return something, you should get the full price of the item back. Of course, it's expected when you return stuff that you won't get the cost of shipping back.
The actual cost of the item though should be refunded in full, regardless of whether that's money or store credit.
Aside from the return policy though, there's not much else negative to say about Zenni Optical.
We'd say that if you're looking to buy glasses at an affordable price, give Zenni Optical a try.