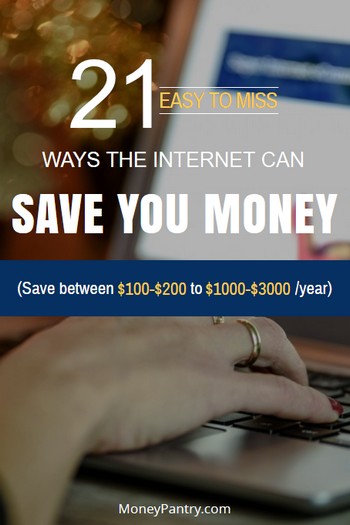 Are you using the internet to save money?
You should!
You pay for your internet every month. You may as well use it to save some money.
Don't know how?
No worries. Today we're going to show you how to use the power of the internet to save some dough.
Here are some of the best money saving opportunities made possible thanks to the internet.
Need Easy Extra $300+/Month for Free?
KashKick
: Get paid directly into your PayPal for watching videos, surfing, shopping and more.
Join KashKick Now!
InboxDollars
: Paid over $57 Million to members to watch videos, take surveys, shop and more.
Get $5 instantly!
Branded Surveys
: Get $1 instantly just for joining for free. Plus get paid within 48 hours by PayPal!
Join Branded Surveys
First Opinion
: Get paid up to $10 per survey and $300 per virtual focus groups!
Join Now!
Swagbucks
: Get paid to watch videos, shop online, take surveys and more.
Join now & get $10 instantly!
1. Save on phone calls
Calling (especially long distance and international) family and friends can get expensive very quickly.
But thanks to the many free phone apps not only you can call family and friends anywhere in the world, you can also see them for free by using the free video chat option.
Resources:
2. Save on greeting cards
We spend about $860 million a year on greeting cards, with $150 million being spent just on Valentine's Day.
With an average price of $5 per card and with so many holidays and special occasions to cover, that can put a serious dent in your budget.
Unfortunately, this culture of turning every big and small holiday into a shopping spree doesn't help the matter either.
Sure, spending a few bucks on greeting cards a few times a year won't make you go bankrupt, but if you'd rather save that money and create a much better and more unique card, there are sites that let you print out awesome greeting cards for every occasion you can think of, all for free.
Resources:
3. Don't miss out on rebates
Don't know which product you're buying has a rebate attached to it?
Know it, but lost the rebate form?
No problem, the internet can help!
There are sites that list products that have rebates attached to them.
They also include a link to the pages where you can fill out the rebate form, making it very easy for you to get the money as quickly and as easily as possible.
Resources:
EnergyStar.gov/rebate-finder: Find appliances and energy use related products with rebates
ClassActionRebates: A list of products and services with pending or in progress class action lawsuits that may entitle you to some rebates.
4. Save on bill pay
Paying 50¢ for a stamp here and there isn't much.
But when you add the number of letters you send every year plus the time and gas you spend getting to the post office, it can easily add up to about $50 to $100 a year.
For some, this may not be much, but for a lot of us, an extra $50 to $100 a year is extra money we can save or apply towards other bills.
Today, virtually every business and organization – banks, credit card companies, retailers, and even government agencies – allow you to pay your bills online quickly and easily.
Check with the companies and businesses that you pay monthly bills to and find out if they offer online bill pay. If they do, set it up and save yourself some cash and time.
Resources:
Have too many monthly bills to keep track of?
Want to pay all of your monthly bills through one interface instead of logging in to a few dozen different sites?
Here are some tools that let you pay all your bills online through one main dashboard:
5. Save on books
Being a bookworm is an expensive hobby.
The average cost of a book can be anywhere from $5 to $30 or more.
That can add up if you are buying a book or two every month.
You can't just not read books!
So what do you do?
You use the internet to get free books.
Resources:
6. Save on music
With an average price of $15 to $24 per album, paying for music can become expensive very quickly.
To slash the cost, take advantage of the many apps and websites that offer free music.
Resources:
7. Save on gas
Thanks to the many websites and apps, now you can find the cheapest gas around you in a few seconds.
Some may say saving a few cents per gallon isn't worth the effort. But when you multiply that to hundreds of gallons that we use very year, it can add up.
According to the U.S. Energy Information Administration (EIA), the average family spent about $1,962 on gas in 2015.
Multiply that number by 10-20 years and the savings start to get big.
Resource:
Here is a simple free tool that lets you find the gas station with the cheapest gas in your area with a click of a button.
8. Save on newspapers
According to the U.S. Bureau of Labor Statistics, we spend between $61 to $97 annually on newspapers and magazines.
But this number is declining every year thanks to the internet.
You can get your news for free on the internet. There are tons of free news sites that offer the latest up to the moment news in every field you can imagine.
Resources:
These sites act as directories for online newspapers from around the world. You can search by country, state, city, etc.
Most major newspapers have a website where you can also read the news for free.
9. Save on food
According to 2013 annual expenditure survey by the U.S. Bureau of Labor Statistics, the average family spends about $4000 on groceries.
But thanks to the internet, you can now save anywhere from 5% to 30% or more on that number.
There are sites that share the latest grocery coupons and discount codes daily.
There are also free apps that make it extremely easy to keep track of the latest deals.
Resources:
10. Save on travel
Tired of paying too much for hotels and flights?
The internet is here once again to help you save money.
Thanks to the price comparison sites, you can find the best deals on hotels and flights within minutes.
Resources:
11. Save on shopping by getting paid for it
Who doesn't like rebates?
We all do, but none of us like the idea of having to send in the receipt and waiting for weeks (and sometimes months) to receive the rebate.
Where traditional rebates fall short is coverage. Not many items earn you a rebate.
But all of that changes with online cash back sites.
You don't have to send in a receipt.
You don't have to wait months to get credited.
And you can get cash back on almost any item you buy online.
All you have to do is sign up with a cash back site and use their shopping portal to access the retailer's site where you want to shop.
Everything is tracked automatically, including how much you spend so they can credit your account with cash back appropriately.
Resources:
12. Save on entertainment
We spend a lot of money on entertainment every year – cable subscription, going to the movies, PPV, etc.
But you can cut that down by taking advantage of free and paid services that make it easy and cheap (in some cases free) to get entertainment.
Resources:
13. Save on insurance
With so many different insurance companies and offers, it's hard to find the best and cheapest one.
But thanks to the internet and its insurance comparison sites, you can do that in mere seconds.
Resources:
Other ways to save money using the internet
Not enough?
Want other ways to save money through the internet?
Here are some more awesome money saving options made possible by the internet…
14. Price comparison sites
Before buying on the internet, save money on the item by first checking the price at hundreds of stores by using a price comparison site.
Resources:
15. Restaurant coupons
Next time you're ready to eat uptown at a restaurant, check on the web to see if you can get a coupon or exclusive discounts that you can print out.
The sites listed below have long lists of restaurants with printable coupons.
See their specials and plan what you will order before you go so you can save as much money as possible on your meal.
Resources:
16. Birthday freebies at restaurants
Give yourself a birthday present by eating out for free.
Check out the site below for a long list of restaurants that give you free stuff on your birthday.
Resources:
17. Store loyalty card coupons
Put coupons on your Store Loyalty cards at over 100 chains (over 24,000 stores) like Krogers, Hy-Vee, Rite Aid, Rainbow and many more.
Resources:
18. Coupon codes
Coupons are popular for a reason!
They save you money!
Thankfully, you no longer have to go through local newspapers to painstakingly clip coupons one by one.
You can instead use dedicated coupon sites that make it easy and quick to find coupons for almost every kind of product or store you can think of.
Resources:
19. Save on interest rates
Nobody likes paying interest. But it's one of those things most of us have to do.
That doesn't mean you can't pay less!
Thanks to a few awesome sites, you can quickly compare different rates and find the one that's cheapest and best for your budget.
Resources:
20. Save money on renovations/fixes
I can't tell you how many times I was able to fix something around the house by simply looking it up on YouTube.
Sure, you don't want to DIY important stuff, especially items related to gas or electricity, but smaller stuff can be done.
There are tens of thousands of videos and blog posts with step by step guides on fixing just about anything you can think of.
All it takes is the internet and your commitment to getting the job done.
Resources:
iFixIt: Repair manuals for everything.
Fix.com: Videos and posts for repairing tools, appliances and much more.
YouTube: Search and you shall find!
21. Save on education
Wanna learn something but don't like to pay thousands of dollars in college fees and tuition?
The internet can also get you free education!
These days you can take online classes- free or very inexpensive – on just about any topic.
Resources:
EDX: Free online courses from the world's best universities.
Alison: Free online courses from the world's top publishers.
MIT OpenCourseWare: Free online courses
Final words
Add all of these up and you could easily end up with a few thousand dollars saved, all thanks to the tools and opportunities that without the internet wouldn't have existed.
Obviously, this list doesn't even scratch the surface. There are so many other ways you can save money by using the internet.
They are all right at our fingertips just waiting for us to take advantage of them to start saving money.