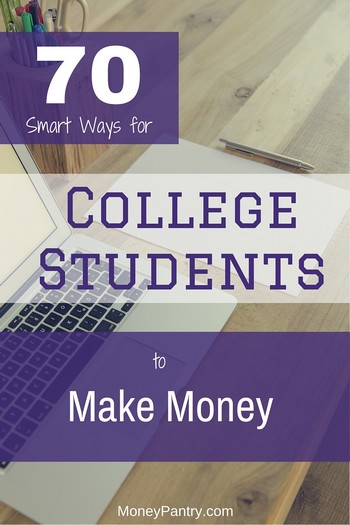 There aren't many students who will say they have enough money.
In fact, most students are broke most of the time.
Thankfully, there are many ways for college students to make money, both online and out there in the real world like these online summer jobs for students.
With a little effort and some imagination, you may be able to make enough to avoid a constant diet of Ramen noodles!
The following ideas are all things that you can do to help with the finances, and you should be able to fit them in with your studies.
How to Make Money as a College Student
Here are awesome ways you can money in college.
Need Easy Extra $300+/Month for Free?
Panel Payday
: Earn up to $75 per survey. They also pay up to $50/hr for mystery shopping.
Join Now!
InboxDollars
: Paid over $57 Million to members to watch videos, take surveys, shop and more.
Get $5 instantly!
KashKick
: Get paid directly into your PayPal for watching videos, surfing, shopping and more.
Join KashKick Now!
Branded Surveys
: Get $1 instantly just for joining for free. Plus get paid within 48 hours by PayPal!
Join Branded Surveys
First Opinion
: Wanna get paid for every single survey (+ high paying online focus groups) with cash or direct deposit? This is for you!
Join Now!
Swagbucks
: Get paid to watch videos, shop online, take surveys and more.
Join now & get $5 instantly!
A) Sell
Selling is synonymous with commerce.
And these days, thanks to the internet and the sharing economy, there are no shortage of possibilities.
1. Sell Your Student Game Tickets
As a student, you have access to free or discounted tickets for your school's games.
You can sell these to out-of-town friends or fans online, and may even get more than face value.
Many universities and states have websites dedicated to buying and selling tickets for their sports teams.
For example, Michigan State University has partnered with StubHub to create a section on the site where students can buy and sell tickets to Spartan games.
Or take Penn State University–they have partnered with the other ticket giant, Ticketmaster and created a place for their student to buy and sell tickets to their Nittany Lion Club football team.
You can also sell your student tickets directly on Craigslist, Stubhub.com, or online forums dedicated to the team you have the ticket for.
2. Sell Your Video Game Account
Provided you're good at playing video games, you might get some money out of your ability.
You simply play your character up to a good level and offer it for sale online.
Websites such as EpicNPC (formally mmobay.net) and PlayerAuctions.com give you an opportunity to cash in on your talent.
3. Sell Your Essays
With this one, you probably want to check whether it's legal in your area, but some websites will pay you for your essays.
You've already put a lot of work into researching and writing them, so why not get paid for it?
Check out Cash4Essays.com to see what it's all about.
If they accept your work, they will pay you via PayPal.
4. Sell Old Textbooks
You spend a lot of money on your textbooks, and while you might want to keep some for future reference, others are just taking up space.
You can actually make good money selling your textbooks.
Technology makes it easy for you to find out if they are worth selling, and will tell you who will buy them.
Simply visit BookScouter.com (or download the app) and you can scan the ISBN of any book, and see who is prepared to give you money for it.
5. Sell on Amazon
Amazon gives you an alternative place to sell your textbooks, and you may even make more money.
You can sell all kinds of old and new books on Amazon and not just text books.
You can also use Amazon to sell other things, such as CDs, DVDs, and video games.
6. Sell on eBay
eBay is of course the online selling site that everyone thinks of first.
Many people make a business out of selling on eBay.
When you have gone through selling your stuff that you don't want, you can see about buying stuff cheaply to offer online.
Garage sales can be a good source of inventory.
7. Sell on Etsy.com
If you are creative, you should check out this website.
Etsy.com is a marketplace for all sorts of unique and artistic products, such as cards, artwork, etc.
And if you want to expand your reach to attract more customers, check out some of the best Etsy alternative sites where you can sell your handmade stuff.
8. Sell Your Old/Unused Clothes
Not the ones you're wearing, but the ones you don't wear anymore.
If you've put some money into your clothes and got reasonable brand-name products, then there are websites that will pay you for them.
One such site is called ThredUp.com.
You simply order a Cleanup Kit from them, bundle up your clothes and return it postage-paid.
You can also look for local shops that will sell your clothes on consignment, like Plato's Closet.
9. Sell on Fiverr.com
Fiverr.com is so called because the standard gig pays $5.
Take a look at the sort of jobs that people are doing for this amount, and see which ones you could do, too.
Often you can get a bigger job, where someone will pay you for several gigs to complete it.
10. Sell Your Pictures
This is one for the photographers amongst you.
You can sell your photos to stock photo sites.
Sites like istockphotos.com are regularly searched for relevant pictures by people publishing books and articles, so you could get royalties on an ongoing basis.
11. Publish Kindle eBooks
Everyone has at least one book inside of them.
Why not write yours and publish it on Kindle as an e-book?
Amazon makes it easy to do, and it's free.
12. Sell Courses
There's this great website called Udemy.com, where you can take video courses on a wide range of topics.
So, all you have to do is make a video course about something you can do, upload it, and wait for people to buy it.
B) Do Micro Tasks
Micro tasks sites are great for earning a little side cash.
Normally the tasks can be done quickly and easily and you can do them from anywhere and anytime.
Have a few minutes between classes that you can't fill with anything else?
Hop on one of these microtask sites and complete a few tasks in exchange for some change.
13. Mini-Internships
You can make money online by completing mini-internships, which you find by going to the website MindSumo.com.
You may find yourself solving problems for companies, and it's all a good experience.
This gig can pay a reasonable amount per week.
14. Be a User Tester
There are many sites where you can make money by testing out websites and giving feedback on them.
Companies are always interested in making their user experience better, so are interested to know where you had difficulties and if a website doesn't work properly.
So they use user testing sites like UserTesting to pay people to pose as real visitors and share their experience.
15. Mechanical Turk
Amazon has a micro-task site called Mechanical Turk.
The jobs are very small, and so is the pay, but the idea is to complete a lot of them.
C) Take Advantage of Apps
If you are anything like most college kids these days, you probably have tons of apps already installed on your devices.
Add a few more by installing some of these money making apps.
16. EasyShift
Just as the name says, EasyShift provides you with jobs that are easy to do, called "Shifts".
They include such things as taking photographs and getting prices of products.
Once you've done a few, you can be upgraded to tasks that are worth more.
You are paid through PayPal within 48 hours.
17. TaskRabbit
You can find all sorts of things to do for money on TaskRabbit.
You can run errands for people, or get paid for doing odd jobs.
When you join, you will have to take a Federal background check, and they also interview you via video.
They use PayPal to pay you, or you can have a check sent.
18. Nielsen Digital App
If you fancy your chances, why not install the Nielsen Digital Voice app?
This sits in the background and provides Nielsen with statistical information on your searches and other activities.
In return for this, you are entered into regular sweepstakes where you could win $10,000.
19. Mobile Expression App
Similar to the Nielsen (above), the MobileXpression app is designed for the iPad, and again monitors your activities in return for rewards.
20. AppTrailers
If you want to be a little more involved in an app, I recommend AppTrailers which is an app that lets you watch video trailers of apps to get points.
You won't make major money, but maybe a few bucks a day which you can collect with PayPal or Amazon gift codes.
21. ESPN Streak for the Cash
If you're a sports buff, prove it and win money using ESPN Streak for the Cash app.
This app has you naming your predictions for every game, or as a harder alternative predicting for 10 different sports. If you have the best winning streak, then you get a cash prize.
22. Gym Pact
The point, once again, is to earn points.
GymPact helps give you motivation to keep exercising and eating healthier.
You set goals and if you keep up with your goals, you earn cash from members who didn't keep up with their goals.
D) Earn Rewards
There are a few dozen legitimate websites and rewards programs that can help you make a little pocket money by doing mainly things you already do online.
And while these won't earn you enough to pay for your college, they can make you enough to cover some of your tuition fees.
23. Swag Bucks
Swagbucks is a site that rewards you for doing what you do anyway.
You earn Swag Bucks, a points system that pays out when you get more than 500 points.
All you have to do is various online tasks, such as using their search engine, watching videos, or taking surveys for money.
Simply register on the site and explore the opportunities.
24. Paid Surveys
This type of job has been around for years now, and there are some scam artists out there, but there is also a genuine need for people to complete paid surveys, giving their opinions.
Usually these are market surveys for major manufacturers, which help them know how to improve their products and which products to launch next.
Simply register with a few legitimate paid survey panels like SurveySavvy and PineCone Research, and see what's available.
Note: you shouldn't have to pay to register.
25. Bing Points
Most people use Google for their searches, but did you know that if you change to Bing you can start collecting points?
All you have to do is register with BingRewards and do your daily searches through Bing.
When you think about how much you search the Internet, the points can soon add up.
When you have enough, you can get gift cards and/or prizes for your points.
26. Focus Groups
If you're prepared to give a little more time to it, you might consider joining paid focus groups.
Once again, you'll be giving your opinions to companies who want to know what direction to take their products.
It could take a couple of hours, but you might get paid $100.
Register at 2020panel.com to find out about the online focus groups available to you.
27. Free Money
While you're online, take a look at unclaimed.org.
This website helps you find money that is yours, that you might have forgotten about, say the last paycheck from a vacation job.
Not a regular source of income, but worth checking out.
E) Use Your Talent
We all have a skill or two that can be used to make money.
Here are two options for those of you who have a knack for design and/or have great video personalities:
28. YouTube Channel
If you're into video, use your talent to create a YouTube channel.
In fact, if you're taking video studies it could be the start of your employment portfolio.
It's even possible to make a living from doing it. The trick is to find that idea or topic that people want to watch, then put up some videos and see if you can get a following.
And the best part is that your YouTube channel can be about anything you want.
Would you believe me if I told you that a student named Fred Pye is earning £24,000-a-year by making videos of himself playing Grand Theft Auto?
You get paid by partnering with YouTube, which will put up ads on your videos and pay you according to the number of views you get.
29. Design T-Shirts
Another great idea if you are artistic is to design T-shirts that can be made and sold online.
Several companies allow you to upload images that they will put on T-shirts for you, or you could simply come up with slogans that people want to wear.
Take a look at TeeSpring and SpreadShirt, and check out what type of items sell.
F) Offer a Service
Offering a service in exchange for money is at the core of every money making venture.
Here are a few services you can offer to make some money while in college:
30. Freelancing
Most of the tasks above are ones that do not require much commitment, so the rewards are low.
If you want to get some serious cash, why not try freelancing online?
There are lots of sites where work is available, such as Upwork. You simply bid and see if you are selected to do the job.
You can select different types of work, such as website design, graphics, or writing.
31. Writing
If writing in particular is your strong point, then there's a website just for you.
It's called FreelanceWritingGigs.com, and they have new jobs every day of the week.
32. Online Coaching
There are plenty of online sites where you can become a coach or a consultant, provided you have skills that someone else wants to learn.
Chances are you can help some older people get up to date with social media.
You will usually connect with Skype or another online service.
33. Tutoring
If you've already taken a few classes in your major, then there are bound to be students who want to know what you do and may pay you to be taught.
They also say that teaching someone else is a great way for you to remember the information you're teaching.
Check out the websites Tutor.com and TutorVista where you can make money teaching others.
34. Virtual Assistant
Maybe you are good at organizing things or doing tasks that others don't want to do.
There is a need for virtual assistants online, which are people who take on tasks as needed to help out businesses. It might be booking travel arrangements, posting on social media, or even contributing to a blog.
You can find clients on your own by putting ads on Craigslist and other classified ads, or even on campus bulletin boards.
Or use dedicated sites like VirtualAssistants.com.
35. Be a Friend
Believe it or not, some people want friends so badly that they pay for them!
Yes, on sites such as RentaFriend.com you can meet up with people who are prepared to pay for your time, perhaps accompanying them to a game or simply talking over a cup of coffee.
This is not a dating service, and all meet ups are strictly platonic.
G) Donate, Be a Guinea Pig
This is one of the easiest and quickest ways to get some money.
And the best part is that you can feel good about donating – not only do you earn some cash, you also help somebody in need of whatever you are donating.
36. Donate Plasma
While the American Red Cross may ask you to donate blood, perhaps giving you a $10 voucher, you will find that there are places that pay you much more.
Biolife Plasma is one example.
While the rate is variable, you may get paid $50 by your local blood bank.
37. Donate Sperm
Far from a joke, you can get paid for your donation, and pay will vary according to how good a specimen you are, in ways that count for the recipients.
If you go to SpermBankDirectory.com, you will find if there are any local sperm banks that you can try.
38. Become a Human Guinea Pig
Of course, you can always sign up for any research studies that are being undertaken in your area.
Most universities actually conduct studies where they pay their participants.
So be sure to check with your college to see if they have any upcoming studies.
H) Take Advantage of On Campus Opportunities
Your college campus on its own is a gold mine of opportunities.
All it takes is a little attention to things around you to uncover hidden money making opportunities, like this guy who made $3000 a month using nothing but campus lunch trays.
39. Campus Work
There are other tasks that you can do on campus.
For instance, you could help in the library, be a parking attendant, or help out security.
Official campus jobs often come with discounted tuition, so they quickly go to the people who know.
If you don't get a job while a freshman, make sure you line up something for the following year and get help both from income and reduced fees.
40. Become a Model
Check with the campus art department whether they need any models.
You don't (necessarily) have to be a nude model, just be prepared to stay in one position for a long time.
41. Become a Ticket Tout
Students usually have the first pick of the tickets for the school's sporting events, so you could buy a couple of extras and sell them to friends or acquaintances.
42. Professorial Help
Why not see if your professor needs an assistant?
Some departments use students to help with general tasks such as photocopying, or more specific work such as research and marking papers.
43. Note Taker
As some students need help taking notes because of disabilities or other problems, most campuses employ students to do this.
It has the added benefit that you pay more attention to the lecture when you have to explain it to someone else, so it may help your grades.
44. Get a Paid Internship
If available, see if you can qualify for an internship. This will give you money and college credit at the same time.
I) Offline Ideas
Here are some more ways you can make money as a college student off the campus.
45. Be a Local Tour Guide
If you know your town well, you could make good money as a local tour guide by showing people what your town/city has to offer.
And thanks to sites like Vayable you don't' have to go out hunting for clients.
All you do is sign up with the site, put up your profile, your tour information and wait for travelers to contact you through the site.
46. Audit a Liquor Store
You can be paid to go and purchase alcohol at a liquor store.
There are companies such as Stericycle and Trend Source that want you to go undercover and try and buy liquor.
All you have to do is report whether the cashier asked for your ID, and write a few words about your experience.
Each gig pays about $20 – $30.
47. Find a Rommate
If you have a house with a spare room, consider sharing it.
You'll need to pick someone you can get on with, but it will definitely help your finances.
Check out EasyRoommate to find roommates.
48. Rent out Your House
You can also consider renting out your whole house, if circumstances mean that you are away a lot.
AirBNB is one of the well-known websites that will find you a tourist willing to take on your place for a vacation.
49. Rent out Your Driveway
Many places have HoA's that restrict what owners can do, such as parking RVs.
If your place does not have that restriction, then see whether you can find a local who would be prepared to pay you to leave their RV or boat in your driveway.
Or better yet, use Just Park.
50. Drive for Uber or Lyft
By working for Uber or Lyft, providing a taxi service whenever you have some free time.
You have to live in an area where these services operate, but you can choose the hours you want to work.
51. Become a Deliveryman
With the help of PostMate, you can find gigs delivering food.
It pays around $20 per hour, and obviously most work is around mealtimes.
This gig is also good for tips.
52. Agent Anything
Designed for particularly for students, Agent Anything connects you with projects that need doing.
You simply register, then offer bids to do work advertised on the site.
53. Pet Sitting
If you love animals, then this is the job for you.
You might look after someone's animals while they are on vacation, or simply have a regular visit in the middle of the day, if the people are away at work.
You can get pet sitting jobs in a few ways. You can either advertise independently, or use sites like PetSitters.org.
54. Movie Extra
Depending on where you are, there may be a need for people to be extras for a movie or TV show.
If you get this, it could be worth a couple of hundred dollars each time.
You could try the movie studio, or use the website backstage.com to find gigs.
55. Offer to Help Your Landlord
Sometimes something as simple as offering to help your landlord, by cleaning out other apartments or doing the landscaping, can save you money on your rent, allowing you to spend more on other things.
56. Mystery Shopping
One of the long-standing ways to make money, mystery shopping involves going into shops and buying things, then reporting back on how good the customer service was, whether the shop was clean, etc.
Many large companies are interested in getting customer feedback on how their stores are run.
You can register your interest and find gigs at MarketForce.com.
57. Street Team
If you're in a big city, see if you can join a street team.
As long as you're outgoing, this is a great way to meet people and make money.
The idea behind the street team is that you hand out samples, promote products in other ways, interact with people, or dress up as a mascot.
The pay is $20-$25 per hour.
You can search online for your area, or check with Street Team Promotion, which has teams in many big cities.
J) Other Old School Ideas
And for those of you who are not afraid to get down and dirty, here are some old, but tested and true money making ideas that college kids and even high school kids use to earn some cash:
58. Cleaning Service
Many people don't like to do cleaning, so you could advertise your services as a housecleaner.
You might get a regular gig, coming in once or twice a week, or take on the bigger task of cleaning houses when renters leave.
59. Dog Walking
Not so difficult as pet sitting, you can find lots of people who want their dogs walked while they're at work.
Go to website such as DogWalker.com to find dog owners who are prepared to pay for the service.
60. Babysitting
A traditional job, this one. Babysitting does not have to be confined to high schoolers but can be done by college students too.
You can look up opportunities on sites like SitterCity.com.
61. House Sitting
Quite easy to do, though you must be responsible, housesitting merely requires you to stay in the home, usually when someone is out of town.
You can find out the possibilities on HouseSittersAmerica.com
62. Food Serving
This job is mainly at the weekends.
You can hook up with a catering company, as they often take hourly paid wait staff and servers for events.
63. Fixing Computers
If you're computer savvy, why not fix computers for others?
You'd be surprised how many people would love to have some help setting up a new machine, or fixing an old one. Just make it clear that you're doing it as a job, and not a favor.
64. Handyman
Do your friends call on you to help when they have to fix a leaking faucet or install a ceiling fan?
Then you may have the ability to be a handyman, helping people out with their home repair.
Advertise your services locally, and make sure it's something that you know about before taking it on.
65. Truck for Hire
A pick up truck is a good tool to make money with.
If you have a truck, you will find a lot of people who need help moving large objects, such as furniture and boxes.
You can also pick up large items such as sheeting for people from Home Depot.
66. Moving Service
Or if you really want to be lifting stuff, why not get involved with a proper moving service?
Check into the moving companies locally, as they often need an extra hand.
You might also get some tips from the customers.
67. Painting
Painting pays well, as long as you know what you're doing and do a good job. So many people don't have time to paint their houses, you should have no shortage of work.
You can also offer your services to an established painting company, as an assistant.
68. Gardening
Again this might be hard work, but it will save you from going to the gym to keep fit.
It could be something as simple as mowing lawns, or you might get involved in bigger projects, such as making flowerbeds or ponds.
69. Pool Service
Maintaining a swimming pool is not so hard as many people think. If you know or find out how to do it, you can get a regular income looking after people's pools.
You can have a look on Google Maps to see who has a pool in their backyard, to get started finding clients.
70. Clearing Snow
A seasonal task, but one which is welcomed by people who want their driveways cleared and don't have the time or energy to do it themselves.
You can usually charge quite a lot for this.
To get an idea of how things work, read my short guide on making money shoveling snow.
Takeaway
As you can see, there are many opportunities for college students to make money if you look around you, and you don't have to stick with just the ones described above.
The nice thing about these tasks is that you can usually fit several of them into a week, giving you variety as well as additional income.
Just remember that your prime reason for being in college is to graduate!