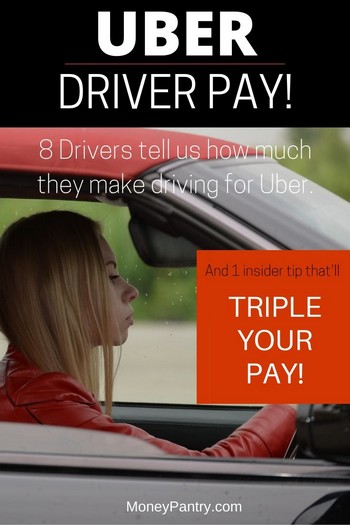 If you've ever looked into making money with your car, or ways to make money on the side, then you've probably heard about driving for Uber.
Uber is a transportation app that has become incredibly popular over the past decade.
Using it, customers can order a ride, right from their phones.
Launched in 2009, the app has since evolved into a multi-billion dollar company that many people opt to use over regular taxi services.
And, to cope with demand, they are always looking for new drivers.
What's great about making money driving for Uber is that pretty much anyone can do it.
Need Easy Extra $300+/Month for Free?
KashKick
: Get paid directly into your PayPal for watching videos, surfing, shopping and more.
Join KashKick Now!
InboxDollars
: Paid over $57 Million to members to watch videos, take surveys, shop and more.
Get $5 instantly!
Branded Surveys
: Get $1 instantly just for joining for free. Plus get paid within 48 hours by PayPal!
Join Branded Surveys
First Opinion
: Get paid up to $10 per survey and $300 per virtual focus groups!
Join Now!
Swagbucks
: Get paid to watch videos, shop online, take surveys and more.
Join now & get $10 instantly!
If you've considered driving for the company, then you're probably wondering, "How much can I make as an Uber driver?"
Well, in this post, we're going to cover everything you need to know about making money as an Uber driver – from how much you'll make an hour, to tips for making more.
And, we include examples from real drivers, so you can get a better idea of driver incomes and salaries in various cities.
So, let's delve in…
How much does Uber Pay?
Uber pay isn't as straightforward as you earn x amount per hour like it is with Amazon Flex for example.
Instead, they have a pay structure in place.
According to the company, trip fares start with a base amount.
And, then that amount increases with time and distance. Also, when there's a higher demand for drivers, they earn more.
The company also takes 25% commission on driver earnings.
The base rate on offer varies from place to place
One driver in Chicago, IL says, "Hourly pay can vary A LOT."
Another driver from Fayetteville, NC says, "Hourly wage not consistent pay."
So, you won't find an exact hourly pay rate on their website. But, fortunately, drivers online have reported what they earn.
On Glassdoor, 2.6K drivers have reported their earnings.
According to those figures, the average Uber driver earns $15 per hour.
But, earnings can range from $3 to $42 an hour.
How much Uber Drivers make in Specific Cities/Areas
It's common to see people who are interested in driving asking about the pay in their own cities.
Like:
"How much do Uber drivers make in…
Dallas?
Chicago?
Boston?
And so on."
Example driver earning in major cities
Well, we've included a few examples of driver earnings in a few different states just to give you an idea of earnings, and how they vary across the country.
Minneapolis, MN: "I'm averaging $13-$17 an hour BEFORE gas costs."
New Orleans, LA: "On average I can earn $20-$22/hour, and I just work in the daytime. Drivers who work at night on the weekends earn about 20-30% more."
Fayetteville, NC: "When I calculate my earnings I usually make around $12 an hour on weekdays Monday through Thursday. Friday and Saturday I make around $15 to $26 hour. The weekend is very profitable! Sundays around $9 an hour."
Boston, MA: "In big cities during rush hours, payout is very well. For example, in Boston on a Friday and Saturday, there are periods where you can make 30-40 dollars an hour."
Las Vegas, NV: "My hourly average is roughly 24.50 an hour."
Nashville, TN: "After calculating wear/tear, mileage, gas, and TAXES I was averaging about $7.50 – $8 per hour."
San Antonio, TX: "In San Antonio, the rates are very low. We make $2.62 on minimum fare rides. While Uber takes $2.58."
Houston, TX: "Good part time job. You can make around 200-300 dollars on the weekend alone. Uber is good at paying back cleaning fees quickly."
As you can see, just like Lyft driver pay, the amount that you can earn here varies from area to area.
How to make the most money with Uber
You might be wondering, is there a way that you can earn more as a driver?
Well, we looked at what drivers had to say, and one simple tip came up the most often:
Drive during peak hours!
When there's a high demand for rides, the app sometimes increases your fare, with a surge multiplier, like a 1.3x surge multiplier. So, you can earn more.
Many drivers on websites like Reddit state that if you want to make more money as a driver, then you need to drive during peak hours.
Here's what drivers have to say about this:
"Drive during peak hours; holidays, nights, special events and weekends. Check your local city's convention center and visitors bureau for events that you might not know about."
"I usually drive around the times bars close: midnight – 2 or 3am, and occasionally during afternoon rush hour, when I'll sometimes get surge pricing or long trips. Weekends are decent too."
"Once you've driven for a week, you'll receive a weekly summary, which will show you a clear breakdown of the busy hours in your city, and also will show you what other drivers are making in that week compared to you as well as the number of hours they are working and their average wage for the week. In terms of bettering your pay, look into the hot spots around your town, popular restaurants, clubs, etc."
So, do some research into popular restaurants and bars in your area where people might want rides. And, keep up to date with events in your area.
Is driving for Uber worth it?
The answer is, it depends!
If you want to make money driving, then you should definitely consider signing up for Uber which you can do so by following this link.
You get to be your own boss.
You can set your own hours, pick up as few or as little rides as you want, and you earn money.
The job is pretty simple too.
Unfortunately, for many people, the pay isn't particularly high compared to other companies that pay you to drive.
While a lot of people speak highly of driving for the company, and say that they can earn a good income from it, there are many people saying that the fare rate is low and that when they factor in the 25% commission the company takes on their fare, and the cost of gas, the amount they earn per hour is low.
Here are a few examples:
"Very Low Pay!! Don't be fooled by the advertised pay rate. What they advertise is before UBER takes their cut. Uber takes $1.75 per trip plus 25% of the trip and you pay for your own gas. For example, if a rider's trip comes to $8.75 Uber will take $3.50. Which leaves the driver with $5.25 and the driver must cover the cost of fuel."
"In Houston, it may be a good side gig, but no longer a good career, due to the fact Uber has flooded inner city and airports with do many drivers airport waiting times can be up to two hours. There is also less surging pricing in inner-loop due to so many drivers available. Also Uber pays drivers less per mile than they began with so pay is low. Uber touts that drivers make $20 per hr. but that only includes time after you pick up the rider. Once you figure in time waiting for rides, then the time to go pick up someone which you're not paid for, and average the entire week, plus gas; it equals about $9.00 per hr. That is what everyone I talk to says, across the board. This $9.00 does not include the wear and tear and repairs, tires etc on your car."
"Very low pay. Very high overhead"
But, the biggest issue, arguably, is how much pay can vary from place to place.
As you can see from the examples we gave of driver figures reported by drivers on Glassdoor, some people can earn as little as $3 an hour and others are earning as much as $42 an hour.
Closing thoughts
Of course, there are dozens of ways to make money, and we cover a huge range of them here on Money Pantry.
So, driving for Uber isn't the only way you can make money.
For example, Amazon Flex also pays well, but you get paid to deliver packages, rather than give people rides.
In fact, Amazon Flex pays $18 to $25 an hour guaranteed, and if you complete shifts quicker, then you could earn even more than that (as much as $50 an hour!).
Check out our article on Amazon Flex to learn more about how much you can earn.
Since how much you earn per hour can fluctuate so much, it's not as good an option as Flex, where you're getting a set hourly pay.
Overall though, driving for Uber, whether you want to do it part-time or full-time, or even just pick up the occasional shift when you're looking for a bit of extra cash, is a good way to make money.
We would definitely recommend it for a good part-time gig.
Your turn
I would love to hear from you on how much do you make driving for Uber.
Please leave a comment below and let me know.