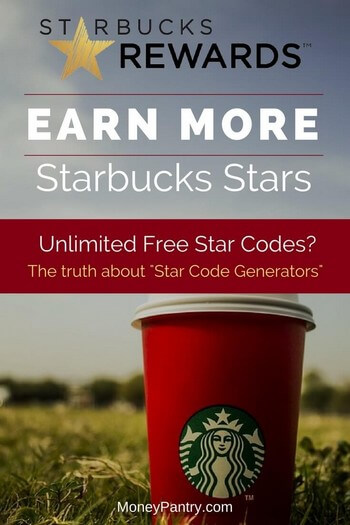 Before we get to the actual Starbucks Rewards review, let me ask you a question…
How much do you think you spend on Starbucks drinks every year?
If you are an average customer who stops by this coffeehouse every day on the way to work, you could be spending about $614.998 a year at Starbucks.
According to USA Today, buying a $2 latte four days a week would cost you $6,149.98 in ten years.
That's $614.998 a year!
That's a lot of money spent just on drinks – whether it's Coffee, Tea, Cappuccino, Latte or whatever else.
Need Easy Extra $300+/Month for Free?
KashKick
: Get paid directly into your PayPal for watching videos, surfing, shopping and more.
Join KashKick Now!
InboxDollars
: Paid over $57 Million to members to watch videos, take surveys, shop and more.
Get $5 instantly!
Branded Surveys
: Get $1 instantly just for joining for free. Plus get paid within 48 hours by PayPal!
Join Branded Surveys
First Opinion
: Get paid up to $10 per survey and $300 per virtual focus groups!
Join Now!
Swagbucks
: Get paid to watch videos, shop online, take surveys and more.
Join now & get $10 instantly!
The good news is that there are many ways to save money at Starbucks.
There is also a simple free way you can slightly decrease your spending and maybe even get some free drinks.
Starbucks Rewards!
Being one of the largest, most successful and most valuable coffee brands in the world with more than 23,000 locations worldwide, no matter where you live, there's likely a Starbucks nearby!
Whether you only visit Starbucks every now and then or go in so often that the cashier knows your name, you should definitely consider joining Starbucks Rewards.
What is the Starbucks Rewards program?
Starbucks Rewards is a loyalty program offered by Starbucks.
Loyalty programs are great.
They reward you for buying things that you were going to purchase anyway.
You get awesome and exclusive deals and discounts, freebies and more.
And the Starbucks Reward program is no different.
With it, not only you can get free coffee and other drinks and food available at the store, but you also get to save money at Starbucks with exclusive promo codes and discounts for members.
But is the Starbucks Rewards program worth it?
Well, to find out, we joined the program, did some research and read some reviews by other members.
So check it out and see if this program is for you.
The Changes
Starbucks made significant changes to its reward program in 2016 which left a bad taste in some customer's mouths.
The name changed from My Starbucks Rewards to what it is called today, Starbucks Rewards.
Previously, you earned a point for each purchase that you made at Starbucks.
This meant that whether you bought a single coffee or a coffee, plus a sandwich and a pastry, you would earn the same amount of Stars.
SUBX (the company's stock symbol) changed its rewards program so that you earn a certain number of Stars per dollar.
With the new earning system, you generally earn more Stars per transaction than you used to, but the number of Stars you need to unlock rewards is also higher.
Previously, you had to have just 12 Stars, the equivalent to 12 purchases, to unlock a reward. Now, you need 125 stars to unlock a reward.
How it works
Starbucks Rewards functions in the same way that many loyalty programs do. Each time that you make a purchase at Starbucks, you earn points (or Stars in this case).
You can also earn Stars when you purchase the brand's products at the grocery store.
When you've accumulated enough Stars you can redeem them for free food and drinks from Starbucks.
It's quite simple really.
Here's a more detailed overview of how it works:
Step1. Join the program
The first step is to join the Starbucks Rewards program.
You need a Starbucks Card to get started.
This can be:
A physical card. You can get one of these by visiting your local Starbucks. Just ask an employee.
A digital card from the Starbucks app.
An eGift card.
Once you have a card, there are two ways you can join the program:
1. Join through the official site

You can sign up to the program online on this page.
Just enter the required details.
Make sure that you choose the "Join using a Starbucks Card I already have" option. This is in the Join Starbucks Rewards program section. By doing this, you'll be enrolled in the program.
2. Join through the app
The second way to register is through the app.
In the app, you'll have to fill in a few details to create your account.
Once you've entered the required details, like your name and zip code, scroll down the page. You'll see a section where you can register for Starbucks Rewards.
If you already have a Starbucks gift card, then choose the "I have a Starbucks Gift Card to use as a Rewards Card" option.
But if you don't have one, then choose the "Create an Instant digital Rewards Card" option.
Don't forget to enter your birth date below for additional bonuses.
Step 2. Earn Stars
Once you're a member you can earn Stars at Starbucks stores in a few ways:
Use your Starbucks gift card when you make a purchase.
Pay for your purchase at Starbucks with the Starbucks app (more about the Starbucks app below).
There are also a couple of ways for you to earn Stars outside of Starbucks coffeehouses:
Enter a Star Code: You can find codes on certain packaged coffees at the grocery store.
Upload your receipts: When you buy Starbucks products, like K-Cup Pods, you can upload your receipt and earn Stars. You can text your receipt, email your receipt, or upload it using your computer. To get started uploading your receipt, visit this page.
How many Stars can you earn, you ask?
Well, it's really simple.
As a member of this rewards program, for every $1 that you spend at Starbucks, as well as at participating Teavana and Evolution Fresh stores, you earn two Stars.
Step 3. Move up the membership tiers
Starbucks has two different membership tiers. The more you purchase at the brand's stores and the more products you buy at the grocery store, the more Stars you'll earn.
And, as you earn more Stars, you'll move up the membership levels.
Here are the membership levels:
Green Level: 0 – 299 Stars
Gold Level: 300+ Stars
How to get Starbucks Gold Card
Ok, so you get to the Green Level as soon as you register your Starbucks card.
To get to the Gold level and receive the Gold Card, you have to earn at least 300 stars within the first 12 months.
Once you become a gold member, you get a personalized gold card (which is mailed to you). Aside from looking pretty cool, this card functions in the same way as a regular card, but you get access to additional benefits.
Step 4. Redeem your rewards
When you become a Gold Level member, every time that you reach 125 Stars, you can redeem them for a reward.
This can be any eligible food or drinks item, like:
Coffee
Pastries
Sandwiches
You don't get a coupon or a voucher for a reward like you do from many stores. Instead, you just need to let the barista know and present them with your registered card or the Starbucks app.
You can redeem your rewards with the app through Mobile Order & Pay.
Benefits of Starbucks Rewards
Aside from being able to redeem Stars for rewards, you also get access to additional benefits.
Green Level Member Benefits:
Here are the benefits that you get when you're a Green Level member:
The ability to pay by phone, using the app.
Free in-store refills.
The ability to order ahead.
Access to member events and offers.
If within twelve months, you haven't earned 300 new Stars, then you won't be promoted to Gold Level.
Your Star count will also reset to zero, and you'll stay at green level.
Gold Level Member Benefits:
So, "What are the benefits of a Starbucks Gold Card?"
As a Gold Level member, you get access to all of the benefits of the Green Level, and a number of extra benefits, like:
A reward, which is a free drink or food item, every time you get 125 Stars.
Monthly double star days.
A personalized gold card.
When you reach Gold status, it takes around four to six weeks for you to receive your personalized Gold Card.
But, you don't need the card to enjoy the benefits of this membership level.
You get Gold benefits as soon as you achieve Gold Level status. And you can use any Starbucks Card that's attached to your account or the Starbucks Mobile app to earn Stars and get benefits.
Make sure that you have a valid mailing address attached to your account, so Starbucks can send your card to you.
Once you reach Gold status, you remain at that level for twelve months from the date that you reached that level. If you get 300 Stars before your Gold Level anniversary date, then you get the benefits of this level for another year.
And, if you want to keep your Gold Level status, then you need to earn at least 300 new Stars during each consecutive 12 month period.
If you don't do this, then you'll return to the Green Level and your Star balance will be reset to zero.
This means that if you want to keep the benefits of this membership level, then you're going to have to spend money at your local Starbucks store pretty regularly!
A lot of people ask "is the Starbucks Gold card worth it?"
We'd say that yes, it is, but only if you purchase stuff from Starbucks often.
The problem is, once you reach Gold status, you have to keep earning Stars consistently to remain at that level, as we mentioned above.
Don't forget to check out the app
The Starbucks app is really useful, and it's definitely worth using.
It gives you quite a few additional benefits.
With the app, you can:
Pay with your phone
As a Starbucks Rewards member, you can pay for your purchases using the Starbucks app.
This is a great benefit to the program!
All you need to do is tap the "Pay" option within the app, and then hold your phone under the scanner.
Order ahead
As a member of the program, you can also order ahead with the app. This means that you can essentially jump the line.
It makes getting your morning coffee a whole lot quicker!
To order and pay ahead:
Tap the "Order" option.
Choose the items you want.
Then select the store where you want to pick it up.
It's quick, simple and convenient!
You don't need cash or card
Another great benefit to the Starbucks app is that you can pay with it too. So you can leave your wallet at home if you want to.
Just add your Starbucks gift card to the app, and then you'll be able to reload it! You can also check your balance using the app too.
Simply choose the amount that you want to add to your balance, and then choose a payment method.
Tips: How to earn more Starbucks stars
While researching for this post, I came across a few often-asked questions…
"How to earn Starbucks stars fast?"
"How do I earn more stars?"
"How to cheat Starbucks rewards?"
"Free Starbucks star codes"
Below, we've put together a few tips for those of you wondering about the same stuff, to help you to get the most out of the Starbucks Rewards program
1. Subscribe to Starbucks subreddit
As you know, I'm a big fan of Reddit, especially for finding how other people save and earn extra money.
There is actually a great subreddit (https://www.reddit.com/r/starbucks/) where Starbucks addicts and fan s share everything related to the company – from the latest news to money-saving tips, and free star codes.
You can either subscribe to it or just bookmark the page and keep an eye on it so you can catch free star codes when they get shared by other members.
Here are examples of a few free Starbucks Star Codes that were posted:
2. Check out the extra offers in the app
In addition to being a member of Starbucks Rewards, you should definitely use the Starbucks app.
If you don't, then you not only miss out on the benefits we listed above, but you also miss out on opportunities to earn extra Stars and rewards.
In the app, you can find special offers, like:
"Visit 4 to 6 times after 2 p.m. and collect up to 100 bonus Stars."
"Each time you enjoy a Turkey Pesto Panini, you'll collect 25 bonus Stars."
So, make sure that you download it!
Before you make a purchase, check out the app for offers and tap "Redeem" on the ones that you're interested in.
3. Join the email list
When you sign up, you have the option to join the Starbucks email list. And we highly recommend that you do this.
This is because the company sends out opportunities to earn bonus Stars via email.
Also, if you're a Gold Level member, then Starbucks lets you know via email when the Double Bonus Days are.
Since the Double Stars Days aren't on the same date each month, this is really useful.
If you haven't already signed up, then subscribe the email list by visiting this page.
4. Don't forget to redeem Stars for stuff you buy at the grocery store
As we mentioned above, Starbucks coffeehouses aren't the only place where you can earn Stars.
You can also enter Star codes and upload receipts for packaged coffee from the grocery store and earn Stars that way.
So, if you want to earn Starbucks Rewards Stars faster, then we definitely recommend that you keep your receipts and upload Star codes.
Here are a few examples of the Stars you can earn:
Earn two Stars when you buy Starbucks ready-to-drink beverages, like a Starbucks Doubleshot Espresso & Cream.
Get ten Stars when you buy Starbucks Roast and Ground Coffee (10–12 oz).
Earn 25 Stars when you buy Starbucks K-Cup® Packs (40+ count).
So if you tend to buy their brand of coffee at the grocery store, then don't forget to redeem your Stars for those too.
A note on Star Code "Generators"
If you've ever searched for free star codes, you've probably seen sites that claim they know "How to get unlimited Starbucks Rewards."
Their secret tool?
A useless so-called "Starbucks stare code generator."
Please stay away from these.
They are just useless.
Do you really think if there was a software or tool that gave out unlimited star codes to everybody and their mothers, Starbucks would still be in business?
Exactly!
Is Starbucks Rewards program worth it?
As with any rewards program, whether it's for gas stations, grocery stores, or even pharmacies, it's more worthwhile if you visit the place a lot.
If you don't go to Starbucks that often or buy its branded items at the grocery store, then you aren't going to get as much from the program as someone who does.
For example, if you stop in a Starbucks every morning before work or buy the brand's products at the grocery store each week, then you will earn Stars a lot quicker than someone who only goes to Starbucks every other week.
So, who is it best for?
We would highly recommend the rewards program to anyone who shops at Starbucks often.
But, if you don't buy from the brand regularly, then it might not be worth your time.
Sure, the free refills that come along with the Green level membership are nice.
But, you only get free stuff once you reach the Gold Level.
And you need 300 Stars to reach it.
However, your rewards do reset if you don't get 300 Stars within a twelve month period. This means that if you don't shop there often enough, then you won't get to that Gold level.
So if you are looking to get free stuff, then you'll need to visit your local Starbucks quite often and achieve and maintain that Gold level status.
Overall, the program benefits people who tend to spend more at Starbucks.
Obviously, if you visit the coffeehouse a lot, then you'll earn Stars quickly.
But, what you order on each visit is also a big factor. If you only get a regular black coffee when you go, then you'll earn Stars slower than someone who orders a soy latte and a Panini on each visit.
How much do you need to spend to earn a free food or drink?
You need to spend about $62.50 to earn a free food or drink item from Starbucks.
And you need to earn 300 Stars each calendar year to maintain Gold status, which is necessary to be eligible for free food and drinks.
This means that you have to spend about $150 at Starbucks per year to make this program worthwhile for you.
Of course, if you're not interested in redeeming Stars for free food and drink items, and the benefits that come along with being a green level member, like free refills are enough, then it could still be worth signing up for the rewards program.
Closing thoughts
If you visit your local Starbucks often, then joining Starbucks Rewards is definitely worthwhile.
You get access to a plethora of bonuses and get access to handy features, like being able to order ahead.