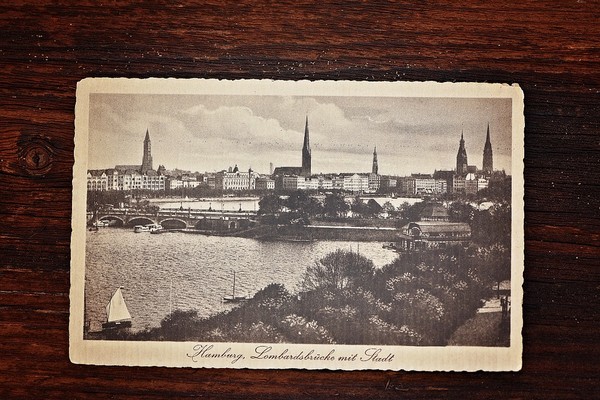 You can still find postcards today. Usually they are on a rack at a tourist shop in any resort, and they depict the local attractions.
But some years ago, postcards were sent much more than they are now. They were a quick and easy way to drop a note to a friend, offer congratulations on a promotion, or note the occurrence of other events such as holidays.
Nowadays an email or a text suffices, but for someone who lived through those earlier days, there's nothing to replace the look and feel of a real postcard.
That's where you can cash in–by selling post cards to collectors and people who are still interested in postcards.
Because they were sent so much, postcards were available with a much greater variety of scenes and pictures than today. There were the classic saucy cartoons that the English would send on any seaside holiday.
Often postcards were available on particular themes, such as pictures of animals, or of trains. Sometimes they were given away with magazines, one per issue, to encourage people to subscribe regularly.
Early postcards were printed in black and white, and series depicted Hollywood actors and actresses, and historical events.
Worth Collecting?
Many of the early postcards have not survived well, if at all.
Unless a postcard is particularly rare, its condition is very important to the collector. The scenic holiday postcards do not tend to have much value, but collectors will gladly follow and collect as many as they can of themed cards, particularly if the theme is a rare one.
Following the earlier sepia postcards, there was a time when cards were produced with tinted black and white photographs, a stage before full color was widely available.
Collectability depends on rarity as well as demand, and inevitably there are certain fads amongst collectors, but you can expect the prices to be more stable than for other collectible items, such as Star Wars characters or Cabbage Patch dolls.
Types of Card
While you will most commonly see picture postcards (PPC), there was a time when you could have photographs printed on card which had the postcard layout on the back. This type of card is much rarer and hence more valuable, and is known as a Real Photo Postcard (RPPC).
Another distinction to collectors is whether the card has been used. Generally speaking, if the card has been mailed and is intact, with clearly franked stamps, it will be worth more than a similar blank card in mint condition.
How to Start
Collecting and trading postcards can be fascinating, given the wide selection of subjects that have been covered over the years.
You might find that you are drawn to focus on particular subjects, even when you are simply aiming to deal with them for a profit. Certainly if you specialize you will find it easier to know the value of any item.
You can start by asking your family and friends whether they have any old postcards that they don't want. Postcards were typically thrown away after a short period of appreciation on the mantelpiece, but older relatives and attic spaces can be valuable sources to get started.
However, this source will dry up quickly, and you will need to look further afield for postcard stock.
Yard sales are a good place to search, and if you know what you are looking for, you may find some real bargains. People do not tend to value postcards very highly, and you may get a stack for a dollar or two.
Buying in bulk and then selling singly is usually lucrative, and you will find postcards being sold in bulk at auctions or on eBay. It is left for you to sort them out, and separate the wheat from the chaff.
Where to Sell
Now that you have a supply of postcards, you're faced with the question of finding the easiest way to sell them for a profit.
You may be lucky enough to find a collectors club which meets near you, but this restricts you to the immediate locality.
More generally, you might consider going to flea markets as a seller, and setting up a stall. You may have to pay to have a table at these events, and you will have traveling expenses, so profits may be hard to achieve.
If you have some really rare postcards, or specialize in high value items, then you could consider using an auction house to sell them for you, although this will come with a high premium in terms of the fees you have to pay.
The best choice for the majority of sales is to put them on eBay.
In one stroke, you reach collectors around the world, and the auction process on eBay ensures that there is competition between buyers to establish a fair price.
When you are listing the postcards, pay attention to how others do it, particularly those who are most successful. Be sure that your descriptions are accurate and that you have good quality photographs, including any defects and creases, so that the potential buyer knows what they're getting, and has no cause to complain later.
Here are a few examples of postcards sold on eBay for a good chunk of change:
Pierce Arrow Hotel, Placerville, Ca, US, 1920: sold for $425.77
Cat Holding Doll, Real Photo Postcard, 1905: sold for $ 12.95
Western Pacific Railroad, 2010: sold for $2.75
Steam Engine Accident, Withernsea Railway Station, England: sold for $61.29
Vintage Postcard Rain In The Face – Sioux: sold for $228.05
Conclusion
Buying and selling postcards can be a fascinating hobby as well as a means to make some money.
Although many cards will only fetch a few dollars, there are exceptions, and it can be great fun sorting through bundles of cards and trying to spot the gems.