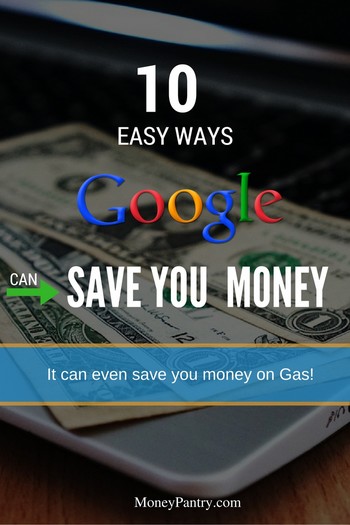 Google is most people's go-to place for browsing the web.
It's fast, it's efficient and it's incredibly easy to use.
But, what most people don't realize is that Google can actually be used to save money.
It's true.
You can use Google to save money.
Saving money with Google
Aside from its hugely popular (that's an understatement) search engine, Google also offers a series of other tools and services – many of them entirely free to use.
Need Easy Extra $300+/Month for Free?
KashKick
: Get paid directly into your PayPal for watching videos, surfing, shopping and more.
Join KashKick Now!
Panel Payday
: Earn up to $75 per survey. They also pay up to $50/hr for mystery shopping.
Join Now!
InboxDollars
: Paid over $57 Million to members to watch videos, take surveys, shop and more.
Get $5 instantly!
Branded Surveys
: Get $1 instantly just for joining for free. Plus get paid within 48 hours by PayPal!
Join Branded Surveys
iPsos iSay:
: If you have to only sign up for one paid survey site, go with Ipsos (high paying survyes)!
Join iPsos Now!
Swagbucks
: Get paid to watch videos, shop online, take surveys and more.
Join now & get $5 instantly!
And, using these tools and services, you can save money on everything from books to phone bills.
Below, we've compiled a list of some of our favorites!
1. Find coupons and discount codes with Google Search
The basic Google Search is a highly underrated money saving tool.
With it, you can save cash on everything from shoes to laundry detergent – if you're a savvy searcher that is.
So, next time you plan on buying something, take the time to do the following:
Open up the Google search engine.
Enter the name of the brand, store or product plus the term "coupon" in the search field. Hit enter.
Then you'll get a ton of results and you'll most likely find a coupon code that saves you money. This trick also works with the phrase "discount code".
You can use this coupon code when you make a purchase online if there's a field for a discount code on the checkout page.
This is a pretty basic way to use Google to save money – but it's really effective.
2. Save on gas (& time) with Google Maps
Google is great for planning out the best routes. And it's so easy to use too – not to mention free!
Using Google maps, you can find the quickest, most fuel-efficient route for your journey.
And, this not only saves you time but also a lot of gas money.
It even shows you which routes have tolls – so you can plan accordingly.
3. Save money on just about anything with Google Mail
Google Mail, or Gmail as it's also known, is another really easy to use tool that saves you money too.
There are several ways that you can use this email service to save money.
Many brands offer exclusive coupons, promotions, discounts and other deals through their newsletter. It's a great way to save money on products from your favorite stores.
With Gmail, it's super easy to create an email account.
So, if you want to sign up to a store's newsletter, but you don't want to get spam or unwanted emails to your regular email address, then get around this risk by creating a disposable email address using Gmail.
Rather than using your regular email address – which could be "tom@gmail.com" create an account with an address like "tom+gmail.com" or "tomscoupons@gmail.com".
You can use this address to sign up for newsletters at stores – and take advantage of those exclusive discounts and offers.
And, best of all, with Gmail, you can create different folders, and have your mail directed to whichever one you choose.
There are also a couple of other ways to save money with Gmail:
You can scan and email any documents you have that require a signature – and forgo the cost of mailing them.
Share your family photos through Gmail to friends and family, rather than sending them by mail.
You can email any letters or digital holiday cards, again, rather than mailing them.
For students, educators and anyone that loves to read, Google Books is a truly valuable resource.
Essentially, it's an extensive collection of books and magazines. Google scans paper versions of books and magazines and then turns them into digital versions – which can be viewed online.
If you're looking solely for books, then it's an efficient alternative to generic web searching – as its sole focus is making books searchable.
And, it's incredibly simple to use:
When you visit the main page of Google Books, you see a search box – much like you do on the regular Google search engine.
Then, you simply enter the name of the book you want or a keyword phrase into this box and hit search.
Not only does Google Books make searching books much easier, it also offers a plethora of features for tracking, annotating and sharing books online.
With this tool, you get access to books and magazines from libraries and publishers around the world – for free!
The majority of books can be read in full, whereas some only offer a preview. Fortunately, you can filter your search to only include books that can be read in full.
For students, it's a quick and easy way to find credible, trustworthy and attributable books.
And, for those who enjoy reading books and magazines, it's a wonderful tool for finding stuff to add to your library!
5. Google 411 – Update: No longer available
According to statistics, about 2.6 billion 411 calls are made in the U.S. each year.
But, if you call 411 from a cell phone it will cost you.
That's why Google 411 is so great.
It's a telephone based information service – essentially like any other 411 number.
But, it's entirely free to use. So, use GOOG-411.
6. Save on your phone bill with Google Voice
Google Voice is a really useful service – it gives you one number for all of your phones.
Here's how it works:
You choose a U.S. telephone number from the available numbers provided by Google Voice. This number is added to your account – and it acts as your master number.
So, rather than having to give out multiple different numbers, like your cell, work, and landline, you only need to provide one number.
Google then routes calls made to your master phone number to all of the different phones you want it to.
You get to choose the numbers that you want your calls forwarded to – like your cell phone, your landline at home and your work phone.
And, this is all completely free.
With Google Voice, you can also make calls to domestic and international numbers.
The majority of calls to locations in the U.S. and Canada are free!
So, it is a great tool to use to cut down your phone bills.
There are also other features, on offer, like:
Voicemail
Free text messaging
Call history
Conference calling
Call screening
Blocking of unwanted calls
Voicemail transcripts
Call recording
Overall, it's a good tool for lessening your phone bills, and it makes getting calls a lot more efficient!
7. Save $100 by replacing Microsoft office with Google Docs
Google Docs is a really overlooked tool. It's not only really easy to use, but it can also save you a lot of cash!
Most people are aware of how expensive Microsoft office programs, like Word and Excel, are.
A copy of Microsoft Office can set you back more than $100.
And, thanks to Google Docs, that's $100 that you really don't need to part with.
Google Docs is a software tool that allows you to create, edit and share content.
With Google Docs, you get access to a number of document templates, including:
Blank, Word-style documents
Resumes
Letters
Project proposals
Spreadsheets
Presentations
Databases
So, with Google Docs, you can really create all of the content that you can in Microsoft Office – but for free!
One of the best aspects of Google Drive is that you can also share it with other users – so that others can view it.
And, you can choose the permissions that these users have.
So, if you share a document with someone, you can select the option to allow that other person to make edits.
You can have multiple users edit the document – and create comment threads between these users.
It also gives you the ability to integrate with Gmail.
And, finally, with Google Docs, you can create folders to organize your content.
With this tool, there's really no reason you even need Microsoft Office – so don't waste your money!
7. Find current money saving tips, advice, and information
Google's search engine can act as a portal to some of the best, and most current, money-saving tips, advice, and information out there.
Whether it's a comprehensive list of the best money saving blogs and websites or in-depth articles on how to save and make more money – Google is a virtual treasure trove of financial information.
And, it's super easy to find.
As you probably know, all you need to do to get started on your quest to find quality information is enter a few keywords, like:
or
"best money saving blogs"
And, you'll get plenty of results.
If you want to find information that's up-to-date, then use Google's advanced search feature. Where it says "last update" in the "Then narrow your results by…" section, select "past year" or even "past month" or "past week", for super up to date content.
This way it will only show recent articles.
On Google, you can learn about pretty much anything – whether that's making money or marine biology.
Whatever you want to learn, you can with Google as your starting point.
8. Find the lowest prices with Google Shopping
Never buy anything online before taking a quick visit to Google Shopping.
With this tool, you can enter the keyword of the product that you want to buy, and then get a ton of results from different retailers – both online and offline.
Then, you can see which retailer offers the best price for the product that you want to buy.
You can even filter the results by price. It's a quick and efficient way to get the best price for the product you want to buy.
9. Keep in touch with the family for free with Google Hangouts
Another great tool from Google is Google Hangouts. With this tool, you can connect with friends and family members on a variety of computers and other devices.
And, it's free to use too!
You can start free video and voice calls to friends and family members.
But, best of all, you can even do group video calls.
Here are some of the great features of Google Hangouts
Start free video or voice calls with one person or a group.
Send and receive messages.
Have video calls with a group of up to ten friends.
Participate in group chats with up to 150 people!
Share videos, photos, gifs, emoji's stickers and maps.
Message others anytime – even if they're offline.
Integrate your Google Voice account.
Hangouts is completely free to use. So, rather than you and your friends racking up bills on your cell phone and landline – use Google Hangouts instead.
Calls made to other Hangout users are free! But, you may be charged for other calls.
With this tool staying in touch with friends and family is easy and inexpensive.
10. Find coupons, deals, reviews, & more with Google Alerts
Google Alerts is a multi-faceted money saving tool. Essentially, with this tool you can set up alerts for the topics you're interested in – all you need to do is enter a keyword and Google will send you any recent content – whether that's blog posts or news articles – that contains your search terms.
You also have the ability add your own criteria to make the results more specific to your needs:
Choose how often you get the alerts – which can be as-it-happens, at most once a day or at most once a week.
You have the ability to select the sources you want your content to come from – which can be blogs, web pages, videos and much more. Or you can just choose the automatic option if you want your info from a wide variety of sources.
Also, you can choose the region/country you want to see content from.
Finally, you can decide whether you want to see all results related to your keyword, or only the best results.
So, as you can see it's a really diverse tool that you can personalize.
But, how can it save you money?
Well, there are many ways you can use Google Alerts to save money. It's all about setting up the right alerts:
Coupons/Codes
Setting up alerts for coupons and discount codes is a great way to save money – and it takes little effort on your part.
Once it's set up, you don't have to do anything else.
So, think of any stores or brands you buy from and products you buy frequently. Then set up an alert for each store/brand/product you're interested in – you need to write the name of it, followed by one of the following terms:
"coupon code"
"coupon"
"discount code"
"promo code"
So, here's an example alert name, "Amazon coupon code"
You could even set up a few for the same store or product name, using each of the keywords above.
Then, each day or week, depending on how often you decided to receive alerts, you get tons of content about coupons and discounts sent straight to your inbox.
You'll end up with a constant stream of coupons for the stuff you buy frequently.
Sales and Deals
Using Google Alerts, you can keep up to date with any sales and deals on offer.
Just enter the name of the brand, product or store, followed by the term "deal" or "sale".
You can do this with a variety of different stores and products.
And, you'll then get details of sales and deals straight to your inbox – saving you a lot of time and cash!
Freebies and Giveaways
Did you know that you can use Google Alerts to get free stuff?
All you need to do is set up alerts for the term "freebies" and "giveaway". And, again, Google automatically sends you content related to your terms.
Product Reviews
Let's say you're looking to buy a product, like a TV, but you're struggling to decide which one is best for you. Google Alerts can help you.
Set up a Google alert for the products that you are looking to purchase.
As above, enter the name of the product, but then add the word "review". Then, you'll get alerts when reviews of the product come up.
This way, you'll end up with the product that suits you, and you won't waste your money on the wrong item.
Money saving advice
While a Google search, as mentioned above, by itself yields a lot of great money saving info, Google Alerts makes things even easier.
Instead of having to search the internet yourself for content that offers money saving tips and advice, you can get Google Alerts to do it for you.
All you need to do is set up alerts for keywords, like:
"money saving tips"
"money saving advice"
"how to save money"
"ways to save money"
Then you'll get alerts anytime there is new content online that teaches you how to save or earn more money. And you don't have to search for it yourself!
Final word
Google is much more than just a platform for browsing the web.
The search engine alone is a great resource to find money-saving opportunities – and then there are tools like Google Alerts and Google Books that can also save you a lot of cash.
When used properly, Google can be excellent for your wallet.
So, give the tips, tools, and services above a go and you'll be surprised by how much you save.
Save