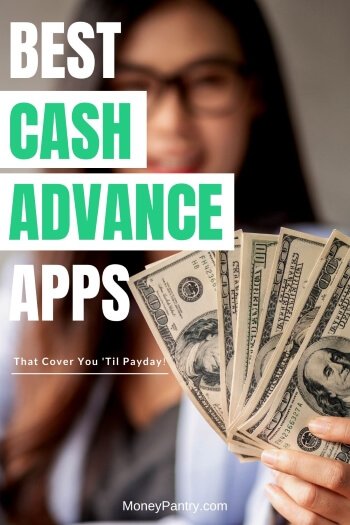 Payday advance apps are very handy for times when you need money instantly but your payday is a few days away.
For those unfamiliar, let me explain what payday advance (or Cash Advance or Paycheck Advance, as it is often referred to) is and how Payday advance apps work.
Many of them loan you money instantly, kind of like payday loans except without the exorbitant fees and debt cycle.
Others allow you to get your paycheck earlier or require your employer to partner with them to receive direct deposit payments.
Most workers make enough to get by and can't wait two or more weeks for their wages. Some don't even have sufficient savings to cover $1,000's worth of expenses.
A payday/cash advance app can be the solution you need to make fast money before your official pay date arrives. Here's a list of the best apps worth considering.
Need Easy Extra $300+/Month for Free?
Panel Payday
: Earn up to $75 per survey. They also pay up to $50/hr for mystery shopping.
Join Now!
InboxDollars
: Paid over $57 Million to members to watch videos, take surveys, shop and more.
Get $5 instantly!
Daily Goodie Box
: Want free stuff? DGB will send you a box of free goodies (Free Shipping - No Credit Card).
Get your box now!
Branded Surveys
: Get $1 instantly just for joining for free. Plus get paid within 48 hours by PayPal!
Join Branded Surveys
Toluna
: Earn PayPal, Amazon & Tango e-vouchers for taking surveys (& product testing!).
Join & get 500 bonus!
Swagbucks
: Get paid to watch videos, shop online, take surveys and more.
Join now & get $5 instantly!
Payday Advance Apps
Visit any of these sites to learn how they can help you or someone else stay on top of expenses.
App available for: Android (free) – iOS (free)
Go2Bank truly is someone's go-to online bank since it offers many great perks through its direct deposit service.
Once you provide your banking credentials to your employer, you can get your paycheck up to two days early. (If you receive government benefits, you can expect your payment within four days.)
Plus, those with eligible direct deposits can apply for a credit card to aid in building or repairing credit.
Amount: While it doesn't offer a cash advance per se, you receive up to $200 in overdraft protection as long as you have eligible direct deposits.
Fees: Free with direct deposit; $5/month without direct deposit
App available for: Android (free) – iOS (free)
With SoFi's Early Paycheck program, you can receive direct deposit payments a couple of days earlier to your Samsung Money by SoFi or SoFi checking/savings account.
Amount: If you have direct deposit, you can receive up to $50 in overdraft coverage using your SoFi Debit card.
Fees: None
App available for: Android (free) – iOS (free)
Earnin enables you to request your earnings on any day you wish.
It also comes with Balance Shield Alerts, a feature that lets you know when your bank balance decreases so that it covers you with instant cash-outs.
Unfortunately, it's only open to hourly and salary workers with one employer.
You can learn more about it by reading my review of Earnin app.
Amount: Up to $100/day; Up to $500/pay period
Fees: None, but you can add voluntary tips of up to $14
App available for: Android (free) – iOS (free)
This is a great all things money and budgeting app.
Signing up for Revolut's Early Salary program can get you fast payments and make you money.
What differentiates Revolut from some banks and other finance companies is that it doesn't collect fees from direct deposit payments.
As long as you're receiving your funds from an eligible payer, you can get your paycheck about two days early.
Additionally, Revolut offers stock trading options that let you invest for $1.
Amount: Up to 50 percent of wages
Fees: None
App available for: Android (free) – iOS (free)
With Even, you can use its InstantPay feature to transfer earnings to your bank account or pick it up from your local Walmart.
Unlike many other services that offer direct deposit, Even lets users receive their payment within one business day.
Besides depositing payments, Even comes with features that allow you to budget and deduct portions of your payments until you meet your savings goals.
To get your paychecks through this app, your employer has to be a company partner. That said, there are no hidden fees or interest.
Amount: Up to 50 percent of wages
Fees: $8/month
App available for: Android (free) – iOS (free)
Branch is a unique app because both contract workers and employees can use it.
To qualify, your employer/client needs to create an account with Branch. Until then, you'll be put on a waiting list and receive a notification upon your company signing up.
Transfers to your bank account take about three days. If you want your payment faster than that, you can get it instantly through your Branch Debit Card.
This app even includes Branch Messenger, which allows workers to sign up for work shifts or befriend other workers.
Amount: Up to 50 percent wages; Up to $150 per day, $1,000 per pay period
Fees: No cost for bank transfers; about $3-$5 for instant Branch Debit Card transfers
App available for: Android (free) – iOS (free)
Like Earnin, DailyPay permits you to request your earnings on any day you wish.
Why wait a week or two for your paycheck when you can get paid every day?
Your employer has to be a DailyPay partner for you to take advantage of this service. However, the benefits it brings to employees are why hundreds of companies love it.
DailyPay allows you to withdraw your earnings five times a day on any day of the week. You can transfer payments to your payroll card, debit card, or bank account.
Amount: Up to $1000 per day/Up to 100 percent of wages
Fees: About $2-$3 per transfer; if you opt for the Friday by DailyPay card, you don't have to pay any transfer fees.
App available for: Android (free) – iOS (free)
While there are many online banks like Chime, Chime brags about being the #1 most-loved banking app — and it's easy to see why.
You can take advantage of its Early Direct Deposit service (you receive your earnings two days earlier than your scheduled pay date) by signing up for an Online Chime Checking Account.
There are no monthly fees or interest, and you can send money to anyone's bank account for free.
Chime even offers overdraft protection on debit card transactions, aka SpotMe.
Amount: Up to $200 in overdraft protection
Fees: None
App available for: Android (free) – iOS (free)
Did you know that over 7 million households in the U.S. lack a bank account?
FlexWage addresses this issue by offering these features:
OnDemand Pay- Employers grant their employees access to wages when needed.
Flex Pay- Distributes tips, wage payments, and 1099 payments instantly
Pay Card- Lets workers receive earnings without worrying about checks or bank accounts
It also provides Sum180, a wellness program where you can learn about various financial topics and even speak with a finance coach if you wish.
Amount: Varies
Fees: About $3-$5 per transfer
App available for: Android (free) – iOS (free)
By signing up for its direct deposit service, Current lets you get your paycheck within 48 hours before payday.
With this app, you receive more than faster payments. If you earn $500 or more in qualifying direct deposit payments each month, you get overdraft protection from Overdrive.
Amount: $25 to $500 in overdraft protection
Fees: None
App available for: Android (free) – iOS (free)
Thanks to its Earned Wage Access program, PayActiv lets you request part of your paycheck on your own terms. You can receive payments via debit card, bank account, or payroll/prepaid card. (Walmart cash pickups are available to those without bank accounts.)
Some employers provide this app as a benefit, but you don't have to work for a PayActiv payer to get payments. Just apply for a PayActiv Visa Card to receive your earnings a couple of days before payday.
Also, you have access to PayActiv Connect, a platform where co-workers can communicate and schedule shifts.
Amount: Up to $500 per pay period
Fees: None with direct deposit; about $2-$3 per transfer without direct deposit; up to $5 per two-week period when using Earned Wage Access
App available for: Android (free) – iOS (free)
This online bank offers Direct Deposit Express if you sign up for its Essential Checking account.
You can get your paycheck, tax refund, and/or government benefits two days earlier than scheduled.
Furthermore, there aren't any minimum balances, overdrafts, or maintenance costs.
Paycheck Advance Apps Summary
If you're tired of being short on cash all the time, your problems may finally be over. Download one of these payday advance apps today to put your financial worries at ease. Just make sure you read all the terms and understand how all the fees work so you don't end up paying $1000 for borrowing $100.
The good news is that since there are many different cash advance apps, you are not limited. Don't like one, try the next Paycheck advance app until you find one that fits your needs.