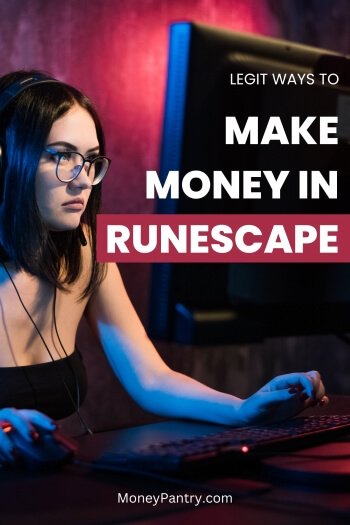 Want to know how to make money in RuneScape?
Then, this is the post for you.
RuneScape is a fantasy massively multiplayer online role-playing game (MMORPG) that takes place in the world of Gielinor. Gielinor is a medieval fantasy realm that's divided into different kingdoms, regions, and cities.
RuneScape was developed and published by Jagex and released in 2001. The game is incredibly popular.
It's had more than 300 million accounts created. And, it's recognized by the Guiness World Records for having the most users of an MMO videogame.
In the game, players are able to travel throughout Gielinor through various methods, like on foot, with magical spells, and on charter ships.
Need Easy Extra $300+/Month for Free?
KashKick
: Get paid directly into your PayPal for watching videos, surfing, shopping and more.
Join KashKick Now!
InboxDollars
: Paid over $57 Million to members to watch videos, take surveys, shop and more.
Get $5 instantly!
Branded Surveys
: Get $1 instantly just for joining for free. Plus get paid within 48 hours by PayPal!
Join Branded Surveys
First Opinion
: Get paid up to $10 per survey and $300 per virtual focus groups!
Join Now!
Swagbucks
: Get paid to watch videos, shop online, take surveys and more.
Join now & get $10 instantly!
On each region, players will find different kinds of resources, monsters, and quests to challenge them. In the game, players are represented with customizable avatars.
RuneScape does not follow a linear storyline. Instead, you're able to set your own goals and objectives. So, you're able to choose to fight non-player character (NPC) monsters, complete quests, and increase your experience in the available skills.
Players are able to interact with each other though trading, chatting, or participating in mini-games and activities.
One of the most important aspects of the game is, well, the money, or Coins, as they're called.
Coins, which are also known as GP or Gold Pieces, are the most common form of currency in RuneScape.
If you want to make the most of playing RuneScape, then you're going to need plenty of in-game Gold.
Although much has changed since the original iteration of the game in 2001 to RuneScape 3, money is one resource that has always been essential.
Gold in the game is so important for things like upgrading weapons and armor.
Fortunately, there are lots of ways to make money in RuneScape.
We'll cover these techniques below.
Now, it's important to note that some of these techniques do require you to have a paid RuneScape membership. However, don't worry because there are actually plenty of ways that you can make money in RuneScape without subscribing.
To make things easier, we've categorized the money-making options for members and non-members. So, you can use the tips in the section that best suits you!
Below, you'll find ways to make money in RuneScape with and without subscribing.
How to Make Money in RuneScape as a Non-Member
If you want some extra cash in RuneScape and you aren't a member, then you have lots of options. Whether you're new to RuneScape, or are just strapped for cash, there are ways to build up funds in game.
Here's how you can make money in RuneScape as a non-member.
1. Fishing
One of the easiest ways that non-members can earn money in the game is through fishing. So, with at least 20 fishing, go to the docks with a 60GP, and a harpoon or a lobster pot. This is such an easy method.
2. Crafting
Okay, so you can also craft items to get money. The crafting skill is one of the best ways to get cash because it gives you the most opportunities.
There are a wide range of things that you can craft and make money from. This includes things like gold amulets, sapphire amulets, and jewelry in general.
3. Cooking/food
Okay, another option is cooking and food. So, you can trade meat with other players or set up a meat stall.
Selling food in general though is a good way to earn. So, there are lots of foods to make money from, like cabbage, lobsters, pie dishes, chocolate dust, and kebabs.
4. Mining
Another easy way, albeit a slow way, to make money is through mining. It can be a sure way to make some cash.
It can be very profitable too. Just mine ores and sell them. Iron ores the fastest to gather and can yield a lot of cash. Iron ore sells for around 100 GP.
5. Smithing
Another way to make money is with smithing.
Now, this one can be a little tedious, but it can be incredibly profitable, especially if you are consistent. You could make millions.
With this option, you're going to need to find ores, and melt them in a furnace. Then, after you've done this, you will need to take the bars to an anvil with a hammer.
It's a simple, yet profitable option for making money in RuneScape.
6. Runecrafting
You can also make money in RuneScape with Runecrafting. All you need is an air talisman and rune essence.
You can get rune essence through mining or purchasing it. Although it can be slow, Runecrafting is one of the most profitable skills in the game. You must finish rune mystery quests in order to Runecraft.
7. Wood cutting
Another way that non-members can earn money on the game is though wood cutting. You will need to use the best hatchet you can to chop down the highest-level tree that you can. Then, bank the logs and sell them. You can chop down yews if you reach 60 wood cutting.
What's great about this option is that you can sell each log for around 500 to 600 GP. This means that with each inventory, you could earn around 12k.
8. Killing chickens
Okay, so another option you have is to, well, kill chickens. It's an easy way to earn money in RuneScape.
It's pretty easy to locate chickens and to kill them. Then, you can sell the raw chicken, bones, and feathers at the Grand Exchange. This can net you a pretty good amount of gold.
Although this might not bring in a huge amount of gold, it is one of the easiest and best bays for beginners to make money in RuneScape. So, head on over to Fred the Farmer's farm and start killing chickens.
Also, killing chickens can help you to learn the game's combat mechanics. So, it's a good option for those who're new to the game.
9. Superheat Runite Ore
You can also try superheating Runite Ore. This is another option that's pretty easy, but effective at gaining some extra gold.
Now, it is a little boring, but if you are willing to invest a little time and effort this can be very profitable. For those without a membership, it's a pretty good option.
For this one, you'll need to fill up your inventory with Runite Ores, and then keep casting your Superheat spell over and over again. This turns the Ores into Rune Bars.
These can be turned in for 417 Gold per bar. You can view your Smithing and Magic XP score in the process.
10. Monster/NPC drops
In RuneScape, there are Drops, also known as Loot, which are items that monsters leave behind for the player that killed them when they die or when they're defeated. Players can pick up these items.
Drops can include things like coins, bones, or other items. Players can trade some of the items they pick up.
Other drop items include bear fur, cow hides, and cow drops.
How to Make Money in RuneScape as a Member
Although you can play on RuneScape as a non-member, you have the option to join the game's members' community.
This gives you access to a variety of benefits and member's only content, like:
190 extra quests
11 new skills
40 minigames
A larger map to explore
Membership gives you access to both RuneScape and Old School content.
Below, I'll cover ways you can make money in RuneScape as a member.
11. Cleaning herbs
In the game, players will obtain herbs as grimy, aside from when buying clean herbs from other players. So, if you want to make some money, you can clean herbs to sell them.
You can clean grimy herbs by left-clicking on them, and then sell them at the Grand Exchange.
Players can clean grimy herbs, gaining a small amount of Herblore experience points. However, each type of herb has a minimum Herblore level requirement that players must have to do so.
If you don't have the required Herblore level to clean a herb, then you can take it to Zahur, who is a herbalist in Nardah, who will clean it for you for 200 coins.
Or, you can use the Assist System to borrow another player's Herblore level, so you can clean the herb.
At one point, grimy herbs were worth more on the Grand Exchange than clean herbs, particularly the lower level herbs, but this has changed.
Players who are trying to grow herbs for money, should check both grimy and clean prices if they have a high enough Herblore level to clean them.
Most herbs are more expensive when they are clean rather than grimy. So, purchase as many of them as you can. Then, you can cleanse a large number of herbs in quick succession by using a bank preset.
12. Killing Frost Dragons
For this one, you will need to go to the Asgarnian Ice Dungeon. Now, this does require 85 dungeoneering so you can access the resource dungeon where these dragons reside, and a fairly high combat level.
You should use Dual Drygores for maximum skills, but chaotic weapons, and even God swords can be used if need be.
To make trips last longer, you should bring a yak or a similar pet. Purchase some magic notepaper, which is a treasure hunter prize that allows you to note any drops you get.
While doing this can cut into your profit a little bit, it does allow you to stay for longer, which, in turn, allows you to increase your profit per hour. Kill the Frost dragons and collect their bones. Frost dragons drop dragon bones that are worth 16,991 coins each.
As frost dragon bones provide the best prayer experience in the game, they are in constant need for people that are training prayer.
13. Collect bananas
Collecting bananas is a really easy method, like the killing chickens method that I mentioned earlier. However, if you want to make sure that your fruit picking is efficient enough to be worthwhile, you will need some members-only items.
You can pick bananas in the banana plantation on Musa Point. The easiest way to get there is with an amulet of glory. This is because it places you just steps from the banana trees. It's a good idea to use baskets, which hold five bananas each, as this can significantly increase the number picked per hour.
Once all of the baskets are full of five bananas each, you'll receive a reward.
This is a good way to make money if you are new to the game, as it's easy to do and involves no real risk. However, because of that, the profits aren't huge. Still though, it's a great way for beginners to make money in RuneScape.
14. Enchanting jewelry
Another way to make money on the game is by enchanting jewelry.
You will need to get some runes. You'll need a cosmic rune for every piece that you want to charge.
Also, depending on what piece you enchant, you will need an elemental rune, so earth for emerald, water for sapphire, fire for ruby, and air for diamond.
Then, you will need to know which jewelry to enchant for profit – after all, you want to make money here!
So, some examples include:
Sapphire necklaces: When enchanted, these turn into Game Necklaces, which are used in teleportation to Barbarian Assault.
Emerald Rings: The emerald ring can be enchanted into a Ring of Duelling through the use of the Enchant Level 2 Jewellery spell. Rings of Duelling are commonly used as teleports to the bank and in hard clues.
Dragonstone Amulets: The dragonstone amulet can be enchanted into an Amulet of Glory using the Enchant Level 5 Jewellery spell, requiring level 68 Magic, a cosmic rune, 15 earth runes and 15 water runes. Amulets of Glory can be used in fast teleporting to the Edgeville bank and a hard clue that requires a teleport into the Karamja Jungle.
Sapphire rings: You can enchant a sapphire ring into a ring of recoil by using the Enchant Level 1 Jewellery spell. Rings of recoil are commonly used by PKers because they return 10% of damage to the attacker.
15. Catching Red Chincompas
Red chinchompas are multi-target stackable Ranged thrown weapons. Level 55 is required to use them. You can obtain Red chinchompas by box trapping carnivorous chinchompas in the Feldip Hunter area.
Get 63 hunter. Purchase four to five traps depending on your level and how many you can use.
Some methods you can use to get to Feldlip Hills include Gnome Gliders (after The Grand Tree), Feldip Hill teleport scrolls from clue rewards, or the or the Oo'glog lodestone teleport and running north. Go west of the hunter master.
Lay down your trap in a diamond shape, as this is the most efficient method to catch the chinchompas.
Also, it makes replacing the traps afterward a lot easier. You should also not bother smoking or baiting your traps because the bonus to catching isn't worth the time and money spend on getting them.
Closing Thoughts
If you want to know how to make money in RuneScape, then give our tips a try.
If you have any tips of your own on how to make money in RuneScape, then feel free to share them with us in the comments section below.