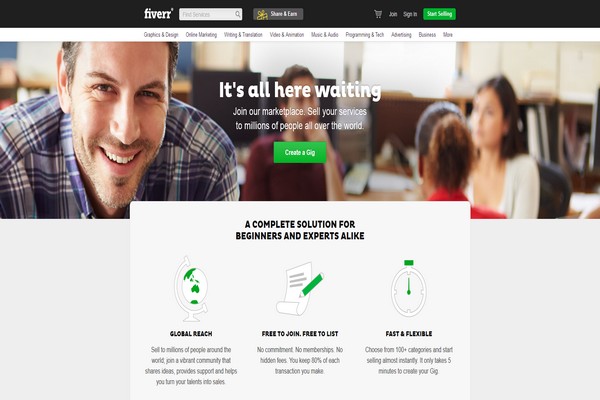 In case you've never heard of Fiverr.com, it is a website where you advertise a task/job you can do, and you say you'll do it for $5.
You also have the opportunity of offering additional services, where you can set prices higher or lower than $5.
It is fast becoming one of the most popular sites to make money online for thousands of people.
You might call it something like a "micro-job" site, sort of like Mturk, somewhere you do many tasks in order to build up a large sum of money.
However, unlike making money with Mturk where you are only making pennies, and there is no real possibility of making decent money, you can actually make a pretty tidy side-income from Fiverr.
But if you take it a step further, you might be asking: can I make a full-time income on Fiverr?
Need Easy Extra $300+/Month for Free?
KashKick
: Get paid directly into your PayPal for watching videos, surfing, shopping and more.
Join KashKick Now!
Panel Payday
: Earn up to $75 per survey. They also pay up to $50/hr for mystery shopping.
Join Now!
InboxDollars
: Paid over $57 Million to members to watch videos, take surveys, shop and more.
Get $5 instantly!
Branded Surveys
: Get $1 instantly just for joining for free. Plus get paid within 48 hours by PayPal!
Join Branded Surveys
iPsos iSay:
: If you have to only sign up for one paid survey site, go with Ipsos (high paying survyes)!
Join iPsos Now!
Swagbucks
: Get paid to watch videos, shop online, take surveys and more.
Join now & get $5 instantly!
If you're wondering that, I've got the answer.
It is "yes."
And if you're worried about not knowing the tricks of the trade, fret not, because I've made a list of five tips that are sure to improve your bottom line using Fiverr.
1. First consider what you can do well, and what you can do quickly
Ideally, the service that you're going to offer on Fiverr is something that you're familiar enough with to accomplish in a hurry.
The name of the game here is efficiency.
Sure, you might really impress your client if you do an amazing job, but your bottom line isn't going to be very good if it takes you 3 hours to do a $5 task. Make sure your own pace is something that you're taking into consideration when you set up your gig.
However, you also need to consider how well you do the task in question. While efficiency is key in this situation, it doesn't mean your quality is completely unimportant.
Another point about succeeding with Fiverr is upselling. Sure, you're doing $5 gigs, but you'd like to make more, right?
Make sure that what you're offering at the $5 is something pretty basic, so you can charge more via "gig extras" to up the cost. This isn't an immoral trick, but rather a key idea of the site itself.
Some people are breaking their backs to accomplish a few $5 tasks in a day– don't be that person.
Set up your gig so that it naturally upsells.
2. Niche targeting
Targeting a niche is a main tenant of business; it applies in a lot more situations than this one. This is a business venture, after all, so make sure that you're prepared to do business.
Spend a few hours looking around Fiverr and seeing what people are offering, and try to find a place where you have something you can offer.
Ideally, it'd be something that you're at least slightly passionate about, because that will reflect in the quality of the work you do (or at least make the quality come more easily.)
But how do you look for a niche?
At a glance:
A. You need to know what people go to Fiverr looking for. Usually, it's short-order content creation.
B. Of the things that people are looking for on Fiverr, what is something that you can do quickly, or perhaps, automate? (More on this later.)
C. Something that you have an interest in, or a passion for.
If you can come up with a gig that combines all three of these traits, that's good news for you!
Plenty of people are slowly pumping out gigs that they don't even like, and those people are probably having a harder time producing quality work/high volumes of work.
3. Effective Marketing & Client Handling
OK, so here's where the hook comes in: the gig that you offer on Fiverr is only half the battle.
The other part of the process comes in with actually scoring the customers for the gigs. After all, there are over 4 million "Giggers" on the website, so you're going to need to do something to stand out.
You have a couple of basic options– the Fiverr forums, for one, Twitter, Facebook, or a personal blog.
While you're no doubt looking into this because you want to get paid, it's really not so crazy to inject a little money for a marketing plan at this point in the process. I know, I know. Nobody wants to spend the startup money. But again, this is business, and you have to spend money to make money.
Being realistic, your money will get you exposure on any social media network. You can pay a large fan page on Facebook to link to your Fiverr, you can commission a blog post somewhere, you can pay for banner ads somewhere.
It doesn't really matter how you do it, but make sure that you're targeting the right demographic. Most of your potential clients are actually businessmen themselves, and they want your content as part of their larger profit plan.
That ties into the last part of #3: clients.
We've got more to say about clients in #4 and #5, but for now, remember that a lot of your money is going to come from repeat clients. Just because you're working for small money doesn't mean that your service isn't important to the client; in fact, many clients will want you, specifically, to perform that service for them! If you can, find a place to exchange contact information.
I've personally talked to people who graduated out of Fiverr and into comfortable 4k a month jobs by proper networking.
4. Use expectations to your advantage
You probably understand coming in that Fiverr isn't exactly a service where you kick your feet up and rake in the big bucks. It requires shrewd thinking, good planning, and the ability to manage your time in a way that is profitable.
Part of this ties into what people's expectation of your work is going to be. You don't have to follow my tips in this section; it's perfectly understandable if you don't. However, these are tips that will help to even the playing field a bit, so read on if you're interested.
Some workers on Fiverr approach the situation with absolute earnestness. They say they'll do it in a day, they break their back to do it in a day, and they make their measly $5.
It's honest, but not really profitable.
People usually aren't going to go out of their way to tip you for keeping your word. Instead, try altering their expectations. If you can get something back to someone in 6 hours, perhaps tell them 12 hours, or 24. Not only is this good planning in case something comes up, but it also makes you look like a great worker. Someone who gets 6 hours' work done in 6 hours? Well, that's alright. But someone who doesn't 24 hours' work in 6? Now THAT is impressive.
Additionally, sometimes people on Fiverr don't really offer high-quality work because hey, it's just $5. You can stand out by doing better business than them.
People who have used Fiverr for their business before might know that Fiverr's quality is inconsistent, so they'll be doubly impressed when you deliver quicker than promised AND it's of high quality! Controlling the expectation of the client is a tactic of the top Fiverr sellers, and you don't even have to do anything wrong– you're just managing the way you present yourself.
5. Finally, streamline and automate the process as much as possible
Streamlining is something that you can do no matter what service you offer. Anything can be streamlined, really, it's just a matter of organization.
And like I said up above, efficiency is the name of the game!
So how do you streamline your process?
A basic way to come at it is to have an "assembly-line" approach. Have certain things that you always do, and edit them for the needs of the client at hand.
Do you create videos? Develop a process for the way you do it so you can make small alterations to produce unique results. If you strain yourself pushing to make each piece of work truly and absolutely unique, you're going to find yourself making very little money.
But let's talk about automating.
You can partially automate your service with that same assembly-line approach we talked about up above, but let's go a little more in-depth about it.
It will really depend on what your Fiverr service is. If you do some creatively focused work, like writing or shooting videos, you can only go as far as what we discussed in the first paragraph. But what about otherwise?
If you have different types of Fiverr gigs, say like "I will provide you a stock photo for your product/article." You aren't selling the rights to your photograph– you're selling the right to reproduce it for commercial use. That means that you own your photographs. Therefore, if you amass a large stockpile of photographs to sell, you can make a killing reselling them to each person who comes through looking.
Maybe as an additional gig, you can offer to "personally take a photograph" for their product, and then add that photo to your stockpile.
Even if your gig is something like "I will illustrate you as an anime character," you can shave time off by having a basic model you work off of. Perhaps you keep a male model and a female model, and you only draw new features onto them as needed by the client.
This is another form of automation.
Automation is key when it comes to making money efficiently.
For a more famous example, look at Henry Ford; his adoption of the assembly-line, modular approach (and the creation of universal parts) is one of the fundamentals of the industrial world.
If that doesn't inspire the entrepreneur in you, maybe nothing will!
Thoughts in closing?
Fiverr is a goldmine for those who are willing to participate.
It might require a little bit of 'gaming the system,' (I certainly know an artist or two who would feel bad if they didn't draw each gig from scratch) but that's also what you need to do to get ahead in the Fiverr world.
If your work isn't incredibly original– hey, well you're getting paid less than minimum wage, right?
But if your work is great and satisfactory, then who should mind?
It is entirely possible to make $500, or even $1000, or maybe even possibly more a month on Fiverr. In fact, it's a more straightforward avenue of business than almost anywhere else!
Supply, demand, marketing, networking, it involves it all.
Even if you don't end up making your fortune on Fiverr, you can still make some pocket change, and sharpen your skills of business while you're at it.