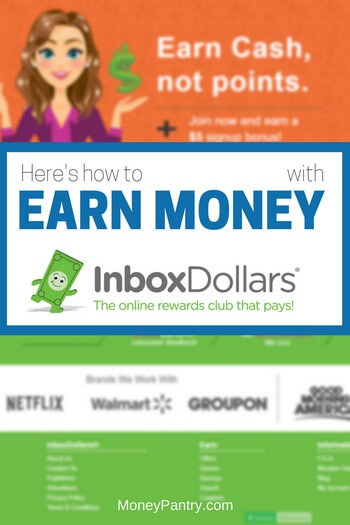 Online, there are so many ways that you can earn money, but one of the easiest has to be with rewards websites like InboxDollars.
These are sites that pay you to complete small tasks, such as taking surveys and playing games.
If you've ever looked into rewards websites, then, alongside sites like Swagbucks and SendEarnings, you may have heard about InboxDollars.
With this site, you can earn money for completing super simple tasks.
In today's review, we discuss how it works, how much money you can make with it, and whether it's worth joining.
What is InboxDollars?
Inbox Dollars is an online rewards club that pays you to complete tasks.
And, unlike many other rewards and get paid to (GPT) websites, you get paid in cash, rather than in points.
You can use the site directly or you can use the app.
Here's where you can download the app:
With the Android app, you can get paid for a much wider range of tasks, whereas on the iOS version, you only get access to paid surveys.
How it Works
Here's how the site works:
Signing up
First, you need to sign up which you can do so on the website.
Use this link to get a free $5 sign up bonus.
Once you've signed up, you'll be able to start earning money.
Ways to Earn with Inbox Dollars
There are no InboxDollars "hacks", but there are tons of different ways to earn cash.
Here's how you can earn:
Surveys
It partners with research organizations that need feedback on a range of topics. In exchange for giving your opinion, you'll get cash. Most surveys pay between $0.25 and $3.00, but sometimes you'll see surveys that pay more or less than that.
Watching TV and Videos
Get paid to watch a wide range of TV channels, such as news, food, celebrities and tech focused channels. You can also earn money for watching videos from the site's partners.
Play games
You can make money by playing 30 plus free games. You can also enter cash games and then compete against other users for cash prizes.
Read Emails
One of the easiest ways to earn money on InboxDollars is with PaidEmails. Put simply, you get paid to read emails! Each Paid Email contains an offer that earns you more if you complete the offer. You can receive up to three paid emails per day.
Complete Offers
Complete offers, such as signing up for services, in return for payment. There are free offers and paid ones available too – and you can filter the results, so that you only see the offers that you're interested in.
Search the internet
If you use InboxDollar's search engine, then you will earn money. This is a really easy way to earn. You can visit the search section of the website to use the search engine, or you can set it as your homepage.
Get Deals
The site also has a variety of deals available that can earn and save you money. When you shop through InboxDollars, you can get cashback at a variety of stores and brands, from Walmart to Best Western. And, there are plenty of other deals available, including deals from Groupon and Coupons.com
Refer Friends
When you refer a friend to InboxDollars, you earn 10% of their qualified earnings. So, for every $1 that they earn in qualified earnings, you can earn $0.10.
How much can you earn?
So, there are plenty of ways to earn money with ID, but exactly, how much can you earn with the website?
Well, it really depends on what tasks you complete, and how many of them you do.
As we mentioned earlier, you earn cash rather than points.
Here are a few examples of tasks available, and how much they pay you, at the time of writing:
Try out Babbel and earn $3.00
Complete a short survey about your grocery spending habits and earn $0.75
Check your credit score with Credit Sesame and earn $1
Download the ShopTracker app and earn $4.00
So, as you can see, the payment per task isn't particularly high.
Here are some things users on Reddit have to say about their earnings:
"Hey. I can confirm that it pays out. I've cashed out 4 times in total and made $109. But it is a really slow process and it does not have a PayPal option."
"I can also confirm it pays out. For my first payment, they sent me a debit card. Subsequent payments will be loaded onto the same card. As others have said, it does take a while to reach $30, but it is not as time consuming as some other sites. I get the majority of my earnings from the emails and from printing and redeeming grocery coupons."
"It's legit. it does take awhile to hit $30, but I've cashed out several times. I've been using them for over 6 years, get maybe 2 payouts a year. once you get enough payouts, they put it on a debit card – much faster."
Getting paid
You need to have $30 in your account if you want to cash out, and you can't get paid via PayPal, or direct deposit.
Instead, you get paid via check or an InboxDollars ePayment, which is a gift card for Amazon, Target or Walmart, or a Prepaid Visa Card.
Is InboxDollars legit & worth it?
One of the main complaints about InboxDollars is that the tasks don't pay very much, especially for the time that they take up.
For example, many people say that a $0.25 survey takes 15 minutes to 20 minutes, meaning that their hourly income is around a $1.
And, the quotes from Reddit above, also mention that earning with the site is a slow process.
Many reviews on the Google Play store also complain about the fact that it takes a while to reach the $30 cash out threshold. One reviewer said:
"Takes extremely too long to get $30 unless you want to buy into the gimicks. But why spend money to make money…that makes no sence. So we'll after a month of doing the free offers I'm only up to $14. Less than half of what I need to be able to cash out."
Other users say that it's difficult to qualify for surveys. One person on the Google Play store says:
"The survey's which are over 25 cents are always going to place you out. You spend 15 to 20 minutes to then be told that your not eligible for the survey once again this only happends for surveys which are over 25 cents. It then offers you a 25 cent survey which goes through after another 15 to 20 of doing that one. The app is ok but, is a time pit if problem is not fixed."
Having said that, rewards websites in general don't pay particularly highly – so they're more for making a little extra income.
If you like to use multiple websites to make money, then it's certainly worth giving ID a try, but there are higher paying surveys and rewards sites that allow you to make more money at a quicker rate, such as Swagbucks and TreasureTrooper.
Closing thoughts
Overall, ID is a good website in that it does provide a lot of ways for you to earn.
Sure, you won't make a living watching videos, surfing the web or doing any other activity on InboxDollars, but you will make some extra cash in your spare time.
So, to end this review of InboxDollars, I'd say if you're looking for easy ways to earn a little side income, give ID a try.