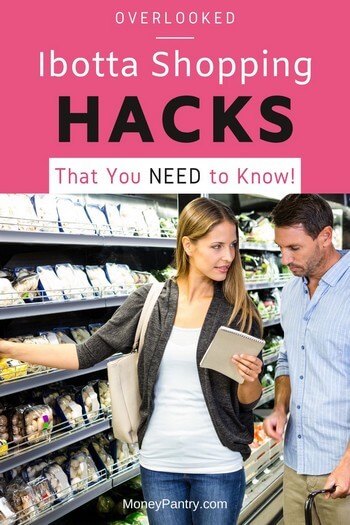 If you have been using Ibotta for a while you've probably looked for Ibotta hacks and even cheats (that one maybe out of curiosity!).
Ibotta is one of the best grocery cashback apps out there. They've given millions of dollars in rebates to its users, which is honestly amazing considering the short period of time they've been around!
If you use the app (if you're  not already, read my review of Ibotta to find out why you should!) you are probably interested in knowing all the Ibotta hacks and tips you can use to maximize how much money you can save!
How to Make Money with Ibotta
Ready to take your cashback earnings to the next level?
Here are some of my favorite top tips and hacks for using Ibotta.
1. Be sure to get your $20 Ibotta Welcome Bonus!
Let's start from right before you even sign up!
Need Easy Extra $300+/Month for Free?
KashKick
: Get paid directly into your PayPal for watching videos, surfing, shopping and more.
Join KashKick Now!
InboxDollars
: Paid over $57 Million to members to watch videos, take surveys, shop and more.
Get $5 instantly!
Branded Surveys
: Get $1 instantly just for joining for free. Plus get paid within 48 hours by PayPal!
Join Branded Surveys
First Opinion
: Get paid up to $10 per survey and $300 per virtual focus groups!
Join Now!
Swagbucks
: Get paid to watch videos, shop online, take surveys and more.
Join now & get $10 instantly!
Like many other sites, Ibotta also gives you a sign up bonus. You can earn up to $20 in welcome bonuses just for joining and redeeming your first qualifying offer!
Here's how it works:
$10 Welcome Bonus #1: Redeem an in-store offer.
$5 Welcome Bonus #2: Redeem a Mobile Shopping offer.
$5 Welcome Bonus #3: Redeem an in-store or Mobile Shopping offer. This is a secondary $5 bonus.
So don't forget to do these things so you don't miss out on earning $20 quickly!
2. Install the free Ibotta browser extension
As useful as they are, there aren't that many great money saving browser extensions out there unfortunately so I am glad Ibotta came out with their own extension.
The Ibotta browser extension is a new service the company has added. The goal is to help people save money when they are shopping online. You get special rewards for their exclusive online deals. Even better, your rewards are added to your regular Ibotta account, so you can cash out even faster.
All you have to do is install the free extension on your computer and activate it. From there, shop as you would normally and earn cashback for every qualified purchase.
This, by the way, makes it super easy to not ever miss out on a cashback opportunity because you forgot to use the app. Once you install and activate the extension, you don't have to remember it for it to work. It automatically works in the background earning you cashback for every qualified purchase.
Note: as of now, the extension is only available for Chrome browser.
3. Take advantage of store loyalty cards
These days, most stores have customer loyalty programs that reward you for shopping with them.
Ibotta works with almost every major brand in the country. However, they also have exclusive partnerships with a few main retail chains. If you have a loyalty card for any of these retail chains, you can link it to your account and make extra cashback.
Some of the companies they work with are:
Bashas'
Bel Air
Big Y Foods
Boyer's
Buehler's
Copps
County Market
Fareway Food Stores
Food City
Food Lion
Giant Eagle
Hannaford
Homeland
JustSave Foods
Lowes Foods
Mariano's
Marsh
Metro Market
Nob Hill Foods
Pick 'n Save
Raley's
Reasor's
Redner's Markets
Remke Markets
Ridley's
Rio Ranch
Rite Aid
Shop 'n Save
Weis Markets
4. Get the bonus rebates
Sometimes — especially during holidays — Ibotta will give bonus rebates on items that are more likely to be bought during a certain period of time. For instance, you might get a deal that's fifty cents back on a turkey plus a deal that's $3 back on a certain brand of turkey.
These bonus rebates can stack, which helps you save even more!
5. Ibotta hidden bonuses
This is one of the best Ibotta hacks out there that people don't notice on their app. Sometimes the company will run rebates that you can redeem multiple times but with one little problem: the rebate works only once per receipt.
Instead of making multiple shopping trips, just buy the item individually however many times you need. Sure, people in line may look at you a little weird, but the savings is worth it!
6. Buy small
Let's say you get an offer for money off a certain brand of sour cream. If you don't need a lot of that item, don't buy the massive containers that cost way more money.
Instead, buy a much smaller container so that you don't spend as much and you maximize the percentage of savings you spent.
7. Check out the Dollar Store
This Ibotta hack can actually make you money!
Once you know what you want to redeem, don't go to your regular grocery store. Instead, first, check out the dollar store.
Rebates can work regardless of where you shopped so in some cases, you can actually make money if you only spent a dollar on something.
8. Don't buy something you don't need
I know, sometimes the rebates are so tempting you might be inclined to purchase something just for the cashback.
Sometimes this works out because you'll discover a new brand or type of food you didn't know you'd like. However, sometimes you can end up with food that you hate, thus wasting the money you were trying to save in the first place.
9. Don't forget Coupons
This one is such a low effort way to make extra savings. When you're heading into the grocery store, grab the ad they put out for that week. Sometimes you'll get lucky and find coupons for things you were already planning on getting rebates for.
Nothing is more satisfying than stacking your savings, right?
10. Double check before you buy
Once you get to the store, it is tempting to just assume you know what items work and not bother checking. However, you really should. You don't want to buy something only to later find out you're paying full price because you got the wrong product.
Thankfully, Ibotta makes it very easy to scan a barcode of a product and make sure it works for the rebate you are going for.
11. Keep your receipts
Always keep your receipts for a week after you submitted them. You never know when there might be an error processing a receipt or if the image was too blurry and needs to be resubmitted.
This almost never happens with Ibotta but it's better to be safe than sorry!
12. Make a list ahead of time
This doesn't just apply to Ibotta. It's also common advice, but it is worth saying anyway.
Don't go grocery shopping before you make a list. If you head into the store with no idea what you need, you are much more likely to make impulse purchases. You also won't know what items apply to rebates!
Plus, with so many awesome and free grocery shopping list apps, you don't have to worry about forgetting the shopping list you jot down on a piece of paper anymore.
13. Use it for more than groceries
This Ibotta hack can save you money on more than just your weekly food budget. Everyone knows you can use Ibotta for groceries, but people often forget that you can use it for other things as well.
Ibotta offers all kinds of rebates on things like:
Restaurants
Hobby items
Home improvement
Apparel
Beauty care
Entertainment
Pet care
Next time you are about to go shopping, check your app to see if it could also apply to an Ibotta rebate!
14. Keep an eye out for meat and dairy deals
Rebates for meat and dairy products don't pop up often, but when they do they are super worth taking advantage of.
Most people have meat and milk as part of their shopping list every week, so remember to always save these rebates if they pop up!
15. Check for bonuses every day
Sometimes Ibotta will offer bonuses. These will usually have some kind of requirement, like spend a certain amount of money to get $3 applied to your account. It is usually random and people don't know when it's going to occur, which is why you want to check every day.
As soon as a bonus becomes available, try to plan your next shopping trip around how you can redeem it!
16. Use Ibotta referral codes
You can get a lot of cashback by bringing your friends onto Ibotta. You get a direct cash bonus every time you successfully get someone started on the app.
When you create your account, you'll receive a unique referral code. Just give it to your pals and have them create an account on their own phone or computer.
Once they're set up and have used their account to redeem an offer for rewards, you'll earn your bonus!
17. Ibotta promo codes
This is really easy that you'd be crazy not to take advantage of.
Like most other companies, Ibotta also has an email newsletter that they use to not only send notifications to their members but also exclusive deals and promo codes.
You should also follow Ibotta on Facebook and Twitter as they often give special promo codes to their fans and followers.
Ways to Cheat Ibotta
While researching for this post, I came across a lot of forum and blog posts where users discuss how to cheat Ibotta.
For example, somebody was asking, "can ibotta track returns?". I'm assuming they were asking that so they could figure out if they could cheat the system by shopping through Ibotta and earning the rewards for it, then immediately returning the item to get a full refund while keeping the cashback they earned.
To me, that's wrong on many levels. The main issue is that those sellers (many of which are small business owners) have to pay a fee to Ibotta for getting them new customers. So when you buy something from them just to get your cashback with the intention of returning the item immediately, they lose money. That's just not right, especially during these crazy times where many business owners are already struggling because of the Corona Virus and COVID-19 pandemic lockdowns and restrictions.
Now, I know there are legitimate reasons for returns sometimes, but this was obviously a case of intentionally buying something just to get the cashback knowing full well that they were going to return the item.
With so many great legal (and morally justifiable) options available for increasing the amount of cashback you earn from Ibotta, or other apps like Ibotta, there is no reason to look for ways to cheat Ibotta.
Anyway, I just wanted to briefly touch on this in case you were considering this but hadn't thought about the impact it can have on small-time sellers.
Final Thoughts
Now that you've learned all the legit Ibotta hacks out there, all you have to do is apply them next time you use the app.
Remember, there are lots of ways to get great refunds from Ibotta. All you gotta do is spend a little extra time each week to plan the most efficient way to maximize your savings.
Do you have any extra ways you like to earn extra money through the app? Let us and our readers know your tips and hacks for Ibotta.