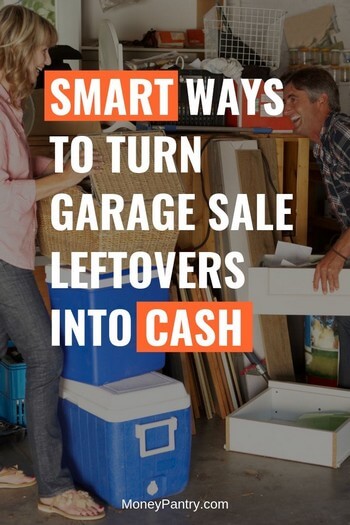 Whoever came up with the idea of holding a garage sale to sell stuff you don't want anymore was a genius.
You make money with a garage sale by getting rid of a whole bunch of items that you longer need or want and somebody else gets to buy something they need for a lot cheaper than the original price.
It's a win win!
But if you ever held a garage or yard sale, you know that holding a successful garage sale isn't as easy as setting up a few tables and dumping your used items on them, hoping you can sell everything. With almost every garage sale, there is going to be a bunch of leftovers.
So what can you do with your garage sale leftovers?
It used to be that you would just put all leftovers in a box and take it down to your local Goodwill. That was and still is a great idea especially considering that you can use the charitable donation deduction to lower your income tax.
Need Easy Extra $300+/Month for Free?
KashKick
: Get paid directly into your PayPal for watching videos, surfing, shopping and more.
Join KashKick Now!
InboxDollars
: Paid over $57 Million to members to watch videos, take surveys, shop and more.
Get $5 instantly!
Branded Surveys
: Get $1 instantly just for joining for free. Plus get paid within 48 hours by PayPal!
Join Branded Surveys
First Opinion
: Get paid up to $10 per survey and $300 per virtual focus groups!
Join Now!
Swagbucks
: Get paid to watch videos, shop online, take surveys and more.
Join now & get $10 instantly!
But there are also other ways to deal with garage sale leftovers, some of which will also earn you more money (like we did with our sale where we made $1000 in a weekend yard sale!).
1. Use Freecycle
If you have items that you want to give away because they did not sell, you can try posting them online on freecycle.org.
This is a website that encourages neighbors to list wants and offers in the hope that it will save more items being sent needlessly to the landfill. The only condition of listing is that the items must be free.
2. Sell Your Leftover on eBay
As you might expect, eBay can be very useful in selling virtually anything, and it reaches all corners of the world. However, what you sell on eBay has to be valuable enough that it is worth the cost of shipping, otherwise there will be little interest.
For those better items that simply didn't find a local buyer, eBay is fairly simple to use and can attract interest, particularly in special or unique goods.
You need to figure in the cost of listing on eBay and decide who pays for shipping. Your photographs should be many and good quality, pointing out any flaws as well as the better points – it is important to keep good feedback when you are an eBay seller.
3. Sell Leftover on Craigslist
Craigslist is a great source of extra income for many.
You can try advertising the leftovers on Craigslist. You can adopt the same approach as eBay, listing items one by one. The best part is that selling on Craigslist to people near you means you don't have to worry about the cost of shipping.
An alternative approach is to look for someone to pick everything up and take it away, getting rid of your headache. In this case, you shouldn't expect to get the market value of all the items. After all, whoever takes it will probably want to make their own profit in turn. But for an easy solution to clear out the remainder, this ranks as a practical option that still makes you some money.
You may even be able to find people here who will trade stuff with you. So you could get rid of your stuff and in exchange get something that you need. There are tons of ways to make money with Craigslist, you just have to be creative and take action.
4. Sell the rest on Facebook
Many people think of advertising their garage sales on Facebook, but did you know Facebook also hosts online garage sales?
In many cities, individual users have set up Facebook pages for online garage sales, and these allow anyone to join in. It's a similar idea to Craigslist, but less likely to be populated with scammers.
To find local Facebook garage sale groups, juts do a search for "Facebook garage sale/yard sale" followed by the name of your city.
For example, to find one where I live (St Louis, Missouri), I searched on Google "Facebook garage sale st Louis" and I found a few, like this one.
5. Sell to Thrift Stores
Assuming your leftover items are worth anything, you could try contacting local thrift stores to see if they would pay you for them.
You shouldn't expect much, as the thrift store has to make a profit, and you will have to deliver and unload things yourself, but it is worth trying.
6. Donate to the Goodwill
If the money isn't important to you, you could instead simply donate unsold items to a charity shop, such as those run by Goodwill, Habitat for Humanity, or the Salvation Army.
Be warned, some can be selective in what they accept. For instance, they may refuse to take electrical items that are more than a few years old, because of potential failure and liability issues.
Having said that, there is no substitute for the feeling you get when you know that you have helped someone else in need, and you may even get a tax receipt for the value of the items, allowing you to save some money when tax time comes around.
Here are the sites you can use to find the local stores/centers for the organizations I mentioned above:
7. Pass on Books and Magazines
Just because you are finished with them, doesn't mean that other people can't enjoy them. Think of the number of dentist and hospital waiting rooms you have seen with a stack of magazines for the patients, and see if they will accept yours. Public libraries often have a box of books donated by others, or even their shelf pulls, which are offered freely to readers.
If you some good old books and passing them on for free doesn't appeal to you, you can always sell them online on one of the many book buyback sites. Or better yet, use BookScouter to quickly see which one of those sites pay you the most for any given book.
8. Hold Another Garage Sale
If none of the above ideas appeals to you, why not simply have another garage sale?
But this time, try to be more realistic in your pricing so that people are more inclined to take things off your hands. Read this article for tips on successful garage sale tips. And don't forget to read How to Sell Everything at Your Next Garage Sale to have a more successful sale next time.
Sorting it Out
Whichever of these you decide to try, one thing you must do immediately after your garage sale is to sort out what is left. You can't know which methods will work best until you take stock of what remains.
I suggest you separate them into different piles, according to how you feel about them.
First, look for items that you think are valuable enough to sell. Put these aside, and advertise them somehow or sell them online.
Second, figure out if you really want to keep some of the pieces if you can't get a good price. Something that you find valuable may not be of interest to the general public, so they would not pay what you think it is worth. Be realistic, and decide if its intrinsic value means you hang on to it.
Third, decide what you want to donate to charity. Bear in mind that it needs to be in reasonable condition so that it will be accepted, but you will feel good about doing this.
Fourth, perhaps you just want to give away some items that have not sold. The lazy but not always effective way of doing this is to move them to the curbside, and put a big "Free" sign on them. Alternatively, use Freecycle, explained above.
Lastly, you may consider having another garage sale in a few weeks or months. If you've got space to store them, just put the things away for another time, and remember to mark them down so that they go next time.
The Bottom Line
Hopefully, this post gave you some ideas on what to do with your next garage sale leftovers. These tips will help you make some money or make somebody else happy by donating items they may need.
Either way, it's a great way to recycle used items so we don't have to dump more stuff into our landfills.