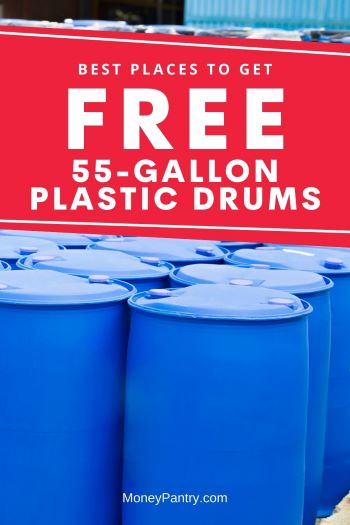 There are many places that offer free 55-gallon plastic drums near me.
This is so useful because 55-gallon drums come in handy for so many homesteading projects and DIY projects, such as making composts and collecting rainwater.
Upcycling these drums is a great way to save money, and you are helping the environment too by keeping them out of the landfill.
Whatever reason you need them for, you have lots of options for getting plastic drums near you.
So, where can I get a free 55-gallon plastic drum near me?
Short answer: You can get free 55-gallon plastic or even metal drums from lots of places locally, such as car washes, homebrew supply stores, and beverage manufacturers, just to name a few. And, you can also find people giving away plastic drums on online marketplaces, such as Facebook Marketplace, Craigslist, and OfferUp.
Need Easy Extra $300+/Month for Free?
KashKick
: Get paid directly into your PayPal for watching videos, surfing, shopping and more.
Join KashKick Now!
InboxDollars
: Paid over $57 Million to members to watch videos, take surveys, shop and more.
Get $5 instantly!
Branded Surveys
: Get $1 instantly just for joining for free. Plus get paid within 48 hours by PayPal!
Join Branded Surveys
First Opinion
: Get paid up to $10 per survey and $300 per virtual focus groups!
Join Now!
Swagbucks
: Get paid to watch videos, shop online, take surveys and more.
Join now & get $10 instantly!
Make sure you read the rest of the post for more details on finding plastic drums nearby, as well as things you can do with these free drums.
Below, I'll list 10 places you can find plastic drums locally.
Where Can I Get Free 55-Gallon Plastic Drums
Here are some places you can find plastic drums nearby:
1. Craigslist
Craigslist is a great website for free stuff. You can get everything from free furniture to free wooden crates there. So, if you're looking for supplies for your DIY projects, I'd definitely recommend having a browse on the platform.
People give away all sorts of items for free on Craigslist, so you may be able to find people giving away free 55-gallon plastic or metal drums there.
To find free stuff on Craigslist, go to the "Free" section. This can be found under the "For Sale" section of your city's Craigslist.
You'll then be taken to the "Free" section where you'll find people giving away lots of free items. You can filter the results by searching for the item you want.
Just enter "55-gallon plastic drum" into the search bar, and then you'll be able to see if anyone's giving away plastic drums for free near you.
Always make sure you take safety precautions when you're meeting someone from Craigslist. You should arrange the pickup at a public place and take someone with you to the meeting if you can and let someone else know about the meetup.
2. Beverage manufacturers
Beverage manufacturers often receive ingredients like syrups in drums, and some use drums to store bottled or canned products.
Contact breweries, wineries, soft drink companies, bottled water companies, juice companies and other beverage manufacturers near you to see if they have any free drums to give you.
You can find beverage manufacturers by searching Google for the term "beverage manufacturers near me," or "drink manufacturers near me."
3. Facebook Marketplace
Facebook Marketplace is an online marketplace where people can buy and sell a variety of items. The site has a section for free stuff too where you'll find people giving away items for free.
You may be able to find someone listing a free barrel on there. Have a search of the free stuff section. You can use the search bar on the site to find plastic barrels specifically. Just enter the phrase, "55-gallon plastic drum" into the search bar.
4. Homebrew supply stores
If there's a homebrew supply store near you, ask them if they have any 55-gallon drums you could have. Since these stores often have their winemaking and beer brewing ingredients delivered in 55-gallon drums, they may have some to give you once they're emptied.
The drums you get from homebrew supply stores are good because you don't have to worry about chemical residue, making them ideal for food storage purposes.
5. OfferUp
OfferUp is another online marketplace where people can buy and sell stuff locally. It also has a section for free stuff. The only problem is that all of the free items on there are just grouped together, which can make it difficult to find specific items.
That's why I'd recommend you go to the site and enter "55-gallon plastic drum," into the search bar and hit search. This will give you a list of results, including drums that you have to pay for. To ensure you get the free drums, filter the results by "Price: Low to High."
If someone is giving away a free drum on there, you'll be able to view it from your search. And, if there aren't any free items on there that appear from your search, then you'll still be able to view the cheapest ones on OfferUp, and perhaps get yourself a great deal on a used plastic drum.
6. Construction companies
Construction companies may store supplies and materials in barrels. Search Google for "construction companies near me," for a list of companies and then get in touch with them to ask if they have any 55-gallon plastic barrels they'd be willing to give you.
Do ask what the drums have housed before though because you want to avoid ones that have once held anything hazardous. Learn more about safety with used plastic drums in the "The safety of used plastic drums" section below.
7. Car washes
Car washes are another place to get plastic drums. Usually, car washes get soap deliveries in large plastic barrels. Contact car washes near you to ask if they have any barrels they'd be willing to give to you.
The good thing about the drums you get from car washes is that because they usually only contain soap, you don't have to worry about toxic materials. Do make sure you clean them thoroughly though, of course, because the soap they use isn't the same as that which you'd use to wash your dishes at home.
8. Scrapyards, junkyards, recycling centers, and landfills
A lot of items end up at scrapyards, junkyards, recycling centers, and landfills, including plastic drums. Do a Google search for "scrap yards near me," "recycling centers near me," etc., and you'll get a list of places nearby.
Contact these companies to ask if they have any plastic drums that they'd be willing to give you. Policies vary depending on the facility with some places, particularly landfills, not being open to the public or not allowing you to take items for safety reasons.
9. Look at newspaper ads
You may find ads in newspapers where someone is listing a free 55-gallon drum. So, if you buy newspapers, have a look to see what's available. Also, look at places with free newspapers like restaurants and your local library.
10. Place an ad online or in your local paper
While it's a good idea to browse the free section on Craigslist, you could also consider posting an ad on there too asking for free 55-gallon plastic drums.
You can also post an ad on other online classified ad websites. You may also want to consider placing an ad in your local paper for a plastic drum as well.
The Safety of Used Plastic Drums
I just want to put a little safety warning here. When you get a used drum, it's important to know what the drum contained beforehand.
Some drums are used to transport hazardous waste and toxic materials. I would avoid getting these drums. You'll find people recommending you get used drums from places like industrial waste collection companies, insulation companies, paint companies, and auto shops and car dealerships.
Sure, those places do have drums, but these drums are often used to transport hazardous and toxic materials.
Here are some examples of drums to avoid:
Drums from industrial waste collection companies: Industrial waste collection companies often transport hazardous waste, as well as non-hazardous waste.
The barrels you can get from insulation companies: Spray foam insulation is often stored in drums, so the companies that perform insulation may have drums they're willing to share with you. But, insulation often includes toxic materials like formaldehyde. So, you really wouldn't want to use them. There may be chemical residue in the drum.
Drums from paint companies: Similarly, paint companies are often touted as a place to get used 55-gallon drums, since they often have their paint and primer shipped in large barrels to help reduce shipping costs. So, once emptied, they're usually tossed in a landfill. However, much of the stuff transported in the drums isn't safe for consumption, obviously, so if you plan to use the drum to store animal food or to harvest rainwater, then these aren't ideal.
Drums from auto shops and car dealerships: Car dealerships have liquids delivered in large barrels. But, barrels obtained from car dealerships and auto shops contain toxic chemicals.
Sure, you can clean out the used drums once you get them. And you definitely should clean used drums thoroughly using soap and water. However, barrels that have held hazardous or toxic materials, like the ones above, can be dangerous and difficult to clean, so it's best to avoid them.
Never use drums that have been used to store hazardous materials around food production.
Places like beverage manufacturers and homebrew supply stores can be a great option because they tend to have barrels that contain safe materials.
You should always ask what the barrels have previously housed when you get them from anywhere, but particularly those acquired from the following places:
Craigslist
Facebook Marketplace
Auto shops and car dealerships
OfferUp
Construction companies
Scrapyards, junkyards, recycling centers, and landfills
Where to Buy Cheap 55-Gallon Drums
Buying a plastic drum can be a good idea if you are concerned about what's been in the drum before you come to use it or if you can't find any drums for free near you.
Some places to buy new 55-gallon drums include:
eBay
Global Industrial
Home Depot
McMaster-Carr
The Cary Company
Uline
What Can I Do with a 55-Gallon Plastic Drum?
55-gallon plastic drums can be used for a variety of DIY projects and in a number of different ways around the home.
Here are some things to do with a 55-gallon drum:
Collect rainwater: 55-gallon drums can be used to collect and store rainwater. You just need to feed your gutters into it.
Composting: 55-gallon drums can be used to make a composter. You can simply cut the base off a 55-gallon drum and use it as a compost bin. This will help you to keep your composting materials neat and tidy. Or you could use the barrel to create a more complex composting system. For example, you could turn the drum on its side, fit it on a frame, and use it to create a large compost tumbler. This will speed up the composting process.
Gardening projects: Drums can work well for a variety of gardening projects. You could use it to make a raised planter for your garden by cutting the barrel in half lengthways. Or, you could use it to create a vertical garden. Simply make some holes in the sides of the barrel, line it with hessian or other packing material, fill it in with your growing medium, and plant your plants.
Animal feed storage: Plastic barrels can also be used to store food for farm animals like pigs, sheep, chickens, horses, and rabbits.
Using old barrels for these types of projects can save you a lot of money.
Summary
One of the easiest ways to get plastic drums is online on sites like Craigslist, OfferUp, and Facebook Marketplace.
You can also contact local businesses, such as beverage manufacturers, car washes, and auto shops and car dealerships to ask for free 55-gallon plastic drums.
Give these places a try and consider buying a new drum as well.
Do you have any tips on how to get a free 55-gallon plastic drum? If so, feel free to share your tips with us in the comments section below.