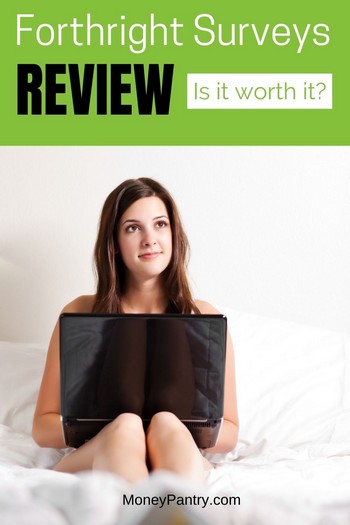 Before we actually get to the Forthright Surveys review, I just want to point out that surveys are often touted as a great way to make money online. And in many ways, they are.
Pretty much anyone can sign up for survey websites and start making money. So regardless of your skills or education, you could earn money taking surveys from home.
The problem is that there are so many survey sites out there that it can be hard to know which ones are actually worth your time and which ones you should give a miss.
One survey site that you may have heard about is Forthright Surveys.
It's another website that'll pay you to take surveys right from your phone or computer.
It markets itself, as its name suggests, as a trustworthy and transparent survey site, stating on the homepage of its website that, "Being transparent with you is one of the ways we build trust in our community."
Need Easy Extra $300+/Month for Free?
KashKick
: Get paid directly into your PayPal for watching videos, surfing, shopping and more.
Join KashKick Now!
InboxDollars
: Paid over $57 Million to members to watch videos, take surveys, shop and more.
Get $5 instantly!
Branded Surveys
: Get $1 instantly just for joining for free. Plus get paid within 48 hours by PayPal!
Join Branded Surveys
First Opinion
: Get paid up to $10 per survey and $300 per virtual focus groups!
Join Now!
Swagbucks
: Get paid to watch videos, shop online, take surveys and more.
Join now & get $10 instantly!
But is Forthright Surveys legit, or is it just another survey site that's not worth your time?
Well, in today's post, I'll answer those questions and more.
I'll cover:
How it works
What it pays
Whether it's legit
What people who've actually used the site have to say about it
Hopefully, this Forthright Surveys review will help you to decide whether or not the site is for you!
What is Forthright Surveys?
It's a website where you can get paid to take surveys. Anyone can sign up and make money through the site. It's owned by Bovitz, Inc.
How Forthright Works
I'll start out with how the site works. Basically, there are three steps to making money with Forthright Surveys:
Step One: Sign up
The first step is to register with the site.
This is pretty simple to do:
Now, to join, you will need to enter your email address.
In order to get access to surveys, you'll need to confirm your email address and make sure that you fill out your profile in the Members area.
Step Two: Take surveys
Once you're signed up for the site, you'll be able to start taking surveys. The site uses the profile you complete to match you to available survey opportunities. Now, the site recommends that you wait three days to receive any new invitations after confirming your email and filling out your profile.
You can participate in as many surveys as you want each day.
You can find a list of surveys that you can participate in if you go to the upper left corner of the Members area.
And, the site also makes partner surveys available to you as often as it can via its partner network. Again, check the Members area to see if it's available. Also, you can sign up for partner network reminders and alerts in your Members area.
Partner surveys vs. Regular surveys
Okay, so there are two types of survey available with Forthright Surveys:
Surveys from Forthright Surveys: These are provided by the site and are designed to gather feedback on members and its own services.
Partner surveys: These are surveys from third-party companies. You generally need to answer additional questions to qualify.
It's important to note that surveys are on offered on a first come first serve basis. So, if you get an email about a survey, you'll want to take it ASAP.
Step Three: Get paid
Once you've completed a survey, you can cash out your money instantly.
There is no minimum to redeem your earnings and there are no points or anything like that. It's simple really – you complete a survey, and you get paid!
So, you can choose to withdraw your earnings after just a couple of surveys or you can save your earnings for a larger payout in the future.
Your reward is sent right to the email address that you choose. You'll get the reward instantly when you redeem it.
What payment options are available?
Okay, so there are no minimums to cash out, but how exactly do you get your rewards?
Well, Forthright Surveys offers quite a few different payment options:
PayPal
Amazon
Bitcoin
Tango Card
PayPal payments are great, as are Amazon gift cards.
Tango gift cards are interesting as well, because you can redeem them for digital gift cards to multiple retailers, including:
Amazon
Target
Walmart
Google Play
Adidas
Applebee's
Best Buy
Bass Pro Shops
AutoZone
Burger King
Domino's
eBay
GameStop
H&M
Guitar Center
IHOP
Instacart
Kohl's
Krispy Kreme
Macy's
NFL Shop
Nordstrom
Petco
Starbucks
Safeway
Sephora
Spotify
The gift card you choose will be emailed to you.
How Much Does Forthright Surveys Pay?
The pay varies from survey to survey.
Most surveys though pay between $1 and $5.
So, like with most survey sites, you aren't going to earn ton of money here. But, if it's just some beer money or extra cash that you're looking for, then surveys could be worth your time.
Aside from getting paid for each survey, you also get a bonus after every three surveys with the site's loyalty credits.
Is Forthright Surveys Legit?
Okay, so now for the answer to that all important question – is Forthright Surveys legit?
Or is it just a scam site?
Well, aside from giving my own opinion on the sites that I review, I also like to look at what other people have to say about their experience with a particular site. You see, with survey sites, some people have great success and others don't. But, from the reviews, I like to see what the majority of people are saying.
I like to check for a BBB profile or Trustpilot profile to see what the common consensus on a site is.
Here's what I found:
Trustpilot
The company only had 5 reviews on there. So not a particularly wide demographic or enough of a demographic to give a clear consensus about Forthright Surveys.
Forthright Surveys had 2.8 stars out of five, which is a rating of "Average."
Most users complained of not having many surveys available that they actually qualified for with one user saying:
"Probably the only site where I've somehow screened out of every single survey."
You can view the company's full Trustpilot profile here.
Better Business Bureau
I couldn't find a profile for Forthright Surveys on the Better Business Bureau (BBB). But, I did find a profile for Bovitz, Inc., which is the company that operates Forthright Surveys. Bovitz, Inc. had a C- rating from the BBB. Customers rated Bovitz, Inc. 3.5 out of 5 stars.
Those figures aren't referring to Forthright Surveys specifically though, but, rather the company that owns the site. However, it at least gives you some indication of what the parent company is like.
You can view the BBB profile for Bovitz, Inc. here.
Reddit
Okay, so there were quite a few postings about Forthright Surveys on Reddit where it had mixed reviews really. Some people said they liked the site, especially in posts from two or so years ago.
However, in more recent posts, there are more negative opinions of the site.
Most users complained that since the site introduced the partner surveys, they haven't been able to qualify for as many surveys. And others said that they are sent from survey to survey without getting paid.
One user in this Reddit thread says:
"Is there a secret to earning money consistently for surveys? Whenever I take them it takes 30 minutes for me To get bounced around to 4 different surveys and then denied any money or compensation."
Another user says:
"Yeah, the secret is if the email says it's a "partner" survey, just throw that email straight in the trash. Only their first-party surveys are worth doing. The partner ones will bounce you around infinitely and not give you a cent – the first-party ones will only give you a single survey, and if you don't qualify for it, will give you effectively 67 cents (2 dollars for every 3 such.)"
Other users praise the site with one on this Reddit thread, saying:
"So far so good, as I have made $6 from two surveys and three disqualifications and the surveys are fairly quick and not repetitive."
Is Forthright Surveys Worth It?
Okay, so is the site actually worth it? Let's take a look at some pros and cons to help you decide.
Pros
Let's start out with the site's good points:
There's no survey limit
The website allows you to take as many surveys as you want each day. This is great because it means that there's no limit on the earning potential here.
You can withdraw your earnings anytime
I really hate it when sites have a really high withdrawal limit. I mean, even getting to $20 before you can cash out can be tough with surveys since most of the time you only earn a few cents or bucks for each survey.
And, some sites have withdrawal limits that are even higher than that – like $30 or $50 in some cases.
With Forthright Surveys though, that's not the case.
You can withdraw your earnings at any time. There is no withdrawal limit.
Lots of payment options available
Another really great thing about the site is the number of payment options that it offers.
You can cash out your earnings to PayPal. I always like when sites offer PayPal payments because as good as gift cards are, actual money you can use anywhere is always a good thing.
And, if you do want to get some free gift cards, it's good to know that those are available too.
You can withdraw your earnings to a gift card if you want to.  You can get gift cards for Amazon, which is always handy. Since there's a Tango gift card available as well, it means that you can get tons of different digital gift cards, like:
Target
Walmart
Google Play
Burger King
Domino's
Instacart
Kohl's
Starbucks
Spotify
And, the numerous others that I listed in the payment options section above. Bitcoin is also a payment option. So, the variety of payment options available is definitely one of the better aspects of the site.
Get bonuses for the site's own surveys
While you earn nothing if you're disqualified from partner surveys (more on that below), you will earn loyalty bonuses with the site's own surveys. You get a $2 loyalty bonus for every 3 surveys that you complete or attempt. This means that even if you're disqualified from a survey, it still counts towards that $2 bonus.
Cons
Let's look at some of the downsides to the site:
There aren't enough surveys from the site itself
Many people complain that most surveys are partner surveys, which are those third-party surveys that I mentioned above. And, these don't give you that loyalty bonus, and there's also the issue of being screened out of surveys, which brings me to my next point…
People are often disqualified from surveys
The biggest downside and the one that I saw most users complaining about is that they were screened out of surveys.
Now, this is the complaint that's most common with survey sites in general.
You see, companies want to make sure that they are targeting the right demographic for their surveys.
If a company is looking for moms aged between 40 and 50 years old for example, it's going to want to make sure that this is who's actually participating in its surveys.
So, this means that you will need to answer some questions just to qualify for a survey. And, you won't qualify for every survey you try out. This means that you could waste anywhere from five minutes to 30 minutes or even more than that answering questions and you might not even end up qualifying for that survey. Aside from wasting your time, you usually won't get paid either.
Like I said, you'll find this issue on lots of survey sites. And, Forthright Surveys is no different.
For its partner surveys, you don't get paid if you're screened out of a survey.
Lots of people complain about this, like one user on this Reddit thread, who says:
"Same as everyone else says. Don't bother with their "partner surveys" that send you around different surveys with no end. Only do their surveys"
However, as I mentioned above, you do receive compensation for the site's own surveys, even if you don't qualify for them. But, you have to try 3 surveys before you qualify for the bonus.
Surveys run out fast
As I briefly mentioned above, surveys on the site are given out on a first come first serve basis. So, this means that they run out fast!
Lots of people complain about getting a "Quota Full" message even when they are halfway through taking a survey. This can be a little frustrating. It's best to take surveys as soon as you can.
Overall Verdict
Overall, Forthright Surveys seems pretty legit.
However, people seem to find it hard to actually qualify for many of the site's partner surveys.
So. it's probably not going to make you a ton of money. I think there are more profitable sites out there that you could use, like Survey Junkie (review), Swagbucks, Univox, and Qmee.
Both sites offer surveys and a variety of rewards like PayPal payments and gift cards. Qmee (review) pays instantly and Swagbucks (review) allows you to withdraw your earnings for a little as $1 to $5 depending on the reward type you choose.
What I also like about Qmee and Swagbucks over Forthright Surveys is that both allow you to make money doing other tasks as well as surveys.
You can get paid for things like:
Shopping online
Watching videos
Playing games
Browsing the internet
So, even if you don't qualify for many of the surveys on there, you have other money-making options to try.
You may want to try out Forthright Surveys if you're looking for another site to add to your list of money-making methods, but by itself, it's unlikely to make you much cash. Qmee and Swagbucks are better options.
If you do use Forthright Surveys, then I would recommend skipping those partner surveys as that's what most of the site's users had complaints about.
What's your review of Forthright Surveys? Do you recommend the site, or would you caution against it? Let us know your opinion on the site in the comments section below.