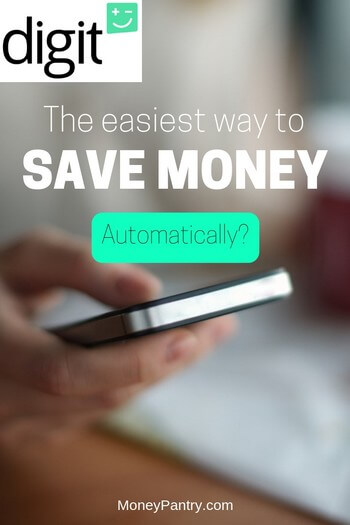 Imagine…
You're checking your savings account to see if you have enough saved for an emergency. All of a sudden you realize there is an extra few thousand dollars in there.
Wouldn't that be exciting?
Well, that's the idea behind the Digit app which we're going to review today – saving money automatically, without even thinking about it or realizing it as it happens.
We all know that we should be saving money, but most of us still don't.
Want $5 Free?
Join InboxDollars for free. InboxDollars pays you to watch videos, search, shop, take surveys, and more. They have paid out $57 Million so far!

According to statistics, just 28% of Americans have six months' worth of savings.
And, when it comes to emergency savings, a staggering 66 million Americans have nothing saved.
Many people find saving money difficult, even when they have a good reason for saving – and don't we all?
Nowadays, however, automatic savings apps – such as Digit, Qapital, & Acorns – are making it a bit easier for the average person to start saving.
And Digit is a popular choice.
If you want to save money without thinking about it, then you should definitely check out Digit.
It's one of the best automatic savings apps out there. It's easy to use, it takes the effort out of saving, and it's completely free to use. Update 12/20/17: Digit now charges users $2.99/mo.
Let's take a look at what else this app has to offer.
How it works
Digit is an automatic savings app. So, as its name suggests, it's designed to let you save money automatically.
This takes the time, the effort, and the stress out of building your savings. Currently, Digit can be used with more than 2,500 banks and credit unions in the United States.
Here's how it works
You connect your bank/checking account. Digit analyzes your income and spending.
It determines how much money it can safely save for you – the app saves small amounts.
Every few days, Digit automatically transfers a small amount of money from your account into your Digit savings. The app only transfers what you can afford, based on its analysis of your income and spending. It's usually a small amount that ranges between $5 and $50. You do not need a savings account, as savings are held with Digit.
If you decide that you need access to your savings, you can request a withdrawal at any time. Once you make a request, Digit transfers your money back into your account on the next business day.
With Digit, you can make unlimited transfers and incur no fees. There are no minimums either.
Every three months, Digit sends you a savings bonus that's determined by your average Digit balance during the last three months.
How much does Digit cost?
As of April 2017, Digit charges users $2.99/month.
When you use Digit to save money, you will see transactions labeled "Hello Digit Inc." appear in your checking account. But, these are not fees or charges to you. These transactions are simply transfers to and from Digit.
Is Digit safe?
When it comes to money, safety is a big concern for many. So, you're probably wondering, "is Digit safe?"
And, you'll be glad to know that it is!
Digit implements a plethora of security measures to ensure that your personal information is kept safe.
Earn $5 Over & Over!
Join SmartPanel & SavvyConnect and share your experince on how you use the internet. They pay you $5 for installing their free app & $5 a month just for keeping it, plus loyalty bonus! .

To ensure your safety Digit:
Uses SSL128-bit bank-level security.
Does not store your bank login.
Doesn't transfer more money than you can afford to save. It has a no-overdraft guarantee – so you don't have to be concerned about overdrawing your account.
Encrypts and securely stores your personal information.
Makes sure all funds are FDIC insured up to a balance of $250,000
Overall, Digit is a trustworthy, reputable app that's been featured by many popular media outlets and publications, like:
USA TODAY
New York Times
Bloomberg
CNBC
Wall Street Journal
Forbes
Huffington Post
TechCrunch
How effective is Digit?
The app is effective for a number of reasons:
It automates the process of saving – so, aside from downloading the app and setting it up, you literally have to do nothing and you'll build savings. This makes putting money into a saving account a whole lot easier.
Saving becomes stress-free with Digit. A lot of people don't know how much to put into their savings and worry about leaving themselves short. With Digit, this worry goes away. The app uses technology to analyze your income and spending patterns to ensure that it never transfers more than you can afford to save.
Using Digit makes it easier for people to simply start saving – and this is a habit that many people struggle to get into.
Of course, Digit is not designed for big savings.
As withdrawals are based on what's in your checking account, you're probably not going to get rich from the money you save with the app – unless you have a huge bank balance!
But, that's not what Digit was designed for. It's designed to help anyone save money, regardless of their income.
Overall, it's an effective app for people looking to save a bit of money. If you've always struggled to save even a small amount in the past, you would really benefit from using Digit.
Digit reviews on Reddit
I am pretty active on a rather big subreddit called r/PersonalFinance.
And whenever I come across money saving or money making apps and tools, I look there to see what other members experiences have been like. It gives me an overall view of the tool and how it actually is performing in the real world.
Naturally, for this Digit review, I checked Reddit and as always saw many helpful tips and responses from others who have been using it.
A lot of people are very happy with it, especially the fact that it really does make saving automatic and you don't have to even think about it.
There were a few points made by a few different redditors that stood out to me.
For example:
"It's hard to consciously log into a bank account and move $20 every day someplace else and be consistent with it. I like the set it and forget it method at like say $5 a day. before you know it you check that secret account and you have a nice chunk of change sitting there."
Here is another post that shows it actually works:
"I've been using it (Digit) since the middle of Feb. And it has saved me over $600. My only concern was around tax time. Whatever algorithm it was using, it was taking out big chunks instead of drips and dribbles. I'm chalking this up to the fact that we were moving large numbers between our savings and checking accounts due to tax payments. But otherwise, we love it, treating it as our vacation savings account."
Where to get the Digit app and install it
The Digit app can be used on both Apple and Android devices.
So, if you're looking to jump-start your savings, download the app for your device. It's quick and easy to set up, so you can start saving in no time.
Bottom line
Overall, Digit is a legit and safe app that anyone who wants to save more money can benefit from.
Sure, you might not get rich off the money you save with Digit, but it gets you into the habit of saving, which is the first step towards better financial health and security.