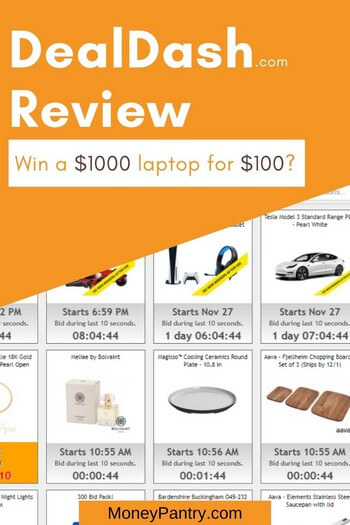 DealDash is an auction website, similar to eBay, where you can bid on everything from iPhones to coffee tables and even a plot land in Scotland!
If you're a frequent online shopper always looking to save money online when shopping, you've probably heard about it.
The website is pretty well-established and although it's not as well-known as eBay, it's gained a lot of popularity over the years.
Is the website worth your time though? Or are there better places to find deals online?
In today's DealDash Review, I'll answer those questions and more. From how the site works to whether or not it's legit, I'll cover everything you need to know about the auction website.
What is DealDash?
DealDash is an auction website. It describes itself as "the fair and honest bidding site."
Need Easy Extra $300+/Month for Free?
KashKick
: Get paid directly into your PayPal for watching videos, surfing, shopping and more.
Join KashKick Now!
InboxDollars
: Paid over $57 Million to members to watch videos, take surveys, shop and more.
Get $5 instantly!
Branded Surveys
: Get $1 instantly just for joining for free. Plus get paid within 48 hours by PayPal!
Join Branded Surveys
First Opinion
: Get paid up to $10 per survey and $300 per virtual focus groups!
Join Now!
Swagbucks
: Get paid to watch videos, shop online, take surveys and more.
Join now & get $10 instantly!
The company was founded in 2009. So, it's been around for quite a while.
The website offers products at really low prices. It's able to do this because it buys overstock and liquidation inventory that includes brand new goods directly from brands and from liquidators.
The website then passes these savings onto shoppers.
You can sign up for DealDash here.
There's also a DealDash app available:
How Does DealDash Work?
The website is like eBay where you can bid on items and if you are the highest bidder you get the item.
However, there's a real key difference between the platforms. When you bid on eBay you only have to part with cash when you actually win the auction.
The losing bidders don't have to pay anything on eBay.
On DealDash, and most other penny auction sites, however, you have to pay money even if you don't end up being the highest bidder.
This is because in order to bid on an item on the site, you have to purchase bid packs.
In this section, I'll go into more detail about how the website actually works.
Including how those paid bids work!
Let's get started…
Step 1: Sign up and purchase bid packs
Sign up to the site using the link above (link again here in case you missed it)
Once you've done that, you'll need to purchase bid packs if you actually want to bid on anything.
What are bid packs?
A bid pack is basically what you need so you can start bidding on items. Essentially, you have to pay to participate in auctions on the website.
Bid packs come in lots of different sizes, like 200 bids for example.
Once you have bids in your account, you'll be able to start bidding.
How much do DealDash bid packs cost?
If you wanna know how much does DealDash really cost, you need to do some math.
Like I said above, you have to purchase these packs. How much bids cost varies depending on the promotions available at the time.
For example, at the time of writing, you could get bid packs for 12 cents each. This means that a pack of 250 bids would cost you $30.
You can purchase packs in smaller denominations. But I noticed when I signed up, I was only offered the 250 pack. To see the prices of others I was asked to enter credit card or PayPal information. I got around this by going back to the home page, and then clicking on the blue, "Buy Bids" button on the top right side of the page.
Then I had more options for bid packs, like:
300 bids: $36
600 bids: $72
1200 bids: $144
Since all of the bids worked out at 12 cents each, I didn't really see the point of purchasing 1200 bids. I would have thought that providing lower prices for larger bid packs would encourage people to buy more.
Anyway, you can choose the one you want and then enter your credit card information or PayPal information.
Then you're all set!
Step 2: Bid on items
Once you've purchased your bid pack, you'll be able to start bidding on items.
Go to the homepage and you'll see lots of auctions, including those that are starting soon and auctions that you can bid on now.
You'll notice a timer on active auctions. You'll also see a banner on some items that says, "no new bidders." And auctions that say, "Sold" across them.
This makes finding active auctions easy.
How to bid on DealDash
Okay, so once you find an item you're interested in, you can start bidding.
There are two ways to bid on an auction:
Just click on "Bid Now" to participate. You'll be able to see the bids from others on there too.
Or use the BidBuddy feature to bid automatically for you. (More on this feature below)
Each time you bid on an item, one bid is removed from your bid balance.
When you run out of bids you can either buy more bids or you can use the "Buy it Now" option to get your bids back from an auction. More on the "Buy it Now" feature below.
Each bid will increase the auction price by 1 cent. The auction will continue until nobody places a bid within a 10 second time period.
Step 3: Get your items
If you are the highest bidder when the timer hits zero then you are the winner.
If you win the auction, you have to pay the winning price. Then the item will be delivered to you within 14 days.
Limits on winning auctions
The site says that to ensure there's equal chances for everyone, there are limits to winning auctions.
You can win:
The same item only once per 30 days. So any remaining BidBuddies on other auctions for the same item will be canceled automatically at the time of your win.
Up to 50 auctions per week. So all remaining BidBuddles on other auctions will be automatically canceled at the time of your 50th You will be able to bid again when the limit resets at 00:00 PST on the day of the week you created your account.
DealDash Features
Above, I've given you a step-by-step guide to how bidding works on the website. In this section, I want to cover some features of the site and how they work in more detail.
BidBuddy
Like I said earlier, you can either click on "Bid Now" or use a feature called BidBuddy to automatically bid for you.
BidBuddy can be a useful feature if you don't want to be stuck at your keyboard during an auction. Maybe you're at work? Or perhaps you have to cook dinner and don't have the time to keep your eye on an auction. In this case, BidBuddy may be the option for you.
According to the site, the majority of auctions are won by using this feature. BidBuddy waits until the last second to bid. What's good about this feature is that you can put a limit on how many bids will be used. So you don't have to worry about it putting on hundreds of bids while you're away!
You can also cancel it at any time if you decide you no longer want to bid on an item.
To use the feature, just go to an active auction, enter the number of bids you want, then click "Book a BidBuddy."
That's all you need to do to use the feature, which is good.
Buy it Now
The Buy it Now feature is another interesting aspect of the website. If you don't win an auction, you can get your bids back using this option. For example, if you were to bid 100 times on a $50 gift card, you could just buy the gift card for $50 and get all of your bids back. You can now reuse these bids to try to win another auction.
Time as Highest Bidder Meter (earn free bids)
When you're the highest bidder on an auction, you will accumulate some time. You will see the Time as Highest Bidder meter at the bottom of your screen. When this fills up, you get free bids.
Promotions
The website has quite a few promotions available, such as:
Daily Returning Bidder Reward
This is a reward for placing bids on consecutive days. When you place bids on consecutive days, you increase your cap of your Daily Returning Bidder Reward.
The promotions on offer change, so do check to see what's available when you sign up.
Free Bids Faster
I mentioned above that you can get free bids when your Time as Highest Bidder meter goes up. When the bar is full you can claim free bids and your level goes up. Sometimes the website offers "Free bids faster" promotions. During these promotions, the bar fills up faster, so you will earn the next level and the free bids quicker.
50% off
For auctions that start during a 50% off promotion, you only pay 50% of the final auction price when you win. And shipping is free.
Bid pricing
Since the bid price may change daily depending on the active offers, it's important to regularly check the current offer so you don't miss out on the cheapest days.
Auction leaderboards
Sometimes the site runs an Auction leaderboard promotion. During this time, the three bidders who have accumulated the most Time as Highest Bidder in an auction will earn additional bid rewards.
Every BidBuddy Counts
When you use the BidBuddy feature mentioned above and it automatically places a bid, you receive 9 seconds on your Time as Highest Bidder progress bar even if somebody places a bid right after you. Plus, if any Time as Highest Bidder multipliers are in place those will also be applied.
Daily Winning Limits
Sometimes the website has Daily Winning Limits where each bidder is only able to win a maximum of 5 auctions a day. When a bidder wins their 5 items, they will be unable to enter any more auctions for that day. This means that there's less competition for bidders who still haven't hit their limit.
Mystery Auctions
The site sometimes has mystery auctions where the item is revealed 5 minutes before the auction begins and you can't book a BidBuddy before that. So there tends to be less competition in these auctions. These mystery auctions are marked with a question mark.
Is DealDash Legit or a Scam?
On DealDash, you can find deals on everything from headphones to gift cards. But are these deals actually legit? Do they save you money? Or is the site a waste of your time and money spent on bidding?
In my research for this review, I found two polarizing opinions of the website – some say it's great for getting deals and others say that the site is a rip-off and you often end up paying more for an item than it's retail value when you factor in the cost of the bids.
Let's take a more in depth look at people's experiences with DealDash.
Customer ratings
The website is rated highly across quite a few platforms.
Better Business Bureau
DealDash is accredited by the Better Business Bureau. It has an A+ rating which is good. And it has a 4-star rating from customers. Again, that's good. Most users praise the website's great customer service.
One user says:
"I've won over 2 dozen items on this site and have always been impressed by the quality of every item. Also, the customer support department is second to none."
There are some complaints though – mainly about the fact that you have to pay for bids.
Trustpilot
On Trustpilot, DealDash has more than 2,800 reviews. With a 4.5 star rating, which is an "Excellent" rating, the website seems well-reviewed by customers.
Customers praised the website's customer service and said how fun the website was with one user saying:
"Deal Dash is one of my favorite sites. The items I have won here are top notch and the price have been totally awesome. This one site that I brag on and will continue to do so. I actually look forward to where I can again have fun and be able to pick my favorite items again."
There were some complaints on there too, mostly about having to pay to bid. Also, I saw a couple of complaints about items arriving broken. But to be fair it seems like DealDash replaced these damaged items.
Sitejabber
There are more than 4,000 reviews of DealDash on Sitejabber, where it has a 4.3-star rating.
Most of the reviews praise the site highly. Customers praise the site for its deals and for its customer service. However, there are some reviews complaining again about the fact you have to pay to bid and how you can end up paying more for an item than it is actually worth.
DealDash review
While researching for this post, I came across a lot of shopper reviews as well as reviews from former and current employees. Obviously, when it comes to former employees, you do have to consider the fact that in some cases, the negative reviews could be the result of a disgruntled former employee who was treated badly or fired in an unfair manner. So take it (and really any other review you read online!) with a grain of salt.
Nonetheless, I found this review of DealDash, titled, "DealDash Math EXPOSED!",  particularly interesting. Give it a read. It may help you better understand how DealDash's Pay to Bid system actually works.
Complaints and Class Action Lawsuit
DealDash has received some criticism for its business model.
Complaints from Truth In Advertising (TINA.org)
DealDash has received complaints from Truth In Advertising (TINA.org). TINA.org describes itself as "a nonprofit organization dedicated to empowering consumers to protect themselves against false and deceptive marketing."
TINA.org investigated the site and said that its investigation revealed a number of concerning things like that DealDash advertises incredible savings on auctioned items won but it doesn't clearly or conspicuously disclose that DealDash consumers typically lose money on the auctions.
And that it fails to disclose its material connection to certain products that are advertised and auctioned on DealDash.com.
The investigation also uncovered a few more potentially troubling things.
The website reads:
"TINA.org found that DealDash uses these deceptive marketing tactics to lure consumers to its website with promises of easily won bargains, but fails to disclose that DealDash is operating a form of gambling whereby consumers are paying the company for chances to win products. This practice — charging for chances to win — is illegal."
As a result of those findings, TINA.org sent a warning letter to DealDash on May 25, 2017, letting the company know about these issues and asking the company to immediately remedy what it called, "deceptive and illegal practices."
However, TINA.org alleges that DealDash did not make any noticeable changes.
So accordingly, on June 5, 2017, TINA.org filed complaint letters with the Federal Trade Commission and the Attorneys General of:
Minnesota
New York
Connecticut
Pennsylvania
Massachusetts
The District of Columbia
It also notified the BBB.
You can learn more about the TINA.org investigation into DealDash.com here.
That's all pretty concerning to me.
Class Action Lawsuit against DealDash
Also in 2017, a man from California filed a lawsuit against DealDash, alleging that the company was running a "series of illegal lotteries," rather than true retail auctions.
The lawsuit also alleges that the products that DealDash says are luxury, brand name products are actually cheap generic brands that "do not sell in substantial volumes anywhere, except through DealDash and one of its affiliates."
It also repeats the criticism I've seen from others about the fact that even if you don't win an auction, you'll lose your prepaid bids.
And that the winners often end up paying more money in bids and cash than what the products are actually worth.
You can read the lawsuit here.
In the end, the lawsuit was dismissed without prejudice (which means that it is dismissed permanently, so it can't be brought back to court.)
Concerns from ConsumerReports.org
ConsumerReports.org highlights the lawsuit I talked about above and the issues it has with DealDash, saying:
"In fact, that winner may have spent significantly more on bids than the amount of the winning bid. Meanwhile, the losers spent nearly as much money only to get nothing in return.
It's a problem we warned folks about six years ago when penny auctions really began to enjoy a heyday."
Consumer.org investigated a claim in the lawsuit that some of the brands featured on DealDash appear to have a direct and undisclosed connection DealDash.
Consumer.org further looked into the claims that DealDash and many of the brands it features are linked. It says that many of the brands appear to have the same trademark holder.
You can read the full article on from Consumer.org here.
DealDash Pros & Cons
Okay, so now you know how the company is rated and some of the criticism surrounding it. So, is the website worth it?
Let's take a look at some pros and cons that can help you to decide whether or not to use DealDash.
Pros
Let's start out with the positives.
It's easy to use
You can find deals right on the home page and search for auctions if you want to.
So finding the items you want is pretty easy.
There's an automatic bidding feature available
With the BidBuddy option, you can bid on items automatically. This means that you aren't tied to your computer. Plus, you can set the limit for the number of bids you want.
It's well-reviewed by customers
DealDash is well-reviewed on multiple platforms. So people really do seem to enjoy using the website. It's a good sign that the website is so highly rated across lots of different platforms.
The customer service is great
The company's customer service is praised highly online. With many customers saying that their issue was solved well by the customer service team.
Cons
Now let's take a look at some of the downsides to the website.
You have to pay to bid
I find the fact that you have to pay to bid quite odd. I'm not sure why you would choose DealDash over eBay, since it's free to bid on items on the latter. I know that there are some really low priced products available on DealDash but when you factor in the cost of bidding, you can end up paying more than you would think.
Plus, even if you don't win the item you still end up having to pay out.
One user on the BBB says:
"In my opinion, this auction site is extremely misleading. This experience cost me about $200. It's a TOTAL Rip Off!!!!!!!!!!! PLEASE STAY AWAY FROM THEM!!!"
Sure there's the buy it now option where you can get your bids back. But the fact you have to pay before you can actually bid on anything is definitely the site's biggest downside.
You may end up paying more for an item than it is worth
The problem with the website is that you can actually end up paying more for an item than what it's actually worth. That was one of the complaints mentioned in the lawsuit I talked about earlier.
In my research for this post, I saw lots of people complaining about this.
One customer says on the BBB:
Customers need to look at the buy it now price carefully. Take the item and google on Amazon. Most are half the price which is HORRIBLY MISLEADING!!! I've been a bidder since 2012 and recently started bidding and I am shocked. The bidders must be gambling addicts. I've been pretty disgusted!
On Sitejabber another user has a similar complaint, saying:
"It's not what they show you on television AD, you would have spent a couple of hundreds of dollars before you win anything and then you will give up after all the money and time and you get nothing in return. 2 hours later I get emails saying the this item is sold for a lot higher than I left it, it would've cost me a lot more money to even win anything. So the bottom line is not true and it will cost you more than think."
So, is DealDash a Scam or…?
Here's the deal…
The site is not a scam per se, however you need to read the fine print.
If you're careful with how many bids you use on an item the website can garner you some good deals.
However, you really do have to be careful!
It's not just the final price of the item you have to take into account. It's the cost of all those bids you use.
Remember, you're paying like 12 cents a bid (at the time of writing). So even though the price of an item may only go up by $0.01 per bid, that's not the true cost of the item.
You don't want to end up spending loads of money on an item because you've placed a ton of bids.
Similarly, I would also recommend that you research the item that you're bidding for on a few other platforms, like Amazon for example. You might find a better deal on there.
It's all about being savvy. I think that there are some legitimate concerns about the website, namely:
That you have to pay for bids so the price you pay when you win the item isn't all you have to factor into the cost. And if you lose the bid you've still lost out on money.
You may be able to find a better deal on items on other sites like Amazon.
Overall, if you're willing to take the time to do some research into products and to make sure you're bidding in a cost-effective way, then you could get some deals.
But there are concerns that you could end up paying more for an item than it's actually worth and is that really a deal at all?
Not really!
Just be careful if you're using the site and you'll ensure you get the best deal. And remember that there's always great deals to be found on Amazon and eBay. And there are plenty of cashback websites and coupon websites out there that can get you the best deals no matter where you shop online.
Hopefully, this DealDash review has given you some insight into how the website functions and whether or not it's worth your time.