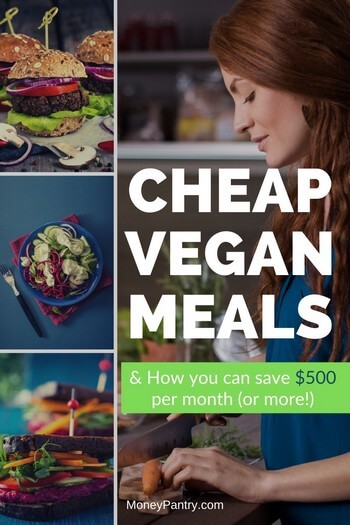 While there are tons of cheap vegan meal recipes, when people hear that you don't eat meat, one of the big questions they have is, isn't that expensive?
Most people assume that eating a vegan diet has to be super expensive.
Largely, that's due to the fact that most people think to eat a meat-free, dairy-free diet that they have to buy super expensive ingredients.
Thankfully, that's not the case.
Although two of my meals each week contain fish, the rest of them are entirely meat and dairy free.
And switching to a vegan diet has actually saved me $300 each month!
Need Easy Extra $300+/Month for Free?
KashKick
: Get paid directly into your PayPal for watching videos, surfing, shopping and more.
Join KashKick Now!
Panel Payday
: Earn up to $75 per survey. They also pay up to $50/hr for mystery shopping.
Join Now!
InboxDollars
: Paid over $57 Million to members to watch videos, take surveys, shop and more.
Get $5 instantly!
Branded Surveys
: Get $1 instantly just for joining for free. Plus get paid within 48 hours by PayPal!
Join Branded Surveys
iPsos iSay:
: If you have to only sign up for one paid survey site, go with Ipsos (high paying survyes)!
Join iPsos Now!
Swagbucks
: Get paid to watch videos, shop online, take surveys and more.
Join now & get $5 instantly!
Can Eating a Vegan Diet Save You Money?
Yes, it totally can!
As I said, I save about $300 a month eating a vegan diet.
And, since I don't have kids, I'm only buying food for two people, and my husband and I didn't eat that much meat to begin with.
What I'm saying is that if you have a larger family who are all looking to eat a more plant-based diet, or you ate meat for most of your meals before, then you could easily save $500 or more with this diet.
And for college students, buying cheap foods when you're broke is at the top of their money saving list. And this diet will certainly help you save on food.
But how?
Don't vegans have to buy expensive substitutes and superfoods?
Not really.
I'm going to level with you here.
Switching out animal proteins for plant-based ones will save you money.
A pack of chicken at the supermarket costs more than its vegan counterpart.
How to Be Vegan on a Budget
Before we get onto the list of meals, I'm going to cover some tips on following a vegan diet when you're on a budget. These tips have helped me to save money on my grocery bill.
Plan your meals for the whole week
This is a great tip and the one that's saved me the most money.
Each week, my husband and I sit down and make a list of meals we'd like that week.
We're not too strict with what we have on each particular day. Instead, we just write down seven dinners, seven lunches, etc. and then have the one we fancy on that particular day.
Meal planning will save you money in a number of ways:
You can use ingredients across multiple meals: So you can buy a large pack of tomatoes for example and you can use that in lots of different meals. This puts costs down a lot.
You don't waste as much food: When you know what meals you're going to eat, you don't buy food that you won't use. This means that you don't waste food. As they say, the most expensive food is the food you throw away. So, reducing waste can really save you money.
Stick with whole foods, rather than tons of meat-substitutes
I know a lot of vegans and vegetarians who use lots of meat-substitutes in their diet.
The thing is, these can be pretty pricey and often you don't need them.
I use a meat substitute probably once a week or twice a week at the most.
I use things like plant-based mince, chicken, and shawarma.
(Of course, it is nice to use vegan substitutes in some meals and they aren't as expensive as you'd think.)
By limiting the number of meat-alternatives I used in my diet, I ensure that I'm not eating a ton of processed food and that I'm not increasing my grocery bill unnecessarily.
Instead of eating these substitutes in every meal, I eat a lot of root vegetables, fruits, grains, and lentils. These are inexpensive, healthy, and versatile ingredients.
It's these versatile basics that you want to stock up on, which brings me to my next point:
Stock up on the cheap versatile ingredients
I purchase items that I know I can use in various different meals. I know that it'll be able to use tomatoes in curries and in salsa. I know that I can buy a bag of lentils and use them for months in various dishes.
Canned goods, like chickpeas, tomatoes and beans are often your friend.
Also, you'll need plenty of fruits and vegetables. I've found that root vegetables are awesome, as they tend to last well. This means that I can use them in a variety of meals throughout the week.
Since they work well in soups, any ingredients, like potatoes and butternut squash that I have leftover can be used to make soup I can have for lunch.
Buy certain items in bulk
I'd recommend buying anything you're going to use often in bulk.
Staples like rice, lentils, and oats, are all great items to stock up on.
Proceed with caution though with buying in bulk.
Not every item needs to be bought in bulk, and foods can end up going to waste.
I've also found that while dried beans and legumes may be cheap to buy and you can get a huge bag of them at a low price, they're not particularly convenient.
I got a bag of dried chickpeas once and you have to soak them overnight before you use them.
I often forget to soak them. Or that day I just happen to fancy a meal with chickpeas, but I can't have it because I have to soak the chickpeas.
That's why I much prefer canned beans and legumes.
Buy stuff in bulk if you're going to use it often, otherwise, just buy it as you need it. And always keep convenience in mind.
You'll find the need for dairy substitutes
In many cuisines, you will find the need for dairy substitutes.
To keep costs down, I'd recommend you buy substitutes that you can use in multiple meals throughout the week.
For example, if you're going to buy vegan cheese for nachos, then make pizza that week too, and you'll be able to use the cheese across two meals.
Consider making your own substitutes
Nut butters and milks can be expensive, so consider making your own. I make my own vegan sour cream from cashews. There's a great recipe for cashew cream that you can check out here.
Since some vegan substitutes are on the pricier side, consider making your own, as it could work out cheaper.
Certain cuisines are better than others
I'm going to level with you here, if you enjoy curries and cuisines like Mexican, and Turkish, you're going to find eating a vegan diet on the cheap a whole lot easier.
Many traditional and popular American dishes, like burgers, fried chicken and the like are not the cheapest to replicate on a vegan diet.
If you want stuff like that (any dish where meat is a key player), you'll need to pay for lots of vegan substitutes, which aren't always the cheapest.
On the other hand, since 31% of Indians eat a vegetarian diet, there are plenty of meat-free options to choose from within Indian cuisine.
I have always loved Indian food anyway. But since I've cut meat from my diet, it's even more of a staple come mealtime.
I don't have to buy any substitutes to make Indian meals.
I can make curry with lentils, tofu, vegetables, and potatoes. No expensive meat substitutes are required.
I've also found the following cuisines can also be easily be tailored to fit a vegan diet:
Mexican
Ethiopian
Turkish
Chinese
Thai
Vietnamese
Now, I'm not saying you can't enjoy other cuisines, and stuff like vegan burgers – of course you can, and I'll include recipes for those recipes below too. But, I'm just saying that certain cuisines definitely suit a plant-based diet better and are great if you're on a budget!
Cheap Vegan Meals
Okay, so now you know what types of foods will work well if you're plant-based and on a budget, and how exactly to plan out your meals to save money.
Now, here are some awesome vegan meals that you can make that won't break the bank!
Lentil madras is one of my favorite meals. It contains lots of spices that meld together beautifully. The addition of lentils gives the sauce more texture, just making this an awesome meal all-around. Lentils are super cheap, as are most of the ingredients in the list.
You can make a batch of this to last you a couple of days as well.
Black beans are super cheap, and they work really well in lots of Mexican dishes. One of my favorites is black bean nachos. Crunchy tortilla chips, guacamole, and Mexican black beans combine to make this a tasty dish with lots of different flavors and textures.
Like I said above, you may want to buy meat substitutes a couple of times a week. One of my favorite meals is plant mince burritos. Covered in chili lime sauce and hot sauce, with lots of salsa, lettuce and other vegetables inside, these burritos are a super tasty meal!
Chili is a hearty meal that always goes down well. Containing plenty of herbs and spices, like paprika and oregano, and lots of vegetables, this chili recipe boasts lots of flavors. If you're vegan you don't have to miss out, nor do you have to spend a lot of money to make a good chili!
This lentil minestrone soup is ideal if you're looking for something that's really simple to make. It tastes great too!
Although I love spicy food, korma is actually one of my favorite curries, despite it being one of the mildest curries out there.
You'd think that a notoriously creamy dish may not work in a vegan diet.
And you'd be wrong. The yogurt or cream normally used to make a korma can easily be switched out for coconut milk.
This is a filling, satisfying dish that you can make for little money.
I have vegan fajitas all the time. They're so quick and easy to make, and they taste great too! Try out this recipe that includes lots of awesome ingredients, like oregano, bell pepper, and chili powder.
Since a plant-based diet is so healthy, many people start to crave stodgy comfort foods, and what screams comfort food more than sloppy joes?
You can still enjoy comfort food on a plant-based diet, and it doesn't have to cost you a lot of money.
For this, you will need a substitute for the mince, but those aren't as expensive as buying meat. And the rest of the ingredients used to make these awesome sloppy Joe's are pretty cheap.
Italian food isn't always the easiest to make vegan. Don't worry though. If you're craving those Italian flavors, try making this simple tomato pasta dish.
Tomato pasta is so cheap to make. For the sauce, you only need a few cheap ingredients
And if you're vegetarian, you can still top it with some mozzarella or parmesan.
This recipe includes roasted garlic that makes for a super tasty plant-based alfredo sauce. Pour it over Fettucine pasta, and you have a really delicious meal.
I've found that jackfruit is an awesome substitute for pulled pork. It's much cheaper too!
These pulled jackfruit tacos have a great texture, thanks to the meaty texture of the jackfruit and the crunch of the taco, making this an awesome meal that won't break the bank.
Potato Flautas are one of my favorite foods, as I love Mexican food and anything with potatoes!
This meal is tasty and it will fill you up. The best part is that since it does just contain ingredients like potatoes, and tortillas and the fixings for salsa, it's pretty inexpensive to make.
Check out the plant-based version of this awesome dish through the link above.
I love miso soup, and it makes for a great, quick and easy lunch. This one contains a handful of ingredients, like onions, miso paste, and mushrooms, so it's super cheap to make.
If you're looking for comfort food, take a look at this vegan shepherd's pie recipe.
Lentils make an awesome meat substitute in this meal. There's also plenty of vegetables, from carrots to celery, and fresh herbs, like rosemary and thyme that make this meal a filling and flavor-packed one. And, this shepherd's pie also contains miso paste, which if you make the recipe above, you'll already have in stock!
This recipe uses cashews to create a creamy soup that's awesome for lunch. I like using cashews because they are such a great substitute for cream (I like to use cashew cream as a substitute for sour cream!)
Including carrots and turmeric, this meal offers plenty of important nutrients and health-boosting antioxidants.
Do you love pasta? You don't have to miss out when you're vegan. Like the soup above, this recipe includes cashews and almond milk that make for a creamy pasta.
Overall, it's a tasty recipe that's great for families too.
Sometimes, you want a light, healthy meal, and other times you just want comfort food!
If you're looking for a heartier meal, give these loaded taco fries a try. These use a textured vegetable protein as the meat substitute. I always like TVP, as it doesn't have as prominent a taste as other meat substitutes do, like tofu, for example.
So, it works really well in lots of different meals, particularly in Mexican cuisine.
These loaded taco fries include salsa, tomatoes, curly fries and lots of other tasty ingredients that make for a satisfying meal.
I love sweet and sour tofu! The crispiness of the tofu mixed with the sweet and sour sauce makes for a super tasty meal!
This recipe uses roasted peppers to make a delicious stuffed baguette sandwich.
These roasted sweet potato quesadillas include lots of nice spices, like cumin and cayenne pepper. You get lots of protein too, from the black beans, and lots of important nutrients from the sweet potatoes.
A lot of people think vegan food is bland. In fact, it's anything but.
Since you can't depend on the flavor of meat, vegan food often contains lots more spices, making it incredibly flavorsome.
This Thai red curry coconut soup is an awesome example of that.
I used to have a bowl of red Thai curry soup every time I went to this Thai restaurant. I loved that it had that perfect blend of creaminess and spiciness. I always wanted to recreate it at home, and this recipe is awesome for doing that, except in soup form!
With the garlic, ginger, curry powder, and red curry paste boosting the flavor element, and the coconut milk and almond milk adding that creamy element, this recipe makes for the perfect red curry coconut soup!
This is a traditional polish meal with a vegan twist. It includes a rich tomato sauce, as well as great spices like paprika and Italian seasonings, making this a super tasty dish! These cabbage rolls also contain lentils and brown rice, so it's a filling meal as well.
I have to be honest; I often skip breakfast! But, if you do want a hearty breakfast that's going to keep your belly full until lunchtime, try this plant-based breakfast skillet.
You use tofu for the eggs and combine that with lots of flavor-packed vegetables, like mushrooms and peppers. What I like about this recipe is that everything is so well-seasoned with the addition of spices, like garlic powder, onion powder, and ground turmeric.
Pasta is quick and easy, making it a go-to for many of us when it comes to dinner time. This dish of Tuscan pasta and beans is super simple to make and contains ingredients that are super cheap!
If you're looking for something super nutritious that tastes great too while being cheap to make, give this sweet potato and kale chili a try!
French food doesn't always lend itself well to a vegan diet. This mushroom bourguignon is one of those rare exceptions though where French cuisine and vegan cuisine blend well.
With red wine, mushrooms, tomato paste, and vegan Worcestershire this is a rich, filling meal that makes for a great dinner! It also contains lots of vegetables, like carrots and celery that make it a healthy meal too!
Sometimes you just want something simple that's quick to make and doesn't require a ton of ingredients. If that's what you're looking for, this simple vegetable soup is ideal.
It contains a plethora of vegetables, like carrots, green beans, tomatoes and potatoes, as well as lots of great flavors, like garlic, oregano, and parsley, all of which combine to make a hearty soup!
I also like the addition of lemon juice, because it really brightens up a soup.
If you're looking for a meal that packs a lot of flavor, make this Nepalese red lentil dahl!
With coriander seeds (one of my favorite ingredients!), turmeric, red chili powder, and cilantro, mixed with lentil and plenty of other flavors, this red lentil dahl is super tasty.
The best part is that aside from the lentils, onions, and garlic, all that's needed are a few spices, meaning this meal is very cheap to make.
Bubble & squeak is one of those traditional British meals that people make to use their leftover roast dinner.
This plant-based version is super cheap to make, containing inexpensive vegetables, like potatoes and green cabbage. It's so easy to make and one of the cheapest meals on this list.
You can make meat-free, dairy-free Mediterranean food without having to spend a fortune. This recipe for Mediterranean lentils and rice is just awesome. It includes lots of tasty ingredients, like hummus, and avocado that makes it just a great meal all-around. Also, the tomato-cucumber salad that accompanies the Mediterranean lentils and rice adds a refreshing element!
This oven-baked garlic mushroom rice is so easy to make. It's so cheap as well, as much of the flavor comes from the broth. Add in some mushrooms, garlic, onion, dried thyme, and dried rosemary, and you have a flavorsome dish that's awesome for lunch or dinner.
Another great comfort food is meatloaf – so do you have to miss out on a vegan diet?
Is it super expensive to make a plant-based version?
No, and no!
You can make a tasty vegan meatloaf that doesn't cost you a lot of money.
This recipe uses chickpeas and panko breadcrumbs, both of which are really cheap!
You'll find all of the usual meatloaf ingredients in there as well, like carrots, onion, celery, and, of course, plenty of ketchup for the topping!
Looking for comfort food? Give this vegan steak and rice recipe a try!
After work, you sometimes just don't want to make something that's really fiddly and takes loads of effort. That's one of the reasons that I like to make curries. You can just sauté some onions, and garlic, and throw in spices, and vegetables, and you have a tasty meal.
This super simple green bean and potato curry is one to try. It's based on just two ingredients; beans and potatoes! Just add some onion, garlic, coconut milk, and plenty of curry powder, and you have a hearty, flavorsome meal!
Combining beans, tomatoes, and sweet potato, as well as plenty of tasty herbs and spices, this three-bean sweet potato chili makes for a super satisfying, healthy, and tasty meal that's cheap to make.
Sometimes, recipes with a long list of ingredients just seem like too much effort after a long day. If you're looking for something with just a few ingredients, that's easy to make, give this Spanish beans recipe a try. Containing lima/butter beans, and plenty of tomatoes, and smoked paprika for an extra kick, this is a flavorsome meal that not only tastes awesome but is filling and healthy too!
I love tacos. One of the things I struggled with most when cutting meat from my diet was the texture. At first, I felt like everything was just mushy. Then I had vegan tacos and they added this awesome crunch.
Ever since, they've been one of my go-to meals. The crunch of the taco shells adds a much-needed texture to a vegan meal.
Give this recipe for chickpea tacos a try.
It only includes a few simple ingredients, like chickpeas, onions, and of course taco shells. The addition of homemade taco seasoning, salsa, guacamole, and spring onion add some awesome flavor, while the vegan sour cream (I use cashew cream instead!) adds that creamy element.
This recipe includes a tasty marinated tofu and a sweet and spicy sauce that contains plenty of delicious ingredients, like sriracha, lemon juice, and hoisin sauce.
Top off the sandwich with pickled slaw, and you have a really tasty sandwich!
Another cheap meal to make is this Indian spiced tomato and rice stew. Like I said at the beginning of this article, Indian food is awesome when you're plant-based. You really can make so many great dishes that taste so awesome, you wouldn't even know they were vegan.
This stew combines lots of awesome ingredients, like tomatoes, Harissa paste, lime, and garam masala to make a delicious spicy rice stew.
Lentils are your friend when you're a vegan on a budget! They're so versatile and they add an awesome texture to meals. This creamy red lentil dahl includes lots of different flavors, like ground coriander, fennel seeds, turmeric and cumin seeds. I love the use of coconut milk too, as this always makes for a creamy curry.
Pinto beans are super tasty, which is why this soup/stew makes for such a good meal.
With thyme, garlic, and plenty of Mexican seasoning, this stew makes for a great dinner.
I love pasta. And when I have it, I like to keep it simple.
That's why this meal, containing just a few ingredients, like garlic, red pepper flakes and olive oil as flavors is so awesome.
This Thai sweet potato curry is full of flavor! It combines vegetables, like sweet potatoes and diced tomatoes, and lots of flavors, like Thai red curry paste, lime and cilantro, to make a tasty dish.
This recipe combines eggplant and tomatoes, with a sauce containing fresh garlic, ginger, and spices, like curry powder cumin and turmeric, making for a tasty dish. I love the addition of fresh cilantro to curries like this one too!
Soups not only make for quick and easy lunches – they're cheap too!
What I like about making soup though is that you can make a big batch of it to freeze and use as you need it.
This Turkish red lentil soup contains lots of different herbs and spices, like cumin, paprika, and oregano. So, it's definitely tastier than your average soup!
If you love mushrooms, then you'll really enjoy these pulled portobello tacos! They combine crunchy taco shells with pulled BBQ portobello mushrooms to make an awesome dish.
Like I said above, Ethiopian food lends itself well to a vegan diet. Give this spicy lentil stew a try.
This dish combines lentils, tomatoes, spinach, as well as vegetable broth and lots of spices, making for a great dinner!
This tomato, pasta dish a meal that the whole family can enjoy.  With Italian dried herbs, garlic, tomatoes, and balsamic vinegar, and a crunchy breadcrumb and garlic topping, this is a great meal when you're in the mood for hearty, Italian comfort food.
This dish mixes vegan Italian sausages, and plenty of delicious ingredients, like garlic, and dried rosemary, to create and flavorsome pasta soup! The addition of coconut milk makes it a creamy dish too.
For a refreshing lunch that's perfect for summertime, give this creamy vegan pesto pasta salad a try. It's cheap to make, and combines lots of fresh, healthy ingredients, like cherry tomatoes and cashews.
This easy tomato basil soup is perfect for lunch on those days when you just want something simple that still tastes delicious!
This dish is so simple to make, and it doesn't require many ingredients either.
It includes kidney beans, which are not only full of fiber and protein but also pair super well with the rosemary, sage and other great flavors that make up these stewed beans.
This one-pot spicy vegetable rice is easy to make and it's cheap too!
It includes an awesome mix of vegetables, like carrots, onions, peppers, cherry tomatoes, and peas, along with some awesome flavors, like red pepper flakes, smoked paprika, and turmeric.
Lentil shepherd's pie is a recipe that's great during the winter months, but it can be enjoyed at any time of year. It's so cheap to make as well. If you're looking for something substantial to fill you after a long day's work, give this recipe a try.
There are lots of vegetables, ranging from sweet potatoes to carrots, in this aptly named root vegetable power bowl. It also includes a tasty dressing!
Jackfruit provides an awesome texture for many vegan dishes. One awesome dish with jackfruit is this pulled jackfruit BBQ sandwich. The jackfruit is a great substitute for pulled pork, and the addition of a tasty BBQ sauce makes this a super flavorsome sandwich.
There's nothing better than a good old-fashioned burrito. Give this crispy black bean vegan burrito a try.
It's packed full of tasty ingredients, like hash brown potatoes, corn, black beans, and pinto beans, along with lots of spices, like chili, garlic, cumin, and paprika.
This recipe uses plant-based sausages to create a super tasty dish. If you're looking for a hearty dish, give these stuffed pasta shells a try.
Containing just a few ingredients, this zucchini basil soup is so easy to make! And, it's incredibly cheap too! You could make a batch of this and have it for lunch all throughout the week.
This is a fresh, flavorsome dish that doesn't cost a ton of money to make. It contains lots of healthy and tasty ingredients, like pineapple, ginger, and peas, along with spices, like cilantro and crushed red pepper.
With rich tomato paste, creamy coconut milk, lots of healthy vegetables, like tomatoes, cauliflower, carrots, and chickpeas, and tons of spices, like cayenne pepper and garam masala, this vegetable curry is delicious. And it's easy to make and cheap too!
Light, refreshing, and healthy, this is one of those meals that's sure to go down a treat. The addition of coconut milk gives this pasta an awesome creamy texture.
Quinoa is so tasty, and if you're bored of rice, it's a great alternative. That's why I love this quinoa taco salad.
With salsa, tortilla chips, black beans, avocado, and cilantro, this meal packs a ton of nutrients and flavors!
This dish combines butternut squash with cashews to create a creamy sauce. It's a great mac and cheese alternative if you're vegan.
This jambalaya recipe packs plenty of great flavors, like oregano, basil, and paprika. It also contains lots of nutritious fruits and vegetables, like pepper, mushrooms, and tomatoes. If you're looking for a really flavorsome dish that's cheap to make, then you should definitely give this jambalaya a try!
This is a super cheap meal to make, combining potatoes and mushrooms, with a few flavors, like dill and thyme.
It's easy to make, but incredibly filling!
You don't have to miss out on burgers when you're vegan. There are lots of great vegan burger recipes out there, like these black bean burgers. Black beans are packed full of protein and they taste great too. This recipe combines black beans with lots of great flavors, like cumin, chili flakes, lime, garlic powder, and cilantro, which make for a super tasty burger.
Who doesn't love ramen? Make it at home using this awesome homemade ramen recipe. It combines just a few ingredients, like noodles, ginger, and vegetable broth. It's easy to make, and it tastes great too. The best part is that it's also super cheap to make!
This recipe for white bean veggie burgers contains just a few ingredients, meaning it's really cheap to make!
Breakfast burritos are great, and you can make an awesome vegan one for cheap. Give this recipe that uses vegan sausages, salsa, mushrooms, and bell peppers, as well as lots of other tasty ingredients, a try.
Save Money with these Frugal Vegan Recipes
When you're not having to buy meat, it really lowers the amount that you spend on groceries. I've really seen my food budget drop dramatically since I cut out meat from my diet.
Give these recipes a try, and you'll save yourself so much money.
What are your favorite budget vegan meals? Let us know in the comments section below!