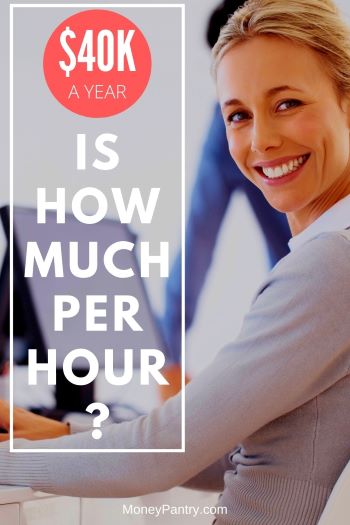 The first thing that most people want to know when looking for a new job is, "how much does it pay?"
Income is, obviously, incredibly important. You want to earn a salary that allows you to live comfortably, whether that's $60,000 a year, $100,000 or in this case $40,000 a year.
But the question is, is $40,000 a year enough though? And just how much is that an hour?
In today's post, we'll answer those questions and more.
$40,000 a Year is How Much an Hour?
Based on a typical 40-hour workweek, there are 2080 work hours in a year.
So if we divide $40,000 by the number of hours worked in a year, we get the hourly income.
Need Easy Extra $300+/Month for Free?
KashKick
: Get paid directly into your PayPal for watching videos, surfing, shopping and more.
Join KashKick Now!
Panel Payday
: Earn up to $75 per survey. They also pay up to $50/hr for mystery shopping.
Join Now!
InboxDollars
: Paid over $57 Million to members to watch videos, take surveys, shop and more.
Get $5 instantly!
Branded Surveys
: Get $1 instantly just for joining for free. Plus get paid within 48 hours by PayPal!
Join Branded Surveys
iPsos iSay:
: If you have to only sign up for one paid survey site, go with Ipsos (high paying survyes)!
Join iPsos Now!
Swagbucks
: Get paid to watch videos, shop online, take surveys and more.
Join now & get $5 instantly!
$40,000 a year is $19.23 an hour.
How much is $40,000 a year after taxes?
Expect to have anywhere from $6,200 to $9,000 in taxes taken from your salary. So, after taxes, you will earn $31,100 to $33,800 a year. This means that if you actually want to take home $40k a year, you will need to earn closer to $50,000 a year.
Exactly how much money you will pay in taxes depends on the state you live in. So, make sure you check the rates in your state to get an exact figure. For example, for purposes of income after tax, we will use the $31,100 to $33,800 a year post-tax income below.
$40,000 a year is how much a month?
What about your monthly income?
Here's how $40k works out monthly:
Before tax: $40,000 a year breaks down to $3,333.33 per month.
After tax: $40,000 a year breaks down to $2,591.67 to $2,816.67 per month.
$40,000 a year is how much a week?
Here's how it breaks down weekly:
Before tax: $40,000 a year breaks down to $769.23 per week
After tax: $40,000 a year breaks down to $598.08 to $650 per week.
$40,000 a year is how much biweekly?
Here's how $40k a year breaks down biweekly:
Before tax: $40,000 a year breaks down to $1,538.46 biweekly
After tax: $40,000 a year breaks down to $1,196.15 to $1,300 biweekly.
$40,000 a year is how much per day?
$40k a day is about $153.84 per day for an 8-hour day.
What About Other Wages?
In this section, I just want to cover a few similar wages. So, for example, you might want to know what $38,000 a year works out to per hour. Or, perhaps you want to know what $35k a year works out to per hour?
Below, I'll cover some similar wages and what they can net you per hour.
$35,000 a year is how much an hour?
$35k a year works out to $16.83 per hour.
$45k a year is how much an hour?
$45,000 a year breaks down to $21.63 per hour.
$30,000 a year is how much an hour?
$30k a year is $14.42 an hour.
$50,000 a year is how much per hour?
$50k a year works out at $24.04 an hour.
What is $20 an hour annually?
$20 an hour is $41,600 a year.
Is $40,000 a Good Salary?
So, is $40,000 a good salary?
Let's first look at this from a factual standpoint.
According to the Social Security Administration, the average salary in America is $51,916.27. This means that a $40k salary is, technically, below average.
This doesn't mean that you can't live comfortably on $40k a year though.
Like most things in life, money is subjective. Some people will find $40k a year more than enough to live comfortably on. Others though will think that's just too little.
A quick look online shows that many people think that $40k is a good salary.
One person on Reddit says:
"40K is pretty decent right out of school. My first job out was 31K, then my second was 35K, and third jumped to 43K finally."
Another Redditor says:
"I made 30k in NYC for a year or two after changing from a 20k job, and I felt like I was living like a king. If you don't have expensive habits or at least know how to be cheap about your expensive habits, are not too picky about what neighborhood you live in, are knowledgeable in how to save money, and don't have any damn kids, $40k will go pretty damn far. Learn to cook!"
Other people, of course, believe that $40k a year, while a good starting salary, just isn't enough.
A common consensus though from people who report their income online is that what makes a livable or comfortable wage isn't just about what you earn.
There are lots of other factors at play.
One person on Reddit says, rather astutely, that it:
"Totally depends on you. There are plenty of people out there who get by just fine on a lot less than $40,000 a year, and plenty of others who are living paycheck to paycheck on six figure salaries."
These factors can determine whether or not a $40k salary is enough for you to live on:
Where you live: If you live somewhere expensive like NYC, then 40k a year, likely, won't be a comfortable income.
Debts: If you are debt free, a $40k salary will likely be okay. If you have $100,000 in student loan debt, however, you may struggle.
How you manage your money: Money management is something that we aren't taught in school, and I know that it's something that I am trying to get better at. Some people manage their money well, and others don't. If you can cut down on spending and just manage your finances well, $40k is a good income.
Can I Live Comfortably Making 40k a Year?
Like I said above, $40k a year is a comfortable wage for many.
In my research for this post, I scoured forums to see what people earning $40k a year did. I found that the tips below came up most commonly…
Live somewhere affordable
If you can move to somewhere with a lower cost of living, then consider it. Your $40k will go a lot further in a state like Missouri, Georgia, or Kansas than it would in a state like California, Connecticut or New York.
Create a debt repayment plan
Debts can really drag us down and sap our income. There are lots of methods for paying down debt and the faster you can get it paid off, the better because you'll avoid interest.
There are a few methods for paying off debt, like the Snowball Method and the Avalanche Method. You can just choose the one that works best for you.
I actually have a post on how to pay off debt fast on a low income. So do check that out for tips.
Be frugal
Things like eating out and shopping for clothes can drain cash. Sure, it's okay to treat yourself to the occasional meal at a restaurant or to a shopping trip, but when these things become habits that you're doing weekly, then you can waste a lot of cash. Try to cook at home instead of eating out. And, try to make small cutbacks wherever you can. They can make a big difference to your budget.
Save where you can
Saving money can help you to pay for unexpected bills, like car repairs, without leaving yourself too short.
Here's an example from someone on Reddit who used many of the tips above:
"I'm 26 and I make about 32k per year. Up until last week, my fiancee was unemployed and receiving unemployment benefits. I have zero debt and live relatively frugally. The cost of living in my area is pretty low; the really nice apartment I live in with my fiancee is $850 a month. I am able to put about $500 every month into savings and have about $25k in that account so far. There are some months that I can't save, like when I bought my fiancee an engagement ring or when we moved to a new city.
 The way that I save is that I have convinced myself that I make $500 a month less than I do, which means that all financial decisions are based on that assumption. It took me a while to do, but I am beginning to have a strong "down payment fund" for when we decide to buy a house."
Another person on Reddit also uses many of the tips above and shows you that you can live on $40k a year…
"I make just over 40k pre-tax, but certainly between 30-40k post-tax.
 Right now my budget is very tight, but I am making it work for myself and my fiancee. I am paying my student loans fairly aggressively, and saving enough so that in 3 years I can wipe them out totally with savings, have emergency money remaining, and go from there.
 We split rent and water, I pay electric and internet, we share driving and groceries as best we can. Her extra income definitely helps. I can make it work for both of us on my own, but with very little to spare.
 I'm putting away $225/mo in savings (emergencies, general, etc), and $200 for our wedding next year. After the wedding, the $200 will go to savings to take out my student loans. After that, who knows.
 I have when all my bills are due and how much in a spreadsheet, so the only number i see if after all of the bills (including savings) are paid. That money (100-300 every other week) is used for gas/fun/food/etc. It works well enough. My suggestion is to cut things you don't really need (looking at you, cable), and buying non-perishable food when it's on sale, and shopping "around the store" every week for everything else. We typically don't spend more than $60 in the store every other week."
So is 40k a Year a Good Starting Salary?
I'd say, yes. It is a good salary, especially if you are young, single and without too many monthly expenses and bills.
$40,000 is just under $20 an hour. Sure, it's not a huge salary, but it's totally livable.
Do you think $40k a year is a good salary? Share your opinions with us in the comments section below.