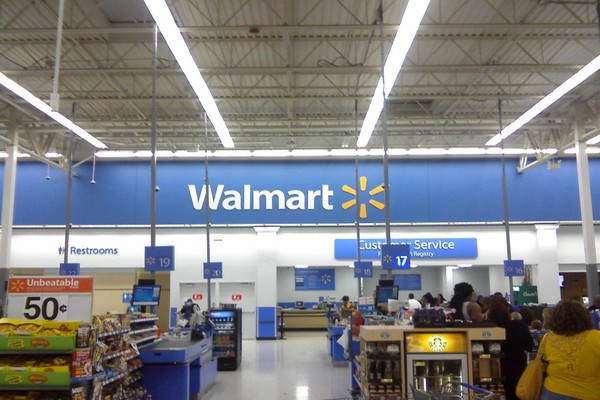 If you're like most people who like getting freebies, you'll like getting free Walmart samples.
Companies, including Walmart, give out free stuff in hopes of making you a loyal customer. If you like their freebies, chances are high that you'll go back to buy more.
Need Extra Cash for Free?
If you like getting paid for surveys, and are going to join only one site, I would recommend you choose Ipsos-iSay. Ipsos is the most fun and well-paying panel. Give it a try to see how you like it. It is free anyway!

The samples and freebies given by Walmart varies. You can expect anything from free baby products to beauty samples, clothes, and even food.
To get your hands on these freebies, you have two options:
1. Get Free Samples from Walmart.com
Walmart facilitates its free samples from its free sample program section on its website. This makes it a breeze to ask for free product samples from the giant retailer. These freebies are often from supplier companies who wish to expose their products to their huge customer base.
Due to the easy nature to claim these freebies, they could all be gone within days, or sometimes just hours, if these items prove to be "hot" enough. Make regular visits to their website so as not to miss out on any new samples that you may desire.
In exchange for that free sample, you would be asked to furnish details like your name, address and birthday. Once you have all these sorted out, click the "Send My Sample" button.
Only US residents are qualified for these Walmart free samples. There is no limit on how much samples you can ask for, but only one free sample is entitled to one individual household.
Delivery takes about 4 weeks. They will only notify you of shipping delay if you happen to furnish them with your email ID as well.
2. Get Free Samples from Walmart Store
For free samples from the actual store, you first need to find out if the neighborhood Walmart is conducting a free sample event, and when. You can check this by going to Walmart's In-Store Events webpage.
While over there, tell them your zip code, radius, and time frame into the Event Finder. One nice feature of the web page is that you can organize your results by event or store.
You can choose to display all the events with information such as where and when they would have these samples available.
Earn Free Cash
Try Swagbucks, the famous rewards program that pays you for watching videos, taking surveys, shopping and more.

This is certainly a comprehensive list on Walmart stores and the sorts of samples to give away. Additionally, there are also information on the date and time when customers could claim these freebies from Walmart.
There is also a listing of free sampling events. By clicking on any individual event, you will be notified of the free samples you can get from Walmart. They are generally categorized according to the types that you can bring home, and those you can sample on while at the store. They don't really make serious effort to classify which is which, so most of the time, you are required to drive down to the store to see for yourself.
What Kind of Walmart Freebies Can I expect?
Here there is no generalization. Sometimes it can be from popular brand name companies even though the product may have yet to make a name for itself.
There can also be new products anxious to enter the market, and some other times, it could be products that have long entrenched in the market.
They are usually physical merchandise like perfume, greeting cards, makeup, coffee, food, shampoo, diapers, medicine, and more.
Bottom Line
Walmart is not unique in the sense that they do not represent the only company that is willing to hand out stuff free, of course.
In fact, most major retailers like Kraft, StartSampling, Target, and Vocalpoint, also offer similar types of free samples program. But given the huge number of suppliers that Walmart works with, chances are you'll find all kinds of free things.
Have You Read These?...