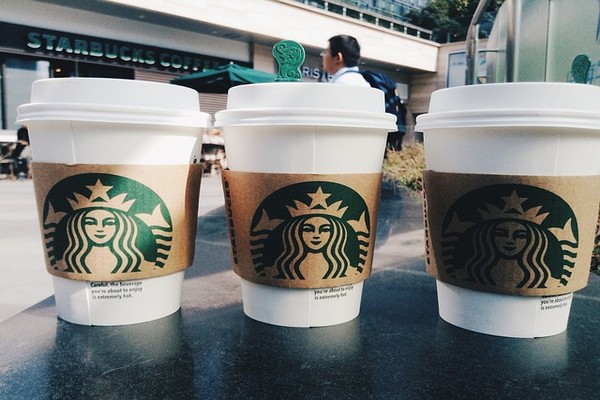 I think that of all the articles I've ever written on this site, this might be one of the most universally applicable – how to save money at Starbucks!
Even though there are millions of Americans who don't like black coffee or even home-brewed coffee, almost everybody loves Starbucks. Young or old, male or female; it doesn't matter! Starbucks is a pretty common interest in the US, and around the world.
So rejoice, Starbucks lovers!
Today, we are going to talk about a few Starbucks hacks and strategies that can save you a decent amount of money at your favorite coffee shop..
The best part is that these techniques favor the frequent Starbucks customer, so the more you spend, the more you can get back.
Need Extra Cash for Free? If you like getting paid for surveys, and are going to join only one site, I would recommend you choose Ipsos-iSay. Ipsos is the most fun and well-paying panel. Give it a try to see how you like it. It is free anyway!

1. Get a Starbucks Card
Let's kick off with this option because it's simple and uncontroversial.
Getting a Starbucks card is a great way to make the most of the money you'll be spending at Starbucks, if you'll be spending it anyway.
So, what are the benefits and what is the catch of a Starbucks card?
The benefits include free shots of milk and syrup, the occasional free drink, and discounts on some purchases.
What is the catch?
Nothing!
It's free, and the sign-up is quick.
They are more than happy to offer these benefits to ensure your repeated loyalty. This is as mutually beneficial as they come.
2. Order it 'Short'
While you may have thought that you were being conservative getting yourself a 'tall,' you can actually go a step below and get an appropriately-named 'short.' (Yes, it costs less!)
So, what is the benefit of getting less coffee for less money?
If you are ordering an espresso drink, you'll get the same dose of espresso between the two sizes – a great way to save a buck for the sleepy customer.
3. Lessen the Ice
In contrast to the previous tip, this one's all about getting more bang for your buck and maximizing the amount of drink you get.
It's as simple as can be, too: just ask for less, or no, ice.
If you're getting tea or iced coffee, this can really add up to a lot more drink for you since ice is so voluminous.
4. Take Advantage of Refills
Card holders can get free refills so long as they finish their drink in-store.
Earn Free Cash Try Swagbucks, the famous rewards program that pays you for watching videos, taking surveys, shopping and more.

This is a little known fact that is totally legit; just check this page on their official site.
Even if you aren't a card holder, you should be able to get a refill for 50¢ as long as you're still at the store.
Starbucks rewards the patient customer!
5. Bring a Cup
Starbucks is committed to sustainability, so they'll give you a 10¢ discount if you bring your own container for the coffee.
They won't discriminate about what kind of cup you bring, but of course, I recommend that you bring some kind of insulated container.
You'll have to bring your own cup in an awful lot of times if you want to see a long-term benefit from this, but it stacks well with the other ideas on the list.
6. Don't Get a Latte
This one will only work if your local Starbucks has the creamer/milk bar in it.
It's another simple trick: get two espressos on ice, then go to the bar and add all the flavor/creamer/milk you want.
Now your espressos are iced lattes.
They might not come out exactly how the servers make them, but hey! You just saved a few bucks at once, and they'll be doing far too much business to care about your bait n' switch.
7. Split Ventis
This is a great option for when you're out with a friend, and what's more, is another simple option.
Basically, you get whatever you want in Venti, then ask for an extra cup (they are free,) and split the drink.
Ventis are much larger than the sizes below them, comparative to the cost, so you're essentially just buying two grandes for the cost of a venti.
A fantastic cheap trick that is completely legitimate.
8. Get Drinks without Milk
This is a relative piece of advice to the latte trick above.
Basically, just order espressos instead any time you're hankering for a latte.
Those espressos quickly become lattes when you add the milk over at the condiment bar, and by taking advantage of their free milk, you're saving yourself a ton of money.
9. Redeem Your Birthday Gift
You'll be given a birthday gift if you're a Starbucks cardholder, and it's redeemable for an entire 30 days following your birthday.
It's seriously just a free drink!
There's no way to save money like 'free,' so why not take advantage of it?
Just one of the many perks that comes with being a cardholder.
10. Bring in Trash
OK, not ANY trash.
Instead, any empty Starbucks coffee bag you bring in will net you a whole free coffee.
That's right! If you drink a lot of Starbucks coffee, this offer is just waiting to make the most of itself.
It might be a bit embarrassing the first time you bring your empty bag to the register, but something tells me you'll stop minding as soon as you get that free drink.
Tips In Review
Basically, the key to making the most of Starbucks comes down to two things: signing up for a Starbucks card and utilizing all of the advantages that come with it, and taking full advantage of the milk/condiment bar that they offer.
If you can do these two things as well as taking note of the quirkier advantages (like the trash thing) then you're going to see yourself saving tons of money on Starbucks.
Give it a try– the benefits will show immediately!