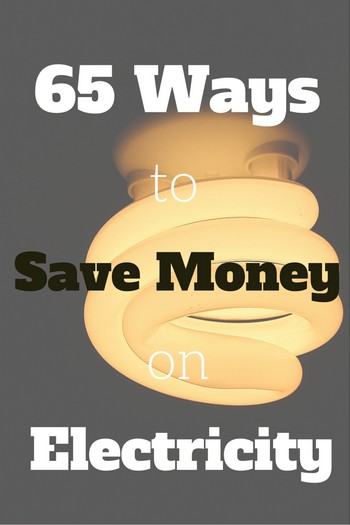 Who wouldn't like to save money on their electricity bill?…
The monthly electric bill is usually a big part of the household expenses for average family. In fact, for some people, the energy bill is ranked right up there among the top three expense items, right after the mortgage and rent payment.
Need Extra Cash for Free?
If you like getting paid for surveys, and are going to join only one site, I would recommend you choose Ipsos-iSay. Ipsos is the most fun and well-paying panel. Give it a try to see how you like it. It is free anyway!

It makes sense to conserve energy as nowadays we are so often reminded of the serious carbon footprint contributed by fuel oil.
At the same time, our insatiable appetite of energy is continually driving up fuel cost (which is why you need to learn how to save money on gas), and this is impacting livelihood. We all need to save electricity and this sometimes can be as easy as making some changes to a few old habits.
And the big incentive for saving electricity here and there is that you don't need to invest in some fanciful gadgets or equipment.
The easy nature for this implementation provides the main trust to want to save money on electricity, in addition to the economic factor.
With that said, here are…
65 Easy Ways to Save on Your Electricity Bill
1. Light Fixtures Should Be Cleaned Regularly
When you do regular cleaning on your light fixtures, there is better light intensity from every bulb. As a result, you probably can get away with turning on fewer lights.
2. Make Sure the Pool Pump is Always Clean
Have regular clearing of your strainer baskets in the swimming pool pump. A clogged strainer basket would cause the pump to behave awkwardly and needs even more electricity to rectify that.
3. Wash Single Dishes by Hand
This boils down to efficiency. Your dishwasher is going to be more water and energy efficient when there is a full load. You are simply wasting energy if you insist your dishwasher does the work even for just a few plates or mugs.
4. Untangle Stuff Before Putting them in the Dryer
Before placing the laundry into the dryer, you better separate your washing. This helps make the dryer more efficient.
5. Take Advantage of Free Cooling Passages
There is a mechanism that draws air into your fridge and freezer that ends with a vent serving as an outlet to the drawn air. Don't let your food items or other stuffs get in the way by placing them right in front of that vent. You will be simply choking the fridge.
6. Use Task Lighting
Use localized lighting when you work on the computer or read a book, so space you need is lighted. You don't need to consumer more energy than is necessary especially when your computer, monitor, printer and office equipment is already powered up.
7. Turn Off the Christmas Lights During the Day
Those Christmas lights look brilliant in the night. Of course, nobody would appreciate them during the day as no one can see them. So, next time make sure it is really dark enough before you decide to light up.
Earn Free Cash
Try Swagbucks, the famous rewards program that pays you for watching videos, taking surveys, shopping and more.

8. Air Dry Clothes Indoor
You could set up a space inside to air dry your clothes. You save electricity when no dryer is switched on.
9. Do Consecutive Loads of Laundry
If you have operated the dryer at least one cycle, keep washing so that you can take advantage of the residue warmth. The alternative is to heat up from cold again, when you don't do consecutive loads.
10. Unplug Your Home Office
If you choose to work from home because of the low cost associated to home office vis-à-vis an inner-city business, then you are completely justified that you don't need as much power as those establishments in the city. So if you are not passing any work you're your printer, unplug your printer. The same thing applies to your scanner, audio video system, photocopier, etc…
11. Turn Off Everything Before Going to Bed
This advice often goes unheeded but let me say again: make sure all electrical stuffs are shut off before you get to bed.
12. Air Dry Dishes
You can achieve further saving when you leave your dish drying function out as your do your dish washing. Let them dry naturally.
13. Minimize Opening of the Freezer
If there are stuffs to be brought from your freezer to the fridge, then you should do it all at one go. Opening the freezer multiple times mean it has to work harder to maintain a consistent temperature inside.
14. Check Your Dryer Efficiency
Large articles like bed sheets have a tendency to get tangled inside the dryer. However, if you keep a look out throughout the drying cycle, you can untangle them so they can dry more quickly.
15. Turn Lights Off When Watching TV
There is enough illumination from the TV for you to get up and get around. You don't need more light from other sources. The picture also looks better with the lights off.
16. Shut Off Mains Power
If you don't mind resetting your alarm clocks and TV channels, turn off your mains power as you are on the way out can yield tremendous savings on electricity. This is because electrical appliances on standby still continue to chew up power.
17. Use Lights Conservatively
If it is not dark enough, leave the lights out. Instead of depending on artificial lights as we enter our house or room, just flip the curtain and enjoy natural sunlight.
18. Lights OFF
People have been arguing that as we turn off and on the electrical appliances, more electricity is being consumed. Well, they are wrong! So make a conscious effort to turn off the light as you leave a room – no matter how long you would be away.
19. Make Sure Your Dryer Has the Moisture Sensor
Make sure the moisture sensor feature of your dryer is activated so the machine can shut itself off once it senses the clothes are dry.
20. Turn that Fan Off
If you are done with cooling yourself in front of a fan, turn it off immediately. A fan is only useful when you need some air blowing your way. When you are nowhere near the fan, by simply leaving it on will not achieve the purpose of cooling the entire house down.
21. Turn Off Whatever Not in Use
Similar to the theory about computer, turn off any electrical appliance when you have no need for them. This theory should work for your TV, your computer and games console. There is always the on switch when you need to get back to them.
22. Stop Leaving the TV On When Nobody is Watching it
There is no point in having the TV on as you get busy with things around the house. If you can't afford to settle yourself in front of a TV, then simply turn it off.
23. Watch Less TV
The habit to turn off the TV when you are not really watching could lead you to watch less TV all together, which is a good thing if you plan to save electricity. Anyway, modern flat screen TVs can get very hot when it is on for long time. That could be a disincentive to watch TV. Go do your exercise, gardening or board games instead.
24. Stop Using the Garage Door as the Front Door
Most garage door is electrical powered so every door movement uses up electricity. If you make it back home just for a quick stop, better to leave your car in the driveway rather than opening and closing the garage door. And this is so blatantly clear that it is absurd to say, BUT I will say it anyway: if there is a separate doorway to get to your home from your garage, use it. You really need to open and close the garage door for your car, and then again for yourself.
25. Shut Off the Computer
I have a powerful advice for computer user: if you don't know what to use with that computer, turn tit off. By leaving the computer at idle state, you are simply wasting power.
26. Use the Dehumidifiers Sensibly
Some people habitually leave their dehumidifiers on regardless the time of the day or year. This would surely chew up more electricity. Be reasonable and turf them off when the weather is less humid, especially during late autumn, winter and early spring.
27. Unplug Battery Chargers
When your cell phone, iPod, camera or other device is fully charged, unplug the device and disconnect the charger from the socket. A device that stays plugged into its charger will continue to consume electricity.
28. Stop Using Too Many
Go around your house and take off every second light bulb. You will realize that you don't really need so much light in the first place.
29. Unplug Your Games Console
Remember as you turn off the console, it continues to chew power so unplug it from the wall socket.
30. Unplug Your Phone Charger
You may have disconnected your phone from its charger but the charger is still chewing power if it is not unplugged from the wall socket.
31. Soak Your Dishes
Overnight soaking can be a good strategy to deal with the tough food stains on your dishes. Come next day, you can even afford your dishwasher an easier task by turning on an energy conservation cycle.
32. Check Your Dryer Before the End of the Cycle
You may have set the dryer for 90 minutes, but there is no telling if the items can get dry before the time is up. Check the dryer before the cycle ends! If there are already dry, you can remove them from the dryer and turn it off. Even if only partial laundry is dry, by removing them, you could hasten the drying process of the remainder laundry.
33. Half-Dry Clothes
It is a good idea to extract half damp items from the dryer as this will prolong the lifespan of the items. On the energy side, you would be turning on your dryer for a shorter period of time, obviously helping you to save precious electricity dollar. And the fact that you would be air cooling them, the dryer is left on for a shorter time span as well.
34. Wrinkle Shield Feature is a Waste of Energy
This is a feature that irks me a lot. The Wrinkle Shield will run the dryer for a good couple of minutes at the end of every five minutes interval, just so it could stop the clothes wrinkling inside. If you are not attending to the dryer, it will be running almost the entire time.
35. Minimize Opening of the Fridge
If you need to move ingredients out of the fridge as you prepare your meals, make sure you transfer everything necessary all at once. The same theory goes for all the toppings to accompany your sandwich. When you open the fridge less, it doesn't have to work as hard.
36. Clean Fridge Coils
Clean and uncluttered coils ensure the fridge would operate optimally (guaranteeing cold content) with less electricity.
37. Put Scanner on Sleep Mode
This allows automatic shutdown of your scanners after use, without you consciously reminding yourself of doing so. And yes, you can still save electricity.
38. Put Printer on Sleep Mode
This allows automatic shutdown of your printers after use, without you consciously reminding yourself of doing so. And yes, you can still save electricity.
39. Put Fax Machine on Sleep Mode
You don't want to switch off your fax machine entirely as there could be important fax coming through at the least anticipated time. But you can put it in sleep mode so it can still does its work when required, without the full extend of power needed when it is on fully on mode.
40. Turn Off Your Games Console
Whether it is a Nintendo, an X-Box or a PlayStation, the game console would continue to chew power even if leave it idle so make a habit to save the game and turn it off when you are done or going for a break.
41. Have Bread Not Toast
Bread not toast represents a significant saving on the breakfast table. Fresh bread may be a novelty in modern lifestyle but it surely does not need any electricity. So there is some loose change or perhaps even more for you if the entire family happens to be bread eaters.
42. Run the Dishwasher When its Full
Until you have full load, don't even think of turning on your dishwasher. Habitually turning to your dishwasher when you have less than a full load is going to waste all that power and water in the long run.
43. Unplug the Second Fridge
If your second fridge serves no other reason than chilled beer and other drinks for parties, there is no reason to keep it plugged all the time. I would even suggest to do away with that second fridge all together.
44. Rotate Cordless Phones in One Charger
I don't know why but people have been saving that using just one charger at a time could yield decent saving.
45. Take Advantage of the Standby Feature of Your Computer
This is a standard feature that you can manipulate easily. You decide what is the time-out period and your computer powers down on your instruction.
46. Air Dry Your Hair
Sure, hair dryer provides instant gratification, but you need to ask yourself if there is a real need for this electrical appliance? Are you in a hurry, or are you going to catch a cold if the hair is not dried quickly? I suppose not, so I keep a habit of washing my hair at night and the great thing is that it becomes all dry as I wake up in the morning. In case you still don't catch it, it is free.
47. Have a Light Free Day
Do without light for just one day every week. Take your spouse, children or family onboard and challenge them to a lifestyle minus light for just one single day. It is not going to be total darkness; you may still enjoy a romantic candle-lit dinner – but you can already count on the saving you achieved on your utility bill.
48. Use One Less Light Bulb in Your Garage Door Opener
Most modern garages are equipped with automatic "light-on" feature as somebody enters the garage. Problem is that they probably can be fixed with just one bulb instead of two. I took off one of the bulbs and now the brightness is more to more liking, check out yours! enough light.
49. Garbage Belongs to the Garbage Can Not the Sink
A garbage disposal system built into your sink can offer great convenience, but do you really need it? I rather I have a physical bin where I can dump my garbage.
50. Microwave Light Can be Disconnected
I fail to see why the microwave oven needs to be equipped with a light bulb when most people who can afford to invest in a microwave oven probably enjoy immaculate lighting at their kitchens. But back to the subject of saving electricity, you can unplug the light bulb safely, secured in the knowledge this is not going to be a life changing experience.
51. Porch Light isn't Always Necessary
If nobody else in the family is still partying out there, why should the porch light need to stay on? If you are the last one to hit home, make an effort to switch it off.
Also, if your residence is well-lit with the surrounding street lamps, is there a reason to leave the porch light on at all? Have a habit of returning home late? The street lights, coupled with the moonlight, should shine ample light to find your way or key to the door. For me, I can always count on the flashlight feature on my phone.
52. Use a Single Power Board
A power board is an amazing thing. Once you get all the electrical appliances all hooked up to your power board, you resume full control on all of them. You decide which one to goes off and which one to stay on, be it the appliance is in the lounge, the study room, the bedroom, the kids' rooms, etc… This way, you can keep wastage to a minimum and you also solve the problem of standby power.
53. Raise the Fridge Temperature
People have the tendency to set the thermostat at the coldest setting. Granted, you don't have to turn up to the temperature so high that allows roasting inside your fridge. But by going a few notches up, your fridge would have an easier time to operate optimally.
54. Raise the Freezer Temperature
What I said on point 58 is just equally applicable to freezer. There is absolutely no need to get to the coldest setting unless your freezer is packed to the brim.
55. Use Manual Gardening Tools
You can trim those bushes and hedges in your garden just as effectively with manual shears instead of powering up your electric trimmers.
56. Use a Manual Can Opener
Manual can opener still works as well as its electrical variant. Most importantly, there is no additional fee when you use it to open another can.
57. Shovel Snow by Hand
Manual shoveling of snow by hand should always be preferred over your snow blower as the act comes from you solely and does not require electricity. It is also a good work out if you have been indulging yourself with winter feasting.
58. Put Some Distance Between the Stove and the Fridge
The logic is simple, when you place an appliance (the fridge) which is tasked to keep the content cold near to a heat source (the stove), obviously that fridge will have to work a lot harder to keep cool. This problem can be intensified when you regularly open the fridge while you're cooking.
59. Use Brighter Colors
Your preference for light paint colors will help to minimize the need for more lighting as light paint reflects light excellently and naturally.
60. Give Your Electronics a Holiday
Just as we need holiday, your electrical appliances long for a break as well. When you are traveling, unplug all the clock radios, DVD players, game consoles and TVs. In fact, if you are going to be away for an extended period of time, think of clearing the fridge so it can be unplugged too.
61. Use a Rake to Gather Leaves
A rake should be preferred anytime over a leaf blower. It does not require electricity and you get a work out.
62. Keep Your Freezer Full
A fully filled freezer would use less electricity as the frozen items will help to keep the temperature inside the freezer cold.
63. Clean the Dishwasher Drain
In order to keep your dishes clean, your dishwasher has to be clean, as well as the water coming through the pipe. When you are able to maintain such immaculate condition, you will find yourself spend less time rewashing the dishes, thus save electricity along the way.
64. Clean Up that Dryer Lint Trap
A clean lint trap can be useful to get rid of the moisture inside the dryer. This way you have a more efficient dryer and it will take less time to operate satisfactorily.
65. Only Run Full Loads of Laundry
If you run at full loads, you need not transfer items across to the dryer as frequently. As a result, the dryer runs less often and you save electricity.
Final Words
There are always ways to cut down on your electricity bill. In fact, I am sure if you look around, you are going to find many more saving opportunities beside the ones mentioned above. But be sure to share it with us by leaving a comment below.
Have You Read These?...