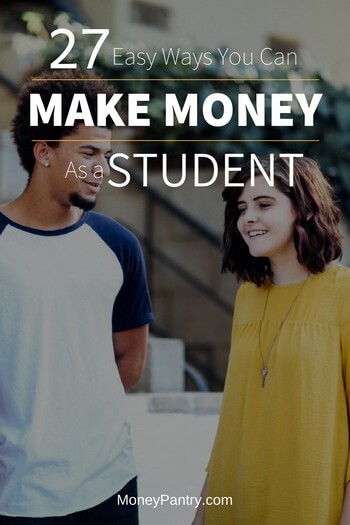 If you are a high school or college student trying to earn extra cash, we've got you covered.
Keep reading to learn some of the most proven and awesome ways you can make money as a student as well as the sites that help you do it.
Some of these sites require you to be over 18 but many don't. If you are under 18, be sure to consult your parents before taking any jobs.
Surevy & Rewards sites
One of the best ways, not only for students but for anyone really, to make extra money is through surveys and rewards sites.
With many of these sites, you basically get paid for things you already do, like watching TV, searching the web, answering trivia, shopping and more.
Here are some of the best ones:
1. Swagbucks
Swagbucks is really one of the best rewards sites out there. You earn points (which you can redeem for cash and gift cards) by watching TV, playing games, shopping, answering surveys and more.
And the best part is that if you sign up now, you'll get a free $5 bonus just for joining.
2. InboxDollars
This is one of my favorite rewards sites. And one of the few sites that not only pays you for taking surveys, shopping and playing games, but it also pays you for reading emails.
And just like Swagbucks, they also give you $5 sign up bonus.
Babysitting
One of the best ways to earn money if you are a student is by babysitting.
These jobs often occur in the evenings, so they don't get in the way of school.
Here are some sites that make it easier to get and find babysitting jobs.
3. Care.com
This site provides clients access to a large network of caregivers in your local area.
By joining this site, you can get jobs for:
Childcare
Senior care
Pet care
Housekeeping
Tutoring needs
They also have an app to make communicating with clients easier.
4. Sittercity
On this site, connecting sitters and families is much easier than advertising through word of mouth.
On the app, you can get instant notifications about new jobs near you, apply to jobs and message parents right from your phone, and filter your search to find jobs that fit your schedule.
5. Bambino
With this site, you can set your own pay rate, update your availability whenever you want, and get paid directly.
The more recommendations you earn on the site, the broader visibility you'll have in your local network.
The youngest a sitter can be on the site is 13 years old, which is great if you are a young high school student trying to get job experience.
Resell Old Stuff
If you have a lot of clothes you've grown out of or simply don't like anymore, then sell them!
You can actually earn a lot of money selling old junk and clothing using the sites and apps mentioned below.
6. Grailed
For men who have a good sense of fashion, Grailed is the best place to sell your old clothes.
It's an online marketplace to buy and sell menswear. Listing clothes is quick and easy, and you get paid instantly when someone buys your items.
7. Poshmark
You can sell any clothing and accessories on Poshmark with just three easy steps:
Take a photo with your phone and upload it in less than 60 seconds
Share your listing for shoppers to discover
Earn money and ship your item easily with Poshmark's pre-paid shipping label
"I've been using Poshmark since 2014. I've sold 124 things and earned $1,664. (That comes out to an average of $13.40 in earnings per sale, and 2-3 sales per month.) I've sold everything from Target & H+M clothing to vintage or new leather goods (Coach, Cole Haan)," said one Reddit reviewer.
8. Depop
With this site, you can sell your clothes, original creations, art, books, and more just by taking a photo.
There are over 7 million users on the site who are buying and selling items, meaning it's easy to find customers for your store.
The company also hosts community events called Depop parties in places such as New York and Los Angeles.
9. Tradesy
Tradesy is another clothing resale site, only this one focuses on high-end brands.
If you have any high end or designer clothing you'd like to get rid of, this site is great for getting the most money for your items.
They also provide you with a free shipping kit to make the shipping process easy.
10. Thredup
This site is a great place to sell high-quality used clothing, both women's and children's.
They are one of the largest online secondhand shopping sites, with almost 15 thousand new items being added every day.
11. eBay
If you want to sell more than just clothing, eBay is a great site for that.
Millions of people all over the world use eBay.
You can either have a set price for items or let people bid on them.
It only takes a few minutes to list something and then you're good to go.
12. Etsy
If you have any handmade or antique items you want to sell, Etsy can earn you a lot of money.
In only costs $0.20 and a few minutes of your time to list an item.
Over 33 million buyers have used Etsy, making it a great place to find customers.
Neighborhood Jobs
If you want to earn money without going far from home, then we found the perfect app for you.
13. Nextdoor
This app allows you to find jobs for yard work, car washing, house sitting, and housekeeping within your own neighborhood.
It's a free and easy to use private social network just for your neighborhood.
If you are under 18, be sure to consult your parents before taking any of these jobs.
Pet Care and Pet Sitting
Wanna make money as a pet sitter?
You'd be surprised how many people need to hire caretakers for their pets.
With these apps and websites, you can find all sorts of pet sitting jobs and any job related to animal care, really).
14. Rover
Rover is great if you are interested in pet sitting or animal boarding.
You can set your own schedule and prices, as well as many kinds of pet care services.
You can also set size, age, and pet type preferences.
15. PetSitter.com
This is a great site for finding local pet care and animal sitting jobs.
There are thousands of pet owners hiring animal caregivers on the site.
Teach and Tutor
If you happen to be good at a specific subject, why not earn money by teaching people how to do it?
Here are a few sites that can help you do that:
16. Chegg Tutoring
With Chegg, you can earn lots of money tutoring whenever you want, wherever you want.
You get paid +$20 an hour every week to tutor in the subjects you choose.
As you build a happy customer base, your reputation will get better and you'll have more chances to teach more students.
17. Tutors.com
This is similar to Chegg except that you get more flexibility with your pay.
You send quotes to students and they can pick whatever tutor sends them the best offer.
Lifeguarding
Getting a job as a lifeguard is a great summer job for students.
All you need to do is take a certification class and then you're ready to go.
18. RedCross
You can find classes near you on the Red Cross website.
Blogging and Vlogging
Many people don't realize that you can earn money by having a blog or vlog.
This is both a fun and unique way to earn money if you stick with it.
Once you have a big enough following, you can put ads with Google Adsense on your site and sell sponsored content.
Some of the sites you can use to host your blog are
19. WordPress
20. Tumblr
21. Blogger
And if you want to have a vlog, YouTube is a great site for that.
Photography and Art
If are interested in photography or art, why not try making money off it?
Here are a few sites that let you do that:
22. Foap
You don't need a fancy camera to sell photos.
If you have a smartphone, just download the app Foap and start selling your pictures there! You can upload unlimited photos and get paid quickly through PayPal.
23. Redbubble
This site is great if you want your art or photos printed on a variety of products.
Once you upload your work, Redbubble will handle the shipping and product creation for you.
All you need to do is advertise your store.
24. Society6
Society6 is like Redbubble, but they have a lot more product options.
You can get your photos and art printed on shower curtains, blankets, and more.
Writing
There are tons of sites that pay you to write articles online.
If you enjoy writing or sharing your opinion and want to get paid to write, these are some of the best-paying sites for writers.
25. Constant Content
This site is used by tons of businesses like Uber, Walgreens, and The Home Depot.
As a writer for them, you create content for these businesses.
You get to set your own price, and some of the top writers earn up to $90,000 a year.
26. Slice the Pie
This is another site that pays you to write reviews.
Every review you complete, you earn cash. Some categories pay more, so try leaving reviews for different brands.
Sell Used Textbooks
As with most students, you probably have old textbooks that you longer need or use.
Instead of letting them gather dust in the basement, why not sell your textbooks?
Don't know how and what site to use?
Check this out…
27. BookScouter
There are tons of sites where you can buy and sell used books, but checking them one by one to find out which one gets you the most money for your textbooks will take forever.
Thankfully, BookScouter is here to help!
BookScouter is basically a book buyback search engine.
Here's how to use it:
Step 1: Visit the homepage.
Step 2: Enter the book title or ISBN and hit search.
Step 3: BookScouter will then search its database of over 40 book buyback sites to find you the ones that pay you the most for your book.
Step 4: Click on the site with the highest offer and sell your book to them.
These sites normally will give you a prepaid shipping label (you can print it instantly) which you can sue to ship your book(s) to them for free. You get paid a few days later.
The Bottom Line
Hopefully, these methods will help you earn the money you want while being a student.
Have you tried any of these sites to earn money as a student?
Let us and our readers know what your results were in the comments below.