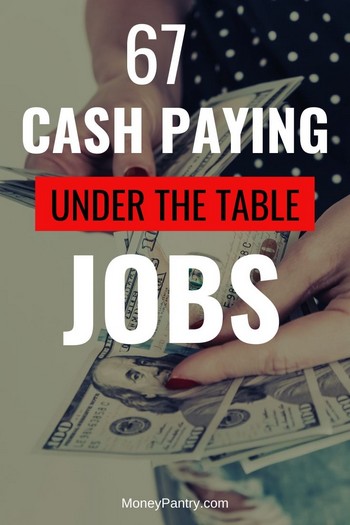 Checks and direct deposits are good.
Sometimes though, we want cold hard cash!
That's why under the table jobs can be so appealing.
These gigs are flexible too because you can do them on a part-time or even full-time basis.
In this post, I'm going to list some under the table gigs that you can try out.
There are so many different things you can do! And the best part is that with some of them you can actually make money fast.

Need Easy Extra $300+/Month for Free?
KashKick
: Get paid directly into your PayPal for watching videos, surfing, shopping and more.
Join KashKick Now!
Panel Payday
: Earn up to $75 per survey. They also pay up to $50/hr for mystery shopping.
Join Now!
InboxDollars
: Paid over $57 Million to members to watch videos, take surveys, shop and more.
Get $5 instantly!
Branded Surveys
: Get $1 instantly just for joining for free. Plus get paid within 48 hours by PayPal!
Join Branded Surveys
First Opinion
: Wanna get paid for every single survey (+ high paying online focus groups) with cash or direct deposit? This is for you!
Join Now!
Swagbucks
: Get paid to watch videos, shop online, take surveys and more.
Join now & get $5 instantly!
Under Table Jobs Meaning
What does it mean to "get paid under the table"?
To put it bluntly, it's work (and wages) that's not reported to the government. So you work "off the books" and basically make money without a real job!
There may be other reasons why some people do it but mainly it is so you can avoid paying taxes on it.
Before I get started though…
I'm not advocating you hide your income and avoid paying taxes on what you earn with these side jobs. It's obviously your decision. But in general, any money you earn should be declared on your taxes. Even if it's cash, you need to declare it – otherwise, it's income tax evasion.
So, even though the jobs below pay cash, you need to treat them like any other source of income.
These jobs, although "under the table" should be treated just as though you were working as a contractor.
It's not worth hiding the cash-income you've made. Plus, you likely won't have to pay much in taxes anyway if you make less than $30,000 a year as an individual.
Now that's out of the way, let's get started on the list.
Jobs that Pay Under the Table
Okay, in this section, I'm going to list some jobs that can pay cash.
Now, after I've listed these jobs, I'll cover places where you can find these gigs in detail. For some of these jobs, I'll give you a few ideas of where to find work in that particular job section.
So, for pet-sitting, I might say, check out Rover.com, but for most gigs, I'll just list the job idea.
Then below, I'll cover tips and tricks and specific sites for finding under the table jobs in general.
Now, that's covered, on with the list!
Here are some awesome jobs that can be cash-paying:
1. Caterer
Cater to private parties and events, like weddings and make some extra cash. This can be a particularly good gig around the holidays. Sometimes caterers need help for the day with serving food, setting up trays or delivering to a certain location.
2. Cleaning
People are always looking for someone to clean their home. Offer your cleaning services on Facebook or Craigslist and make some extra money. Or look for cleaning gigs on Housekeeper.com.
3. Selling crafts
My mother-in-law and her sister make money selling their crafts. It's a good side gig that you can easily fit in even if you work full-time. Go to craft shows at the weekend with your handmade crafts in tow to make some extra cash. If you don't want to go to a local fair, then you might be able to advertise your crafts for sale on Craigslist or Facebook.
4. Pet sitter
Make some extra cash with pet-sitting gigs. You'll get paid to look after cats, dogs, and other animals. It's a fun way to make money. Check out PetSitter.com and Rover.com for pet-sitting jobs.
5. Dog walker
Another gig to try out if you like animals is dog walking. Lots of busy owners need someone to walk their dog while they're at work. Give this one a go to put some extra cash in your pocket.
6. Driver
Check out the "rideshare" section of Craigslist and you can usually find someone that's looking to pay for a ride somewhere. Some people just don't have a car and rely on lifts from other people and others need a designated driver!
7. Selling stuff at the farmer's market
Most towns have a farmers market sometime during the year. Some towns have them every weekend or every month.
You could rent your own booth and make money selling stuff, like homemade dips, jewelry, and vegetables.
8. Selling firewood
If you have access to firewood, whether you live in a rural area or just have it lying around the house, then consider selling it and delivering it to people. During the winter months you can harvest some firewood and sell bundles to make a few extra bucks.
9. Gardening
Do you like gardening? Then turn it into a cash paying gig. People are always looking for someone to help with their garden, and are generally willing to pay cash.
Someone might want help with weed pulling, or an elderly person may not be able to tend to their garden, so they want to pay someone to do it, or someone might just be too busy and need a gardener. This could also be a seasonal job in some parts of the country.
Gardening could turn into a weekly gig for some people!
10. Hosting a garage sale
Hosting a good old fashioned garage sale is a good way to make some extra cash.
Declutter your home, and then host a garage sale at the weekend. Not only will you tidy up your house, but you'll make some cash too!
11. Interpreter
You should consider working as an interpreter if you speak more than one language, like Spanish or Mandarin.
12. Junk hauler
You can make money taking people's garbage to the local dump or hauling away junk, like used electronics or other items to the recycling center or dump.
As dump fees are so small, you can make a big profit from this, even after the fees and the cost of gas have been deducted.
This is a good local gig for making a little extra cash.
13. Manual labor/Odd Jobs
Doing odd jobs like painting someone's living room, running errands, cleaning up someone's yard, or assembling furniture is a good way to make a little cash. Good places to find odds jobs are Selling Services on Amazon, TaskRabbit, Gigwalk, and NeedTo.
14. Lawn mowing
One of the best ways to earn cash is by mowing lawns. Some people just don't have time to mow their lawns and others just don't want the hassle of doing it themselves, so they're willing to pay someone to mow their lawn for them.
15. Mover
Another easy way to make money is to work as a mover. Whether it's helping people to move house or dorms, lots of people need help moving their stuff, so they're willing to hire movers like you. Bellhops is a good place to look for moving jobs.
16. Playing music gigs
Do you play the guitar?
Or maybe you have a band? Well, there are lots of bars, restaurants and other establishments that are looking for good music.
This means you can make money playing music! You don't need a group either – you could be a solo act. You can set-up a website, and promote your services online. Or you could even get some business cards made and then hand them out to restaurants, bars, and other places that need music.
17. Painter
Painting people's homes is an easy gig that pretty much anyone can do to make a little extra money. There are lots of homeowners who need painters to paint a fence or a room in their home.
Also, paint crews often need help with prepping, painting, and cleaning up a job site.
18. Personal assistant
Personal assistants help people with a variety of tasks, like grocery shopping, and booking doctor's appointments.
Make a list of the tasks you can do, like sending emails, shopping, and making appointments, and then offer your services as a personal assistant.
Lots of people are busy, so they're willing to pay people like you to be their personal assistant.
19. Photographer
Do you take good photographs? If so, consider working as a photographer.
People are always looking for photographers to take photos for events, like graduations and weddings, and of their loved ones, like children and pets. Start by putting together a portfolio and then advertise your services.
20. Rent out a room or your entire home or apartment
Make money renting out a room in your home or your entire home or apartment. Airbnb is a good choice, but this won't pay cash. So you could advertise a room for rent in the classifieds.
21. Reselling discounted items
Pick up items from the clearance department and resell them for a profit! You can sell online or locally.
Aside from the clearance aisle, you can also find discounted stuff at the thrift store, and at places like TJ MAXX, Marshall's and Ross. Some people make a living from doing this.
I once saw Chanel nail polish for a really low price at my local TJ MAXX – and you can always find lots of other deals on great brands there.
22. Salvage
Scrap metal, like copper, can be really valuable. Browse the classifieds and ask around your neighborhood to find people who need to get rid of stuff. Whether it's copper tubing or an old appliance, offer to remove anything that's made of a valuable metal.
Most people will just see their old appliances and stuff like that as junk, but even if these items don't work, they still contain valuable metal, meaning you can make money.
Take scrap metal to the scrap yard and make money from it!
23. Sign worker
You could be the person on the side of the road spinning a sign or just holding one. A lot of retailers and companies need someone to stand on the corner for a few hours of the day. Take some headphones with you to listen to your favorite album or podcast and the time will fly by! Lots of companies advertise gigs online.
24. Snow removal
In snowy places, lots of people are looking for snow removal services, so this is a gig to consider.
Now, don't worry – you won't need a huge pickup truck with a snowplow! A snow-blower or even a snow shovel will work great. Hand out flyers, join local Facebook groups or post on Craigslist to promote your snow removal services.
25. Street entertainment
Do you live in a touristy area, like Las Vegas, Los Angeles, or New York City?
Then you might want to consider being one of those street entertainers that you often see in these busy cities. Of course, you'll need to check your local laws to check the rules for street performances in your city.
Just find a good spot that's not obtrusive and this could be a really fun way to make money for the afternoon.
26. Tour guide
Do you know a lot about your local area? You might want to work as a tour guide! You can find gigs on places like Indeed, LinkedIn, and SimplyHired.
27. Tutoring
Tutoring people can be a great way to make money. You can advertise on Facebook and let family and friends know that you're offering tutoring services.
28. Uber driver
Driving for Uber doesn't pay cash, I know.
But you can make cash from tips!
Not all rides will garner tips. Be polite and professional and many people will tip you. Delivering for food places too like Uber Eats and DoorDash are great for making cash from tips.
29. Website developer
If you know how to create a website on a platform like WordPress, then you might want to work as a website developer. There are lots of local businesses who need someone to design a website for them.
30. Writing
Do you have a way with words? Give writing a try! There are lots of people and websites that pay writers to write content for them. You could write articles for the website of a local business, for example. If you don't have a degree or writing experience, just get together a great portfolio of writing samples!
31. Proofreading
If you're good at spotting typos, maybe give proofreading a go? It's another good side gig that can often pay cash.
32. Babysitting
Babysitting is another cash-paying gig that you might want to consider. Sites like UrbanSitter, Sitter.com, SeekingSitters, SensibleSitters, Care.com, SitterCity, and Bubble are good for finding work.
But not all websites will offer cash-paying gigs. So it can be a better idea to advertise your services locally.
33. Personal trainer
Being a personal trainer can pay cash. Make sure that you keep safety in mind though with this one.
34. Nanny
This is sort of like babysitting, but it requires more of a long-term commitment. You might also have to help to teach the children, and you generally work with one family for a long period, rather than picking up gigs every now and then as you would with baby-sitting.
35. Bicycle repair
Lots of people cycle nowadays either for health reasons or just as a more cost-effective form of transportation. This means that bike repair skills are in demand. Repairing people's bikes can be a good side income.
36. Appliance repair
Another thing you could get paid to repair is appliances. You can get paid to repair home appliances or to do repairs for laundromats.
37. Jewelry-maker
You could create custom jewelry and sell it to people. There are lots of craft shows you could take them to. You could also advertise your wares on Facebook.
38. Yoga instructor
Yoga is super popular nowadays. Make money from this trend by teaching yoga. Advertise your services in your local area. Teach people in their homes. Or rent a small space if you have the money, and hold a class! You could even teach groups in a workplace setting.
39. Dance instructor
Lots of people are looking for dance lessons, whether they're looking to learn Salsa or ballroom dancing. If you have the money to rent out a small studio, then you could teach a class. If you already have a space, teaching dance classes can be a great way to make some extra cash.
40. Martial arts instructor
Do you know a martial art? Maybe it's karate or Tae Kwon Do. Consider teaching a martial art. It can be a good way to bring in some extra money.
41. Boxing instructor
Being a boxing instructor is another good way to bring in some money. You just need a small space to start teaching, and you can advertise your services locally.
42. Selling antiques
Sell antiques and you can make quite a bit of cash. You can buy and refinish old furniture. And you can sell these antiques at antique fairs and through online ads.
43. Upholstering furniture
A good way to make money is to repurpose old furniture. You can easily do upholstery repairs, and earn some extra cash.
44. Selling produce
Grow and sell your own vegetables, fruits and herbs. Selling your own produce, whether that's by renting your own space to sell from at the farmer's market or local fair, or setting up your own roadside stand.
45. Selling used books
Selling used books is a good way to bring in an income. You can advertise them for sale on Facebook, and to people nearby.
46. Marine mechanic
Do you live close to an area that has a lot of waterfront vacation properties?
If so, you could make money as a marine mechanic. You can offer marine engine repairs, or to fix or rebuild boat motors.
47. Dog washing
Another job to consider if you like animals is dog washing. Offer a dog washing service to people nearby.
48. Delivery service
Delivering stuff, whether that's food, groceries, or alcohol is a good way to earn a side income.
49. Bicycle courier
You can make money working as a bicycle courier or messenger if you live in or near a big city.
50. Computer repairs
You could get paid to repair people's computers for them. Or you could refurbish and resell computers or laptops. You could even build computers for people.
51. House-sitting
Give house sitting a try. You'll need to look after a property while the owner is away. Your tasks may include things like bringing in the mail, watering the plants, and picking up flyers in the door.
52. Carpet cleaning
Offer to provide carpet cleaning services to people locally. You can get portable steam cleaners that aren't that expensive that can help you with your cleaning work.
53. Janitorial work
Janitorial work is also another gig to consider. You can get equipment like floor-buffing machines second-hand, and you can also get mop buckets and vacuum cleaners at a low price. So you could easily offer some janitorial maintenance work.
54. Small engine repairs
You can make a good income repairing things like landscaping equipment, riding lawnmowers, and farming equipment.
55. Selling collectibles
You can sell collectibles like stamps and sport card collections for cash!
56. Hairdressing
Get cash through hairdressing. You can offer hairdressing services for cash in people's homes. You'll earn more money if you're a good color technician as well.
57. T-shirt printing
You can buy screen-printing equipment on Amazon for a pretty low price, so selling t-shirts can be a good side gig. Some people even make a full-time income from it!
58. Busker
Being a busker or street musician is another one to consider. Plus, you not only get cash, but you get more exposure for your music! Just check your state's laws to make sure you can legally perform music on the streets.
59. Historical reenactment fairs
At historical reenactment fairs, things ranging from period clothing to books are often sold. So you could make money selling stuff at your local historical reenactment fair.
60. Dressmaking
If you have sewing skills, give dressmaking a try. Whether it's a wedding dress, a prom dress or a costume for a historical event, you could make money offering dressmaking services.
61. Computer data recovery
Sometimes hard drives fail or get damaged – you should always back up your stuff! I've learned that the hard way in the past, so now I always back stuff up!
Unfortunately, people don't back stuff up. So when their hard drive is damaged then they need someone to recover their files. You can get software, like data recovery tools from Linux, that can help with data recovery, so this can be a good way to make money.
62. Golf instructor
Being a golf instructor is another good way to make extra money.
You could make money offering private golf lessons near you.
63. Disk Jockey
There's always a demand for DJs, whether it's for private parties, weddings, or business parties, or at local bars and clubs.  So you can make money working as a DJ.
64. Resume writing
Get paid to write people's resumes for them. Lots of people would like to improve their resumes, meaning this can be a good business to get into. You can advertise your services locally and earn cash.
65. Graphic design
From logos to t-shirt designs, many companies need to hire graphic designers to create designs for them. You could advertise your graphic design services on Facebook and Craigslist.
66. Bottle redemption
Okay, so redeeming bottles for cash isn't exactly a job. But, it's still an easy way to put some extra cash in your pocket. Ten states will pay you for returning your bottles and other beverage containers to bottle redemption centers, grocery stores, convenience stores and gas stations. You won't get a ton of money per bottle, but you will get some extra cash for something that you'd otherwise have thrown away.
67. Makeup artist
People often hire makeup artists to do their makeup for their wedding, or prom, and for lots of other occasions as well. So you could make cash working as a makeup artist.
Where to Find Under the Table Jobs
Okay, so above I covered lots of cash paying gigs.
But where exactly can you find these under-the-table jobs?
Well, there are lots of websites where you can find cash paying gigs and advertise your services.
Let's take a look at some great sites for finding jobs that pay you in cash.
Craigslist is definitely the best site for finding cash-paying gigs.
There are a couple of ways to find under the table gigs on Craigslist.
First of all, you can advertise your services on there, whether that's gardening or freelance writing, to people near you.
Secondly, you can also browse jobs that people have posted on there in the "gigs" section.
When I looked in the "gigs" section for my city, I found ads for many of the jobs I mentioned above, like makeup artists, movers, and graphic designers.
You can even filter gigs by category, like labor gigs, creative gigs, and writing.
So look at the "gigs" section on your city's Craigslist site.
Most cities have local Facebook groups that you can join. You can advertise your services or you can search a group for people who're looking for help with something.
Of course, check the rules of the Facebook group to make sure you follow them to keep the mods happy.
For finding gigs, Facebook isn't as good as some of the other options in this section, but it's still worth checking on there for work. And advertising your services on Facebook, whether you're a gardener or a hairdresser can be a good way to get work nearby.
Indeed is one of the top job search engines out there. And it actually has a section where you can find employers paying employees cash on the side.
Really!
At the time of writing, there were lots of jobs to choose from, like personal trainer and dishwasher.
What's great about the site is that you can enter your email address and get jobs sent right to your inbox.
Simply Hired
Like Indeed, Simply Hired offers under the table gigs.
I found two sections on Simply Hired:
There were lots of jobs available on the site, so have a browse of available gigs.
On Care.com, you can find listings for many of the jobs that we mentioned above.
You can find gigs in these categories:
Child care
Tutoring
Senior care
Pet care
Housekeeping
Of course, not all gigs will pay cash, but many will.
It's definitely a good site for finding jobs.
Nextdoor is a private social network for your neighborhood. With the site, you can keep up to date with what's going on in your neighborhood. What's good about the site is that you can use it to find work near you People use the sites to find babysitters, plumbers and other people to do work for them.
Closing Thoughts
There are lots of different side gigs out there. And there really is something for everyone. Whether you'd prefer something creative, like writing or graphic design, or a more physical job, like helping people to move or cleaning, there's sure to be an under the table job on our list that suits you.
Let us know about your favorite cash-paying gigs in the comments section below.