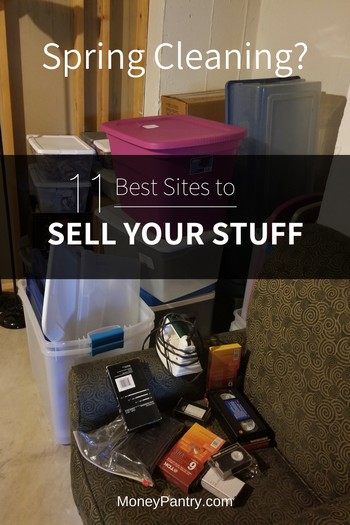 Even though we call it "Spring Cleaning", it's really always a good season to clear out the unneeded stuff from your house.
Sure, it might be a little harder hauling the stuff out of your house in the dead of winter but since you're probably going to be inside for most of the season, all that extra space will be worthwhile.
Another good reason to clean out your house is because there are plenty of ways to make money from it.
You wouldn't want to limit your money-making abilities by season, would you?
Below, we'll be listing 11 ways that you can sell your stuff online and recoup some money from past purchases.
There are a variety of options; some dealers specialize in sporting goods, and some want designer bags, but there is definitely a place that will take your goods regardless of how you spend your money.
Need Easy Extra $300+/Month for Free?
KashKick
: Get paid directly into your PayPal for watching videos, surfing, shopping and more.
Join KashKick Now!
InboxDollars
: Paid over $57 Million to members to watch videos, take surveys, shop and more.
Get $5 instantly!
Branded Surveys
: Get $1 instantly just for joining for free. Plus get paid within 48 hours by PayPal!
Join Branded Surveys
First Opinion
: Get paid up to $10 per survey and $300 per virtual focus groups!
Join Now!
Swagbucks
: Get paid to watch videos, shop online, take surveys and more.
Join now & get $10 instantly!
Of course, you shouldn't try to resell something that's in terrible condition, but that goes without saying.
1. BookScouter – Book selling comparison site
BookScouter is the resale site for all you book lovers (or college students) out there.
How it works is that you punch in the ISBN of your book and BookScouter checks the prices of over 50 different book buyback sites to tell you where the best price is.
The service is free.
So how does that work, exactly, since this isn't a forum or community site?
BookScouter sustains itself by having sponsored sites, so this takes the strain off of you, the bookseller.
It's a quick and easy way to get rid of your books for some cash, so it's definitely nothing to overlook if that's something you're interested in.
To learn how to get the most out of BookScouter, read my review.
2. Gift Card Granny – Exchange your gift cards for cash
This is a good one to start with, because it's something I'm sure we can all relate to.
Gift cards have fulfilled quite a significant role in the way of "last-minute gift ideas" and so it is increasingly common to get them for holidays.
It's not that nobody appreciates them, but if you get multiple gift cards in a year, chances are that you're not going to want all of them.
If you've ever gotten a gift card and thought, "I wish I just had this card as money instead," then good news! Gift Card Granny will exchange your gift cards for cash.
There are only things to keep in mind if you want to use this service:
The first is that you don't get your exact value in return. The website will tell you what percentage of the value they'll give you back, and it's usually between 75% and 95%.
The second is that the gift card must be worth at least $20, but not worth more than $300.
Otherwise, just mail your card into the company and they'll mail you back a check.
You can also buy discounted gift cards up to 50% off.
3. Chairish – Sell your cool furniture
Chairish is a company that specializes in furniture resale (and in punny names, evidently.)
They are particularly focused on antique or vintage furniture, as the chic name might imply, and the customer base is people who are interested in stylish furniture.
You may be interested to know that this website is actually the product of a husband and wife, Gregg and Anna Brockway (and you might be further interested to know that Gregg is the co-founder of the travel website, Hotwire!)
If you are looking to sell furniture on the website, you can make an account for free. Then you take some pictures and provide an asking price.
After that, Chairish will calculate their own listing price and then host it on the site so everybody can see it.
If and when you get a customer, you'll get 80% of the agreed-upon listing price, and the company will take 20% for administrative and labor costs.
The shipping is free, too.
If you have small furniture pieces, you'll be given a prepaid shipping label, and if it's big furniture, they'll send some people to come and get it.
If you have any more questions, the site has a very detailed seller's guide that you can access by clicking "How It Works" from the homepage.
4. The Real Real – For brand-name and designer goods
If you or a family member finds themselves with a surplus of brand-name products (in good condition,) this is a website for you!
The Real Real specializes in the resale of designer products.
Like Chairish listed above, making an account is free, and after suggesting your listing price, the specialists at the website will make an appraisal and post the item with their new final price.
Their cut of the profits is somewhat steep, however: the customer keeps 60% of the profits.
The website does provide a pricing guide, for those who want to get an idea of what they can price their item for.
An ideal item is in good condition and still has its tags, though the tags aren't strictly necessary.
The moderators at The Real Real take their designer goods very seriously, and every item submitted goes through a stringent verification process where they are examined for authenticity. If there are any signs that the clothing may be counterfeit, the team will ask you to provide a proof of purchase.
Once you clear through all that, items will be posted and usually sold quickly (usually less than a business week!)
A juicy designer piece, like a Chanel bag, might fetch even more than it was originally worth. Even if not, it will recoup its original price quite nicely, so this is definitely worth looking into if you have any excess goods.
5. InstAppraisal – Free appraisal of your antique or vintage goods
If you'd like to look into the value of your item before putting it towards a more specialized, private seller, then InstAppraisal is a definite for your "to-do" list.
InstAppraisal is a community-driven website. After posting pictures of your item along with whatever backstory you have to offer, the community of InstAppraisal will look it over and let you know how much they think it's worth.
about the worth of the item. These are people who are interested and passionate about classic goods, so their opinions are more well-informed than the average spectator.
The best part about InstAppraisal is that their community services are completely FREE, and always will be. There are no hidden fees for making an account and posting your stuff for the community to review.
However, if you want a professional opinion (or you just want an answer quickly,) InstAppraisal offers an appraisal service through their personal staff members. It's $10 for a staff member to get back to you with a professional appraisal within 72 hours or $15 for one to appraise it within 24 hours.
All in all, these are very reasonable prices, and completely optional.
InstAppraisal seems to be very interested in fostering a community of appraisal, and it's nice that they don't force you to pay them for anything.
6. threadUP – Women and children's online consignment store
threadUP is a large online consignment store that specializes in women and children's clothing. In fact, they don't even want you to send them men's clothes! Sorry men, you can't consign through this place, but below we'll list a man-centric consignment store.
There are naturally standards for what threadUP will accept, so your items must be in good condition.
They have a few other requirements, like the "no boys allowed" rule discussed above, and also a few brands they don't accept.
You can find a complete list of what they do and don't accept on their website.
threadUP, like any good online consignment store, will send you a prepaid clothing bag for shipping, so you don't have to pay the shipping on all those clothes out-of-pocket.
They also offer an earnings calculator on their website so you can appraise your clothes before you send them in.
The payout can go one of two ways:
Get the money upfront: This is usually for low-value items that you're selling in high volume. You get less money back for this option, but it is aimed more at people who are looking to do away with things in bulk and be done with them. Payment on this option is processed as soon as the clothing is received, no need to wait for a sale.
Consignment:This may get you a higher profit margin (and is focused more on high-value, singular items.) The downside to this option is that you will not receive your money until the items are sold, so there is an aspect of waiting.
7. Well Suited – Men's consignment
Alright, boys, this one is just for you!
Unlike most consignment stores which have women in mind, this one is aimed at men.
If you've ever heard of My Sister's Closet, this is essentially the male-mirrored version of it.
Truthfully, Well Suited has a harsh rate compared to the other places on this list. You keep about 45% of the profits from your consignment sales, and the payment is only guaranteed on a sale. That means that after you mail your goods in if they don't sell, you don't get paid.
However, they will be donated to charity, and the company will gladly send you a receipt so you can claim a charitable donation on your taxes.
However, they do offer you the ability to re-purchase your goods (above $50) if they don't sell.
Men get the short end of the stick regarding consignment options, but the service provided here certainly isn't all bad.
If you're not deterred by the information provided, feel free to head on over to the site and see how you feel about it.
8. SwapMeSports – Sell your sporting equipment
Continuing on from the men's interests of the previous entry (not that there aren't plenty of female sports fans,) SwapMeSports is a free to use site that allows you to sell, trade, or donate your old sporting goods.
This site is a lot more "loosey-goosey" than the others, and something more akin to a forum. Simply list your item yourself and set your own prices.
Since it is free to use, you can host all the items you want on here.
To specify, sporting equipment refers to things like baseball gloves, baseball bats, football helmets, that type of thing. Like always, it's best if you have kept the item in good condition, for obvious reasons.
This is a good option for resale if you don't want to get into the nitty-gritty that the other sites get involved in.
9. Gazelle – Tech sales
If you are even casually involved in technology, chances are you've gone through a few phones, computers, and maybe tablets by now. The good news is that so has everyone else, and lots of people are looking to pick up new tech.
Enter Gazelle, a website that will happily buy up your old technology. It can be phones or tablets or computers, but ONLY Apple computers.
Microsoft and Linux laptops will have to be sold elsewhere, and we'll list that place below.
Shipping is free to Gazelle, and they'll tell you what it's worth after they receive it.
Tech devalues very quickly, so you won't be making near what you paid for the stuff, but the newer it is, the better.
If you don't like the idea of getting an estimate AFTER mailing your stuff, you can check around on the website to see what similar items have sold for.
It's important to note that the value of a cell phone will change depending on what carrier it is, due to supply and demand.
Gazelle pays out in three ways:
to PayPal,
as Amazon gift cards,
or they'll mail you a check.
10. Cash For Laptops – Trade in your technology for cash
Cash For Laptops is the website you should head over to if you're looking to sell your laptops if they aren't an Apple product.
The website allows you to do a price check very simply from the homepage, and they will even buy laptops that are dysfunctional due to startup issues or damaged screens.
Their payments are done via PayPal or a mailed check, and the shipping is free.
Cash For Laptops will also buy tablets and phones, in case you didn't want to sell them to Gazelle.
It's important to note: this website does not get good reviews on Yelp. If you aren't willing to take that chance, you probably should just try to sell your laptop on these sites, or somewhere similar with more oversight.
Yes, we'll close out this list with the good old-fashioned option, Craigslist!
Don't want to use the sites listed above?
Don't like the idea of middlemen and service fees?
Or maybe you're just selling something that is hard to fit into a category.
Craigslist is the catch-all for people who are looking to sell anything, even if it's broken or junky.
You can just go to the for sale page of your local area's Craigslist, post your item, and wait for people to contact you attempting to buy the item.
It's as simple of a peer-to-peer system as it could be, and it's a tried and true method of people selling things everywhere.
The blessing of Craigslist is also its curse: there is no oversight. So that means that it's on you to hold your customer to the agreed-upon price or to make sure you don't meet up with anyone shady.
Some people prefer the safety of a mediated service, and others aren't afraid to cut the middleman and get involved directly. For that second sort of person, Craigslist is the destination.
Even if you aren't looking to / capable of selling something, but you want to get rid of it, Craigslist has a "for free" section where you can post stuff and just be done with the whole affair.
Takeaway
Hopefully, this list was comprehensive enough to guide you to wherever you need to go to earn money for your old stuff when you are doing your yearly spring cleaning (or any other time, for that matter).
And if all else fails, there's always the classic eBay, where people will buy just about anything you post.