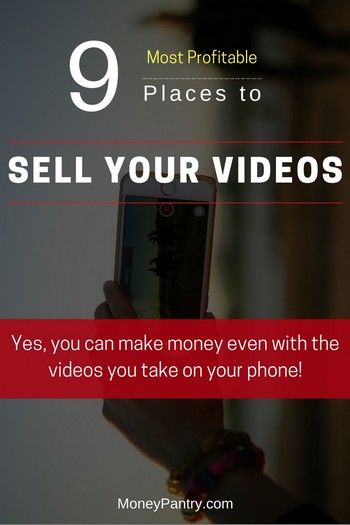 Are you a fitness coach, a photography enthusiast or a graphic designer?
If you have a skill or are knowledgeable about a particular subject and enjoy filming videos, then you might want to consider selling instruction/educational videos online.
If you have a knack behind the camera, then you could easily make a good side income from your videos.
You just need to know how and where to sell them.
The best platforms for selling videos
The Internet can be a pretty overwhelming place, so finding the best sites to sell videos can be a fairly time-consuming task.
Fortunately, we've put together a list of platforms that allow you to make a profit from video content.
Need Easy Extra $300+/Month for Free?
KashKick
: Get paid directly into your PayPal for watching videos, surfing, shopping and more.
Join KashKick Now!
Panel Payday
: Earn up to $75 per survey. They also pay up to $50/hr for mystery shopping.
Join Now!
InboxDollars
: Paid over $57 Million to members to watch videos, take surveys, shop and more.
Get $5 instantly!
Branded Surveys
: Get $1 instantly just for joining for free. Plus get paid within 48 hours by PayPal!
Join Branded Surveys
First Opinion
: Wanna get paid for every single survey (+ high paying online focus groups) with cash or direct deposit? This is for you!
Join Now!
Swagbucks
: Get paid to watch videos, shop online, take surveys and more.
Join now & get $5 instantly!
What's great about these websites is that for most of them, you don't need to have any qualifications or any particular experience to be able to teach and sell educational videos.
So, if you're wondering where to sell your videos online, then check out one of these websites.
1. Uscreen
This incredibly polished platform is a great place to market your educational and instructional videos.
Whether it's a fitness video or a film on how to become an entrepreneur, Uscreen accepts quite a wide variety of educational content.
You can upload your videos to the site and market them to potential customers.
You can even stream content.
Plus, you can also upload other forms of content, aside from video, like documents, PDFs, text images, presentations and webinars.
What's great about the platform is that it's flexible when it comes to earnings. You get to choose how you want to sell your video content.
Selling videos on Uscreen
There are a few ways that you can offer your videos through the site and make money:
Subscriptions.
One-time payment.
Rentals.
Package bundles.
You can even offer videos for free if you're looking to build your audience.
Uscreen makes it really simple and easy to create and upload video courses, thanks to the learning tools it offers.
For example, with the Chapters Menu option, you can organize your educational content using The Menu Builder tool.
There are tons of handy tools and features available that can help you with everything, from marketing to content delivery.
You do have to pay to use Uscreen, plans start at $99 per month, but it does offer a lot of tools and support that make the whole process of selling videos much easier.
There's a free 14 day trial you can check out to see if the platform is for you.
2. Udemy
Home to over 12 million students, Udemy is one of the most popular educational marketplaces online.
Whether you want to offer Adobe Photoshop tutorials, math programs, or instructional yoga videos, you can create a course on pretty much any educational topic on Udemy.
As the website does have millions of students, across 190 countries, you can easily get your video course in front of a huge audience of potential buyers.
And, there's certainly earning potential with this platform.
Udemy states that its top ten instructors have earned more than $17 million through their courses. That's a pretty impressive amount.
Here's a quick overview of how it works:
You create your video course. This is completely free to do. Udemy offers quite a lot of tools that make creating a course simple.
Once the course is created, you offer it for sale through Udemy to the millions of students that use the platform worldwide.
Students purchase your course and you get paid.
Revenue Share at Udemy
It's important to note that while it is free to upload a course to Udemy, the percentage of the revenue you keep will differ.
Essentially, there are a few main revenue share options:
Instructor promotion: When a student buys your course using an Instructor Coupon, you keep 100% of the revenue, although you are charged a processing fee of around 3%.
Udemy Organic: On sales where students don't use an Instructor Coupon, you keep 50% of the revenue.
If you decide to participate in one of the marketing programs that Udemy offers, then your revenue share will range from 25% to 50%
Udemy states that instructors who do participate in its marketing programs make around 54% more, on average, than those who don't opt in.
You can learn a little more about how much you can earn with Udemy here.
What's great about Udemy is that it handles customer service, payment processing and hosing fees for you, and you get to keep the full rights to your video content.
Check out this page to learn more about creating a course on Udemy and this page to find out how to market your videos.
3. Teachable
Another great place to visit if you want to know where to sell your videos online is Teachable.
It's an educational platform that provides massive open online courses to students.
Teachable is a pretty popular platform, featuring ten thousand course creators.
On the platform, you can sell your educational or instructional videos in the form of courses.
Here's a quick overview of how it works:
You create your course. Creating a course on Teachable is super simple, as the platform gives you all of the tools you need. In addition to video, you can also upload other files, like PowerPoint presentations.
After you've created your course, you set your income goals and price your course.
Next, you wait for it to sell.
Payments and membership plans
Like Udemy, Teachable is free to use – so uploading a course won't cost you anything.
How much you earn from Teachable depends on the type of membership you have.
It offers a mix of both free and paid accounts, and the account type you have will affect the percentage of profits you get to keep from your videos, and the fees you have to pay.
Here's an overview of the membership plans:
Basic: For a Basic Membership, you'll need to pay $39 per month. You'll have to pay 5% on all transactions. With this plan, you get paid once per month.
Professional: This plan, which Teachable claims is its most popular, costs you $99 per month. What's good about this plan is that you don't get charged any transaction fees, as long as you set up your own payment gateway through a platform, like PayPal or Stripe. If you don't do this, then you'll be charged 2% on transactions. You get access to instant payments with this plan too.
High Volume: The cost of this membership plan is $299 per month. What's great about this option is that you don't have to pay transaction fees. And, as with the Professional Membership plan, you get paid instantly.
Overall, Teachable is a good platform that's easy to get started with, and it's definitely a great place to consider selling your videos.
4. Amazon CreateSpace DVD on Demand
Amazon's CreateSpace is best known as a self-publishing platform for books. But, books aren't the only thing that you can sell through the program.
You can also sell audio books and videos.
There's a section of CreateSpace called DVD on Demand. It allows you to create DVDs and sell them, on demand, to customers on the Amazon platform.
This is a really great way to get your video content out there, and in front of paying customers.
Here's a quick overview of how it works:
– Create your DVD
The first step is to create your DVD, which you can do by visiting this page, and clicking on the "create a DVD" option.
What's great about this program from Amazon is that it allows you to create your own artwork for the DVD, with its easy to use Cover Creator tool.
You can design and customize the artwork you want for the DVD cover, disc face and menu artwork.
And, you can choose to use a mix of images, text and logos.
What's useful is that Amazon also offers its own image gallery. So, if you need images for your DVD artwork, you can use these photos for free.
Your DVDs are printed in full-color.
– Create your Listing
Another interesting facet of CreateSpace for video-makers is the fact that it allows you to not only sell through the CreateSpace eStore, but through Amazon.com too.
Amazon.com is a huge platform, where customer demand is high.
To create an Amazon.com product detail page for your video, Amazon will use the same title information and description that you entered when you set up your CreateSpace eStore.
This means that you don't have to enter the same information twice to sell across both platforms.
It's a really good idea to make your videos available for sale on Amazon.com, as well as in the CreateSpace eStore.
This is because you are largely responsible for driving traffic to your title in the eStore, and many customers simply prefer to buy from Amazon.com, rather than CreateSpace, as it is such a well-known, trusted retailer.
To ensure that your DVD is sold on Amazon.com too, simply go to your Project Homepage, and then go to the Sales Channels section, and select Amazon.com.
– Sell your DVDs
Once you finish uploading your title, Amazon.com will set up your listing, which can take around 10 business days.
Customers can then purchase your DVDs on demand.
The share for sales on the eStore is +15% per sale, and +45% per sale on Amazon.com. Amazon has a fixed charged in place of $4.95 per unit.
What's great about selling videos on Amazon is that the shipping and handling fees are charged to the customer, meaning these fees don't affect your earnings.
5. Amazon Video Direct
The CreateSpace DVD on Demand program isn't the only way that you can sell your videos online with Amazon.
Amazon has another program, called Amazon Video Direct that allows you to sell them too.
If you prefer to sell your videos digitally or allow customers to stream them, then Amazon Video Direct is a good option.
Anything you upload to the program becomes available to buy or stream on Amazon Video and you can make content available on Prime Video too.
What's interesting about the platform is the wide variety of videos it accepts.
On Amazon, you can publish any type of video, from feature-length movies to music videos and, of course, educational videos.
What's interesting about the program is that once you've uploaded your video, you can view performance metrics, like minutes streamed and number of subscribers.
This means that you can easily optimize how you offer and market your videos.
Amazon offers tons of articles that guide you through the process of selling  video content with them – you can check out their help section here.
– Get paid
With Amazon Video Direct, you earn royalties each time someone buys or streams your video.
These royalties vary, depending on how and where your tiles are offered through Amazon.
You can check out Amazon's Digital License Agreement for more information.
But, these are the standard royalty payments:
Buy and Rent: When a customer buys or rents your video, you earn 50% of the revenue.
Included with Amazon Prime: When customers stream your video through Amazon Prime, you are paid based on how many hours of your content the customer streamed. For example, the rate for streaming by customers located in the U.S. is $0.15 per hour. So, if your video title has 3 hours of streaming from U.S. customers, then you'd earn $0.45
Ads: As a content provider, you get 55% of the net advertising revenue for ads streamed with your titles.
Subscriptions: As a content provider, you receive 50% of the net monthly revenue for subscriptions.
6. Vimeo on Demand
You might have heard of Vimeo – it's a streaming platform where anyone can watch videos and upload their own content too. Through Vimeo on Demand, you could sell your videos online.
In order to sell your videos through Vimeo on Demand, you'll need to sign up for Vimeo Pro.
This costs $20 per month, but you're billed annually.
Once you're signed up with Vimeo Pro, you'll be able to start selling.
Here's a quick overview of how Vimeo on Demand works:
The first step is to create a new Vimeo on Demand title – you can decide whether you want to upload a single video or a series of videos. To start creating a title, visit this page.
Now it's time to customize your title. This is the stage where you provide more information about your video. So, you'll want to add a title and a description, as well as any other details that will give potential customers an idea of your content.
Next, you need to decide how you want to sell your videos. You can choose to allow customers to rent or buy your content, or a mixture of both. You can even upload a trailer to the VOD page if you want to, and a poster too.
Now, you can also set your prices and choose additional settings, like the regions where you want your content to be available.
The next step is to promote your content. On VOD, you are responsible for marketing your videos. So, share them on social media, and other platforms.
When a customer purchases or rents one of your videos, you get paid. VOD will notify you when you make a sale.
Selling videos through Vimeo on Demand is a pretty simple process.
And, if you need help creating titles, then visit this page.
VOD offers several features that definitely make it a worthwhile platform to sell through, like the ability to distribute your videos worldwide.
Overall, it's a good platform that allows customers to watch your videos through multiple platforms and devices.
Earning with Vimeo on Demand
When you sell your videos with Vimeo on Demand, you keep 90% of the profits.
In order to receive payment, you'll need to have a verified PayPal account.
Payments are sent 30 days after the month's end. So, for example, your earnings for sales made in the month of August would be transferred from Vimeo to your PayPal account on or around September 30.
7. Skillshare
Another good place to sell your videos is Skillshare.
It's an online learning platform, where students can watch video classes on a variety of subjects.
Students sign up for a Premium Membership, and then get unlimited access to all of the classes on Skillshare. Students can watch classes at their own pace.
What's great about Skillshare is the wide range of topics you can teach.
Whether it's logo design, street photography or social media marketing, you can create video classes on pretty much any subject.
Creating a Video Class on Skillshare
If you want to upload a video course to the platform, then you'll need to make sure that it fits with Skillshare's requirements.
Skillshare has the following recommendations for classes:
The average Skillshare class should include 20 to 60 minutes of video content. This content should then be broken up into a series of short videos, ranging from 2 to 5 minutes. This makes your content easier for students to take in and understand.
Your video class should focus on one particular project, concept or skill. It should not be too broad.
The class must also incorporate a fun, quick project so that your students get the opportunity to actually practice what you're teaching, and also share their progress with the class community.
And, the following three guidelines are also in place for all classes:
Classes must be educational and foster learning. The sole purpose of your video should be to educate the viewer about your chosen topic. Classes can't be self-promotional or offer get rich schemes. You can read more about the educational quality standards on Skillshare here.
Your class must provide at least 10 minutes of video content.
Classes must meet the Skillshare community guidelines. You can view those here.
Creating a class on Skillshare is pretty simple, making it a good place to sell your videos online. To start your class draft, visit this page.
What's also really handy is the fact that Skillshare provides you with so many learning and instructional resources for creating classes.
There's a really useful PDF, which you can view here, which talks you through the whole process of creating a video class.
Earning with Skillshare
Students pay a monthly or annual subscription fee for a Premium Membership.
With this membership, students get unlimited to access to the site's premium classes and features.
You make a profit when one of these students watches your videos.
There are two ways to earn money on the platform:
Premium Referrals: Each time you bring a student to Skillshare who signs up for a Premium Membership, you earn $10.
Royalties: Skillshare pays royalties based on the number of minutes students watch your classes each month.
Skillshare claims that its top teachers earn more than $40,000 per month.
8. Thinkific
If you're not great with web design, coding and the other technical aspects of running a website, then you might want to check out Thinkific.
It's an all-in-one platform that allows you to create and host courses on your own branded site – without any technical or design skills.
Using Thinkific to host and sell your videos online
With Thinkific, you can easily create, market, and sell courses from your own beautifully designed website.
Using the platform, you can:
Easily upload your course: Whether it's audio, video or text, you can easily upload your own content to the website, and create an online course with it. You can even categorize your courses and create lessons too.
Create a unique website design: Using simple drag and drop tools, and customizable themes, you can easily create a website that matches the branding of your company. You can do this without coding skills, but you do get full access to HTML and CSS, if you need it.
Market your course: The platform offers tools, like coupons, and sales widgets that help you to market your course.
Manage student enrolment: You can easily enroll new students in your courses, view student profiles, and send out mass and automated emails. You can also view students' progress reports.
On Thinkific, students pay you through the payment gateway you choose – whether that's Stripe or PayPal.
Overall, it's a good platform for anyone looking to set up a website where they can sell their video courses.
9. LearnWorlds
LearnWorlds is a similar platform to Thinkific.
It's also a content management system that you can use to create, publish and sell your videos online.
Using it, you can create customized sales pages for your courses that are tailored to your brand, without needing any tech skills.
Features on offer at LearnWorlds
While LearnWorlds offers tons of different features, using the platform is fairly simple.
Using the LearnWorld, you can:
Create customized sales pages: LearnWorlds offers dozens of templates that you can use to create sales pages for your courses. So, you won't need any web design skills to sell your videos.
Publish interactive videos: One of the best aspects of LearnWorlds is the fact that it allows you to make your videos more interactive. When you upload a video, LearnWorlds upgrades it with an interactive bar that helps the student to navigate your video faster and more easily. You can also enrich your videos with things like titles, quizzes and pop-up elements.
Create eBooks: Aside from being able to create videos, you can also create eBooks.
Create a student community: Students can easily discuss your course together.
Get access to marketing tools: LearnWorlds gives you access to tools that can increase your sales. For example, you can create coupons, bundle courses and create subscription plans.
Choose the payment gateway you want: You get to choose how you want to be paid. With LearnWorlds, you can choose from five different payment gateways, including PayPal, Stripe, Shopify, 2Checkout, and Authorize.net.
Overall, it's a good place to sell your videos, as it does allow you to enrich them so much.
Selling your videos: Tips for success
Okay, so now that you know where to sell your videos online, it's important that you know some simple tips that will help you to maximize your profits.
There are a few things that you can do to ensure success when selling your video content.
If you are already experienced with filmmaking, then you might already implement these tips, but if you're not, then you'll want to start employing them.
1. Use a good quality camera
Your web cam just won't cut it here. You need something that can shoot quality video.
Okay, so you don't need a professional grade camera to sell educational videos. But, your content does need to reach a certain level of quality in order to be marketable and satisfy your customers.
Filming on a good quality smartphone or a point and shoot style camera is good enough, just make sure that your filming skills and conditions are ideal.
For anything where you're creating videos of your computer screen – so let's say you want to create Photoshop tutorials, you'll want to make sure you use screencast software, like Camtasia, to record your computer screen.
2. Make sure the lighting is good
If there's one thing that really determines the look and quality of a video, aside from the camera, it's the lighting conditions in which the video was shot.
If you film in poor lighting conditions, then not only will it make it more difficult for the viewer to actually see what's going on, but it also makes the video look low quality and amateurish.
And, if you want people to buy and continue to purchase your videos, then this certainly isn't what you want.
How to get good lighting in your videos
Try to film in an area where there's a lot of natural light – either outside, if it's appropriate to your video, or near a big window.
If you live in an area where you don't get a lot of bright, natural light, so maybe it's quite overcast, then you might want to purchase a ring light.
Amazon sells regular rings lights, like this one and even ones that you can use on your smartphone, like this one.
Ring lights are ideal for any time that you're directly looking at the camera. So, if you have an instructional video where you are in the frame, talking directly to the camera, then they're definitely useful.
For other types of videos, like let's say for example that you're shooting an instructional yoga video, and you film the poses being performed in the video, then a soft box would be ideal – like this one from Amazon.
While soft boxes and ring lights are great for those times when bright, natural light is scare, they can be a bit pricey.
They are worth it, but if you're just starting out, then you might not want to spend too much to get started.
So, if you don't want to invest in lighting just yet, then consider using the light from your smartphone instead.
As long as you diffuse this light, it will work as a good light source.
Rather than shining your phone light directly on to what you're filming, which can create too much harsh shadow, shine the light on a piece of foam core board, so that the light bounces of the board onto the subject, giving you softer, more natural looking lighting.
3. Film in a quiet area
Noisy filming areas make for poor videos. When a video has a lot of extra noise in the background, it can be very distracting and even irritating to the viewer.
If you want your videos to appear professional, then you definitely want to film in areas that are quiet.
Also, if you are filming outside and using a point and shoot camera with a microphone, then you should definitely use a windbreaker.
This will prevent the noise of the wind from being too loud in your video and you'll be able to hear your voice more clearly.
4. Keep the camera steady
Another thing that irritates audiences, while making a video appear unprofessional is shaky camerawork.
When the camerawork is very shaky, or there are a lot of quick, almost jolting movements, it's so distracting for the viewer and it can make watching the video difficult.
To create a more pleasant viewing experience, and, again, to make your videos appear more professional, you definitely want to make sure that your camerawork is nice and smooth and steady.
The easiest way to do this is to invest in a tripod.
This tripod from Amazon is less than 20 bucks.
They can make a huge difference to the quality of your videos.
Also, if you're doing any moving shots, then keep the camera mounted on the tripod as you move it, and avoid doing any sharp or jerking movements with the camera.
5. Edit your videos
Don't just start the camera rolling, and expect to film your whole video in one take.
One long shot can be a bit boring to viewers, and for most videos it doesn't translate well.
Your video should look like it's been through editing software. It should have a clear beginning, middle, and end and cuts where the action is slow, or there needs to be a Segway.
Keep it direct to the point, and don't be afraid to edit out anything that isn't useful to the viewer – you want your videos to be to the point and fluff free.
Lightworks is a really popular editing program. It's entirely free to use, and you really can do a lot with it – it's been used to edit films, like Pulp Fiction and The Wolf of Wall Street.
But, it is quite a complex program that takes a while to learn and pick up, so it can be worth checking out some tutorials.
Another option, which is easy to use, but doesn't offer as wide a range of features, is Windows Movie Maker. This comes already installed on any Windows PC.
If you have a Mac computer, then you can use iMovie.
6. Make yourself an expert on other platforms
One of the best ways to sell more videos is to make yourself an expert that people want to come to for knowledge and advice about your chosen subject.
Answer questions that people have on Quora about your niche and also participate in discussions on relevant Reddit pages.
7. Showcase your videos
While viewers can find your content on the platforms you choose to sell through, it's still a good idea to promote your content on other places.
When you do this, you create extra streams of traffic to your videos.
It's a good idea to offer students a taste of your videos on other platforms.
YouTube is a good example. You could offer snippets of your videos on there, and then direct people to your video courses.
You could also consider starting a blog for your website, where you post content related to your chosen topic, and include snippets of your videos within the posts.
When you offer small snippets of your videos, you allow potential buyers to see what you have to offer. This can turn a potential buyer into an actual buyer.
Overall…
As you can see, there are so many places online to sell videos.
If you have a subject that you're knowledgeable about or experienced with, and you enjoy making videos, then you really should consider creating educational or instructional videos.
You really can make a profit from them.
Many people make a good side income and even a good full-time income from selling their videos online.
So, if you want to know where to sell your videos online, then make sure that you check out the platforms mentioned above, and start your career as an educational filmmaker!