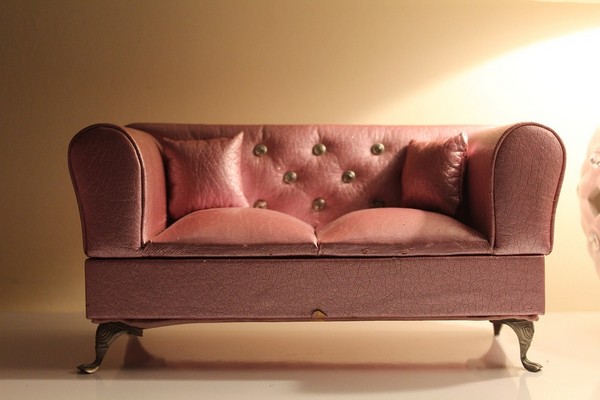 If you're moving, it might be a good idea to sell some of your used furniture, particularly if you're moving out of state.
Let's face it, a lot of furniture is large and awkward to move, and it is much easier to sell where it is, then buy again in your new place.
Of course, there are other reasons such as downsizing and remodeling which also provide reasons for changing your furnishings.
As long as your furniture is not worn out, and is in presentable condition, why not sell it and have some money towards whatever you need?
Figure out a Value
Whether you are selling your old couch, sofa, table, entertainment center, chairs, loveseat, ottoman, or whatever else kind of furniture, the first thing you have to do is realistically assess how much your items are worth.
Here are a few tips to help you do that:
You obviously have some idea from how much you paid for them when new, and you should check whether those prices are still relevant today.
Have a look at the classified advertisements and other sales and see how much similar items are going for in your area.
Be reasonable about the wear and tear on your items, and you should be able to come up with a comparative cost.
If you have expensive furniture, produced by a famous designer, then obviously you will be able to charge more, although you may have to wait longer to find a buyer.
The manufacturers' marks are often on the back of the piece or inside of drawers, and this will give you a clue whether a popular designer or manufacturer was involved.
Finally, if you have antiques or vintage furniture, there is no substitute to finding an expert opinion on the value.
You can look at pricing guides in the local library or online, but an expert will also know how to evaluate the condition with respect to the price.
How to Price Your Second Hand Furniture?
So, now you have figured out what your items are really worth, there is one more step before being able to sell them.
You have to work out what price they will sell for in your local area. This is not the same as the value of the items, for various reasons.
Items that affect the price include any scratching, missing knobs or broken pieces, and dents.
Obviously, you can expect to get a higher price if your furniture is in mint condition, or at least "gently used".
Finally, be sure that your pricing is on a par with what else is available in the market.
Buyers are not going to come and see your furniture unless they feel it may be worth buying.
And quite often, buyers will start by looking at the cheaper pieces first, to see whether they would be satisfactory.
They may never get to see yours if you price it too high.
If you have a custom-made or high-end piece of furniture, you may find that people in your area are not prepared to pay the price that you would be able to make on it elsewhere.
If you don't want to ship it across the country, you may just have to be satisfied with what the market around you can bear.
How to Sell Used Furniture Online
There are a lot of places to sell used items. And when it comes to selling furniture, you have a number of choices, both online and offline.
Some are more work for you, and you may have to balance the returns you receive against the amount of work you are prepared to put into finding a buyer.
Here are a few options…
1. Apps
There are always apps appearing to help us with tasks, and selling furniture is no exception.
Here are 2 popular ones:
Offerup: Offerup app is an extension of the offerupnow.com, a site that aims to make selling things locally quick and painless.
Chairish: Another website/app is chairish.com, and this seems to take more upmarket furniture, if this is your style.
Whichever app you use, make sure you understand if and when commission is charged on the sale.
2. Facebook
I have talked about selling stuff through Facebook garage sales before. Facebook has local communities where you can advertise items for sale in your neighborhood.
Although you must always be careful of strangers coming to your house, with Facebook you have some idea of who they are.
And with furniture, it is quite likely that buyers will have to come to your house to see it and pick it up.
3. NextDoor.com
This website provides a community space that will accept classified advertisements in your neighborhood, and is worth giving a try.
4. Craigslist
It goes without saying that Craigslist is still one of the best ways to sell stuff, including used furniture, locally.
Craigslist has its share of spammers and opportunists, but still has a solid user base that may allow you to find a buyer.
Be careful about whom you invite to your home, and if necessary ask a neighbor to be there when they come.
How to Sell Used Furniture Locally
Since most furniture are big, bulky and heavy, your best bet is to sell locally so you can avoid paying hefty shipping fees.
Although the apps and websites mentioned above will let you sell locally and in your neighborhood, meaning you can have buyers pick up the item(s) personally. So you don't have to worry about the hassle of shipping and handling and the big fees associated with shipping big items.
That said, there are also other ways to sell directly to local people and businesses.
5. Consignment Shops
This is one of the easier options. Although your local consignment store may not accept your furniture if it is of a type that they have lots of.
They will have their own ideas on what your piece should be advertised for, and of course they take a percentage of any sale.
6. Garage Sale
If you have quite a few items for sale, you can consider having your own garage sale – as long as you don't mind having a crowd visiting your property, and the general hassle of dealing with lots of people.
You should decide in advance how negotiable your prices are, so that you're prepared for the inevitable bargaining.
7. Community/neighborhood Sale
This is where several homes get together to sell off their unwanted items, so it attracts a larger crowd of buyers.
Sometimes these sales will be extensively advertised, which will help you find a buyer.
8. Donate
If you can't find a buyer easily, or if time is running out before you move, you could consider donating your furniture to a charity shop, and taking a tax deduction.
Shops don't take everything that is offered to them, as they know what sells in their area, but if your furniture is in good condition they will probably accept it.
Some like Salvation Army will even send their people to come pick your stuff up. You can schedule a pick up online.
You can also use Goodwill's store locator to find a local Goodwill store and schedule a pick up with them.
Final Words
If you're selling several things, it's likely that no one way will be good for them all. You will have to try several of the methods detailed above to sell your furniture.
Concentrate on the high value items first, then if you're left with low value items you won't feel so bad if you need to donate them.