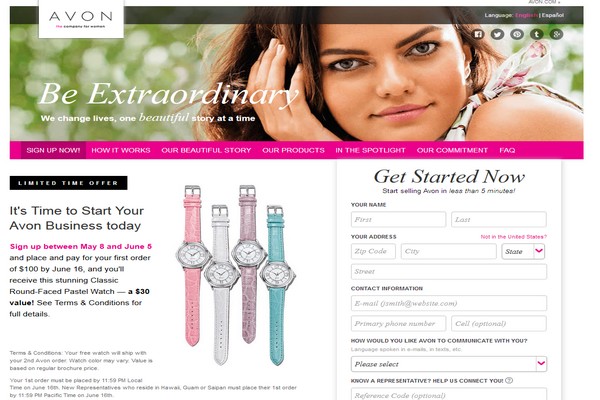 Say "work at home", and the first thing many people will think of is selling Avon products.
Avon Products, Inc., is a company that has been around for more than a century.
It is one of the very well-known companies with a great reputation and recognition.
If you have always wanted to make money selling Avon, this is your chance. They are looking for new representatives as we speak.
Getting Started
To get started, go to youravon.com.
Fill out the short form with correct information.
Then someone from the company will get in touch with you to give you more information.
You can ask questions and find out if it's something you really want to do.
If so, they will set you up. If not, they leave you alone. Simple as that!
How it works
As an Avon representative, your job is to sell their products.
These products range from makeup, fragrances, beauty products, and jewelry.
You can sell it to anyone from friends, family, and coworkers to your neighbors and even strangers on the street.
Basically, you are an independent seller who buys products from Avon in hopes of selling them to earn a commission.
How much money can you make selling Avon?
Like any other direct sales job, it depends on how much you can sell.
The more customers you manage to get, the more products you can sell, which means the more commission you earn.
Is Avon worth it?
I personally haven't had any experience with Avon, nor do I know anyone who makes money selling Avon products.
If you are an Avon representative, I would love to hear about your experience. I am sure our readers would love that as well.
Please feel free to share your experience by leaving a comment below.
Here are a few questions I think most readers would love to know the answer to…
When did you start?
How much work have you had to put in?
How much money can you really make selling Avon?