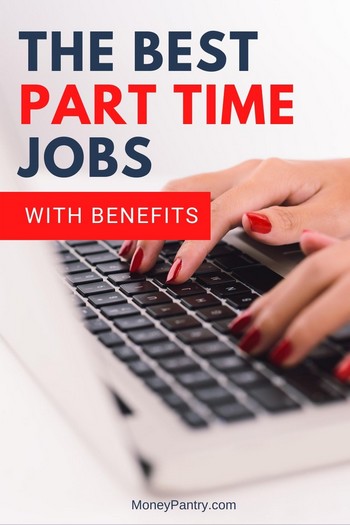 Many companies offer jobs with benefits to their employees. Sadly, these benefits often only extend to a company's fulltime employees.
So does that mean there aren't any part time jobs with benefits out there?
Heck no!
There are plenty of companies that offer everything from health insurance plans to discounts to their employees.
This is good to know, since not everyone is able to work a fulltime job, whether it's because of college or family responsibilities.
And if you like work form home jobs, many of these companies are now letting workers do their job from home because of COVID-19.
Need Easy Extra $300+/Month for Free?
KashKick
: Get paid directly into your PayPal for watching videos, surfing, shopping and more.
Join KashKick Now!
InboxDollars
: Paid over $57 Million to members to watch videos, take surveys, shop and more.
Get $5 instantly!
Branded Surveys
: Get $1 instantly just for joining for free. Plus get paid within 48 hours by PayPal!
Join Branded Surveys
First Opinion
: Get paid up to $10 per survey and $300 per virtual focus groups!
Join Now!
Swagbucks
: Get paid to watch videos, shop online, take surveys and more.
Join now & get $10 instantly!
In this list, I'll give you a list of top companies that offer awesome benefits to their part time employees.
And if you can't find a full time job, Combine one of these part time jobs with one of these under the table jobs that pay cash, and you've got yourself a solid income!
As a bonus, I'll also give you a simple way you can find thousands of more jobs that come along with benefits.
Companies with Best Benefits for Part-Time Employees
Here are the best part time jobs with great benefits such as health insurance.
1. Starbucks
Starbucks is a huge brand that has more than 300,000 employees. It extends its benefits to its part-time workers too.
The site offers benefits and programs to eligible part-time employees, or partners as Starbucks refers to its staff.
And for those without a degree, it's a solid option since the company offers well paying jobs without a degree requirement.
Your total rewards package includes:
Health coverage
401k retirement plan
Discounted company stock
Paid time off
Parental leave
Reimbursement of up to $10,000 per adoption, surrogacy or Intrauterine Insemination for eligible partners.
The opportunity to earn a bachelor's degree with 100% tuition coverage, coaching, counseling and advising through Arizona State University's top-ranked online degree programs.
Pay bonuses
30% discount on purchases of beverages, merchandise and food.
A free pound of coffee or box of tea every week.
Discounts at local and national retailers as well as at select providers of benefits like auto, home and pet insurance.
And much more!
Starbucks is definitely one of the most generous companies out there when it comes to employee benefits.
2. Chipotle
Chipotle provides medical, dental and vision insurance for part-time employees. There's also an employee discount available to all workers. That's not all though.
Employees can also receive educational assistance. Students can get up to $5,250 a year toward education goals. There's even free food available.
After you've worked at Chipotle for a year, you'll have access to other benefits, like:
A 401k match towards your contributions.
An annual bonus
Access to a stock purchase plan
Paid time off
Chipotle is one of the best companies for part-time work, because it offers such a wide range of benefits to its employees, even if they don't work fulltime.
3. JPMorgan Chase
The JPMorgan Chase U.S. Benefits Program is available in whole or part to most employees on a US payroll. This includes part-time employees. To be eligible for the benefits, you'll need to be regularly scheduled to work 20 or more hours per week.
Part-time employees with the company are those that work more than 20 hours a week but less than 40 hours a week.
Participation in the benefits program begins on the first day of the month following 60 days from your date of hire.
Then, part-time employees can get access to benefits, like:
Medical
Dental
Vision
Spending accounts
That's a pretty generous benefits program.
Download this PDF to learn more about the JPMorgan Chase benefits program. You can also view benefits on the site here (although this is more of a general benefits list than the PDF which mentions part-time workers specifically.)
Apply for a job at JPMorgan Chase here.
4. Lowe's
Lowe's offers you lots of benefits even if you don't work fulltime.
Within your initial 31 days of becoming part-time, you are eligible to participate in:
Medical, including prescription drugs
Dental
Vision
Life insurance
Short term disability
Those aren't the only benefits on offer though.
Lowe's also provides its part-time employees with an employee stock purchase plan on June 1 or December 1 on or after your first year.
After 180 days of working, you'll also get access to the 401k plan, including matching contributions from Lowe's.
5. Amazon
Amazon offers tons of works in different fields including Amazon work at home jobs.
Amazon provides lots of benefits to its warehouse staff, shoppers, and Amazon drivers, including its part-time employees.
There are a lot of different benefits available to their employees. Do keep in mind that these benefits can vary by location, length of employment, the number of regularly scheduled hours you work, and job status, such as part-time, seasonal or temporary employment.
Here are the benefits offered by Amazon:
Medical prescription drug, dental and vision coverage.
401k savings plan
Paid time off
Holiday overtime pay. Earn time and a half if you work on New Year's Day, Memorial Day, Independence Day, Labor Day, Thanksgiving Day, and Christmas Day.
Discounts on Amazon purchases
Resources to help improve your overall well-being.
Medical advice line you can call 24/7 for a free consultation with a nurse, or for a small fee, speak to a doctor who can help with a diagnosis, recommend treatment and prescribe short-term prescriptions for less than the cost of an urgent care or emergency room visit.
Company-paid basic life and accidental death and dismemberment insurance with the option to enroll in additional coverage for you and your dependents.
Company-paid short-term and long-term disability.
Adoption assistance
Maternity and parental leave.
Amazon is a huge company, so consider browsing job offers on there. Like I said above though, Amazon says its benefits vary depending on factors like how many hours you work each week and your location.
That being said, in an interview with Business Insider, Amazon's corporate communications manager stated that part-time employees who work more than 20 hours a week receive benefits ranging from dental insurance to life insurance.
Learn more about Amazon's employee benefits here.
Apply for jobs (warehouse, shopper, and driver jobs) with Amazon here.
6. Staples
Did you know that Staples will also provide employees with benefits?
Yes, if you're a part-time associate at Staples, you'll get access to medical, dental, and vision plans.
That's pretty great, right?
That's not all either. Staples also offers life, accidental death, and short-term disability insurance coverage to all part-time associates. And part-time associates are also eligible to participate in the 401k plan.
Associates also get a 10% discount and an additional 10% off Staples branded products.
7. REI Co-Op
REI Co-Op is a retailer of outdoor gear, clothing, and footwear. It provides a number of benefits to its part-time employees, such as:
Medical insurance options, including dental and long-term care plans. Employees can also purchase additional coverage such as vision care.
Disability insurance
Life insurance
Paid leave
Employee discounts – up to 50%! You can even get discounts on trips with the company's travel company, REI Adventures.
Access to discounted classes through REI's Outdoor School to learn a new activity or skill.
To be eligible for benefits from REI Co-Op, you need to work 20 hours a week, over a defined 12 month period.
Learn more about the employee benefits offered by REI Co-Op here.
Apply for a job at REI Co-Op here.
8. Home Depot
Home Depot will provide benefits to its part-time employees.
Part-time employees at Home Depot will get access to the following benefits:
Dental
Vision
Short-Term Disability Insurance
Life Insurance
It's another one to consider if you're looking for part-time employment.
Learn more about the employee benefits offered by Home Depot here.
Apply for a job at Home Depot here.
9. Macy's
If you're looking for a part-time job with health insurance, then you might want to apply for a position at Macy's. The company provides benefits to all of its employees, whether they're hourly or salaried.
It offers flexible jobs with benefits, so it's definitely worth having a browse of the jobs that Macy's has to offer.
Employees at Macy's can get a discount on the store's merchandise, and they can combine this discount with coupons.
Macy's says that "many" of its part-time employees can enjoy health benefits.
10. Walmart
Walmart is another company who'll give its part-time employees benefits.
Since there's pretty much a Walmart everywhere, it's likely there's a store near you. So working at your local Walmart can be a good idea if you're looking for a job that comes with benefits even if you don't work fulltime.
There are lots of benefits on offer including:
Medical plans – you can get health insurance coverage for domestic partners too.
Dental plans
Vision plans
Free access to nurse care managers and health care advisors
Health reimbursement plans provide $300 to $1,000 and Walmart's health savings account plan gives up to a $700 match to help you pay for eligible network or non-network medical expenses.
There are also additional options available, like company-paid life insurance, accidental death and dismemberment insurance, critical illness insurance, short and long-term disability insurance and business travel accident insurance.
Paid time off
Discounts
401k
An associate stock purchase plan with company match.
So there are lots of great benefits that are available to Walmart employees.
11. Wegmans
Wegmans provides two health plans to its part-time employees, which are:
A traditional PPO plan with low deductibles
Or an HSP with a lower weekly cost
It also offers pre-tax spending accounts to help you to get the most value.
12. Kaplan
Kaplan is another company offering a benefits package to its workers.
The company offers lots of benefits. If you work with Kaplan in a part-time position, you'll get access to a third party company that can help you to enroll in a variety of health insurance policies from a range of insurance carriers, such as:
Health insurance
Supplemental hospital plan
Life insurance
Dental and vision rider option
Disability insurance
Prescription discount card (free)
Financial future
Also, through its Gift of Knowledge Program, part-time employees, and their immediate family, including parents, children, grandchildren, spouses, and siblings, are eligible to receive free or significantly discounted courses that are offered by Kaplan companies.
13. Best Buy
Best Buy provides lots of benefits to its employees, including some benefits for part-time workers.
Here are some of the benefits available:
Paid time off after one year of working at Best Buy
401k Retirement Savings Plan. After one year of service, Best Buy offers a full match on your contributions up to the first 3% of your eligible pay, and an additional 50% match for the next 2%.
Best Buy says that eligibility for these benefits depends on your status (full-time or part-time), length of service and position within the company. It doesn't provide as many benefits as some of the others on the list.
14. AT&T
AT&T is a company that provides benefits to part-time employees, like:
Paid time off
Insurance
Tuition reimbursement
There's even a blog post on the site all about the benefits of working part-time at AT&T.
15. Ikea
Ikea offers benefits to its part-time employees, saying that part-time workers and their dependents are eligible for at least a portion of its comprehensive benefit package.
What sets Ikea apart though is that it considers workers who work at least 20 hours to be full-time. This is a much lower threshold than other companies, many of which consider anything from 30 to 40 hours a week to be fulltime.
There are a number of benefits available, including:
401k
Dental and vision plans.
Retirement plans
Tuition assistance
Co-worker discount and meal deal
Pet insurance
Generous parental and paid time off package
It's definitely a company to consider working for.
16. Aerotek
Leading recruitment and staffing agency Aerotek is another one to check if you're looking for the best companies for part-time work.
Since it offers so many benefits, it's definitely worth applying for a position with the company.
Here's what's on offer:
Healthcare coverage, including dental and vision plans.
Annual Aerotek contributions to your health savings account.
Life insurance, accidental death and dismemberment, and disability. Short-term disability and long-term disability are provided at no cost to the employee.
401k/profit sharing/529 plans to save for retirement and college. It provides tuition reimbursement for career-related courses after six months.
Paid time off
Discounts on car rentals, electronics, entertainment, fashion, travel, and many other services.
Special care programs, including dependent care, flexible spending accounts, and employee assistance programs. Benefits can be used to offset dependent care expenses, including confidential counseling for emotional, legal, financial and other personal issues at no cost to you.
Part-time employees who work 20 hours a week can enjoy the company's benefits, which is awesome.
17. Costco
You can find part time jobs with benefits at Costco. To be eligible for these benefits, you need to work for Costco for 180 days or 600 hours.
After that, you'll start getting benefits from the first of the following month.
Here are the benefits on offer:
Life insurance
Healthcare coverage
Core dental care plan
Discounts on prescription medications
401k plan that is based on a percentage of your earnings.
Once you've completed the 90-day probation period and have done a minimum of 10 bours of work per week, you'll become eligible to enroll in a short-term disability insurance plan.
Consider working with the wholesale store if you're looking for a part-time job that offers benefits.
Check Indeed for 1,000s of Part Time Jobs with Benefits Near You
Lots of companies provide benefits to their part-time workers as you can see above!
I have a really simple tip you can use to find thousands of more part-time jobs that offer a lot of benefits, from employee discounts to health insurance.
Check out Indeed. You likely already know that the site is a great place to find jobs. But did you know that it actually lists part time jobs with benefits on there?
At the time of writing, there were more than 500,000 part-time jobs with benefits available on the site. That's half a million jobs!
So I would highly recommend having a look on there.
You can view part-time jobs that come with benefits on Indeed here.
Closing Thoughts
Not everyone is able to work fulltime. Maybe you have children, are a college student, or are trying to pursue another career and just need a gig that you can make some cash with on the side. Whatever the reason is, it's good to know that there are companies out there that do provide benefits to their part-time employees.