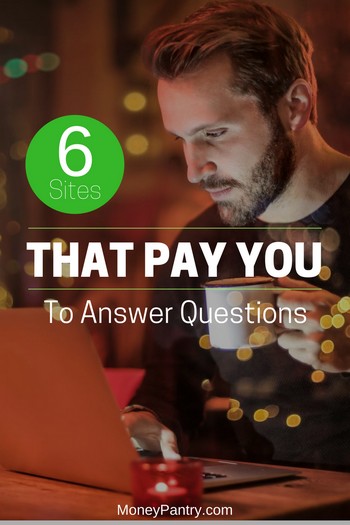 Wanna get paid to answer questions online?
Answer sites have been around for a longtime. Every day, millions of questions are answered online on sites like Quora, Askville and Yahoo Answers.
In fact, according to Comscore, Yahoo has over 200 million users, a big portion of which are users of its popular question & answer site, Yahoo Answers.
For experts like you out there, this means opportunity!
If you're knowledgeable about any topic, this is an easy way to make some extra cash in your spare time.
Now, these sites are different than trivia quiz apps where you can play trivia and win money.
With paid answer sites you actually answer questions asked by users on many different topics from computer and tech to math, science and even DIY stuff.
All you need is internet and a decent skill level in writing and you can earn money answering other people's questions.
Here are a few sites that pay you for answering questions:
1. Just Answers
Just Answers is a site for people to seek advice from a variety of different kinds of experts. This allows customers to save money because Just Answers rates are a fraction of the cost of an in-person appointment.
There are over 175 categories including lawyers, mechanics, doctors, and vets.
There are over 11,000 verified experts on the website, and over 16,000,000 questions have been answered.
How much can you earn?
Top experts can earn over $1000 each month by helping customers.
Of course, how much you earn depends on how much time you devote to the site.
You can work whenever you want anywhere you want.
All that's required is a computer and internet connection.
The record high monthly earnings for one expert was $40,000, according to the Huffington Post.
How do I join?
In order to join as an expert, you must fill out an application which takes less than 30 minutes to fill out.
You can apply to as many categories as you'd like but remember that you will be required to submit professional credentials for each category.
The requirements vary for each category, but usually, the site will ask for work history, certification, and a diploma.
2. Wonder
Wonder is a website for people who need research done into specific questions.
They offer research into data, statistics, insights, and trends.
When a customer asks a series of questions based on whatever they are researching, Wonder will compose a team of researchers to investigate each question.
They have a 24-hour turnaround, making it great for getting fast and accurate results.
How much can I earn?
Each job has a set price, which you can see in advance of accepting any work.
The length of time it takes to complete a job varies. However, most jobs are priced based on their difficulty.
You can expect to spend 2-3 hours on each research job.
Payment occurs every two weeks via PayPal.
Researchers can earn up to $25 an hour, depending on how quickly they work and the type of job they take on.
How do I join?
When you apply, you will have to take a short quiz and complete a trial research assignment.
After you are accepted, they will allow you to take on one job at a time.
At Wonder, you can work whenever you want from anywhere in the world.
They do prefer researchers to answer at least one question a week. However, you will not be removed from the site for missing a week.
3. Expert123
Expert123 is a bit different than most other "answer questions" websites.
At Expert123, you can write articles for their site and post them on your own blog. This allows authors to maintain credit for their work, which is unusual for most of these kinds of sites.
Money is earned through their shared revenue program.
Once you prove you are an expert in a specific field, the company will pay you to write articles for their clients.
How much can I earn?
The starting pay comes from ads.
Expert123 pays with the money earned from ads on your article.
The more questions you answer with articles, the more you advance to a paid writer spot within the company. The more traffic that shows up to that article, the more money you'll earn.
Once you become a paid writer, you earn between $10 to $20 for each article you write.
You'll also earn some ad revenue from those articles you write.
Once you have earned $20, you can request a payout at any time.
The company will send its funds through PayPal.
How do I join?
Anyone can join as long as they have some kind of expertise in a field. However, you also need to be able to write well enough to share your expertise with readers.
To join, you will need to confirm your email with the company first. Then, they will have you set up a profile.
You can have up to 5 expertise categories on your profile, plus information about your interests, education, age, and location.
4. HelpOwl
HelpOwl is a free resource that connects people to experts who can answer their questions.
Not only are they are a Q&A site, but they also provide additional services such as product manuals, videos, and price comparisons.
How much can I earn?
While all the services provided are free, there are still ways to be paid.
HelpOwl works on a point system.
Points can be traded for gift cards as an incentive for experts to answer questions.
You can earn points for answering questions, marking answers helpful, reviewing a product or company, and submitting a manual.
Points are actually quite easy to earn, unlike many other sites. Many actions on the site can earn you hundreds of points.
In order to get a $10 gift card, you would need to answer 500 questions. However, these answers can be quite short, and each time someone marks an answer as helpful you will get points.
You can redeem your points for gift cards from Walmart and Amazon.
How do I join?
HelpOwl has the easiest signup process out of all these sites.
All you need is to make an account and confirm your email address.
After that, you can start answering as many questions as you want.
You can apply by clicking the "Account" button at the top of their website.
5. Maven
If you've ever been interested in becoming a consultant, you might love Maven.
Maven is one of the highest rated online consulting companies. They deliver expertise to professionals in every industry.
Maven works with huge companies such as Boeing, Intel, and Nestle.
Their goal is to make customers smarter in a fast and easy way by connecting them with experts all over the world.
How much can I earn?
This depends on the industry you want to work at, as well as how many hours you want to put into the job.
Thankfully, Maven has a calculator that will help you decide what to charge.
You can find the calculator here.
Many consulting websites struggle to find clients for their experts. Thankfully, Maven does not have this problem. Because of their large clientele, consultants can usually find jobs quickly.
Unlike most sites, you don't have to watch for your perfect assignment. Maven will contact you when they find a potential match.
Their jobs can be simple, such as answering questions by email. You can also take on more complex jobs which can involve consulting via telephone or participate in bigger projects. These take longer and therefore pay more.
"I have been working at Mavens full-time more than 3 years. Pros: great workplace culture, awesome co-workers, work from home, unlimited PTO, and the opportunity to give my honest opinion in any situation," said one Glassdoors review.
How do I join?
Registering is easy.
To join, all you need to do is set up an account, answer a few questions about your expertise, and set an hourly consulting rate.
6. Chegg Tutoring
Chegg is an online resource for students to rent textbooks and contact tutors.
If you have a knack for teaching people, then applying to be a Chegg Tutor might be perfect for you.
When you sign up, you can pick subjects that you'd like to tutor students in. After that, Chegg will direct students to your whenever they need help.
The more you tutor, the higher your reputation will grow, and then more students will come to you.
There are over 1000 subjects you can teach.
You can tutor from anywhere, as long as you have internet access.
How much can I earn?
According to Chegg, Top tutors can earn $1,000+/month.
When you do live tutoring, via web camera, you are likely to make more money because those sessions go longer.
Rates start at $20+/hour. Chegg pays weekly.
If you specialize in a high-demand subject, you'll receive extra money.
"All I do is sit and wait around for written lessons to pop up and grab anything under 30 mins. Literally click a button write a document, send it back to them, and get paid $20 / hr. Easy as cake, and well worth it. Last two weeks alone netted $300+ just checking for random lessons in my spare time," said one Reddit user.
How do I join?
The first step of joining is making an account. You can do this with either your Facebook account or your email address.
After that, you have to answer a few private questions about yourself, such as where you live and how old you are.
If you signed up with a Facebook account, they can use your Facebook picture as a profile picture.
You can also supply them with a photo of your own if you want. After that, you will pick the subjects you'd like to tutor in and then verify your qualifications.
Final Thoughts
While there are many paid answer sites with some of which you can answer questions and win money.
There are even trivia apps like SwagIQ where you can give answers and earn money.
But when it comes to making real money from your expertise, I think these are the best sites to use.
So if you are an expert on any topic, I would highly recommend you join some of these sites and start earning money answering questions online.