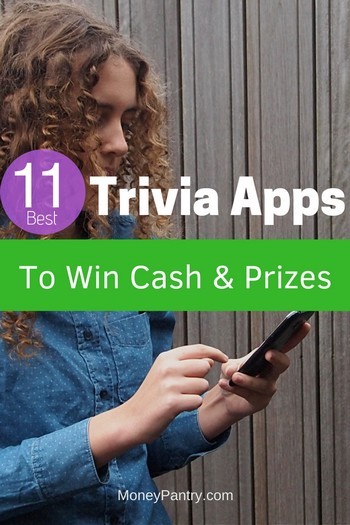 Like playing trivia quizzes?
Are you good at it?
Who was the 16th President of the United States?
Who invented the telephone?
Who discovered the electron?
Did you know the answer to any of these questions?
Need Easy Extra $300+/Month for Free?
KashKick
: Get paid directly into your PayPal for watching videos, surfing, shopping and more.
Join KashKick Now!
Panel Payday
: Earn up to $75 per survey. They also pay up to $50/hr for mystery shopping.
Join Now!
InboxDollars
: Paid over $57 Million to members to watch videos, take surveys, shop and more.
Get $5 instantly!
Branded Surveys
: Get $1 instantly just for joining for free. Plus get paid within 48 hours by PayPal!
Join Branded Surveys
First Opinion
: Wanna get paid for every single survey (+ high paying online focus groups) with cash or direct deposit? This is for you!
Join Now!
Swagbucks
: Get paid to watch videos, shop online, take surveys and more.
Join now & get $5 instantly!
If so, you could win money and prizes playing online trivia games.
Whether you know it or not, millions of people around the world are winning real money for answering trivia questions.
In fact, I've found a whole list of free, money-making trivia games for you to test your knowledge with.
Don't believe me?
Check out this TIME article about a woman that won for the first time using one of these games.
Pure excitement!
If any of this sounds like something you'd like to try then let's go over how they all work.
Let the Games Begin…
1. HQ Trivia
When: 3PM and 9PM ET everyday. HQ also throws in surprise games every now and again.
How it works
HQ Trivia is perhaps the most popular trivia app (Although it isn't the only one. There are many HQ Trivia alternatives out there, like Swag IQ which I reviewed recently.)
More often than not you will be asked 12 questions with 10 seconds to answer each.
When you get all 12 right you win! Winners split the prize, generally $5,000.
On Sunday night they always have a big game worth at least $25,000.
They have also had games that are worth $300,000!
Every once in a while HQ will also do a winner take all type game.
These games go until there is only one player remaining and have gone as far as 25 or 30 questions.
These games are really cool, and profitable because you stand the chance to take home at least $5,000 all for yourself.
You can also further your chances of winning by getting friends and family to join.
When they do you will be given a life. These lives allow you to move on even if you get a question wrong.
You can only move forward after a wrong answer once per game but lives do give you a huge advantage.
Where to get it:
2. Play and Win
This is a great trivia game app to win money and prizes and have fun!
You earn points by answering trivia questions and if you earn enough of it you get ranked high enough that you can actually win cash prizes.
Questions cover different categories including, sports, history, pop culture and more.
A new game starts every hour so if you miss one, you can catch the next one.
Where to get it:
For Android users click here.
3. Live.me Quiz Biz
When: Everyday at 5PM PT for $1,000
How it works
You will be asked a series of questions.
Once you miss one you are OUT.
If you get them all right you make it to the winner's circle and split the prize with the other winners.
This game pays you with either PayPal or in Live.me coins.
You can also invite people (friends and family) to get passes on questions.
When you miss a question you can use a pass to continue on in the game. You can't use these passes on the last question and you can only use one per game.
Where to get it:
For Apple users click here.
4. Triviala Live
When: With over thousands of quizzes, you can play whenever you want!
How it works
Multiple choice quizzes that test your knowledge in specific areas.
All you have to do is create an account and start playing.
You can always choose which type of quiz you want.
This site rewards you with Crowns and prizes.
You can then use these Crowns to buy things like T-shirts and crafts or enter yourself into drawings for vacations or cash prizes (up to $5,000).
You can also earn Crowns for daily activity, adding questions and quizzes, and getting new members to join.
Where to get it:
Click here to check it out.
5. CASH QUIZ (former Quiz Rewards)
When: This is another app that lets you play as you want.
How it works
Twelve question quizzes that fall into 16 different categories which you must answer 12 correctly as fast as you can.
When you win on a quiz you are entered into a tournament for that quiz.
If your points are high enough you are deemed a winner.
Winners get Coins.
The more you play and the more you win the more Coins you will accumulate.
These Coins can then be used to buy gift cards to places like Apple, Netflix, Spotify, Google Play, Steam, Visa, Walmart, Starbucks & League of Legends.
You can also buy coupons and entrance into giveaways.
Where to get it:
6. Givling
When: You get free passes to play twice a day. You can buy more chances to play which are 50 cents a game.
How it works
When you join you will be randomly selected with two other people to become a team.
While on this team your points, and the other two's, will accumulate together.
After a period of time, Givling will decide the winners.
To win, you and your team need to have won the most points in that time.
So far Givling has given away more than $700k.
Givling is unique because it uses part of its operating income to pay off student loans for people but they still use a large part of their money to pay their winners.
You are paid via PayPal or BrainTree.
Where to get it:
7. SatoshiQuiz
When: You get 10 lives per hour. Every time you miss a question you lose a life. You can answer questions as long as you have a life.
How it works
This is a real-time website that has questions constantly.
Create an account and start answering.
You have to answer questions correctly either first, second, or third out of everyone to win.
Each quiz has its own value and it will be split between those who answered correctly first.
As you answer questions correctly your ranking improves.
The better your ranking, the more you earn.
You can also earn a daily, weekly, or monthly award by answering the most questions correctly in that time period.
You are awarded in Bitcoin.
You have to have a Bitcoin address in order to be paid.
Don't expect to win entire Bitcoins. Winners are paid in slivers of a single Bitcoin.
Where to get it:
8. Quezztion
When: Whenever there is a Cash for King tournament going on. Create an account and wait for it to show up. Then play.
How it works
Answer all general types of questions against your peers.
As you play you will be awarded Tickets.
You will also be rewarded for winning tournaments.
You can trade your tickets in for prizes to be shipped to you.
Your other winnings will be in cash and will be delivered via PayPal.
You also get a free $10 every time one of your friends join.
Where to get it:
Unfortunately this app is for Apple users only right now. Follow this link to get it on your Apple device.
9. Joyride
When: 4:30 PM ET everyday of the week.
How it works
A trivia game that asks a series of questions until the winners are declared.
As soon as you miss a question you are out.
Not only can you win cash prizes with this app, but you can also access awesome new filters for your camera.
You can also join in with your friends in a group video chat supported by Joyride.
The downside is this app must have access to your camera and microphone which users found very irritating.
Where to get it:
For Apple users click here.
10. Hangtime
When: 2 and 6PM ET everyday and bonus weekend games at 10:30 PM ET.
How it works
Like the others, a series of multiple choice questions that you must answer all correctly to win.
Users also rave about the pre and post games which Hang Time prides itself on.
Prizes are generally smaller than the rest of them but that can work to your advantage.
With not many players, you stand the chance to win more each time you play.
You can cash out at any time and your money will be sent to your PayPal account.
Where to get it:
11. Swagbucks Live
This is an app form the company behind the popular rewards site, Swagbucks.
"Swagbucks LIVE is the fun live trivia game show where you can earn cash just for playing and a grand prize if you answer all the questions correctly."
You can install the app 100% free and start playing right away.
Where to get it:
12. The Q
The Q is a live game show network where you can play against contestants from around the world to win prizes.
One of the cool things about this app is that they actually give out hints on their social media pages.
Where to get it:
13. Total Trivia – Update: no longer available.
When: Whenever you want. Once you have joined, you can choose what your topic will be.
How it works
Quizzes are multiple choice and you get prizes for winning.
You can also participate in daily challenges to win free coupons.
The prizes you win can either be the products that Total Trivia is promoting or gift cards.
Even if you don't win, you may be able to buy the prize at a discounted price if you did well enough on the quiz.
Where to get it:
For Apple users click here.
For Android users click here.
14. Goatly – Update: no longer available.
When: Once a day you will be notified about your quiz being ready. You then have one hour to submit the finished quiz.
How it works
A sports-only themed quiz that you must answer each question correctly.
When you do, whatever the prize is you split with the others who won.
You will accumulate money. Once you have over $5 you can request for it to be sent to your PayPal account.
This one is great for any sports fans to play and is a great way for them to win a little money.
Where to get it:
For Apple users click here. Unfortunately, this game is not available on Google's Play Store.
Warning
Now there are a few sites that let you use your own money to gamble on trivia.
We don't suggest them just because you can lose a ton of money in a very short amount of time.
We find it better to use these free apps before you do anything irrational.
Any tricks of the trade?
The questions that these games use get tough. I mean if they didn't they would just be giving money away for nothing right?
But don't worry…
There are a few tricks that can help you get through these games and have a better chance of winning.
The first thing we should mention is that it's not really worth trying to look up the questions.
You don't really have enough time to look up the correct answers, and even if you did, no one likes a cheater!
Secondly, staying focused is key. These are games that are won with one square foot of real estate: your brain. When you focus your energy on something, you brain can do wonderful things.
Another thing you can do to increase your odds of winning is getting friends or family to play with you.
You could also play non-paying trivia games (free ones are easy to find) to help you gain more knowledge.
Have you ever heard of Uncle John's Bathroom Reader or have ever seen books with "useless information" in the title?
These can help you broaden your knowledge and help you answer these trivia questions?
Even if you don't know the answer, the more you know the more you can eliminate. Eliminating answers can be crucial on the harder questions.
Other Tips
Another big part of getting these questions right is figuring out when the creators of these games are trying to trick you.
Having the ability to recognize when questions are either worded oddly or have a set of answers that lead you to believe it is one of them more than the others is key.
When you can recognize these questions, instead of failing like most people would do, you have the advantage in the long run. In fact, HQ Trivia calls these types of questions savage because so many people go out in that round.
Always be sure you read questions and answers thoroughly.
You should always be sure to follow these games on social media.
There have been cases of these games' feeds dropping hints before the questions are asked.
If you follow them and pay attention, they are always sure to include hints or give you an insight to the game.
This is also a great way to watch for changes in the game or updates that are being made.
Be sure to try some of these tricks the next time you play. You might just be amazed at the results and hopefully a little richer.
What's the Call?
One word reviews on these games range from "awesome", "fun", and "a blast" to "irritating", "ridiculous", and "stupid."
Either way people are raving about these games.
If you have social media, I'm sure you've seen your friends talking about these games. They can be frustrating and very hard.
But keep in mind that these are free games that offer the possibility of winning real money.
Final Thoughts
Overall, these trivia games are a quick and easy way to pass the time with a small chance of success.
The best part is that these games are free.
Even if you don't win you still haven't lost anything except the few minutes it takes to play one.
The thing to remember is that you cannot get rich playing these games. Sure, you may win a little here and a little there but don't expect to quit your job anytime soon. There are very few cases of people getting big payouts.
Just remember these games are about fun, not getting rich.
And in the fun department, they have all set the bar very high.
So at the end of the day, if you like answering trivia questions, I'd install a few of thee free trivia games apps and start playing for cash and prizes.