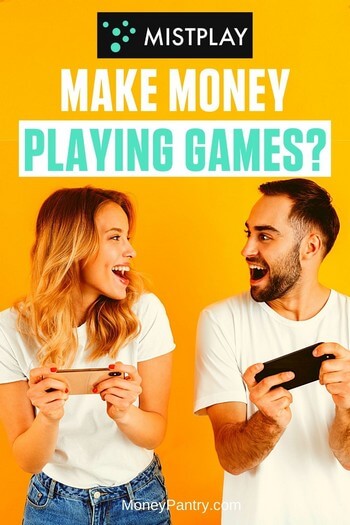 Can you really win money playing games?
Well, with Mistplay you can!
In today's Mistplay review, I'll tell you everything you need to know about the platform from signing up, to making money with it!
Since a lot of us play games on our phones anyway using one of the few legit apps that pay you to play games really is a no brainer.
There are a lot of gaming apps out there and some of them are good and some are not so good.
Mistplay is one to consider. Let's get into the review…
Need Easy Extra $300+/Month for Free?
KashKick
: Get paid directly into your PayPal for watching videos, surfing, shopping and more.
Join KashKick Now!
InboxDollars
: Paid over $57 Million to members to watch videos, take surveys, shop and more.
Get $5 instantly!
Branded Surveys
: Get $1 instantly just for joining for free. Plus get paid within 48 hours by PayPal!
Join Branded Surveys
First Opinion
: Get paid up to $10 per survey and $300 per virtual focus groups!
Join Now!
Swagbucks
: Get paid to watch videos, shop online, take surveys and more.
Join now & get $10 instantly!
What is Mistplay?
Mistplay (official website) is an app that pays you to play games.
It's pretty simple really!
Anyone can sign up. Unfortunately, there's no app for iPhone users. If you have an Android device though, you can download the app for free:
Get the Mistplay app here.
How Does Mistplay Work?
Mistplay basically works like a loyalty program for gamers. It offers a selection of games from different developers that you can play from your phone.
In this section, I'll cover how making money with the app works.
Step One: Find games
When you've installed Mistplay, you'll be able to open up the app and browse the available games.
What's interesting about the app is that it shows you games that are tailored to you.
You'll get access to your Mixlist. This is a personalized game library.
Interestingly, not everyone gets access to the same games on Mistplay.
Different games are offered to different users based on who the game developers want to present their games to. Also, if you've already downloaded a game in the past, you will be ineligible to use those games with Mistplay.
So you might see some games advertised by Mistplay that don't appear in your app.
If you find a game you like, just start playing. Games on the app are free, which is great! It's actually a great way to get free online games.
Step Two: Earn rewards when you play games
For playing these games, you earn points. Now the points system is a little more complex than just earn x points and redeem x points.
This is because Mistplay offers:
GXP: Game Experience Points
PXP: Player Experience Points
Units: The in-app currency
How points and Units work
Here's a little more detail on how the points and Units work:
GXP
GXP are your game experience points. The longer you play a game, the more GXP you will earn.
The more GXP you earn, the more your Mistplay game level increases for that game.
This is important because each time you level up in a game, you'll earn Units and PXP and those are your game rewards.
PXP
PXP are player experience points. This is your total player experience on the app. When you earn PXP, you increase your player level. This is important because each time you level up your player profile, you will earn units!
Units
Basically, you'll need to earn GXP and PXP in order to receive Units in the app.
Units are the in-app currency that you can use to redeem rewards – so money!
To get an idea of how many units you'll earn for playing a game, make sure you check the game's unit multiplier.
The higher the multiplier for a game, the more units you'll get each time you level up in the game.
Units can be redeemed for rewards.
A couple of restrictions on earning units…
The app has a few restrictions on how many points/units you can get:
All games have a Mistplay level cap of 20. When you reach this level on one game, then you need to switch over to another game in order to keep earning units.
Each game also has a daily time cap. So once you play a game for more than two hours in a single day, you will temporarily stop getting units for that game until the next day. That being said, you can keep earning units if you play different games.
The app will stop tracking your game if you leave your phone idle: If you leave your phone idle or aren't actively playing a game, then Mistplay will stop tracking your playtime, meaning you won't earn points. For the app to be able to track your playtime, you must actively play a game.
Step Three: Redeem your units for rewards
Once you've earned enough Units, you can redeem them for rewards. There's no mention of PayPal payments. But there are plenty of other rewards on offer, including:
Visa Prepaid cards
Amazon gift cards
Google play gift cards
You could use your Google Play card to get apps for free. You can even redeem your earnings for free Robux.
Or you could use an Amazon gift card to buy something you need from the platform.
Prefer cash you can spend pretty much anywhere? Well, opt for the Visa prepaid card!
There are so many rewards options available, which is awesome.
How to redeem your Mistplay rewards
In terms of what points are worth, it varies depending on the gift card option you choose.
Here are some examples:
$0.50 Amazon gift card: 400 Units
$10 Prepaid vis card: 3,000 Units
$15 Google Play card: 4,500 Units
What I like about the app is that it allows you to redeem gift cards in small denominations – like less than $1!
This means that you don't have to wait for ages to redeem your points.
So once you have enough points, you'll be able to redeem them for the reward of your choosing. Just go to the "Shop" tab in the app to view rewards.
There you'll be able to redeem the reward that you want.
Rewards are usually sent within 48 hours.
Just follow the instructions in the reward email to redeem your gift card.
Mistplay "Hacks" & Tips (Don't miss out on units!)
In order to make sure that Mistplay works properly, you need to do the following:
Don't use a VPN
Lots of us like to use VPNs but you can't if you want to use Mistplay.
Devices that use a VPN to connect to Mistplay are usually blocked. If you normally use a VPN, make sure that it's off when you use Mistplay.
Always make sure that you launch games through Mistplay
Make sure you launch your games through the Mistplay app, rather than directly off your phone. Doing this makes sure that Mistplay can track your playtime. This is important because if the app can't track how long you've played a game for, then it won't reward you.
Make sure your phone isn't on power saver mode
Since Mistplay needs to be able to run in the background to track your progress, you need to make sure that your phone isn't on power saver mode when you're using the app.
This is because power saver mode usually shuts off the background process on your phone, which means Mistplay isn't able to track your progress.
Make sure Data Saver is turned off
While you play a game, Mistplay needs to stay connected to the internet in the background of your device. This is so the app can track your playtime. So make sure that you turn off the data saver setting. Or you can enable unrestricted internet access for Mistplay.
Make sure you allow screen overlay or usage access for Mistplay
You need to enable both screen overlay and usage access for Mistplay in your phone's settings for the app to work properly.
Make sure that the app's recording game time setting is turned on
If the app's "Recording your game time" setting hasn't been turned on. Then you may not earn points. Make sure that this setting is turned on when you want to use Mistplay.
You can find this setting in the profile tab in the app. Just go to the 3 dots in the top right of the app, then tap "Settings."
How to Earn More on Mistplay
There are a few things you should do if you want to earn more on Mistplay.
1. Play games for longer
The longer you play, the more Units you will earn! So, make sure you put a decent amount of playing time into a game. Don't forget that you can only play a game for up to two hours before you stop earning units. So switch to a different game to keep earning.
2. Look out for Mistcodes
Mistplay sometimes gives out Mistcodes as part of special promotions. You can redeem these codes in the app for bonus Units. Having more Units is important as these are what you cash in for those rewards I mentioned above.
To make sure that you don't miss out on these codes, follow Mistplay on social media and subscribe to the company's newsletter.
3. Unlock achievement badges
When you complete missions, you will unlock achievement badges. These are great for increasing your earnings because every badge you earn will give you more Units to spend on rewards.
4. Look out for contests
Mistplay also offers contests. It launches new contests every week. So enter for a chance to win the grand prize. The last contest of each month provides an epic grand prize!
Is Mistplay Legit & Trustworthy?
Now you know how it works, you may be wondering whether the app is legit or not.
Getting paid to play games might seem too good to be true. In the case of Misplay though it's NOT too good to be true.
The app will pay you for playing games on your phone. It's not a ton of money but it does pay you.
Mistplay has a 4-star rating on the Google Play store and more than 100,000 reviews. So it's pretty well-reviewed by its users.
Most users praise the app and say that it actually pays out, like this reviewer (who rated the app 4-stars) who says:
"First off, this is one of the few legitimate paying apps. I've earned, and spent, more than $200 in about a year.. They have a great selection of games; from word games to card games, from RPGs to casino games, they offer something for everyone. Also, they add games weekly, sometimes more than! The only reason I docked a point is because I literally have no idea how the point system works… i know I can play a game for 2 hours before earning stops, and that's about it."
So Should You Use Mistplay?
Overall, Mistplay is a legit app that is worth considering.
Let's take a look at some of the app's pros and cons
Pros
First, we'll cover the app's positive features…
You get paid to play games: Playing games is a fun way to earn money!
It actually pays out: There are tons of reviews from people who said the app paid them. So this is a legit opportunity.
Cons
Now for the negatives of the app…
The points system is a little confusing: It really would be easier to track your earnings if you just earned one type of point. But Mistplay has three types of points! This can be a little confusing when you first start using the app.
It's not a quick way to earn money: The longer you play a game for, the more money you will earn. This means that you're having to spend a lot of time playing games on Mistplay in order to earn money. So it's not the fastest way to make money.
Users have issues with the app tracking their time
Some users said that Misplay didn't properly track the time they spent playing games:
"Sometimes it tracks that I'm playing games and most times it doesn't. I play an 1-2 hours a day and yet I says I didn't play at all and takes away my one day streak, which is as high as it's willing to notice, because it can't even acknowledge that I opened the app everyday day. Even the games themselves I play show that I play 1+ hours, but not Mistplay."
Obviously, that's not ideal if you're looking to make money.
Now, that being said, there are reasons why the app might not be tracking your earnings. Make sure you have everything set up properly, like your data saver settings turned off, like we mentioned above, as things that like can affect whether Mistplay functions properly or not.
Overall, Mistplay offers a fun way to make money from your phone.
That being said, you're not going to earn that much and you have to put in a decent amount of time into playing games since the app rewards you more the longer you play a game.
If you're looking to make a little beer money and enjoy playing games, the app could be worth it for you!
Hopefully, this Mistplay review helps you to decide whether this app is for you!