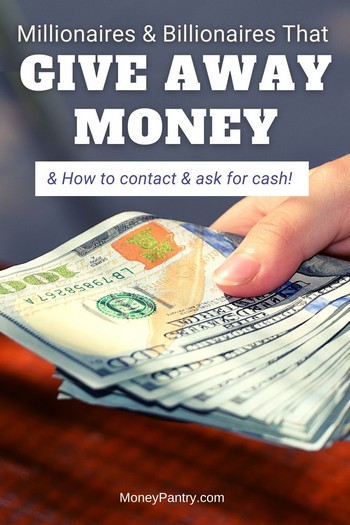 Millionaires giving away money isn't some pipe dream. In fact, it happens all the time. You can in fact get money from strangers.
Millionaires and billionaires give away money to individuals, poor people in need of financial help and charities all the time.
The other day, my husband and I were having a conversation about Amazon founder and CEO, Jeff Bezos after reading that during the lockdown, Bezos added an impressive $34.6 billion to his wealth.
He's not the only one.
During the U.S. lockdown between mid-March and Mid-May, America's billionaires saw their fortunes soar by $434 billion.
Fortunately, many of the world's richest people give their money away.
Need Easy Extra $300+/Month for Free?
KashKick
: Get paid directly into your PayPal for watching videos, surfing, shopping and more.
Join KashKick Now!
Panel Payday
: Earn up to $75 per survey. They also pay up to $50/hr for mystery shopping.
Join Now!
InboxDollars
: Paid over $57 Million to members to watch videos, take surveys, shop and more.
Get $5 instantly!
Branded Surveys
: Get $1 instantly just for joining for free. Plus get paid within 48 hours by PayPal!
Join Branded Surveys
iPsos iSay:
: If you have to only sign up for one paid survey site, go with Ipsos (high paying survyes)!
Join iPsos Now!
Swagbucks
: Get paid to watch videos, shop online, take surveys and more.
Join now & get $5 instantly!
There are lots of millionaires out there who'll give money to those who need it.
Maybe you lost your job and trying to figure out how to make money without a job so you can pay your bills?
Maybe you're looking to get free money to help you avoid foreclosure?
Or maybe you'd love to start your own business but just don't have the startup capital to do it?
There are many reasons you might want to contact a millionaire giving away money.
Or perhaps you're just interested in knowing who of the world's richest people has a generous side?
Whatever the reason, let's take a look at why rich people give away money and my top 10 list of rich people who give their money way.
After that, I'll cover two websites where you can actually contact millionaires and billionaires to ask for money (and I'll even give you some tips on how to write a great letter!)
Why Do Rich People Give Money Away?
There are many reasons why the world's millionaires and billionaires give their money way.
When it comes down to it, the main reason is simple: they want to help people who're less fortunate than they are.
I've given away money to charities over the years. You may have too, and millionaires and billionaires are no different.
They want to give cash to causes they care about, but they just do it on a much larger scale, because they have the means to.
A lot of rich people give away their money through charitable organizations. Some rich people have their own charities that they fund and some rich people donate to a range of charities that are close to their hearts.
Let's take a look at a few reasons why rich people give away money
To prevent homelessness
Millionaires can donate money to prevent families from falling into homelessness.
To assist people with their career goals
Someone might want to start their own business, but not have the funds to do so.
Or someone might be a talented artist, but not have the funds for a studio space or the time because of work commitments to pursue a career.
A wealthy person may help to fund startups or an artist's work in order to get them started in their career.
To help fight hunger
Sadly, hunger is a problem across the globe, including in our own country. Many wealthy people donate to programs that help to fight hunger.
To fund research, education, conservation, and public services.
Lots of wealthy people donate to help fund universities, wildlife conversation, scientific studies, public health services and more.
To help people at times of crisis
Many millionaires donate money to people in times of crisis, like after a natural disaster like Hurricane Katrina. Others might help women and children in crisis, like JK Rowling, for example.
There are lots of other reasons why people might give away some of their fortune of course, as you'll see below!
Top 10 Millionaires & Billionaires Who've Given Away Money
Right, in this section, I'll cover some examples of rich people who have given away money.
These range from businessmen like Warren Buffet to authors, like J.K. Rowling.
1. Warrant Buffet
Warren Buffet has made billions through investments and he's giving away much of his wealth.
He's the world's fourth richest man having a net worth of about $78 billion, thanks to his investment conglomerate Berkshire Hathaway.
Berkshire Hathaway owns stakes in household names including Dairy Queen, American Airlines, and Kraft Heinz.
Since 2006, he's donated an impressive $37 billion!
He's said that he wants to donate 99% of his fortune.
Much of his giving has been towards The Bill and Melina Gates Foundation. The foundation is known for its anti-poverty and health initiatives, like malaria prevention and polio vaccination. It also helps a range of other causes, such as fighting hunger and extreme poverty and enhancing education.
2. Chuck Feeney
The story of Irish-American businessman Chuck Feeney is a pretty fascinating one.
"Giving while living" is his motto.
He earned his fortune as a co-founder of the Duty Free Shoppers Group, which pioneered the model of duty-free shopping.
For years he'd been giving away his money in secret.
Yes, that's right. It was only discovered in 1997, after a business dispute, that Feeney had given away $600 million without anyone knowing.
Since then, he's continued to give away most of his wealth.
Feeney has always been known for his frugality, with reports that he:
Flew coach until he was 75 years old
Rents the apartment he lives in
Skipped luxury lunches in New York City in favor of burgers at one of the Upper East Side pubs
In 2017, it was reported that Feeney had left himself with just $2 million worth of his wealth to live on. This worked out at less than 0.001% of the $8 billion he'd given away.
Chuck Feeney gives his wealth through his foundation The Atlantic Philanthropies.
He's given $2 billion dollars to Ireland, $177 million to find a cure for dementia, and $100 million to UC San Francisco's Medical Campus.
And those are just a few examples of his generosity.
3. J.K. Rowling
Had it not been for her philanthropy, J.K. Rowling would be on Forbes' list of billionaires.
Thanks to her charitable donations, Rowling has dropped from billionaire to millionaire.
The Harry Potter author has made many donations to a variety of causes over the years.
The Harry Potter author donated £1 million to charities to support vulnerable people during the lockdown, with half going to help homeless people and the other half going to support victims of domestic abuse.
In 2019, she donated a further £15.3 million to the Anne Rowling Regenerative Neurology Clinic at the University of Edinburgh.
The clinic, which was named in memory of Rowling's mother who died at aged 45 due to multiple sclerosis, was founded by the author in 2010. It conducts research into various neurological conditions, like MS and Parkinson's disease.
4. Ted Turner
CNN founder, Ted Turner has been giving away his money for decades.
In 1997, Turner pledged $1 billion to UN programs, which established the United Nations Foundation, a public charity to broaden U.S. support for the UN.
Along with Warren Buffet and Chuck Feeney, Turner is part of the Giving Pledge. It's an organization that encourages the world's wealthiest people to donate the majority of their wealth to philanthropic causes.
5. Tim Cook
Apple CEO, Tim Cook, is another businessman who's known to donate his wealth.
Cook owns 847,969 shares in Apple, which is about 0.02% of the company's shares, that have a total value of about $375 million.
His share sales, dividends, and other compensation amounts to about $650 million.
Despite his wealth, he's another billionaire who doesn't live a lavish lifestyle, reportedly living in a Palo Alto home that's worth less than 75% of the town's median home value.
In the 2012 book by Adam Lashinsky, "Inside Apple: How America's Most Admired–and Secretive–Company Really Works," Tim Cook said, "Money is not a motivator for me."
So it's no surprise that in 2019 he donated more than $5 million worth of Apple shares to an unspecified charity.
He's also pledged to donate his fortune to charity before he dies.
6. George Soros
George Soros is a Hungarian-American billionaire investor and he also has a philanthropic organization called the Open Society Foundations. It supports democracy and human rights in more than 100 countries.
He's given away more than $32 billion of his personal fortune to fund the foundation's work around the world.
Soros is also the founder and primary funder of the Central European University in Budapest, which is a leading regional center for the study of the social sciences.
7. Hansjörg Wyss
Hansjörg Wyss is a Swiss entrepreneur who donates his money.
He is the founder and was president, then chairman, of Synthes USA, until its sale in 2012.
In 2012, he sold the company to Johnson & Johnson for $20.2 billion. Currently he holds stakes in publicly traded biotech companies, Novocure and Molecular Partners.
In 2019, he announced he was donating $131 million to Harvard University.
The money will be donated to the Wyss Institute for Biologically Inspired Engineering at Harvard, which was established following a $125 million donation Wyss made to Harvard in 2009.
His donations over the years and across the University amount to more than $400 million.
Also, he founded the Wyss Foundation which, according to the website is "dedicated to supporting innovative, lasting solutions that improve lives, empower communities, and strengthen connections to the land."
It has a focus on conservation, but it's also supported education initiatives, environmental journalism, social justice, and other causes.
8. Jim Walton (and the Walton family as a whole)
Jim Walton is the son of Walmart founder Sam Walton. In 2019, he donated $1.2 billion of the retailer's stock.
The Walton family as a whole has been known to help out various charitable causes through its organization, the Walton Family Foundation.
It focuses on improving K-12 education, protecting rivers and oceans and the communities they support, and investing in its home region of Northwest Arkansas and the Arkansas-Mississippi Delta.
9. Pierre Omidyar
eBay founder Pierre Omidyar became a millionaire at just 31 years old. Since then, he's given away his wealth to support a wide variety of causes.
In 2015, Omidyar gave 10% of his stock in eBay, which was estimated to be worth $269 million, to undisclosed charities.
He is also the founder of the Omidyar Network which supports non-profit and for-profit organizations.
Omidyar's philanthropic activities have contributed more than $1 billion to programs in a range of causes from disaster relief to human rights.
10. Michael Bloomberg
Former New York Mayor and businessman Michael Bloomberg has given away a ton of money over the years.
He is one of America's most generous philanthropists, giving away $9.5 billion to a wide variety of causes, including a $1.8 billion donation to John Hopkins University.
This donation allowed John Hopkins to permanently accept and enroll students without regard to their ability to pay. It's the largest gift in the history of American higher education.
Bloomberg Philanthropies, his philanthropic organization, distributed $3.3 Billion In 2019.
He joined The Giving Pledge alongside other billionaires like Warren Buffet.
Can You Contact Rich People Asking for Money?
Yes!
I know that most of the people on that list have given their fortunes away to charities or to organizations that they're passionate about – however, that doesn't mean that there aren't millionaires giving away money to individuals.
In fact, there are plenty of millionaires and billionaires out there who are known to have donated some of their money to individuals who've contacted them.
But just how do you go about getting in touch with rich people who give away money? It's not like you could just find J.K. Rowling's phone number or home address to write her a letter, right?
No, of course not.
That doesn't mean that there isn't a way for you to reach out to a wealthy person for money though.
In fact, there's a website called BillionaireMailingList.com that offers the contact addresses of all United States billionaires. This includes all Forbes 400 Billionaires and Bloomberg Billionaires for 2019.
It says that its lists are "100% guaranteed accurate or your money back"
It's important to note that these lists aren't free.
There are three types available, ranging in price from $19.95 to $29.95, or you can get all three lists for $39.95.
The website says that people can get in touch for multiple reasons, such as:
To save yourself from homelessness, car repos, foreclosure, and utility shut off.
To ask for help to start a new business.
To ask for a grant for college.
And many more.
You can also check out AnonymousMillionare.org. This website is run by a millionaire who wants to help people. So you can request money on the site here.
How to Ask millionaires for Money
If you do want to get in touch with a rich person to ask for money, just how do you go about doing it?
What do you say?
In this section, I'll give you some tips on asking rich people for cash.
Here are some tips for writing to rich people to ask for money…
Don't lie
Being honest and sincere is the best way to go when asking for money. If a billionaire or millionaire who helped you out were to find out that you lied, then you could get in trouble, even legal trouble.
Plus, you know, it's unethical to lie to get money.
Be realistic
Asking for $1,000,000 for your dream home is probably not the best way to go. Asking for $1,000 to pay your rent this month is!
It's not that you can't ask for large sums of money, but it's best if you're going to use that cash for something like paying for college or starting your own business.
Write the letter in first person
It's best to write your letter in first person, so "I'm looking for financial support for my startup," rather than "John Doe is looking for financial support for his startup."
It just makes the letter more personal and more likely to connect with the person reading it.
Be polite and don't beg or be too demanding
Being polite is so important. It's their money, and they do not have to give it away if they don't want to. So don't be demanding and don't beg either.
Avoid saying things like "I need cash right now," "Please send me money" or "You are my last hope for money."
If you're polite, they'll be more inclined to help you out. And if you can show that their donation to you will make a difference, like it will prevent you from becoming homeless or help you to get a college degree, then they'll be more likely to oblige than if you just said something like, "I just want money for a fancy car."
Say "Thank you" in advance
This one is kind of related to that whole notion of being polite that I mentioned above.
Make sure you thank the person for reading your letter or email.
You could say something like, "Thank you for taking the time to read my message. I appreciate that you must get a lot of requests like this."
Let them know that even if they don't help you out, you appreciate them taking the time to read your letter or email.
Make sure you're concise
People are busy and millionaires are no different. So don't waffle on too much in your letter or email.
Explain your situation concisely. Let them know why you need the money and explain what you plan to do with any money you receive.
In the initial request, don't go on too much. Instead, say that if they're interested, they can contact you for further details.
Proofread your letter or email
Take the time to check your letter or email for any typos, grammatical errors, or spelling mistakes. You want to make it look like you've put effort into crafting your letter.
Closing Thoughts
Obviously, you can't expect this to work as a scheme to become a millionaire overnight. It's just a way to get help when you needed the most.
It's good to know that there are people out there who're willing to share their wealth.
And it's really interesting to see which causes wealthy people like Warren Buffet and Chuck Feeney like to give to.
Even if you can't contact the people on the list above directly, and most of them are donating to charitable and non-profit organizations, you can instead use those sites I mentioned above to connect with rich people.
Those sites are good because they give you a way to contact wealthy people to ask for money.
There are lots of reasons that you may want to contact wealthy people who're giving away money.
Perhaps you need help with paying your mortgage?
Or maybe you just have a career goal that you really need some cash to pursue.
Whatever it is, consider contacting billionaires and millionaires who're giving away money.