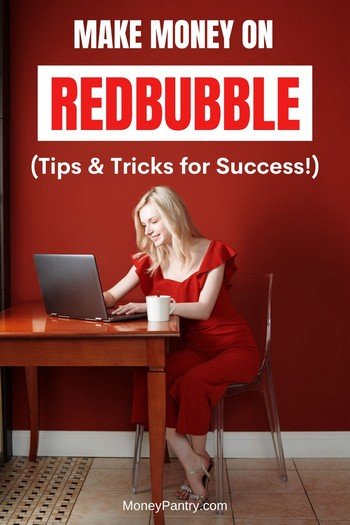 If you are thinking about making money on RedBubble selling customized products, you are in the right place.
RedBubble is a global online marketplace for print-on-demand products.
And just like most other sites like RedBubble, it enables users to submit their own artwork, and their images on a huge range of products, such as:
You can head on over to the Redbubble website here and start selling for free.
Once you've signed up, you can simply upload your images and Redbubble will print them when the customer makes a purchase. The site handles everything from printing to shipping for you.
If you are thinking of starting a store there, you might be wondering how to make money on Redbubble.
Need Easy Extra $300+/Month for Free?
KashKick
: Get paid directly into your PayPal for watching videos, surfing, shopping and more.
Join KashKick Now!
Panel Payday
: Earn up to $75 per survey. They also pay up to $50/hr for mystery shopping.
Join Now!
InboxDollars
: Paid over $57 Million to members to watch videos, take surveys, shop and more.
Get $5 instantly!
Branded Surveys
: Get $1 instantly just for joining for free. Plus get paid within 48 hours by PayPal!
Join Branded Surveys
iPsos iSay:
: If you have to only sign up for one paid survey site, go with Ipsos (high paying survyes)!
Join iPsos Now!
Swagbucks
: Get paid to watch videos, shop online, take surveys and more.
Join now & get $5 instantly!
After all, it's not as simple as just signing up and putting up a few designs. You have to do everything you can to make sure your shop and products stand out.
In this post, I'll cover tips for selling on Redbubble.
How Do You Get Paid in Redbubble?
If you want to have success on Redbubble, then it's important to familiarize yourself with the way that pricing and payments work in the Redbubble marketplace.
Redbubble doesn't take a set commission on your sales.
Instead, the site has a base price for each product.
This is what it costs Redbubble to print and sell your product, basically.
Then, you set your own commission per sale. This is your artist margin.
By default, this is set to 20%, but you can change it to the amount you want.
So, the base price + the artist margin = the final retail price that the customer pays.
That's basically how payment works on Redbubble.
If you want to learn more about how much money you earn from your sales, be sure to check out this article from Redbubble.
Now that you know how payments work, I'll cover tips for making money on the platform.
How to Sell On Redbubble Successfully
If you want to increase your chances of having a successful Redbubble store, be sure to follow these tips.
1. Customize your shop
The first tip is a simple one and that's to customize your shop.
To sell stuff online, you need to make sure that your store looks good. You should have a cohesive theme, logo, and just good branding in general.
Redbubble allows you to customize the appearance of your shop in your Account Settings.
You can find your Account Settings by clicking on your avatar in the top right corner of any page. And they are also in the menu on your Dashboard.
Here are some things that you should add to your shop:
Your bio
Customers want to know who they're buying from. After all, there are a ton of other sellers to compete with. So, make sure that your bio draws them in.
Your bio should offer an introduction to you and the type of work you create.
Your bio should encourage customers to browse your shop, favorite your work, and follow you.
Have a read of this post from Redbubble on how to write a great bio for your shop.
An Avatar and Cover Image
Your shop's appearance can help to tell the customer what they can find in your store.
So, your avatar and cover images give you the chance to impress customers and encourage them to browse your store, and hopefully purchase stuff from you.
It's a good idea to make sure that you create consistency between the artworks customers can find in your shop and your profile and cover images.
Social links
It's also a good idea to make it easy for customers to find and follow you elsewhere by adding your social links. This is a good way to build up an audience and can help you to promote your art.
Also, filling out your bio and adding social links can increase your chances of being featured on the Redbubble homepage, on the site's social media profiles, and in its marketing emails.
2. Create designs with products in mind
Redbubble allows you to sell your designs on a huge range of products. You can upload designs on everything from phone cases to t-shirts.
While you can technically upload your design to every single type of product on Redbubble, this isn't always the best option.
For example, a design that looks great on a phone might not be large enough to make a statement on a t-shirt.
So, if you can, make a few different versions of the same artwork to suit different product types.
This can help your products to engage more customers.
Many customers want to purchase products that look as though the design was created specifically for that product type.
And, the more products you can get your designs on, the more products people have to stumble across on the Redbubble marketplace. That means potentially more sales for you. More products can also result in more products appearing on Google Image results.
3. Upload plenty of designs
It's so important that you upload plenty of designs.
In fact, Redbubble suggests that you should upload a full catalog right away and that you should aim for at least 25 designs in your first month.
Successful sellers on Redbubble don't just list one or two designs. They list dozens of them. Some people even list hundreds of different ones.
It's a good idea to create a large number of designs. That way, customers have plenty to choose from.
Also, if a customer likes one of the designs in your store, then they may browse your shop to see what other products you have available. So, be sure to have plenty of products available for customers to choose from.
Also, don't be afraid to sell less competitive products than every other seller. Sure, you want to sell what's popular, but having a mix of designs can be a good idea.
For example, t-shirts could be more competitive than leggings, so be versatile and create designs for lots of different product types. A lot of people might be selling t-shirts, but what about clocks, leggings, or blankets? Those items might have less competition.
4. Do some keyword research
When it comes to choosing which types of designs to upload to your Redbubble store, one of the best things that you can do is keyword research.
Doing keyword research will let you know whether or not a product is worth it.
For example, you might love a certain subject for your designs, but that subject might not get much traffic. And, without traffic, you're unlikely to get any sales.
Google Keyword Planner is a great tool for keyword research. It's free to use too. This tool shows you how often people are searching for a specific term in Google.
So, the Google Keyword Planner tool can help you to see what types of designs and topics are popular with customers. This will help you to create designs that are relevant or on-trend.
5. Use tags on your designs
If you want to be successful at selling on Redbubble, then I would recommend that you add tags to your Redbubble shop.
Redbubble tags help potential customers to find your products on Redbubble. And, the easier it is for customers to find your products the better, because you'll get more sales, and therefore, more money.
Tags are the search keywords that people use to find designs on Redbubble. So, proper tagging will help to bring your work to the top of the search results on Redbubble, and in search engines like Google.
You can review the tags on all of your designs on the Manage Works page of your Redbubble account.
Using the Google Keyword Planner tool that I mentioned before is great for helping you to create your tags. So, this can be great for helping to boost traffic to your store.
Redbubble recommends that you use 15 tags on each design.
There's an article from Redbubble that gives you more tips on using tags on your designs, which you can read here.
6. Write great product descriptions
Your product descriptions are also important. On your designs, you can include a description of up to 250 characters to tell your audience what the product is. This can be useful for getting sales.
Once you have uploaded your design, you can add a title, tags, as I mentioned before, and a description.
So, be sure to add a great description to your products that draws the audience in.
Using keywords is a good idea. So, the Google Keyword Planner tool will be useful again here.
Just make sure that you're not overstuffing the description with keywords. You want it to sound natural. Your tags are where you can use lots of different keywords.
Your description should provide information on the product, while also helping people to find it on the marketplace.
7. Make sure you choose the right default view for your designs
On Redbubble, you will need to select your design's default view.
So, if for example, your design looks best on an iPhone case, then select "iPhone case."
This ensures that your product looks good to customers. And, the better your products look, the more likely you are to make a sale, which means more money for you!
This is why it's important to create designs with specific products in mind as I mentioned earlier, so that they look good when viewed on certain items in your store.
8. Use social media to promote your Redbubble store
Social media is an important tool that can help you to get more customers and therefore make more money on Redbubble.
So, you should share images of your work on sites like Instagram, Facebook, and Twitter. This will help you to promote your store.
9. Research trends
When creating designs, it can be a good idea to consider trends.
Think about what topics are trending right now and then consider making designs that are related to these trends.
You can use Google Trends to see what topics are currently trending. Google Trends even has lists of shopping trends too, which can be useful.
Creating designs that are trending could help you to make more money since people may be looking for items in that niche.
10. But remember that evergreen designs are also key
Although it can be good to capitalize on trends, by their nature, trends are fleeting. So, it's important that you don't base all of your catalogs on trending designs.
Instead, you will want to focus on evergreen niches.
Evergreen niches don't rely on trends to attract customers. Instead, they have everlasting appeal. These are niches that there will always be a demand for. For example, you'll always get people who love dogs or enjoy cooking.
So, consider evergreen niches. It's important to have designs in your catalog that are timeless and will continue to sell, rather than designs that are all based on trends that will eventually pass.
Designs that are evergreen will appeal to a wide range of customers. And the more customers you can appeal to, the more likely you are to make a sale and earn money.
11. Use a blog to promote your store
Having a blog can be a great tool for promoting a Redbubble store. You could create blog content that's related to your work and then use it to promote your store.
This is a great option because having content elsewhere online that contains links to your Redbubble store can help to increase your store's ranking on Google too.
So, put links to your Redbubble store on your blog.
Make sure that your blog content is relevant to your Redbubble store. Create blog posts that promote your designs and this can be great for getting more sales.
Blogs can be great for promoting a Redbubble store.
12. Promote your designs on YT if you have a channel
YouTube is another good platform for getting more sales on Redbubble. Many YouTubers sell merch for their channel.
So, if you have a YouTube channel or are considering starting one, then once your channel gets popular enough, you could sell merch through Redbubble. Simply link your Redbubble store in the description box on your videos.
13. Look at your store's sales history
If you want to be successful on Redbubble, then look at your store's sales history. Making money on Redbubble is all about knowing what works, and what doesn't. You may find that some designs just don't sell.
Looking at your store's sales history is a great way to gather data on what types of designs are selling and which aren't.
Fortunately, the Redbubble dashboard makes it easy for you to track product clicks and sales over time. So, you can get a great understanding of what people are searching for and what's selling.
If you find that a few of your designs are making up most of your sales, then consider making more designs in that particular style or niche.
If you notice that some of your designs aren't selling at all, then it can be a good idea to avoid doing more designs in that particular niche.
Find out what your top selling products are and try to emulate the success that you've had with those products in your future designs.
14. Optimize your profit margins
What's great about selling products on Redbubble is that you get to control your profit margin.
Unlike other sites, Redbubble does not pay a set commission. As I explained earlier, the site has a base price for products and then artists are free to set their profit margin to whatever amount they want.
Many designers typically set their profit at around 20% of the base cost. However, if your designs become popular, then you could mark up the price and increase your profits.
Let's say that you sell a t-shirt for $30 and your commission is set at the standard 20%. You would earn $6 from the sale. If that shirt becomes popular, you could increase your profit margin to 30% and then earn $9 from the sale. This is a simple way to make more money on Redbubble.
Of course, you need to be careful with upping your margins because most customers are only willing to pay a certain amount.
For example, $200 for a t-shirt on Redbubble is going to be too much money to pay for many customers. So, do ensure that your prices are realistic, as in someone would actually pay that amount.
Taking the example of the $30 t-shirt above, if you were to decrease your profit margin from the standard 20% to 10%, then you'd earn just $3 from the sale.
So, the lower your margins, the less you're going to earn.
However, pricing items lower can help you to beat the competition.
Still though, you don't want to shortchange yourself.
I wouldn't recommend dropping your commission below the 20% default rate. While dropping your prices may help you to sell a few more units, the amount of money you make won't be worth the time you've put into your designs.
Of course, there are exceptions to the rule, like stickers and other lower-priced items. Since stickers are cheap, you may only make a few cents on each sale.
For most items though, it's best to keep your profit margin at at least 20% and consider raising it to as much as 50% if the product gets popular. That way, you'll earn more than just pennies from your sales.
Setting your prices well takes time.
You might find that a product's sales increase, so you put the price up and make more money. But, you may find that once you've put the price up, the sales of that product drop. So, do some testing with prices to see what works for your store.
15. Understand that it takes time to earn money from Redbubble
Redbubble is a pretty competitive platform. So, don't be discouraged if you're not getting many sales when you're first starting out.
It will take time for your store to get established and start making sales. So, expect the first few months on the platform to be slow in traffic and sales-wise. Just don't give up and keep uploading your designs. The more designs you can add to your catalog, the better.
It will likely take around 6 months for you to learn how to properly use the site, create designs that sell well, and effectively promote your store.
Is Selling on Redbubble Worth It?
Yes, it is, IF you do it correctly!
Redbubble allows you to sell your designs on a multitude of products from phone cases to t-shirts to blankets. If you're looking for a side hustle to make money online, it's a great option.
The platform is pretty competitive, but there are still plenty of ways to earn. So, give our tips on how to make money on Redbubble a try.