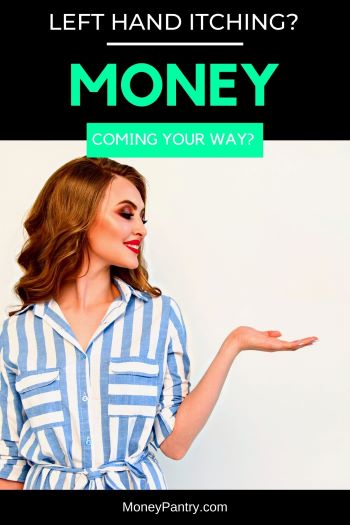 What does it really mean when your left-hand itches?
Could it mean that some money is coming your way?
Does it mean that you're going to lose cash?
Or that you are going to find money?
We'll answer those questions and more below.
Now, there are 100s of superstitions out there across the globe. Some of the most common are that walking underneath a ladder is bad luck or that, since spilling salt is considered bad luck, tossing spilled salt over your shoulder will reverse that bad luck.
Need Easy Extra $300+/Month for Free?
Panel Payday
: Earn up to $75 per survey. They also pay up to $50/hr for mystery shopping.
Join Now!
InboxDollars
: Paid over $57 Million to members to watch videos, take surveys, shop and more.
Get $5 instantly!
KashKick
: Get paid directly into your PayPal for watching videos, surfing, shopping and more.
Join KashKick Now!
Branded Surveys
: Get $1 instantly just for joining for free. Plus get paid within 48 hours by PayPal!
Join Branded Surveys
First Opinion
: Wanna get paid for every single survey (+ high paying online focus groups) with cash or direct deposit? This is for you!
Join Now!
Swagbucks
: Get paid to watch videos, shop online, take surveys and more.
Join now & get $5 instantly!
There are also many superstitions out there about money like that you should only pick up pennies or quarters that are heads up or that if you see a money spider on you, it will bring you money.
One that's quite common is itchy palms. It's a belief in many cultures that if your palms are itchy, it means that you are either about to gain money or part with it depending on which hand it is that itches.
What Does a Left Hand Itching Mean for Your Money?
Itchy palms tend to mean that money is coming in or going out.
Because superstitions are passed down by word of mouth, the details become a little muddied.
This is definitely the case with this tale!
Honestly, in my research, I found that about half of the sites said that an itchy left hand meant that money was going out and that an itchy right hand meant that money was coming in.
Then, I found that the other half of the sites said the exact opposite. So, they said that an itchy left hand meant that money was coming in, and an itchy right hand meant that money was going out.
Confusing, huh?
It gets even more confusing when you then add in that in some countries, like India, your gender could also impact the meaning of the left-hand itching.
In Hindu tradition, if you are female and your left-hand itches, it means that money is actually coming your way!
This was certainly the case for Mary Shammas.
Left Hand Itching Lottery Story
This is the story of how an itchy left hand resulted in a lottery win for Mary Shammas!
Back in 2010, then 73-year-old Mary Shammas was on the bus home when, suddenly, her left hand started itching.
In an interview with CBS News, Shammas described it as a "terrible itch that I've never had before."
After a short while, she remembered the superstition about left-hand itching meaning money was coming your way. She jumped off the bus and got a lotto ticket. That ticket ended up winning Shammas $64 million!
That's pretty lucky, right?
How Superstitions Can Help Us to Feel More in Control
It seems that whether a person believes that it's the right hand that brings money or the left hand, it's more about the sense of control that superstitions can bring to people's lives, rather than which hand is itchy.
Life can be unpredictable and chaotic at times, and we humans are not a fan of unpredictability and chaos. We like to feel as though we are in control.
That's why so many people rely on superstitions. Even people who don't consider themselves to be overly superstitious still find themselves doing things based on superstitions.
According to Psychology Today, in one study, more than half of Americans admitted to knocking on wood when they think that they have tempted fate.
Research also finds that people are most likely to engage in superstitious behavior when they feel uncertain, stressed, or that they lack control.
Life can be stressful, and sometimes these more fun superstitions, like those that bring us good luck or money, in the case of the itchy palms tale, can just help us to feel a little less stressed. And feeling less stressed is definitely a good thing.
Other (Scientific) Reasons Your Left Hand Maybe Itchy
If you believe that itchy palms mean that money is coming your way, then good for you! If not, then good for you too! It's really up to you what you believe.
Now, if you do want to know some other reasons, other than money, that could be causing your left hand to itch, then check out the list below. I've included some reasons why your palms could be itchy:
Dry skin: Dry skin is pretty common on the hands. I have it, and I know that my skin can get pretty flaky on my palms, especially on my left hand. A good moisturizer can help a lot!
Psoriasis: This is another skin condition that can cause your palms to itch. Psoriasis is a skin disease, which can cause red, itchy, and scaly patches.
Eczema: Eczema can cause red patches on the skin that can become very itchy. I have eczema, and although it's not as bad as when I was younger, I still get it on my hands quite frequently, especially during times when I don't moisturize as diligently as I should. If you have eczema, it can cause your palms to itch.
Diabetes: Although not as common as the causes above, diabetes can sometimes cause itchy hands. This is because diabetes can affect your blood circulation, and poor blood circulation can lead to itchy skin. But, most people with diabetes-related itching experience it in their legs more often than they do in their hands.
Last Words
Left-hand itching seems to have different meanings to different people. It's safe to say that itchy palms, whether on the left or right hand, are believed by many to mean that money is coming it or that it will be paid out.
If you have an itchy hand, you may have some good financial fortune in your future, if not, then don't worry. You can still bring in cash. Just have a read of Money Pantry to find plenty of ideas for making money!
What do you think is the meaning of an itchy left hand? Do you think it means that money is coming your way? Do you think it means that you'll lose cash? Or do you think it has nothing to do with money at all and it's more likely to be caused by something like eczema?
Let us know in the comments section below.