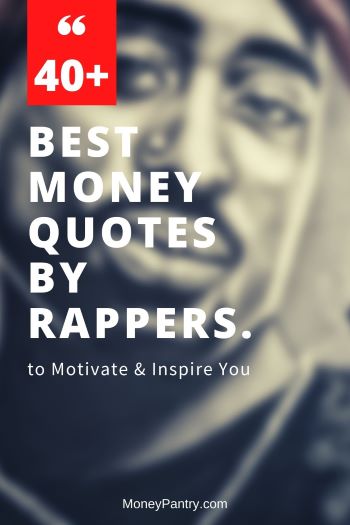 There are a lot of great rapper quotes about money. Rappers and money go hand in hand. Rap lyrics about money aren't hard to find in even the best and most famous rap songs of all time.
For me, the first picture that pops into my head when I think about rappers and money is tons of cash being thrown in the air or a "gangster" rapper with stacks of money surrounded by beautiful ladies and fast cars.
But these days rappers are smart about their money. While in their videos and songs they may rap about overspending tons of money like there is no tomorrow, many of them have learned to manage their newfound wealth better.
Some of them actually have great inspirational and even funny quotes about money. So in today's post, I thought I'd share some of the best money quotes from rappers.
Top Money Quotes by Famous Rappers
Let's start our list of the best quotations, sayings & rap lyrics about money by famous rappers with my favorite money quote by a rapper.
Adversity builds character and character takes you places money can't.

Need Easy Extra $300+/Month for Free? KashKick

: Get paid directly into your PayPal for watching videos, surfing, shopping and more.

Join KashKick Now! InboxDollars

: Paid over $57 Million to members to watch videos, take surveys, shop and more.

Get $5 instantly! Branded Surveys

: Get $1 instantly just for joining for free. Plus get paid within 48 hours by PayPal!

Join Branded Surveys First Opinion

: Get paid up to $10 per survey and $300 per virtual focus groups!

Join Now! Swagbucks

: Get paid to watch videos, shop online, take surveys and more.

Join now & get $10 instantly!

T.I.

I'd rather invest in real estate — invest in some assets as opposed to trick all my money in diamonds and cars — it look good but at the end of the day you're losing value. It ain't appreciating, it's depreciating. (I'm trying to get) a real asset. Take care of my people.

Nipsey Hussle

So if money is the root I want the whole damn tree.

Dr Dre

I tried to pay attention but attention paid me.

Lil Wayne

Success is my idol, being broke is my rival.

Big Sean

Some people are so poor, all they have is money.

Chance The Rapper

Cash rules everything around me: CREAM, get the money. Dollar, dollar bill y'all.

Wu-Tang Clan

Money Trees Is The Perfect Place For Shade.

Kendrick Lamar

Everybody raps. We rap to make money. We do business. Ain't no other record company out there that sold as many records as we did.

Tupac Shakur

We playing the long game. We don't want the money to stop when we go. When we can't work no more. We want it to outlive us, we want it to be generational.

Nipsey Hussle

Promise Me You Gon' Stack, Promise Me You Gon' Ball, Promise Me You'll Invest Three-Fourths Of It All.

Outkast

I Started From The Bottom, And Now I'm Rich. I Got In My Bag And I Ain't Looked Back Since.

Iggy Azalea

I try to treat all the money I'm making like it's the last time I'm going to make it.

Eminem

They say time is money but really, it's not. If we ever go broke, time is all we got.

J Cole

Payday will be worth all the broke nights I stayed up.

Big Sean

Let's take the dough and stay real jiggy.

Jay Z

Floss A Little, Invest Up In A Mutual Fund.

Busta Rhymes

Diversify Your Millions, You Can Live Off The Interest. Make Every Revenue Stream Flood, See Where It Took Me.

Xzibit

I feel that luck is a product of hard work.

Nipsey Hustle

You lose money chasing women, never lose women chasing money.

Nas

Invest In Your Future, Don't Dilute Your Finances, 401k, Make Sure It's Low Risk, Then Get Some Real Estate, 4.25% Thirty-Year Mortgage.

Kendrick Lamar

Mo money, mo problems.

Biggie Smalls

Stop buying things you don't need. To impress people you don't like with money you don't have.

Ice Cube

My Mind On My Money And My Money On My Mind.

Snoop Dogg

Hip-hop don't have no fresh energy, none at all. It's money driven, everybody tryin' to make that cheque, nobody putting art in their albums any more.

André 3000

If it ain't making me money, making me better or making me happy… ain't making time for it.

50 Cent

Oh Well Guess You Win Some And Lose Some, As Long As The Outcome Is Income.

Drake

Having money isn't everything, not having it is.

Kanye West

If I'm fake I aint notice cause my money aint.

Nicki Minaj

I used to roll up: this is a hold up, ain't nuthin funny. Stop smiling, be still, don't nuthin move but the money.

Rakim

If you're a hustler, you should find somewhere to capitalize off that and turn it into some money.

Nipsey Hussle

I just save my money, man. I don't even try to enjoy it like these other rappers; they having fun and they lit, but they gon' be broke later on. I be savin', I be chillin'. It feels good to know I got it, but it feel better to know I'ma keep it too.

Lil Baby

I want the finer things in life so I hustle.

50 Cent

I try to do the right thing with money. Save a dollar here and there, clip some coupons. Buy ten gold chains instead of 20. Four summer homes instead of eight.

LL Cool J

Being self-made means never making an excuse as to why you can't take a step toward whatever your goal is.

Nipsey Hustle

There shouldn't be any violence in hip-hop. You're getting free clothes. Basically, it's free money.

DMX

If you can't buy it twice you can't afford it.

Jay Z

I never look at it like I'm wasting money when I'm buying gold.

Big Sean

Money is something that keeps you alive and healthy and just keeps you focused. It's the drive. It's the passion.

Travis Scott

If you stop at general math, you're only going to make general math money.

Snoop Dogg

Money is freedom. Money is a private plane. Money is no metal detection.

50 Cent

Final Words on Rapper Money Quote

I think rappers, especially the ones that came from nothing and are now wealthy and successful can teach us a lot about money. Even the ones that lose most of their newfound wealth quickly can teach you about the importance of managing your finances and not living beyond your means.

Reading quotes about money from rappers, Hip Hop artists and musicians, in general, is a great way to get different perspectives on money, side hustles and building wealth. Sure, we may not all be as talented as them, but we all have to make money. These are great inspirational and motivational rapper money quotes that can help you set and achieve good financial goals in your life.

What is your favorite money quote by a rapper? How has it helped you get motivated and inspired? Share your comments below.