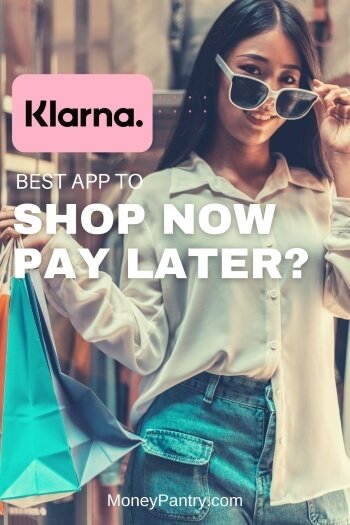 Buy now pay later apps, like Klarna, allow you to split the cost of purchases into installments that can be paid off over time. And there are many stores that accept Klarna.
Buy now, pay later (BNPL) is a type of short-term financing. Sometimes BNPL is referred to as a "point of sale installment loan."
It's becoming a popular way for consumers to pay for things. In fact, BNPL accounted for about 2.1% of all eCommerce transactions globally in 2020.
Although it's better to pay for items outright, rather than using financing, buy now, pay later plans can be a good option if there's little or no interest on the plan, and you can comfortably afford to make future payments.
If you want to split the cost of your purchases, then you might be considering Klarna. It's one of the most popular and well-known buy now, pay later companies, but, is it worth it?
In the Klarna review below, I'll cover how it works, whether it's legit, and what customers have to say about the platform.
Need Easy Extra $300+/Month for Free?
KashKick
: Get paid directly into your PayPal for watching videos, surfing, shopping and more.
Join KashKick Now!
InboxDollars
: Paid over $57 Million to members to watch videos, take surveys, shop and more.
Get $5 instantly!
Branded Surveys
: Get $1 instantly just for joining for free. Plus get paid within 48 hours by PayPal!
Join Branded Surveys
First Opinion
: Get paid up to $10 per survey and $300 per virtual focus groups!
Join Now!
Swagbucks
: Get paid to watch videos, shop online, take surveys and more.
Join now & get $10 instantly!
What is Klarna?
Klarna is a financial company that offers buy now, pay later payment plans for online and in-store purchases. You can use these plans to shop at retailers like Macy's, Sephora, and Etsy.
Founded in 2005 in Stockholm, Sweden, Klarna is now available in 17 countries.
Almost 150 million consumers used Klarna in 2021. There are over 20 million Klarna users in the US alone, making it the company's largest market.
Klarna's financing model is similar to companies like Affirm, Afterpay, and Zip (formerly Quadpay), which also offer short-term loans at checkout.
Klarna has a mobile app:
And, it has a browser extension for Chrome, which you can get here.
How Does Klarna Work?
Klarna's most well-known financing option is its Pay in 4 plan, which allows customers to split any purchase into four interest-free installments.
Pay in 4 isn't the only financing option available through the company.
Klarna offers three different financing options, which include:
Pay in 4
Klarna Pay in 4 allows you to split your purchase into four equal installments due every two weeks. You pay 25% upfront at checkout. So, after the first payment, your next three payments are due over the course of the next six weeks.
For example, if you had a $100 purchase, you would pay $25 at checkout. Then, the three remaining $25 payments would be billed to your debit or credit card every two weeks until you've paid the full $100.
So, with Pay in 4, the first payment is due at checkout, and the remaining three payments are scheduled every two weeks.
Installments are interest-free, provided you make all payments on time.
Otherwise, the company may charge you a late fee.
If your installment is late, you will only be charged one late fee per late installment, meaning the most you could be charged is $9.
Pay in 30
With Pay in 30, you don't have to pay an installment at checkout. Instead of paying at the checkout, you have 30 days after the item has shipped to pay for your purchase.
Like Pay in 4, Pay in 30 is interest free, and as long as you pay the full balance within the next 30 days, the company won't charge fees.
If you fail to make full payment by the due date, then you will be in default, and unable to use the service in the future.
Pay in 30 is a good option if you want to make a purchase before you get your paycheck.
Using Pay in 30 is a good way to try out items for free because if the item arrives, and you decide you don't want it, then you can return it, and you haven't had to part with any cash.
Financing
The Financing option is more like your traditional lines of credit. Klarna provides credit options offered in partnership with WebBank (member FDIC).
With this option, you get a range of term lengths to choose from in which to pay off your purchases. You can spread the cost of your purchase for up to 36 months.
APR is 0% to 19.99%. This can be a good option for larger purchases that you need more than 30 days or 6 weeks to pay off.
Other Features of Klarna
Klarna has some other useful features including:
A One-time card
Klarna provides a One-time card, which is a virtual single-use card you can use to shop at any prepaid card-accepting online store in the U.S.
Each time you create a One-time card on Klarna, you will receive a unique card number that you can use at the store's checkout, just like you would with a regular credit card.
Basically, this card is used if Klarna isn't available at a particular online shop. Each One-time card then follows a specific payment plan, such as Pay in 4, Pay in 30, or Financing, which you can manage and pay in the app.
Klarna Rewards
Klarna has a rewards club that you can join where you can get lots of bonuses. You can earn 1 point for every $1 that you spend with Klarna. Then, you can redeem your points for rewards.
You also get access to other member benefits, such as deals and exclusives. Not only do you get rewards from Klarna, but you can also get those from the store you shop at, which means you can double down on loyalty points, discounts, and other benefits.
You can get a $5 welcome reward as soon as you complete your first purchase as a member.
Refer a Friend
Klarna also has a refer a friend program where you can earn money for referring people to the service. You can earn up to $300 by referring friends.
Invite a friend to Klarna, and as soon as they join its rewards club, and make their first purchase with Klarna, they will unlock a $30 Amazon.com gift card.
For each friend that unlocks their reward within 30 days of your referral, you'll get a $30 Amazon.com gift card. Since you can get a referral bonus with up to 10 friends, this means that you can potentially earn up to $300!
Is Klarna Legit?
Klarna is a legit company that's been accredited by the Better Business Bureau (BBB) since 2015. It has an A- rating on there.
Klarna Customer Reviews
Here's how customers rate Klarna:
Trustpilot:4 stars, which is an "Excellent" rating.
BBB:1 stars
App Store:8 stars
Google Play store:6 stars
As you can see, the company is pretty well-reviewed by customers on most platforms. This indicates that it's a legit company that many people enjoy using.
Here are a few positive customer reviews:
"Klarna is great. When I order anything, I always use Klarna. They always remind me when my payment is due, and the amount I pay every month is very low. I use to do a payment plan with another company, but since I learned about Klarna, it has been a great experience. The customer service is also great!"
"I missed 2 payments and was looking at missing 2 more. The thought of late fees stressed me as I didn't want to get behind any further. I asked for a week extension. Which was happily granted. However I was also offered several other payment arrangements if I needed more time or reduced payment amounts. I dealt with Chad via the chat line. He was fast and helpful."
"Excellent!! Klarna is so easy to use and the customer service is excellent. Every so often you get rewards for paying on time or completing payments. The credit increase is great because they give you time to grow and allow you to move payment dates."
"Life saving app. This app has helped me get necessary things for my home, essential things. The pandemic hit everyone so hard and I wasn't able to make large purchases as I once was able to due to pay cuts. This app still allows me to get home and garden items and clothes that are essential. I do appreciate and love this app."
Klarna Pros & Cons
Let's take a look at the pros and cons of the company.
Pros
There are quite a few pros, including:
There are no-interest financing options available.
Many retailers accept Klarna, and even if they don't, you can use the One-time card at prepaid card-accepting stores.
Only runs a soft credit check with Pay in 4 and Pay in 30. So, it won't affect your credit score.
Well-reviewed by customers on platforms like Trustpilot, the Google Play store, and the App Store.
According to many reviewers on Trustpilot, Klarna is pretty flexible with providing extensions if you are unable to pay by the due date.
You can increase your spending limit over time. Your spending limit is called Purchase Power (Learn more about Purchase Power and how to increase it in the FAQ section below).
Cons
Klarna also has some cons:
If you don't make payments on time, you'll be charged late fees.
Monthly Financing plans require a hard credit check.
Doesn't help you build credit.
FAQ
Here are some answers to some common questions that customers have about Klarna.
Is Klarna trustable?
Yes. Klarna is well-reviewed by customers on most platforms, and it is accredited with the BBB.
Does Klarna run a credit check?
For Pay in 4 and Pay in 30 plans, Klarna runs a soft credit check. This does not impact your credit score.
Klarna does run a hard credit check for its Financing plans.
Hard inquires do negatively impact your credit score in the short term. A hard inquiry will stay on your credit report for two years, but it will only usually impact your credit for a few months.
Who is Klarna good for?
Klarna is best for people who:
Don't want to pay any interest. Traditional lines of credit, such as credit cards often come along with interest. Pay in 4 and Pay in 30 plans are interest free.
Need to purchase something now but can't quite afford it at the time.
Are able to pay off purchases within a short period of time, such as in 30 days or six weeks.
Don't want to impact their credit score with a hard credit check. (Hard credit checks are ran for Financing though, so be aware).
What is the catch with Klarna?
There is no catch with Klarna if you make your payments on time and in full. However, you do need to be careful with buy now, pay later plans because it's easy to overuse them and then you can struggle to pay them back.
What stores accept Klarna?
TONs of stores accept Klarna, including H&M, Nike, Sephora, Petco, Wayfair, and Etsy. Also, if Klarna isn't available at a store, you can instead get a One-time card, and then use it like a regular credit card to pay for your purchase. Then, you simply abide by the terms of whatever payment plan, like Pay in 4 or Pay in 30, that you opted for.
Is Klarna available globally?
According to Klarna, here's where it is available:
Klarna Checkout: Available in Sweden, Norway, Finland, Denmark, Germany, Austria, The Netherlands, Great Britain, and the USA.
Klarna's payment methods as individual products: Available in Sweden, Norway, Finland, Denmark, Germany, Austria, the Netherlands, Belgium, Switzerland, France, Italy, Poland, Spain, Portugal, Great Britain, Hungary, Czech Republic, Slovakia, the USA, and Australia.
Klarna In-store: Available in Sweden, Norway, Finland, Denmark, Germany, Austria, The Netherlands, Great Britain, and the USA.
What is the downside to using Klarna?
Klarna runs a soft credit check on its Pay in 4 and Pay in 30 plans. While this does not impact your credit score, as I mentioned earlier, it may mean that some potential customers may be declined due to poor credit or thin credit history.
Also, missed payments may be reported to credit bureaus, which can impact your credit score. So, be sure to make payments on time and in full.
Finally, it can be easy to overuse the buy now, pay later financing that's offered by companies like Klarna.
Make all your payments on time, and be sure to use BNPL sparingly, and you'll be fine. Of course, if you have poor credit or not much credit history, you may find you're not able to borrow much with Klarna.
Can I pay off Klarna early?
Yes, you can pay off Klarna early. With Pay in 4, you can choose to pay off the balance or make one of the installments earlier. You can also pay off your balance earlier with Pay in 30 or extend the due date to a later date for a fee if needed.
What happens if I don't pay Klarna back?
If the company isn't able to collect the payment on the scheduled date, then it will try to take the payment again. If it fails on the second attempt too, then the missed payment will be added to the amount of the next scheduled payment.
It's important to note that missed payments and unpaid debts are sent to debt collection.
Does Klarna charge a fee?
There is no annual fee for using Klarna. However, some services and payment options can incur additional costs.
There are no fees for Pay in 4 or Pay in 30 plans.
However, if you don't make your payments on time, then late fees may apply.
There are fees when you use Monthly Financing. It charges 0% to 19.99% APR.
What is the highest Klarna limit?
There is no predefined spending limit when you use Klarna. Instead, a new automated approval decision about how much you can spend with Klarna is made each time you pay with Klarna.
To see your estimated amount to spend, you should login to the app and navigate to Purchase Power. Then, follow the prompts to check the estimated amount that you can spend on your next purchase.
Purchase Power is an estimated amount that is based on various factors, including your payment history with Klarna and your outstanding balance.
The company states that this amount isn't a guarantee, and it may change based on the store and the payment option that you choose.
So, Purchase Power is basically your spending limit on Klarna.
How can I increase Purchase power on Klarna?
Klarna recommends you do the following to increase your Purchase Power over time:
Have a good payment history
Always pay on time
Make payments towards your outstanding purchases
The company says that its Customer Service can't accept requests for spending limit increases.
If you have overdue or failed payments, then your Purchase Power will not be available. So, make sure you settle your failed or overdue payments.
Is Klarna better than Afterpay?
Afterpay is a service, like Klarna, that offers buy now, pay later financing. You may be wondering which one is better.
Here's how Afterpay is rated by customers on a few different platforms:
Trustpilot:9 stars, which is an "Excellent" rating.
BBB:2 stars
App Store:9 stars
Google Play store:7 stars
Afterpay is actually, slightly, higher rated by customers than Klarna, which shows that people have a good experience with the service.
However, Klarna does offer more payment plan options, like the Monthly Financing. Afterpay is better for smaller purchases.
Another reason why you might want to use Klarna over Afterpay is that thanks to its One-time card, you can pretty much use Klarna anywhere that accepts prepaid.
Afterpay and Klarna are legit platforms though, so both are good options for anyone looking for buy now, pay later financing options.
Klarna Alternatives
There are other financing options you can consider that are good Klarna alternatives, including:
0% interest credit cards
You could apply for a 0% interest credit card provided that you have good enough credit. These cards provide 0% APR usually during an introductory period. This can be up to 18 months of zero interest. You may also get a sign-up bonus or access to rewards.
Credit cards can be beneficial for building credit, as, unlike Klarna, most lenders and credit card companies will report on-time payments to the credit bureaus.
Friends and family
If you need to purchase something now and you don't quite have the money for it, then you could ask a friend or family member to lend it to you.
Low-interest personal loan
If you are considering the Monthly Financing plan from Klarna, then getting a low-interest personal loan is another option to consider. You might find a personal loan that has a lower APR than that offered by Klarna. If you qualify for a lower rate, then you could save money in the long-term.
Personal loans can also help you to build credit.
Layaway programs
With a layaway program, a store will allow you to put down a deposit on an item to "lay it away" for future pickup.
Layaway is a type of retail purchasing method where you can place a deposit on items of merchandise so that the retailer will hold the item for you.
You pay the remainder of the cost in installments, and once you've paid off your balance in full, you can pick up the item from the store.
So, for those times when you are short on cash, it can be really useful.
Layaway can be a good alternative to buy now, pay later programs like Klarna.
The downside with layaway plans though is that you don't get to take the item home with you right away.
With Klarna and credit cards, you can get the item right away, and then you pay off the cost of it over time. With layaway, you make payments over time, but the item remains with the retailer until you've made all of your payments.
Layaway plans can be a good alternative to Buy Now, Pay Later services because a credit check is not required.
Stores require a deposit to put an item on layaway. This varies from place to place but is usually around $10 or 20% of the purchase total.
Not as many stores do layaway now as they used to, but some still do offer this type of financing.
Other Buy Now, Pay Later Apps
If you like the buy now, pay later financing model on offer from Klarna, then you could try other BNPL options, such as:
Closing Thoughts
Overall, Klarna is a good option if you're looking to split the cost of payments into installments that you can pay off over time.
If you don't have the money at the moment, or just want to keep it in your bank for a little while longer, using a service like Klarna that allows you to pay off your purchases at a future date can be a good idea.
Online, the reviews of Klarna are mostly positive, with people praising how easy it is to use, its great customer service, and how it allows them to buy the items they need when they need them.
Now, I will say that while Klarna is a legit company, and definitely worth using, you should always be careful with using buy now, pay later financing.
It seems so easy to just make a purchase, and only have to pay some of it in the case of Pay in 4, or none of it in the case of Pay in 30 at the checkout. But, do remember that you will indeed have to pay off your purchases at some point.
So, if you are going to use Klarna or any BNPL service, make sure that you can afford to make the payments at the time they're due. Otherwise, you'll incur late fees, and missed payments will be sent to credit bureaus, which will affect your credit score.
Used properly though, Klarna is a great app that's worth it!