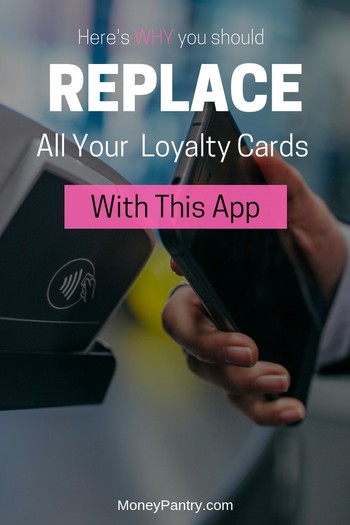 Loyalty cards are great.
They allow you to save money and earn rewards each and every time you shop.
What's not great about loyalty cards though is that they clutter up your wallet and it's easy to forget to take them to the store with you.
That's where the Key Ring app comes in handy. It's a super useful app that allows you to get the benefits of all of your loyalty cards, without having to carry them around with you.
There are other great features on offer too, such as coupons, deals and the ability to create and organize shopping lists.
It's definitely a shopping app that you want on your phone.
Need Easy Extra $300+/Month for Free?
KashKick
: Get paid directly into your PayPal for watching videos, surfing, shopping and more.
Join KashKick Now!
Panel Payday
: Earn up to $75 per survey. They also pay up to $50/hr for mystery shopping.
Join Now!
InboxDollars
: Paid over $57 Million to members to watch videos, take surveys, shop and more.
Get $5 instantly!
Branded Surveys
: Get $1 instantly just for joining for free. Plus get paid within 48 hours by PayPal!
Join Branded Surveys
iPsos iSay:
: If you have to only sign up for one paid survey site, go with Ipsos (high paying survyes)!
Join iPsos Now!
Swagbucks
: Get paid to watch videos, shop online, take surveys and more.
Join now & get $5 instantly!
Below, we offer a full Key Ring reward card app review. It covers everything you need to know about the Key Ring app, from how it works to using it to save money.
What is Key Ring?
Key Ring is an app that acts as an all-in-one shopping solution.
Basically, Key Ring allows you to store all of your loyalty cards on your phone. So you no longer have to carry a bunch of cards with you!
This is really handy, as it means that not only do you not have to carry tons of cards in your wallet, but you also don't have to worry about forgetting a loyalty card and missing out on savings.
That's not all that the app has to offer though. You can also use it to carry digital coupons, weekly ads and shopping lists.
But, more on that below!
How it Works
Okay, so now you know what the Key Ring app is, let's take a look at how it works.
We'll discuss how to sign up and how to use this app to store and use your favorite rewards cards.
Signing up
To get all the benefits of Key Ring, you'll need to get the app and register.
Download the App
The first step is to download the app. Key Ring is a reward card app that's available to both Android and iPhone users.
That's always handy!
Here's where you can download it:
One of the best aspects of Key Ring is that it can also be used on a desktop browser. So you can use it right from your computer or laptop. Of course, you won't be able to scan cards right from your desktop computer, unless you plan to take that into the store with you!
So you will need the app regardless. But you can do stuff from the web version of Key Ring like organize your shopping lists and browse deals.
But more on that below.
Create a Key Ring Account
Once you've downloaded the app, you need to create an account on Key Ring.
This is very important.
What's good about Key Ring is that it allows you to use your cards across multiple devices, as long as you have a Key Ring account.
If you just download the app and add all of your loyalty cards to it, without setting up an account, and then you lost your phone or got a new one, then none of your loyalty cards would appear on your new phone when you download Key Ring, because you did not store them in an account.
So you'll want to start an account before you add your cards, but you can create a Key Ring account even if you've already started to add cards.
Now, setting up an account is pretty easy.
On the top left-hand corner of your screen, click on the "menu" button. Then, under the "Settings" category, find the "Register/Log In" option. From there, just follow the steps to create your account.
Once you've created your account, you'll be able to store all of your cards and lists in one place, and use it across multiple devices.
So if you do get a new phone, or want to use the app on another device, then you'll be able to and still get all of your cards.
Just download Key Ring on all of the devices you use and then log into your account.
Adding a Card
Once you've downloaded the app and have created your account, you can start adding your loyalty cards.
The main benefit of Key Ring is that it allows you to store multiple loyalty cards in one place.
The app supports more than 2,000 barcode and non-barcode loyalty, membership, and library cards.
How to add a loyalty card
It's pretty easy to add a loyalty card. You can just add a card by scanning the barcode.
Here's a quick overview of the process:
At the top of the app, click the "Quick Add" button, and choose the "Add Card" option.
Take your loyalty card and hold the barcode up to your phone's camera, and the app will automatically take a photo. If you see extra numbers on your barcode number, don't worry, as those are supposed to be there – sometimes barcodes contain hidden digits that aren't printed on the card.
Once you've scanned the card, select the store that the card is for. If the store isn't featured on there, then select the "Other Retailer Not Listed" option. Then, type in the retailer's name. You will need to add a program name, barcode number or membership ID if the card does not have a barcode number. Then click on"Create Card." You will then be asked to add a photo of the front and back of your card if you want to as well.
You can also take a picture of the card if you want to.
Tips for adding a card that won't scan
One of the main Key Ring app problems that people come across is that their phone won't scan their card's barcode.
If you are having trouble getting your phone to scan a barcode, then try the following:
Make sure that you're in a well-lit room.
Place the card on a flat surface.
Ensure that the barcode is placed within the red outline box.
Make sure that the barcode is not partially scraped off, smudged or missing.
Clean your camera lens.
If you still can't get the app to scan the barcode, then click on the "Won't Scan" option, and then manually enter the barcode on the next screen.
Also, if you have trouble scanning a card, then you can contact the app's support team at:
Scanning your Card
Now that you know how to add cards to the app, you can now take your phone to the store with you and start scanning your loyalty cards right from your phone.
Some people report that the Key Ring app doesn't work for them in-store, because they can't get their card to scan from their phone.
There are a few reasons that this may happen.
For example, the phone type and scanner type can affect whether or not the card scans – flatbed scanners in the grocery store tend to be problematic because the laser has the tendency to refract off the reflection on your phone.
So, try to get the cashier to use a handheld scanner if there's one available.
Optical handheld scanners are the best for scanning barcodes. This is because they're designed to work on phone screens.
And laser scanners might work depending on your phone screen. Scanners at retailers like Walgreens, CVS and Kroger work very well.
So if you're shopping at a big brand store or retail chain, then you shouldn't have too much of an issue getting your reward cards to scan from your phone.
Getting your loyalty card to scan from the app in-store
One of the things that will make sure that barcode scans, is adjusting the brightness on your phone.
In the app, go to "Menu," then "Settings" and check the box "Barcode Brightness. When you do this, it uses the maximum brightness when viewing your barcodes.
If you have an iPhone, then in the same "Settings" section, next to "Brightness" slide dial to the desired brightness.
Also, making the barcode image larger can make it scan successfully. Just click on the card that you want to open and then click on the "+" symbol, which can be found to the left of the barcode. This will make the barcode full screen.
Now, if a card still won't scan, you can have the cashier type in the barcode/membership ID number manually instead. You just need to select the "Won't Scan" button, and the number will appear on the screen for the cashier to read.
Key Ring Features
The main feature of Key Ring is that it allows you to add all of your loyalty cards to one app and scan them right from your phone in-store, but that's not the only feature and benefit of the app.
The app includes plenty of other features and benefits that are super handy to have when you go shopping.
Favorite your Cards
With Key Ring, you can actually create a list of your favorite loyalty cards.
If you have a lot of loyalty cards that you want to add to the Key Ring, then you'll love this feature of the app.
It will save you the time of having to scroll through a list of all of your favorites when you're at the checkout.
The cards that you add to your favorites will be displayed at the top of your cards list.
It's easy to add cards to your favorites list. Just select the card that you want to add to your favorites, and click on the star icon.
Once the card has been added to your favorites list the star icon will appear yellow.
To view your main cards list, select the cards icon. The card you've just starred will appear in your favorites section.
Shopping Lists
Another great feature of the Key Ring app is the ability to create shopping lists.
You can create your lists within the app, or on the website from your desktop computer or laptop.
How to create a shopping list
To create a shopping list, tap the "Quick Add" button and then select "Shopping List." Enter a name for your list, tap save and then begin adding items to your list.
Handily enough, as you type, a list of matching products appears, and you can just add them with a single click.
Also, items can be added to the list as you browse circulars in the app.
How to share a shopping list
What's also great is that you can share shopping lists with your friends and family and get updates when items are checked off the list.
So if you aren't the only person in your household who does the shopping, then this is really handy.
To share a list, enter the email address of the person you want to share it with, and Key Ring will send them a notification. Then, when you or anyone who you've shared a list with adds an item to the list or removes an item from the list, all parties will get a notification.
Also, images will appear on your list for thousands of products in the Key Ring shopping database, or you can take your own photos. This is really handy because if you're sending someone else to the store to buy an item, they may not be sure of the exact item to get, so a photo of the product can be really useful.
How to use your shopping list in-store
Once you have your list, you can use it when you're shopping in-store. Just tap on the shopping list icon when you are going to shop. Then the red indicator will tell you how many unchecked items there are on your list that need to be purchased.
As you shop, check off the items that you put in your cart.
The shopping list feature of the app makes it so much easier to plan ahead and organize your shopping.
Plus you can build shopping lists from the circulars and coupons you find.
Also, real-time syncing between accounts means that lists are always up to date.
Savings (Coupons, Deals, Circulars and Weekly Ads)
As you can see, Key Ring has a lot of great features that make it one of the best loyalty card apps out there.
And, one of its best features is the discounts that are on offer.
Great deals on offer on Key Ring
This app gives you so many tools to save money. With the app, you can get:
Circulars: You can pin your favorite deals directly from circulars and save them for later, which is really handy. The fact that you can save the deals you see in circulars to your shopping list is a great feature of the app.
Coupons: You can find and redeem coupons while you are shopping. Just use the "Sales & Coupons"tab to find offers from your favorite stores.
Weekly ads: You can easily browse weekly ads and see what's on sale before you head to the store.
Notifications: You can get alerts about local savings and sales and to remind you to use your reward card.
And you can get these great discounts and deals at well-known stores like Walmart, Target, CVS, Walgreens, Kohl's and Michael's.
How to follow your favorite stores for great deals
With Key Ring, you can follow a store to keep track of all the great deals and savings opportunities it has to offer.
Click the "Quick Add" button, and then tap "Follow Store."
Then, type in the name of the store you want to follow into the search bar, or browse the list of stores.
Once you see the name of the store that you want to follow, press the grey "Plus" button to add it to your My Key Ring feed.
Then just visit your My KeyRing Feed and you'll be able to view that store's circulars, coupons and any other savings and deals, and the loyalty card for that store if you have one.
Also, just as you can favorite cards in the app, you can also favorite stores. When you favorite a store it appears at the top of your My Key Ring feed.
This makes it so much easier and faster to find discounts and saving for the stores at which you most often shop.
There are thousands of stores to follow on Key Ring, so you'll likely find your favorite retailers and restaurants there.
Is Key Ring Legitimate?
Okay, so now you know how the app works and the features that it has to offer, you're probably wondering whether or not it's legitimate.
Well, you'll be glad to know that Key Ring is indeed a legitimate app.
It's been featured by major media outlets, such as
Martha Stewart Living,
Good Housekeeping,
the Today Show,
The New York Times,
The Huffington Post,
Time,
and Fox Business.
Key Ring has a great user rating too.
On the Google Play store, Key Ring has a four-star rating on average based on more than 40,000 users.
On the iTunes store, Key Ring has a 4.3 rating on average based on 1.3k ratings. So this app is highly reviewed by those who use it.
Is Key Ring Worthwhile?
If you're tired of carrying around a bunch of loyalty cards or using tons of different reward apps, then you should definitely use Key Ring.
It makes getting those savings from your loyalty cards a whole lot easier.
Plus, the fact that you can also add coupons, view weekly ads, and get other money-saving deals really does make this an all-around great shopping app.
You can scan your loyalty card right from the app, and redeem coupons and other money-saving deals right from the app as well.
So you really do just need your phone to take advantage of all of these great savings.
The fact that you just need the Key Ring app and your phone, rather than a bunch of cards, apps, coupons and weekly ads, really is so convenient.
And that's what you want when it comes to saving money.
Sure, coupons are great, as are weekly ads, but many people have put off the idea of couponing because of the hassle of having to clip them (although there are ways to coupon without printing or clipping them,) organize them and take them to the store.
So if you're one of those people who'd love to use coupons more, but don't want the hassle of having to clip or print anything, then this app is for you.
But the main reason we'd recommend Key Ring is because of the fact that you can store all of your loyalty cards on it.
I've lost count of how many times I've gotten to the checkout and realized that I didn't have my loyalty card with me for that particular store.
So this app is so useful.
It's arguably, one of the best reward card apps out there.
Closing thoughts
Here at Money Pantry, we talk about a lot of different rewards and shopping apps.
Key Ring is definitely one of the best loyalty card apps for Android and iPhone.
What I love about the app is just how easy it is to use. It simplifies using reward cards and coupons.
You don't need to remember cards or coupons.
All you need is the app and the phone. So if you're looking to earn rewards each and every time you shop and earn money, then download Key Ring.
Hopefully, our KeyRing Reward Card App review has convinced you to do that.