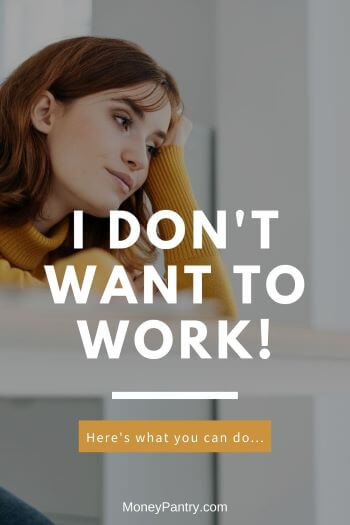 It seems like the reality of life is that unless we are born into a rich family who can support us financially, we have to work.
Most of us, like me, are not, however, from wealthy families, so we have to provide for ourselves.
What if, recently, though, you've found yourself thinking, "I don't want to work anymore but I need the money!"
And you are right… we all need money!
Working is something ingrained into our society because, well, working pays the bills and keeps our bellies full. Sure there are ways to make a living without a job in a traditional sense, but you still have to do some work. Without work, or the aforementioned wealthy family to foot our bills, we are left homeless and hungry.
Or are we?
Need Easy Extra $300+/Month for Free?
KashKick
: Get paid directly into your PayPal for watching videos, surfing, shopping and more.
Join KashKick Now!
InboxDollars
: Paid over $57 Million to members to watch videos, take surveys, shop and more.
Get $5 instantly!
Branded Surveys
: Get $1 instantly just for joining for free. Plus get paid within 48 hours by PayPal!
Join Branded Surveys
First Opinion
: Get paid up to $10 per survey and $300 per virtual focus groups!
Join Now!
Swagbucks
: Get paid to watch videos, shop online, take surveys and more.
Join now & get $10 instantly!
Is working a traditional 9 to 5 job the only way to make a living? Or could there be another way?
Is it normal to not want to work anymore?
Yes! Any look online on forums like Reddit and Quora will show you that being tired of working is a common thing. Many people experience dissatisfaction with their job or a longing to retire early.
Why We Don't Want to Work
So, why do so many of us wish that we could give up the 9 to 5?
Well, like most things human, it's complicated. There are a number of reasons for not wanting to work:
Disliking the working environment
Some people hate the commute to work, the office politics, and just being around people who they might not get along with all day long.
Burn out
Many people feel burned out with work at some point, especially if they have a particularly stressful job or a heavy workload. That's why people last longer at slow paced low stress jobs.
Simply not enjoying your job
A job that you don't enjoy will always seem like work. Many people work jobs that they hate, and they're tired of them.
Health
If you don't have much energy in general, this can impact your motivation. Things like anxiety and depression can cause a lack of motivation. Make sure that you get enough sleep, eat healthily, and exercise regularly. All of these things can boost your energy and relieve symptoms of anxiety and depression. Just remember to take care of yourself.
Wanting to make money passively
A lot of us want to make money in our sleep. We don't want to have to drive to work, clock in, and do a job we don't like in an environment that we don't particularly like.
Making money in your sleep, or any time that you are not actively working, is called a passive income. Passive incomes are totally possible. We'll discuss this in more detail below.
What to Do When You Don't Want to Work Anymore
You may be thinking, "I don't want to work, what should I do?"
There are two methods you can use.
Option One: Retire early (the FIRE method)
The first option is to retire early. With this method, you save enough money to be able to retire much earlier.
This is often called the FIRE method, and FIRE is an acronym for Financially Independent Retire Early.
With it, you live below your means so that you can obtain financial independence and security as early as possible. And, so that you can retire much earlier.
Retiring early is not a quick fix for quitting your job. It does take some time. After all, we can't just drop our jobs and retire when we have bills to pay.
That being said, it is possible if you follow these steps:
Step One: Make a plan
First, you are going to want to make a plan. Take a look at your outgoings and figure out how much money you typically spend each month and what your bills are.
You're going to want to earn enough to live on each month without a typical paycheck.
Then, you need to figure out how you are going to get that money, which brings me to the next step.
There's a really handy calculator here that you can use to determine the date that you can retire.
Step Two: Make extra money on the side
Okay, so, in order to retire early, you'll need to find ways to bring in extra money. Investing in the stock market is something that most people should be doing, but it's not always the easiest to get into.
Other ways to make money on the side include freelance work, like proofreading, writing, or graphic design, or gig work, like driving for Uber or delivering packages for Amazon Flex.
Sure, it's more work. Putting in this extra work now though means you don't have to work in the future.
Step Three: Save money
The idea of the FIRE method is that you want to save as much as you can to retire comfortably. Like I said above, bringing in extra money is ideal, as it means that you have more money to go into your savings.
You basically need to save the majority of your income. This means putting away that cash you make from your side gig, and as much of your income from your regular job as you can.
Also, you'll want to pay down any debts you have ASAP and make some cutbacks on things like eating out and shopping online.
Option Two: Try something other than your typical 9 to 5 (Passive income ideas and finding something you love to do)
You know, retiring early is great. It takes a lot of time to save up enough money though and once you quit our job, your savings are going to dwindle.
One of the reasons that people don't like working isn't always because of work in and of itself, but more, the 9 to 5.
Many people don't like the regular 9 to 5 job.
That could be the case for you.
I always knew that I didn't want to work a "regular job." And, it has nothing do to with me not wanting to work. I just wanted to do something that I enjoyed. For me, that was writing and working from home.
My experience not working a "regular job"
Writing is something that I have always loved to do. I got a computer in the late 90s when a lot of people didn't have them because my Dad was an IT engineer. The internet offered up a whole host of information on writing. I learned that I loved to research and write online.
I never really cared much for school, but I went to college anyway because that's, well, what you're supposed to do, you know? College was not for me. It seemed to get in the way of me writing.
Just a couple months in, I dropped out. I started freelance writing. It wasn't an easy time in my life because it was tough to get consistent work and the pay was pretty low as it often is when you start out as a freelancer. My husband, at the time was working a minimum wage job too, which had to support both of us. Money was really tight. After a while though, things started to get better, and I was earning a consistent income from freelancing.
I always knew that I wanted to work from home because I'm an introvert, a homebody, and a night owl who can't tolerate walking to the coffee machine before 11 am let alone do a full-on commute. I start my writing work at 8 or 9 am, but I can ease into the day without actually having to move around!
I love working from home, and I love what I do.
You need to decide what you want to do, and a big part of that is knowing what it is you don't like about work.
Consider what you don't like about regular work
You see, one of the reasons people don't want to work is that they simply hate the regular 9 to 5.
One Redditor comments on this, saying:
"Maybe you just don't want that type of work? I've worked in an office environment and I've absolutely hated it. There's something inside of me that makes me detest it, but it turns out that I really like managing my own business from home, even though it's actual work.
 So, my advice would be to try to reflect on what specifically you don't like about working and then try for different kind of work that doesn't have those things that you hate about your current job. There are way more options than just being an office drone from 9 to 5."
I feel like it's so important to think about just what it is that you in particular don't enjoy about working.
Is it the commute? If so, then working from home would be best for you.
Perhaps you don't want to work for someone else? Then starting your own business would be a great idea.
Or maybe you just hate trading your time for money. You don't want to earn x amount for working x number of hours. If that's the case, then earning a passive income is a great idea for you.
Rather than going into a TON of detail here, I will recommend some of our posts that can help you out:
I will say that if you do want to quit your regular job and try something else, you need to smart about it. Sure, starting your own coaching business online, for example, might seem awesome, but I wouldn't recommend quitting your job right away.
Your bills are still going to be there. It can be a good idea to start building up whatever business or career you're looking at on the side of your regular job. I know – it's more work. But, in the future, it will allow you to quit your regular job and pursue something that you actually like doing.
Closing Thoughts
Lots of people don't want to work. And there are so many reasons behind it. Some people just don't like working for someone, some want to earn a passive income, others want to work from home, and some people want to retire early so that they don't have to work at all.
Whatever your reasons are for not wanting to work, it's good to know that there are lots of options out there for you to pay your bills without working.
Have you found yourself thinking, "I don't want to work?" Let us know your thoughts on working and ways to quit the regular 9 to 5 in the comments section below.