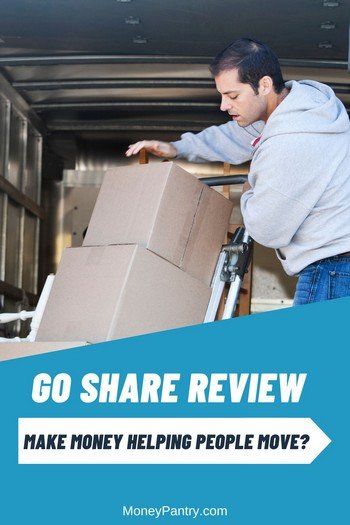 Can you really earn $80 an hour or more as a GoShare Driver?
Find out in our GoShare review!
There are lots of side hustles you can try to make money that involve a vehicle, such as delivering food for DoorDash or giving people lifts as an Uber driver.
Another option to consider if you're looking to make money with your car is GoShare.
You can learn more about the company, including how it works, how much it pays, and what the GoShare Driver requirements are in the review below.
What is GoShare?
GoShare connects customers with background-checked delivery drivers for help with last mile delivery, middle mile logistics, and moving services. So, GoShare customers use the platform to get help with moving or delivery. The company was started in 2015.
Need Easy Extra $300+/Month for Free?
KashKick
: Get paid directly into your PayPal for watching videos, surfing, shopping and more.
Join KashKick Now!
InboxDollars
: Paid over $57 Million to members to watch videos, take surveys, shop and more.
Get $5 instantly!
Branded Surveys
: Get $1 instantly just for joining for free. Plus get paid within 48 hours by PayPal!
Join Branded Surveys
First Opinion
: Get paid up to $10 per survey and $300 per virtual focus groups!
Join Now!
Swagbucks
: Get paid to watch videos, shop online, take surveys and more.
Join now & get $10 instantly!
As a GoShare Driver, you can make money driving your truck, van or car. You can work when you want and get paid weekly. If you don't have a vehicle, you can still make money with GoShare by working as a Helper.
How Does GoShare Work?
With GoShare, you get paid to help people with moving and deliveries.
GoShare has two different positions available, which are Driver and Helper. For the driver position, you will need a vehicle, but with the Helper position, you do not.
Below, I've outlined how GoShare works for Drivers and Helpers.
How GoShare Works for Drivers
You can apply to become a GoShare Driver here.
There's also an app available for drivers.
Here's where you can get the app:
Here's how it works for drivers:
Step One: Meet the requirements
The first step is to meet the company's requirements. Otherwise, you won't be able to qualify as a driver.
Here are the minimum requirements to become a GoShare Driver:
You must be at least 18 years old.
Your vehicle must be year 2001 or newer and pass a vehicle inspection. No salvage titles.
You must be able to pass a background check and driving history check.
You must have an iPhone or Android phone that is capable of running the latest version of the GoShare Driver App.
You must have a checking account to receive direct deposits.
You must be able to speak English.
You must have a valid license, registration, and insurance in the state that you are driving in.
You must meet minimum state insurance requirements and be compliant with local laws.
You must have one of the following vehicle types to work as a driver for the company:
Pickup truck
Box Truck
Courier vehicle: Any vehicle that doesn't fit into one of the other categories above is considered a courier vehicle on the platform. Courier vehicles are eligible to deliver small parcels, packages, and documents. These vehicles are typically cars, SUVs, and minivans.
Step Two: Get and accept deliveries
Once you're approved as a driver, you can start finding work. You can get an alert whenever a load is available near your city. If you are available and interested in the delivery, then you can accept the delivery in the app.
You'll need to arrive at the pickup address at the scheduled time and deliver the cargo for the customer.
Since GoShare handles all of the details with the customer, you basically just get an address, show up, and do the work.
It's important to do a good job, not only because that's just the right thing to do, but also because customers can leave reviews. So, be polite and professional, and make sure that you arrive on time.
Also, it's important to note that the company also charges you if you're a no-show or if you don't cancel a gig early enough.
So, if you need to cancel a job, make sure that you do it within 48 hours or more of the gig starting. That way you won't be charged a fee.
If you accept a project and then cancel, you will not be charged a fee if you cancel it more than 48 hours before the start time.
If you cancel a project less than 48 hours before the project start time, then you will be subject to a fee.
If you cancel between 48 hours and 1 hour before the project start time, you're charged a $20 fee. If you cancel less than 1 hour before the project start time, then you're charged a $30 fee.
Also, if you are a no-show on a project that you accepted, you will be billed a $50 No-Show fee. And, your account may also be subject to immediate suspension or deactivation. A Delivery Professional is considered to be a No Show if they have not shown up within 30 minutes of the scheduled start time or if they cancel the project within 30 minutes of the scheduled start time.
Fees may be charged to your credit card on file or deducted from future earnings. Refusal to pay incurred fees may also result in a suspension.
It's important to note though that GoShare also pays drivers if the customer cancels. If a customer cancels a project within 60 minutes of the start time, you'll be eligible for compensation based on the project type. You can get anywhere from $9.90 and $46.20 compensation depending on the project type.
Anyway, hopefully, cancellations won't be an issue, but it's good to know about these fees.
Step Three: Get paid
GoShare handles the customer payment and directly deposits your earnings in 4 business days.
GoShare will invoice the customer on your behalf. Then, payments will be sent through direct deposit using Routable. The company will verify your bank account before your account is activated.
It usually takes 4 to 5 days after you complete a project before the money is transferred into your account. GoShare states that on rare occasions, it may send you a payment via a trusted online payment processor, such as PayPal or Zelle.
How GoShare Works for Helpers
If you want to work for GoShare, but you don't own a pickup truck, full-sized cargo van, or box truck, you can instead apply to work as a Helper.
Helpers don't require a vehicle and instead tag along on GoShare gigs that require two delivery professionals.
As a Helper, it's your job to assist drivers in loading and unloading large and bulky cargo. Helpers rarely carry items in their vehicles.
Helpers earn an average of $40 an hour, which is the same as pickup truck drivers. Customers pay for your time during loading, transit to the unloading site, and unloading.
In order to qualify for Helper projects, you will need to be able to comfortably lift 50 lbs and pass a background check.
GoShare bills the customer on your behalf and deposits the money directly into your account. The average payout is less than a week.
You can apply to become a GoShare Helper here.
How Much Does GoShare Pay?
GoShare pays from $80 an hour to $222 an hour depending on the type of vehicle you have.
Here's what you can earn on average for each vehicle type:
Pickup truck: Up to $80 an hour.
Full-Sized Cargo Van: Up to $116 per hour.
Box truck: Up to $222 an hour.
Courier (Cars, SUVs, and minivans): Up to $51 an hour.
Is GoShare Legit?
GoShare is a legit company that provides the opportunity to earn money doing delivery and moving jobs. However, Driver reviews of GoShare are mixed, indicating that not everyone is happy with the platform.
Here's how GoShare is rated on a few different platforms:
As you can see, the reviews are sort of mixed. Some people have a great experience working as a GoShare Driver, and others don't.
On the App Store, one user praised the company saying:
"I just started with GoShare this week and what a great week it's been! I just retired from 3 decades of teaching and needed to stay productive and useful. I have had several great delivery experiences this week. Customers are so grateful for my help and the feeling of helping is very fulfilling. GoShare is so easy to work with and for. Customer service is very responsive and very helpful. Payments have been quick and estimated job payments have been accurate. The only challenge is beating out the competition for jobs since it's first-come, first-serve. Got to be quick, responding to notifications! What an excellent system too! Using a smartphone, an app, and my truck to make money."
Another user on the App Store praises the company saying:
"GoShare is the best company I have worked for by far. I have been with them since October 2020. They pay better than any delivery company I have worked for. The dispatchers are awesome and the customers are generous tippers. Most projects can be handled by one person. Buying a truck was the best decision I made in my life. It's worth the investment since people always need someone to deliver their furniture. GoShare is growing and expanding. One day, it will be the most popular and well-known platform ever. Just do your part and be smart. Show up on time and communicate with the dispatchers. I'm planning to stay with GoShare as long as they exist. A+"
Other people, however, don't have a great experience with GoShare.
One of the most common complaints that users had was that it was difficult to get jobs as you're competing with other drivers.
On the Google Play store, one user said:
"Nearly every job is gone before I can even view it. They give priority to their favorites which means a new driver has no way to start. On the rare occasion I am able to view the job, it's either so far away that it's pointless to accept it, or the pickup time is so short that I would be late getting there every time."
Others complained that there were simply too few jobs appearing in their area.
On user on the Google Play store says:
"The jobs come in rarely for this area. When they do come in they last less than a minute. I had to go through a long process for background check and they charge $150, they charge you, if you have lived in other states. I still have yet to make my money back. It has been weeks"
Another user says:
"I've been on this site for months and I very seldom get notifications for gigs and the times I do it's mostly never in my area I have contacted the company several times and it's still the same."
One user on the BBB complained that the pay GoShare offers is actually much lower than the amount the company advertises:
"The company lies and misleading their drivers with false information to apply and pay $45 for background check and they promise you a minimum payment but all lies. I have couple screenshots of all that I'm saying as proof. First, in their app they show you that with a pickup truck the minimum job is $54.73 but, I keep getting jobs like $34.89 or less for a PICKUP TRUCK so its not worth it with a big pickup or a van to spend an hour plus driving to the pickup location."
GoShare pros and cons
In this section, I'll cover the pros and cons of GoShare so that you can decide whether or not the company is for you.
Pros
Here are the pros of GoShare:
High pay. You can earn $80 to $222 an hour, which is a great pay rate.
You can set your own schedule.
You can earn more for completing projects with larger vehicles.
Drivers get access to lots of benefits, such as discounts on healthcare, GM vehicles, tires, cash advances, and more. And, any deliveries booked through the GoShare platform are covered by the company's comprehensive cargo insurance policy.
Cons
Here are the cons of GoShare:
In some cities, jobs are limited. So, GoShare may not offer the most consistent way to earn money.
You have to pay a fee for the background check. The background check costs $49 or $154 if you have ever lived in New York state. So, it's not totally free to join GoShare. Although you can earn this money back pretty quickly provided there's enough work in your area.
Can be strict with vehicle requirements.
FAQs
In this section, I'll cover some answers to some questions you may have about working for GoShare.
Where is GoShare available?
GoShare is available in the following locations:
Akron, OH
Anaheim, CA
Annapolis, MD
Arlington, VA
Atlanta, GA
Austin, TX
Baltimore, MD
Bethesda, MD
Boston, MA
Brooklyn, NY
The Bronx, NY
Charlotte, NC
Charlottesville, VA
Cherry Hill, NJ
Chicago, IL
Cincinnati, OH
Cleveland, OH
Columbus, OH
Dallas, TX
Denver, CO
Detroit, MI
Fort Lauderdale, FL
Fort Worth, TX
Hartford, CT
Greensboro, NC
Houston, TX
Indianapolis, IN
Jacksonville, FL
Jersey City, NJ
Las Vegas, NV
Long Island, NY
Los Angeles, CA
Louisville, KY
Manhattan, NY
Memphis, TN
Miami, FL
Minneapolis, MN
Murfreesboro, TN
Nashville, TN
New Orleans, LA
New York, NY
Oakland, CA
Orlando, FL
Philadelphia, PA
Phoenix, AZ
Pittsburgh, PA
Portland, OR
Queens, NY
Raleigh, NC
Richmond, VA
Sacramento, CA
San Antonio, TX
San Bernardino, CA
San Diego, CA
San Francisco, CA
San Jose, CA
Seattle, WA
Sierra Vista, AZ
Staten Island, NY
Tampa, FL
Toms River, NJ
Tucson, AZ
Ventura, CA
Virginia Beach, VA
Washington, DC
West Palm Beach, FL
Wilmington, DE
Does GoShare do background checks?
Yes. You will be unable to start working on the platform until you have passed a vehicle inspection and background check.
Background checks are required to ensure that delivery professionals on the GoShare platform have a safe driving record and no recent criminal history.
According to GoShare:
"Customers that hire GoShare Delivery Professionals want to ensure that the individuals they are hiring have no history of violence, theft, or substance abuse while driving. After all, delivery professionals will be transporting their goods and even coming into their homes. While these questions may be asked during the application process, it would be irresponsible to assume that every applicant is telling the truth. This position is subject to a background check for any convictions directly related to its duties and responsibilities. Only job-related convictions will be considered and will not automatically disqualify the candidate."
You can learn more about background checks on GoShare here.
What background check does GoShare use?
GoShare uses a third-party service called Checkr to perform a comprehensive background check that validates your social security number and address history. It also looks through both national and local criminal and civil records, sex-offender registries, and global watchlists, and driving records.
Does GoShare hire felons?
As I said earlier, in order to join GoShare, you must complete a background check and a motor vehicle record check. If you were convicted of a felony or violent misdemeanor, the company will assess your application on an individual basis. Felony or violent misdemeanor convictions in the last 7 years may be disqualifying.
How long does it take to get approved for GoShare?
According to GoShare, every background check is unique to the individual, and so the time to complete them varies. Most background checks take less than 72 hours.
However, if you have moved frequently and to many different locations, then it may take a few extra days to obtain all of your records for review. Applicants who live or have lived in California and Massachusetts may also experience longer than average turnarounds as the courts in these states generally take longer to respond to records requests.
So, background checks typically take less than 3 business days.
Is GoShare Worth It? (And Some GoShare Alternatives)
GoShare pays well and it's a good platform to try if you want to earn money with moving and delivery jobs. However, quite a few users complain that there are no jobs available in their area, or that the competition for jobs is too high.
While GoShare does pay well, depending on where you live, there may not be that much work available. So, whether or not GoShare is worth it really depends on how much work is available where you live. If there's not much work available, then you'll struggle to turn this into a profitable side hustle.
You may want to give GoShare a try but also consider some other platforms.
Here are some GoShare alternatives:
The platforms above do not pay as high an hourly rate as GoShare does, but they can offer more jobs. DoorDash, Instacart, and Uber for example, tend to have a much higher volume of work to offer than GoShare.
Overall, GoShare is a good platform to try if you want to earn money by moving and delivering stuff. It's a good option. However, there are some complaints from users. One of the main complaints is the lack of jobs available on the platform.  So, consider GoShare, but also consider some of the alternatives that I mentioned above.
Hopefully this GoShare review helped you to decide whether to use the platform.