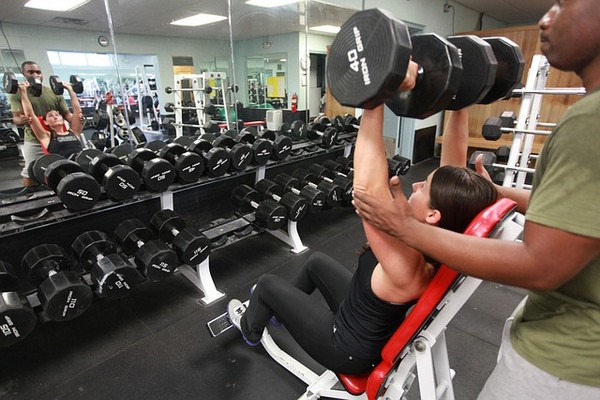 I love money making apps, which is why I wrote a post with a list of top 28 money making apps here.
But this is one of those things that would certainly qualify as killing two birds with one stone – working out and getting paid for it!
If you are a gym addict, or perhaps you want to start working out but need a little motivation, this is an opportunity you don't want to miss.
An App that Pays You to Get Fit!
As you have probably guessed, it's all about a new innovative app called, GymPact.
It's a free app you can install on your phone.
Then, whenever you get to the gym, pull out your phone and get to the GymPact interface. Then simply hit the "Check In" button which will start the verifying process (whether you're there or not) that the system does through GPS.
The beauty of this thing is that you don't have to go to a gym to be able to use this app and earn money.
You can exercise almost anywhere.
We can verify any fitness facility that is separate from your home or office. University gyms count, and so do yoga studios, swimming pools, tennis courts, martial arts studios, rock climbing gyms, outdoor tracks, or any standalone exercise facility.
And if your gym is not listed in their system, you can add it to the system the first time you check in there.
What If You Workout from Home?
When the app first went live, there was no option for that. But I guess as more people started asking for it, they came up with a separate app that does the exact same thing as the GymPact app, but it's for those who exercise at home.
It's called GymPact Anywhere, and it works with the RunKeeper app where they cross reference each others databases.
How Does Gympact Work?
First, you need to install the app.
You can get the iPhone app here and Android app here.
Ok, basically you'll have to create what is known as a "Pact", a workout routine if you will that lists out every exercise you are going to do on that specific day. This is basically your commitment to going to the gym.
With this pact, you tell the system how many days a week you are going to work out and how much you are willing to pay if you don't go (minimum $5 per missed day).
So, if you tell them you are willing to pay $5 for every missed day and you miss 2 days, you are out 10 bucks. So, it's best to choose an amount that is not going to break your bank, but at the same times will be enough of a force to get you going.
That's the catch, and I guess for many of us this could be the motivating thing we needed to get moving. Nobody likes to lose money.
How Am I Credited?
Once you get to the gym, GymPact will automatically sync your check in giving you credit for fulfilling your Pact. And for every day that you fulfill your Pact, you get paid.
You guessed it, the money comes from those who did not go through with their Pact, and believe me, there are plenty of those!
Now, the amount you are credited depends on the amount you wagered. It's in a sense like gambling. The more you wager, the more you can gain or lose!
For example, if you bet $50 per missed session, you get paid anywhere between 30 to 40 cents for every day you do your exercise. So, there is potential here if you are someone who exercises regularly.
Good or Bad?
I personally think it's a great way to earn extra money.
This is a win-win situation if you are dedicated enough to keep your promises.
There are 3 main benefits here:
You get to work out and keep fit
You earn extra money
You learn to keep your promises
Obviously, if you don't think you can do it, then don't. You don't want to lose any money in this economy. Most of us are in a bad financial situation as it is, you don't need to add losing-money-to-an-app to it.
But if you think you have got it in you, install the app and enjoy getting paid for losing weight and exercising.