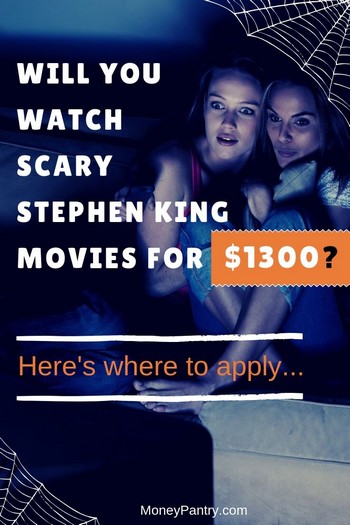 Love scary movies?
Love works by Stephen King?
Love making extra money for free?
If you answered yes to any of the above, this may be a dream come true! Or maybe we should say it's a nightmare come true, hardy har har.
What's the Deal Here?
USDish is celebrating Stephen King big time this fall. It:Chapter 2  is already in theaters, and Doctor Sleep is slated to be released on November 8th.
Want $5 Free?
Join InboxDollars for free. InboxDollars pays you to watch videos, search, shop, take surveys, and more. They have paid out $57 Million so far!

The company is looking for someone to watch 13 King movies (and provide feedback) before Halloween and make a cool $1300.00
They'll even send you a free Fitbit so that you can track your heart rate while watching the films.
In addition to the Fitbit, and the $1300.00, the chosen participant will receive a "survival kit" containing a flashlight, cozy blanket to hide under, candy, popcorn and they'll even throw in some Stephen King merch.
USDish will provide the 13 movies to be watched.
The winner will also receive a movie theater gift card to see It: Chapter 2, or Doctor Sleep.
What Movies Will I Watch?
So many of King's works have been adapted into movies, it would be hard for the average fan to narrow it down to 13, so USDish has chosen the following films:
Carrie ( the original or the 2013 remake)
Children of the Corn
Christine
Creepshow
Cujo
Dreamcatcher
It (the original or the 2017 remake)
Misery
The Mist
Pet Sematary (the original or the 2019 remake)
Salem's Lot
The Shining
Thinner
How Do I Apply?
There are only basic requirements to qualify.
You must be at least 18 years old
You must be a US citizen or permanent resident.
You'll write a short 200-word essay explaining while you'd be the ideal candidate.
Other Way to Get Paid to Watch Movies
This isn't the only way to make money binge watching movies and TV shows. There are actually other ways as well.
We have a few posts about the topic.
Here are a few you can check out:
Get paid to watch movies (A list of 9 companies that pay to watch movies): Read it now.
20 Ways to get paid to watch videos (A list of sites, apps and companies that pay you to watch ads, movie promos and more): Read it now.
Get paid to write movie reviews (List of sites that pay to write in-depth movie reviews): Read it now.
Obviously, you're not going to make a living doing this, but it's a great way to earn some extra cash while being entertained.
Final thoughts:
This "job" clearly isn't for everyone, some people can't watch scary movies. Also, the odds of being chosen are pretty slim, but what have you got to lose? It took me less than 10 minutes to submit my application. Good luck, and remember: "The scariest moment is always just before you start."
Want More Money?
Join Opinion Outpost. It is a fun panel with a lot of interesting surveys. And it rewards you well!