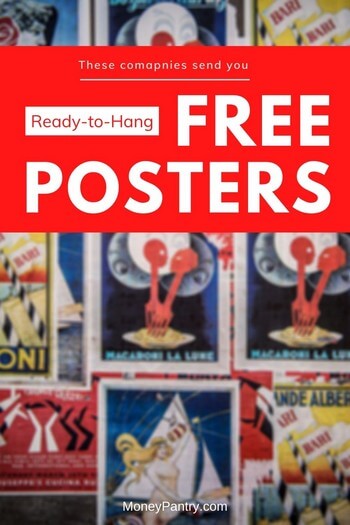 Whether it's for your classroom, office, or home, you might be looking for some free posters.
There are so many things that you can get for free on the internet, from free calendars and maps to wall art and even free wallpaper samples.
In today's post, I'm going to cover another thing that you can get for free – posters!
Yes, you can actually get free posters in the mail. Many of these are educational posters designed for teachers, but there are lots of them you can get even if you aren't a teacher.
Below, I'll give you a list of the best places that mail posters to you. Then, I'll cover a few tips for getting even more posters sent to you. Finally, I'll give you some great sites where you can create and print customized posters including printable wall art, yourself at home!
So, let's get started on the list…
Need Easy Extra $300+/Month for Free?
Panel Payday
: Earn up to $75 per survey. They also pay up to $50/hr for mystery shopping.
Join Now!
InboxDollars
: Paid over $57 Million to members to watch videos, take surveys, shop and more.
Get $5 instantly!
Daily Goodie Box
: Want free stuff? DGB will send you a box of free goodies (Free Shipping - No Credit Card).
Get your box now!
Branded Surveys
: Get $1 instantly just for joining for free. Plus get paid within 48 hours by PayPal!
Join Branded Surveys
Toluna
: Earn PayPal, Amazon & Tango e-vouchers for taking surveys (& product testing!).
Join & get 500 bonus!
Swagbucks
: Get paid to watch videos, shop online, take surveys and more.
Join now & get $5 instantly!
Places that Send Free Posters in the Mail
I'm going to start out by listing the top places that'll mail complimentary posters right to your home.
1. Dr Arbor Talks Trees
If you're a teacher, then you can get an "Dr. Arbor Talks Trees" poster from the University of Illinois Extension. Just complete the form to get the poster.
Get your free posters from Dr Arbor Talks Trees here.
2. WeAreTeachers
WeAreTeachers offers a poster with the words "Everyone is Welcome Here," and the word for "welcome" written in multiple languages featured in the background. The post is designed to promote a positive, welcoming, and inclusive environment for all in schools.
Although it's initially designed for teachers, the poster is available to everyone. Just enter your email address to get it.
Get your free posters from WeAreTeachers here.
3. CDC
The CDC offers a selection of posters about eye health. You can select the ones you want and have them mailed right to you. Posters measure 11×7, and you can order multiple copies! One of the posters has a limit of 100! So it's a good place to get posters on eye health!
Get your free posters from the CDC here.
4. WWF
You can get a free fundraising pack that includes a poster from the WWF. You just need to tell the WWF what type of fundraising you're thinking about doing.
Get your free posters from the WWF here.
5. Discover the World Education
If you're a teacher, then you can get lots of free posters in the mail from Discover the World Education. There's a selection of science and geography posters to choose from many of which feature volcanoes. The site only sends out posters to requests from valid school addresses and school email addresses.
Get your free posts from Discover the World Education here.
6. NRCS-USDA
The Natural Resources Conservation Service (NRCS), which is an agency of the United States Department of Agriculture, is offering a selection of posters. Posters feature topics ranging from pollination to soil health to energy conservation.
Get your free posters from the NRCS-USDA here.
7. Sleep Education
Get a free sleep poster from Sleep Education. You can request a 16×22 inch poster, and on behalf of the National Healthy Sleep Awareness Project, the American Academy of Sleep Medicine will mail a complimentary poster to you!
Get your free poster from Sleep Education here.
8. National Institute of Drug Abuse
The National Institute of Drug Abuse offers educational posters about the effects of drug abuse and improper use of prescription drugs. There are a few different posters to choose from. And you can get them for free.
Get your free posters from the National Institute of Drug Abuse here.
9. TNT Fireworks
If you join the TNT Club, and TNT Fireworks will give you a complimentary poster. That's not all though. You also get a complimentary sticker, magnets, and temporary tattoos.
Get your free poster from TNT Fireworks here.
10. Academy of American Poets
The Academy of American Poets will send you a 2021 National Poetry Month poster this April. Just complete the online form! You can make a contribution if you want to in order to help the organization mail out 100,000 free posters to teachers, librarians and more nationwide.
Get your free poster from the Academy of American Poets here.
11. The Eunice Kennedy Shriver National Institute of Child Health and Human Development (NICHD)
The NICHD will mail out posters about the mental health of moms. The poster is part of the Moms' Mental Health Matter Initiative about depression and anxiety around pregnancy. The posters are available in sets of 5, with a maximum of 2 sets, which is 10 posters in total. The poster is 17×23 inches and explains the signs of depression and anxiety around pregnancy.
Get your free poster from the NICHD here.
12. US Government Publishing Office Pueblo Distribution Center (US GPO PDC)
You can get a complimentary poster from the US Government Publishing Office Pueblo Distribution Center. You'll receive a Dig In! Poster Set. You'll get a set of six posters that feature fruits and vegetables. The horizontal posters are 24×36 inches, and the vertical posters are 36×24 inches.
Get your free poster from the US GPO PDC here.
Other Ways to Get Posters for Free
Okay, so above, I've given you quite a few sites that'll mail free posters to you. But, I actually have a few tips for finding even more.
13. Check on Freebie Sites
Freebie websites are great because you can find all sorts of free items all in one place. Basically, freebie websites gather free stuff from various places and put it all in one place. So you can easily find what you are looking for.
You can find everything from free hair care samples to free pens on these sites. And, of course, many freebie sites feature a section where you can find free posters.
Here are some examples of sites that feature complimentary posters:
I'd highly recommend that you have a browse on these sites to see if you can find any posters you'd like to get in the mail.
14. How to get free posters from companies
There are many companies that send you stuff for free. If you would like to get some complimentary posters, then you could contact companies directly. Many companies mail out promotional items like stickers to their customers. So if you get in touch, they may have some promotional posters to give away. Of course, this won't always work, but it could be worth trying.
Contact a couple of companies and see if they have any promotional items like posters to mail out.
Want to know how to get free posters from companies?
Well, it's simple really!
Most companies have a contact page on their website which includes a list of contact methods.
This can include:
Email
Phone
Live chat
Mail
Contact form
Just choose the contact method you want and then you can politely request a complimentary poster.
The important word there is politely. Don't be too demanding. Just tell the company that you enjoy its products and were wondering if it has any promotional materials like complimentary posters that it would be willing to mail to you.
15. Look out for giveaways and other promos
Again, some companies offer promotional materials, like posters, for free. So make sure that you look out for giveaways and other promos.
Here are a few ways you can find giveaways, contests, and other promos where you can get free stuff:
Email lists: Many brands of an email list you can sign up for and they'll send emails with details of giveaways to their subscribers.
Official websites: Some brands feature special offers on their sites, so you may be able to find details of giveaways there.
Social media: Some brands and stores post details about giveaways on their social media accounts including Facebook, Twitter, Instagram and even TikTok. So follow companies on social media so that you can stay up to date on giveaways and other freebie offers.
Free Posters to Print
Another option to consider is making your own posters. There are lots of sites out there that have posters that you can print out for free. So basically, you can create your own poster.
Canva offers a selection of posters that you can download for free. Now, when I looked through the free section, one of the posters that I tried to download cost money, but I was able to download the other two that I tried for free. Just make sure you select free ones. Hit the download button on the template you want, and you'll download a copy of the poster that you can print out.
With PosterMyWall, a free poster maker, you can create customized posters for free! It has hundreds and templates and free downloads to choose from. So you can create posters within minutes. You can download the basic image for each design for free!
Block Posters allows you to create your own poster that you can print out at home. You have to upload an image, which could be a photo from a vacation or an image of your favorite band, and then you can print it out.
Unsplash offers some super high-quality images that you can print out for free. It's a great place to get free posters to print at home. There are so many great images to choose from!
Closing Thoughts
If you'd like some free posters to hang on the wall, then make sure that you give the options above a try. Do you have any tips on how to get free posters? If so, feel free to share them with us in the comments section below.