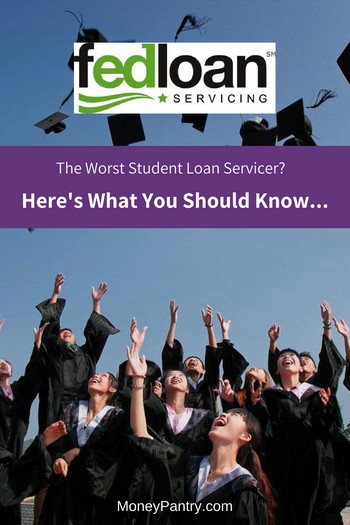 Did you get loans to help with college expenses?
Will you in the future?
Either way, FedLoan Servicing may be part of your life for years to come (unless you qualify for any of these student loan forgiveness programs).
According to studentloanhero.com—drawing on data from the U.S. Federal Reserve, the Wall Street Journal, and other sources—the most recent reports show that 44,200,000 Americans have student loan debt. And they owe $1,480,000,000 !
If you're one of those Americans, and if some of those dollars are yours, with FedLoan Servicing you may be in luck.
Or you may be heading for headaches.
Need Easy Extra $300+/Month for Free?
KashKick
: Get paid directly into your PayPal for watching videos, surfing, shopping and more.
Join KashKick Now!
InboxDollars
: Paid over $57 Million to members to watch videos, take surveys, shop and more.
Get $5 instantly!
Branded Surveys
: Get $1 instantly just for joining for free. Plus get paid within 48 hours by PayPal!
Join Branded Surveys
First Opinion
: Get paid up to $10 per survey and $300 per virtual focus groups!
Join Now!
Swagbucks
: Get paid to watch videos, shop online, take surveys and more.
Join now & get $10 instantly!
Let's look at what FedLoan Servicing is supposed to do, how it works, and things—good and bad—others are saying about it.
What is FedLoan Servicing?
In a nutshell, FedLoan Servicing exists to support the U.S. Department of Education.
It is one of several student loan service companies that help the Department service student loans owned by the federal government.
How do they do that?
They issue statements, process your payments, answer your questions, give you guidance, discuss options, etc., about several loan programs.
Their one stated goal: Help you successfully repay your loans!
In other words, they help you too.
How does FedLoan Servicing work?
Loans can make for complicated, confusing, and scary roommates.
Fortunately, the basic process can be described in 6 clear steps.
In the 6-step loan life cycle, FedLoan Servicing enters your life at Step 2.
They are assigned as the servicer of your loans and become your primary point of contact for the life of the loan.
Here's how the cycle works:
1. You take out a loan
If you obtain a Direct Subsidized or Direct Unsubsidized Loans, you complete the FAFSA® (Free Application for Federal Student Aid) every year.
The Department of Education processes the FAFSA.
And you almost certainly sign a Master Promissory Note (MPN) that legally commits you to repaying the loan.
2. Loan funds arrive
This is the 2nd best part of the cycle. (The best part is yet to come.)
Funds begin paying for your education.
The Department assigns you a servicer for your loans.
The servicer—in this case FedLoan Servicing—then becomes your primary point of contact to help manage the loan from that point on.
3. You're in school
As long as you attend at least half-time, you usually do not have to make any payments while you are enrolled.
4. Your grace period
For 6 months after leaving school—or dropping below a half-time course load—you are not required to make payments on your loan.
You should receive Exit Counseling at that point, about repayment of your loan(s).
5. You're in repayment
As with any other kind of loan, there comes a day when you must start to repay.
When that day comes for your student loan(s), FedLoan Servicing will send you monthly bills.
They have several repayment options.
If things don't go as originally planned, you can contact them about altering your original payment plan.
6. Your loans are paid in full
This is the best part of the loan cycle!
When you reach that happy, magic number "zero," then you owe nothing more on your loan(s).
Yeah!
FedLoan Servicing will send you a letter indicating that you are paid in full.
Save it! Keep it in a safe place.
And, for goodness sake, don't burn it! Like some people do with their home mortgages after those are all paid up.
If you are hungry for more details, their FAQ section is loaded with a wide variety of information—from Billing to Payments to Tax Information and more.
Frequently Asked Questions (FAQs)
The FedLoan Servicing FAQs site gives you scores of questions and answers divided into 13 useful topic groups.
If you don't find your question(s) among the Most Asked Questions on the FAQ front page, never fear.
Just browse the supplemental list using the "Most Asked Questions" pulldown menu.
If that doesn't cover what you need, you can always call them.
In fact, one Reddit community member reports:
One pet peeve is … "that they don't solve issues through email, you have to call them. Whenever you email them, they just send a generic answer back with FAQ type stuff, never an in-depth answer or helping you with your specific problem."
"Is there any more I should know?" you ask. Well maybe.
Do you have special circumstances?
If so, keep reading.
Special Programs
Yep.
FedLoan Servicing has Special Programs for:
Public Service Loan Forgiveness.
TEACH Grants
Service Members
Public Service Loan Forgiveness.
If you work for a federal, state, or local government entity, or for a not-for-profit—501(c)(3)—organization, you should qualify.
The kind of work you do does not matter!
TEACH Grants
"TEACH" stands for Teacher Education Assistance for College and Higher Education.
It helps you become a qualified teacher in a highly needed field, resulting in you getting a bachelor's or master's degree (or other post-baccalaureate certification).
As long as you perform qualifying teaching service and meet other requirements, you will not have to repay your grant or accrued interest.
Service Members
Do you currently serve—or have you served—in the armed forces?
Like many other companies and stores that offer military discounts, FedLoan Servicing also provides different options for different conditions of military service.
For example:
Active duty members, and some others, may qualify for the Servicemembers Civil Relief Act (SCRA).
This can cap your interest, costs, and fees at 6% during your service.
If you serve in an area of hostility, you may even get your loan interest rate reduced to 0% for up to 5 years!
OK. Those few basics get you started and plugged into the FedLoan Servicing organization.
Do you want them as your student loan servicer?
Let's see.
What do others say?
Few things in life are all good or all bad.
Unfortunately, dealing with large federal agencies—and contracting firms that often handle their business, like FedLoan Servicing in this case—can be frustrating, and even damaging.
So, you want to proceed with caution.
But still proceed.
FedLoan Servicing Positives
A 2018 Reddit query about other people's experiences with FedLoan Servicing, brought numerous replies.
Most were positive in nature, sometimes with precautions.
One responder described the FedLoan Servicing experience this way:
"My loans are through Fed Loan and I've never had an issue with them. They send me emails all the time to make sure I know when my monthly bill is coming up, they have a very easy to use auto pay, and have never done anything fishy to my account."
Another replied to concerns about horror stories:
"Those are the only stories you hear. Because nobody wants to tell you un-prompted about the place that simply processes their payments every month. Only when something goes wrong will you hear about it. FedLoan is fine."
And another said:
"I'm currently paying off my loans through FedLoan and have had zero issues. I'm not in the PSLF program, but I consolidated all of my loans with FedLoan and it was an easy process. Website is easy to navigate and paying is simple."
A "full-circle" experience by one FedLoan Servicing customer put it this way:
"I think the majority of people haven't had significant issues… I've had two major issues with them that had to be resolved with the ombudsman's help, and it was resolved (even though one case took a year). If you had asked me during that time, I probably would have told you to stay away, but it got fixed and they admitted their fault. They haven't been as smooth as Nelnet has been for me, but I'd still prefer them any day over Navient. Just keep all documentation and correspondences with them."
So, those are some real-world experiences.
Looks mostly positive, right?
So, what's to worry about?
FedLoan Servicing Complaints
Not to put a damper on your hopes and dreams, but the Better Business Bureau (BBB) gives FedLoan Servicing a grade of "F."
Of 636 complaints closed in the last 3 years—335 closed in the last 12 months—only 118 were resolved to the complainants' satisfaction.
That's over 80% dissatisfied.
The College Investor blasts FedLoan Servicing as the worst student loan servicer.
Other websites have their own horror stories to share.
These may all be true, and you don't want to be naïve. By all means, explore problems other people have run into.
But also consider this regarding BBB results:
Most people simply don't contact the BBB unless they have a complaint.
When was the last time you sent a "yippee" compliment to the BBB about a business you had a positive experience with?
In fact, have you ever?
If even just a fraction of the 44,200,000 Americans with student loans do business with FedLoan Servicing, 636 is a teeny tiny number.
Say, for example, only 1,000,000 use FedLoan Servicing. If so, then a mere 1/20th of 1% have complained to the BBB.
5 Common Sense Tips
You may or may not be able to control if your loan(s) get placed with FedLoan Servicing.
Either way, with any loan institution, consider these 5 strategies:
1. Pay your bills on time.
The better your track record, the better you're likely to be treated if problems arise.
And the quicker you pay off the loan!
If you run into problems, contact them immediately and see if you can revise your payment plan.
2. Keep good records.
Keep good hard copy records of any paperwork and correspondence.
Maintain well organized electronic records on your computer, including electronic documents and emails.
Start a log of all telephone transactions.
Record the date, time, and who you talked to (Mr. Jones? Ms. Swanson?) and keep notes about what was discussed.
Notes may include questions you asked, instructions you were given, actions they or you (or both) will be taking, any disputed points, etc.
3. Become as knowledgeable as you can about details impacting your particular loan.
Their website has much information available.
Emails and calls to FedLoan Servicing can provide further details.
This may include learning about the appeal process.
If something goes wrong, you usually need to ask for a supervisor or manager for assistance and work your way up the ladder.
Browse web comments, but try to stick to reliable sources. Not every individual online will be someone you want to follow.
4. Keep all your interactions as polite as possible.
Try to keep a good attitude when you contact people—both in writing and in conversation.
People are more likely to extend themselves a little more for you.
On the flip side, angry, impolite words and tones of voice often make others less willing to be helpful to you.
Remember the old saying "it's much easier to catch flies with honey…"
5. Be confident in your eventual success. But be patient, too.
You are unlikely to present them with a problem they have not already dealt with.
If the first person you talk with has no solution, politely ask to speak to his/her supervisor or manager. They shouldn't be offended.
Keep working your way upstream.
Somebody along the way has almost certainly resolved your problem before for someone else.
Final Words
At the end of the day, based on the many reviews and complaints from students online, it seems like FedLoan is not the best student loan servicer out there. So I would avoid it.
That said, federal laws are changing every day. If you have no other option, take advantage of FedLoan Servicing's services as much as you can while you can.
And good luck paying off your debt—or even getting debt forgiveness!