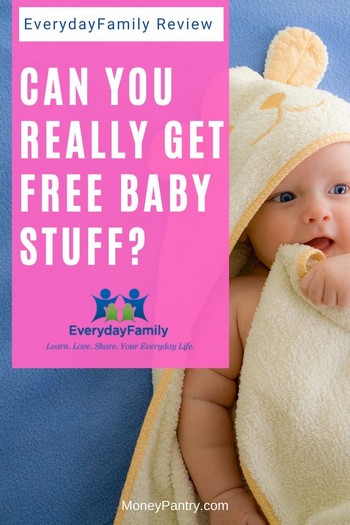 In today's post, we're going to give you a review of EverydayFamily.
Whether you're pregnant or the parent of a toddler, having great advice and information to help you on your parenting journey is so valuable.
It's not just advice we need as parents though.
Although it's a wonderful thing, having a child is expensive.
According to the U.S. Department of Agriculture, the cost of raising a child from newborn to 17 years old is more than $230,000!
So anytime you can save money or get something for free (like these free stuff for babies!), you should definitely take the opportunity.
Need Easy Extra $300+/Month for Free?
KashKick
: Get paid directly into your PayPal for watching videos, surfing, shopping and more.
Join KashKick Now!
InboxDollars
: Paid over $57 Million to members to watch videos, take surveys, shop and more.
Get $5 instantly!
Branded Surveys
: Get $1 instantly just for joining for free. Plus get paid within 48 hours by PayPal!
Join Branded Surveys
First Opinion
: Get paid up to $10 per survey and $300 per virtual focus groups!
Join Now!
Swagbucks
: Get paid to watch videos, shop online, take surveys and more.
Join now & get $10 instantly!
That's why EverydayFamily is a site that all parents should bookmark.
From great posts on what to expect during pregnancy, to tips on how to keep toddlers entertained, you really can find articles on everything there is to know about parenting and pregnancy.
And, even better, the site offers so many ways for parents to save money!
Below, we offer a full review of the site, including how it works, what it has to offer, and whether you can really use it to get free stuff!
What is EverydayFamily?
EverydayFamily is a website and community that includes millions of parents.
With the site, you can get access to a huge range of resources, from blog posts about baby names to interactive tools that you can use to track your baby's development.
You can find expert advice and informative articles on everything!
Basically, you can find resources from preconception to preschool and beyond.
That's not all though.
EverydayFamily also provides coupons, freebies, and other deals that'll save you money.
Official website: You can visit the site at https://www.everydayfamily.com.
Update: EverydayFamily has moved to Healthline Parenthood!
How it Works
Okay, now that you know what the site is, let's take a more in-depth look at what the site has to offer.
When you visit the homepage, you are presented with a whole lot at once!
There are tabs at the top that you can click on to go to different categories, there are links below those, and there are also interactive tools on there.
So, it's tough to know where to start.
That's why below, we cover exactly what the site has to offer!
Categories on the site
In this section, we're going to cover the main categories on the site. These can be found on the red navigation bar near the top of the site.
Community
This is where you and other members of the community can ask questions and get answers from other parents.
You can browse previous questions to find useful tips and information from other parent's discussions. Or you can ask your own question. You can also answer other people's questions.
Here are some examples of the forum posts in the community section, at the time of writing:
"How many ounces of formula does your 2 ½ month baby drink?"
"Should we wait to start trying to conceive if I'm still breastfeeding my first and haven't gotten my period back yet?"
"What can I do to help a newborn with constipation?"
There are a few different categories you can filter posts by as well, such as:
Preconception
Pregnancy
Baby
Kids
Lifestyle
Community Chalkboard
And you can also sort the post by "Recent," "Popular," and "Likes."
Preconception
In this section, you can browse articles on preconception.
When you hover over the preconception tab, you can view preconception topics, including:
Preconception Checkup
Boosting Your Odds
Trouble Getting Pregnant
Ovulation Calculator
Polls
Preconception Blog
Gender Selection/Swaying
Preconception Home
You can also find links to these sections on the left side of the page, under "Helpful Links."
Plus, under Helpful Links you can find additional sections, like "Alternative Options," which includes articles on adoption, donors, surrogacy and more.
There are also Editor's Picks of good articles you should check out.
Some examples of articles included in this section, at the time of writing, include:
Very First Pregnancy Signs You May See Before You Test.
How Soon Can You Get Pregnant After Giving Birth?
Is a Preconception Checkup Really Necessary?
When are you most fertile?
Pregnancy
In this section, you'll find articles on everything you need to know about pregnancy!
There are also useful tools you can use, such as a Gender Predictor tool and baby name finder, but more on those later in this EverydayFamily review.
If you hover over the Pregnancy tab, you can see pregnancy topics, such as:
Week by Week
1st Trimester
2nd Trimester
3rd Trimester
Baby Names
Baby Registry
Due Date Calculator
Gender Predictor
Polls
Pregnancy Blog
Pregnancy Home
Along with those topics, there are even more useful topics featured under the "Helpful Links" section on the left side of the page. There are also editor's picks.
Here are a few examples of the articles available at the time of writing:
Bed Rest During Pregnancy
What Can You Do When You're Scared to Give Birth?
Beautiful Poetic-Inspired Baby Names You'll Love
Baby
In this section, you'll find articles on a range of baby-related topics, such as feeding, sleeping, and safety.
If you hover over the Baby tab, you'll see a range of different baby topics, including:
Week by Week
Bringing Home Baby
Breastfeeding
Sleep Basics
Baby Registry
Baby Care Log
Birth Announcements
Baby's 1st Year Blog
Baby Home
Along with these topics, you can also find other helpful subjects in the Helpful Links section on the left side of the page.
At the time of writing, here are some of the articles on offer in the Baby section:
This is What Your Pediatrician Wants You to Know About Sunscreen for Baby.
The First 48 Hours At Home.
Why Your Baby's Car Seat Is Safe In the Car – Not In the House.
You're Not Alone: The Why and Where of Finding Mom Friendships.
Dressing Your Newborn.
Kids
Next up is the Kids section.
On this tab, you'll find articles on all sorts of child-related topics, from sleep solutions to preschool and education.
If you hover the cursor over the Kids tab, you can view a variety of Kids Topics, such as:
Toddler Month by Month
Toddler Development
Sleep Solutions
Preschooler Development
Potty Training
Parenting My Kid
Parent's Financial Corner
Toddler Blog
Child Development Blog
Kids Home
Along with these topics, you can also find a range of other kid-related subjects in the Helpful Links section on the left side of the page.
At the time of writing, here are some of the posts available in the Kid's tab:
Potty Training Tips.
Too Young for Sports? What You Should Know About Kids and Athletics.
How Much Sleep Does Your Toddler Need?
Lifestyle
This section is where parents and parents-to-be can find useful articles.
Hover over the Lifestyle tab, and you'll be able to view Lifestyle Topics, including:
Marriage & Relationships
Single & Dating
Staying Fit & Active
Money & Budgeting Tips
Just for Dads
Grocery Coupons
EverydayFamily Eats
Mom, Myself & I
Lifestyle Home
There are even more topics to be found, along with the ones above, in the "Helpful Links" section on the left side of the page.
There are lots of articles available in this section, as well as Editor's Picks, such as:
The Best Mother's Day Gifts.
10 Great DIY Thanksgiving Décor Ideas.
How to Create an Awesome Workspace on Your Dining Room Table.
Blogs
In this section, you'll find a selection of blog posts, such as:
Probiotics and Baby: What You Need to Know.
Fall-Themed Names for Your Autumn Baby.
How to Pick The Best Toys, According to Pediatricians
EFTV
If you're the type of person who prefers to watch videos, rather than read articles, then you should definitely check out the EFTV tab on the site.
EverydayFamily TV is a section of the site that offers videos on different aspects of pregnancy and parenting.
There are different channels available on there, such as:
Pregnancy Week by Week
Baby Week by Week
EF Eats
My Everyday
The My Everyday tab is basically where you can login to your account. Just click on the tab, and you'll be taken to a page where you can enter your email address and password.
If you're not yet a member of the site, you can click "Register Now," which can be found below the blue "Log In" button.
Other Features of EverydayFamily
Above, we covered the main categories on EverydayFamily. In this section, we're going to cover a few more of the site's features.
Track your baby's development
On the main page of the site, there's a section called, "Week by Week"
There, you can enter your due date or your baby's birth date, and you'll get personalized content about growth, development and what to expect for you and your child. You can get tips, information, and advice delivered right to your inbox.
Interactive Tools
Aside from offering a ton of information for free, another great feature of EverydayFamily is the interactive tools that the site offers.
Now, I did notice that some of the site's tools actually link to a separate website, Healthline, but a couple of them are actually featured directly on EverydayFamily.
Let's take a look at these tools.
Gender Predictor
This is a baby gender predictor tool and quiz that you can use to guess your child's gender. Let's face it, it's probably not super accurate, but it's still a fun and exciting feature for expectant parents.
You can find the Gender Predictor tool on the homepage of EverydayFamily. If you click on it, you will be taken to the Healthline website.
You can take the Baby Gender Predictor Quiz or use the Baby Gender Predictor Tool.
Baby Name Finder
With the Baby Name Finder tool you can browse names. You can filter the names by gender and origin, which is very useful.
Due Date Calculator
Another useful tool on offer is the Due Date Calculator. This is another one that sends you to the Healthline website.
You can enter details, like the date of your last period, and the average length of your cycle to get an estimate of your baby's due date.
Ovulation Calculator
The ovulation calculator, which you can find on the homepage, is another useful tool.
With the tool, which takes you to the Healthline website, you can find your next ovulation date. Just enter some details about your menstrual cycle.
Polls
In this section, you can answer polls, and view the results of previous ones.
There are polls on lots of different parenting-related topics, including:
Preconception Polls
Pregnancy Polls
Newborn Polls
Baby Polls
Kids Polls
At the time of writing, the the poll was, "Are there any toys that you have banned from your home?"
CARES
The CARES section of EverydayFamily features charitable organizations. You can browse through to learn about different charities, and see how much people have donated to them.
Free Stuff from EverydayFamily
As you can see, EverydayFamily is an excellent resource for parents. You can find so much information on there, and it's all free!
It's not just free information and advice that the site is offering though.
There's plenty more free stuff on offer!
Grocery Coupons
One of the free things you can get from EverydayFamily is grocery coupons. You can even print out these coupons. At the time of writing, there was more than $250 available in savings.
You can find coupons for well-known brands, like Pampers and Nestle.
Using grocery coupons can save you a lot of money, so this really is a great feature of the site.
Sweepstakes
Everyone loves to win freebies, which is why it's great that EverydayFamily offers sweepstakes.
You can enter these contests to win free stuff.
At the time of writing, there was a contest you could enter to win free diapers for a year!
Free Stuff
EverydayFamily has a section just for free stuff! In this section, you can find freebies, such as:
Pampers Cruisers
$400 in gifts from Enfamil
Growth Chart from Gerber
And, best of all, in this section, you can also find the Everyday Mom Sampling Club.
What is the Everyday Mom Sampling Club?
The Everyday Mom Sampling Club is a program that gives you free stuff.
You can join the Everyday Mom Sampling Club here.
Basically, you answer questions to get free samples every month.
Here's how it works:
Connect with the site's partner Sampler. This only takes a minute. Just visit the page we linked to above, and click on "Connect with Sampler."
Provide some information about yourself so that the site can find personalized free product samples for you.
Fill your sample pack with products that match your profile.
Now, it's important to note that in order to get your free samples, you will need to share your information.
When you connect with Sampler, you'll see a consent form that tells you how your information will be used.
According to this form, your personal information is held as long as you have a Sampler account.
However, you can access, rectify, download or delete any of your personal information by logging into your Sampler account.
Sampler will share your personal information with the sponsor of this sampling program, Everyday Mom Sampling Club.
Also, if you are matched with free samples, and opt-in to receive further information from the brand's whose products you've sampled, then your personal information will be shared with those brands too.
Your information is stored in a secure facility in the United States, which is certified under the EU-U.S. and Swiss-U.S. Privacy Shield Frameworks.
It's always important that you know how companies store and use your personal information.
So, when you do click on "Connect with Sampler," make sure you take the time to read how your personal information is going to be used to ensure that you're okay with it.
Also, Everyday Mom Sampling Club may send you surveys related to the sampling program or the brand's that you've sampled, so that you can provide feedback on your experience.
Is EverydayFamily Legit?
Now that you know how EverydayFamily works, you're probably wondering – is it legit?
Better Business Bureau Rating
First, we'll cover the site's rating with the Better Business Bureau (BBB).
EverydayFamily is accredited by the BBB. The company has been accredited since 2012. It has an A+ rating too, which is great!
So, is it Worth It?
For free information and advice, this site is awesome.
It has so much to offer, and if you're a parent, especially an expectant parent or a first-time parent, it's likely that you have lots of answers to questions and things you'd like to know about having a baby.
And, even if you're not a first-time parent, this site would be great for you, because of the fact that you can connect with other parents, and get advice from them.
When it comes to free stuff though, the site may not be as great.
Which brings us to our next section…
What do the site's users say?
In this section, we're going to take a look at what some of the site's users have to say about getting free stuff from EverydayFamily.
The reviews of the company are mixed, particular when it comes to getting free stuff.
In this forum post, a user says they have indeed received freebies from the site:
"I got some of the stuff last pregnancy (carseat cover and nursing cover up….maybe a baby sling too, I forget). I only used the nursing cover up. It is all legit, but nothing special."
Another user also praises the site, saying:
"They are so great I got free samples & a diaper bag for free."
One user doesn't speak so highly of the site, saying:
"It's bogus, only want to spam you."
On this forum post about where to find free sample boxes, another user complains about the site, saying:
"I've never really found a REAL free sample except from similac and enfamil. And target but we don't have one. Basically I've tried to sign up for every single one I've come across, including everyday family, and basically my conclusion is they just take your info and sell it, I've never gotten anything."
In this forum post, another user doesn't praise the site highly when it comes to freebies:
"I have tried and tried to figure out Everyday Family but I end up just clicking through a bunch of stuff and getting really annoyed."
On the Better Business Bureau, there are no customer reviews of EverydayFamily.
Like we said before, it has an A+ rating on there, which means it's likely a legit company.
While there were no customer reviews available on the BBB, there were three customer complaints against the company on there.
Most of the complaints cited issues with spam emails or being unable to unsubscribe from the site's emails.
One customer who posted a complaint said:
"Unable to unsubscribe from email list I am unable to unsubscribe my email address. The website shows error when trying to click on it."
To be fair, EverydayFamily did respond to customer complaints, which means that it's trying to provide a good experience.
Other Resources for Parents
If you want some legit places to get free baby stuff, check out these posts:
Closing Thoughts
Overall, EverydayFamily is a great site if you're looking to get expert advice, free articles, and advice from other parents.
It also offers a good selection of coupons, and sweepstakes are on offer too, which is awesome.
When it comes to freebies, however, not all customers are happy, with many complaining that they haven't really received anything.
Some people though, have received free stuff, like:
Formula
Coupons
Diapers
Nursing covers
Car seat covers
If you're looking for advice and a community where you can connect to other parents, give EverydayFamily a try.
And, if you don't mind getting emails and sharing your personal information, then do consider its Everyday Mom Sampling program and the other freebies available on the site.
You could get your hands on some free stuff.
Do you visit EverydayFamily? Do you think it's a useful site? And did you get any freebies?
Let us know in the comments section below!